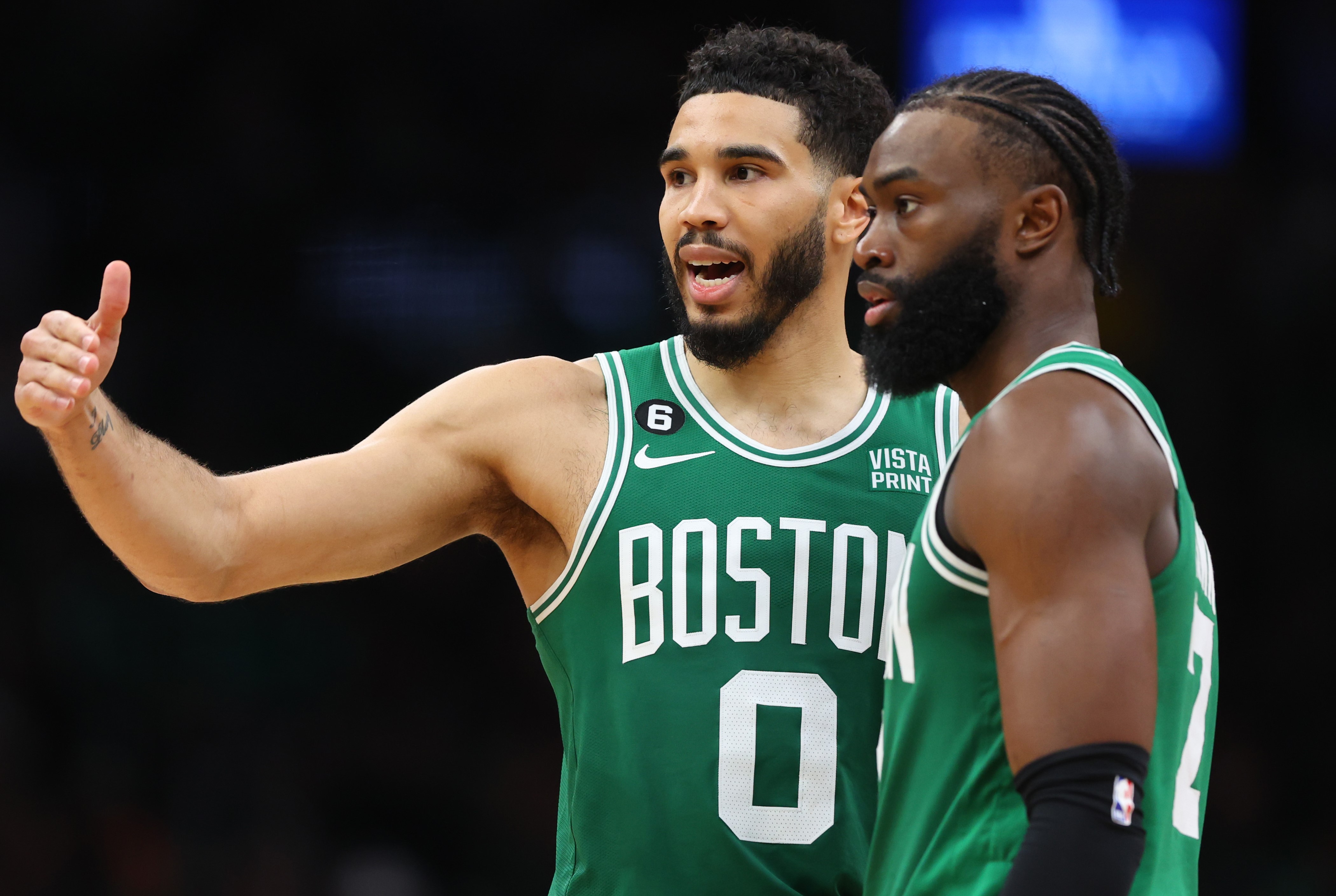 Jayson Tatum and Jaylen Brown Quickly Dropped to the Second-Best Duo in the NBA
Jayson Tatum and Jaylen Brown are no longer the best tandem in the NBA.
The Boston Celtics quickly became the second-best team in the Eastern Conference on Wednesday. After the Milwaukee Bucks pulled off a stunner of a trade in a three-team deal, Boston's path to the NBA Finals got a little tougher. Not only did the Celtics become No. 2 in the conference, but Jayson Tatum and Jaylen Brown became the second-best duo in the league.
Jayson Tatum and Jaylen Brown have plenty of pressure on them ahead of the 2023-24 NBA season
The NBA begins its season next month, and the Boston Celtics are expected to make another run at a championship. After reaching the NBA Finals in 2022, the Celtics had a golden opportunity to return last year, hosting the eighth-seeded Miami Heat in Game 7 of the conference finals. The Celtics were blown out in embarrassing fashion.
Tatum and Brown enter their seventh year together. They've won nothing. Hype is always high with the two stars, and the Celtics are always a threat, but they've made one NBA Finals appearance.
The pressure is on. Brown might feel it the most after becoming the NBA's highest-paid player when he inked an extension worth $304 million in the offseason. Being the highest-paid player in the league when you're not even the best player on your team certainly turns up the pressure level.
Tatum is next on Boston's extension list, and he'll most certainly surpass Brown's deal. That means the Celtics will have far more than $600 million of salary tied up in two players, and the pressure to bring home Banner No. 18 will be even greater.
Tatum and Brown are no longer the league's top duo
Over the last couple of seasons, Tatum and Brown were arguably the NBA's top tandem. After the shocking trade the Milwaukee Bucks made Wednesday, that's no longer the case.
The Bucks swung a deal with the Portland Trail Blazers and Phoenix Suns that brought back seven-time All-Star Damian Lillard. Gone are Jrue Holiday and Grayson Allen, but bringing in Lillard gives the Bucks the NBA's top duo.
Teaming Lillard, who averaged 32.2 points in 58 games last year, with two-time MVP Giannis Antetokounmpo gives Milwaukee the best one-two punch in the NBA. Not only does it give them two studs in the starting lineup, but it also pushes them past the Celtics as favorites in the Eastern Conference. In fact, many sportsbooks have the Bucks as the favorite to win the championship.
Do the Celtics counterpunch after this Bucks move? With Tatum and Brown, they certainly have enough to compete, but this is the year the NBA's former top duo needs to step it up.