Jayson Tatum Downplays Upcoming Rematch With the Golden State Warriors
Boston Celtics star Jayson Tatum isn't buying the hype for Saturday's game against the Golden State Warriors.
The Boston Celtics own the best record in the NBA at 21-5. They have won 17 of their last 19 games as they head into Saturday's game against the Golden State Warriors.
The last time these teams faced each other, the Warriors celebrated a championship on Boston's home floor. Saturday is a rematch between the two teams that played in the 2022 NBA Finals, but Celtics star Jayson Tatum isn't looking at it like that.
Jayson Tatum and the Boston Celtics face Stephen Curry and the Golden State Warriors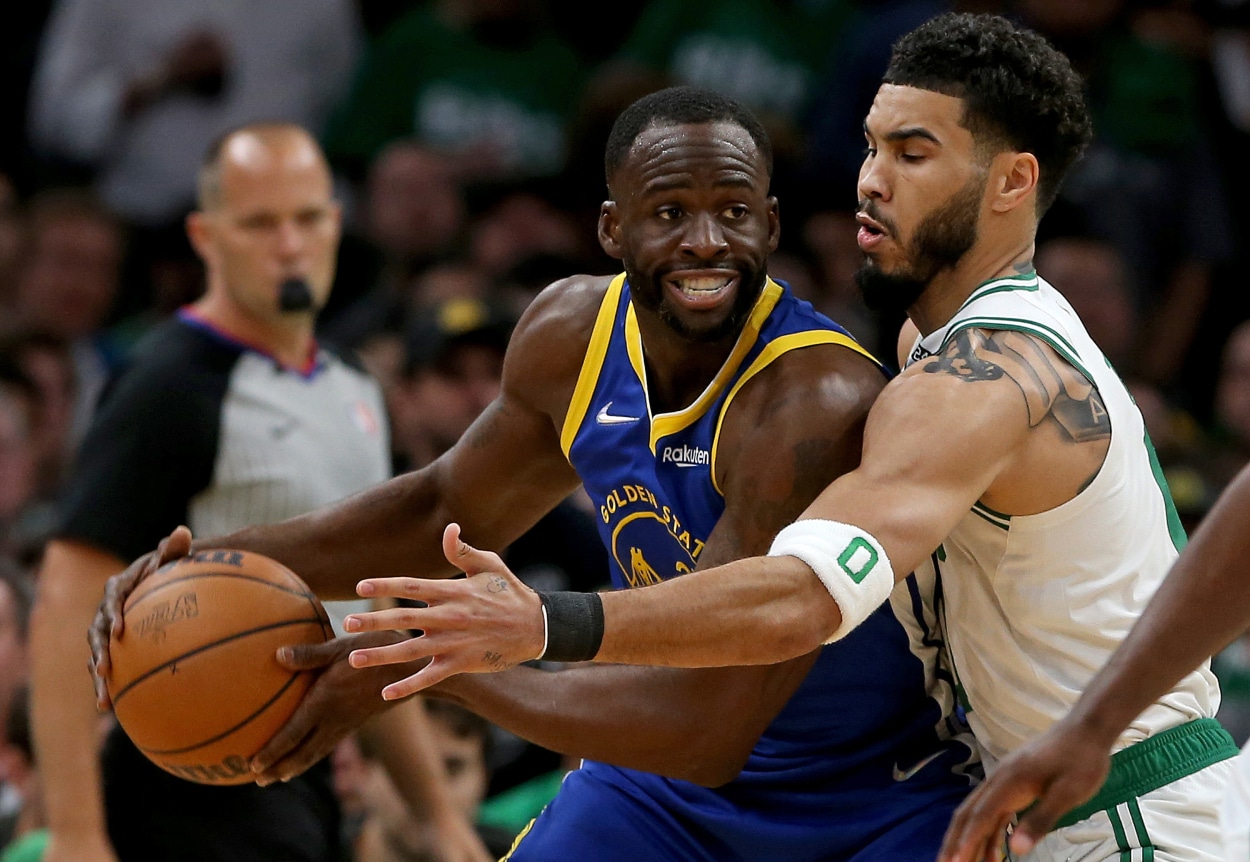 The Celtics felt like they let one get away last year. There wasn't a hotter team in the NBA over the last few months of the regular season and in the playoffs than the Celtics. After an ugly 50 games in which Boston went 25-25 to start the year, the Celtics closed the regular season at 26-6 to secure the No. 2 seed in the Eastern Conference.
After sweeping the Brooklyn Nets in the opening round, the Celtics outlasted the defending champion Milwaukee Bucks and the top-seeded Miami Heat in seven games. Then they squared off against the Warriors for the championship.
The Celtics hadn't been to the NBA Finals since 2010. They hadn't won a championship since 2008. The Warriors secured homecourt advantage by virtue of best regular-season record, but the Celtics went in and stole it from them with a 120-108 victory.
Boston went home with the series tied and then posted a convincing 116-100 win in Game 3 to get within two wins from a championship.
In Game 4, Curry took over, putting his team on his back with a 43-point effort. Golden State reclaimed homecourt advantage with a 107-97 win. The Celtics never won again.
Tatum won't play up the rematch with the Warriors
The Celtics are fresh off a statement win over the Phoenix Suns. In the first game of their four-game West Coast swing on Wednesday, the Celtics cruised to a 125-98 victory.
Next up, the Warriors.
Although the Celtics have said they are using the loss to Golden State in the Finals as motivation this year, Tatum isn't buying all the hype that's going into it.
"It's just one game," Tatum told reporters. "Obviously, it's probably a big deal, and everybody's going to make it a big deal. Being honest, they beat us last year. They won the championship, and we lost.
"They got that over us, and we understand that. Obviously, we want to go in there and continue to build off what we've been doing, and going in there and get a win. In the grand scheme of things, it's just one game. It's not going to make or break whatever we're trying to accomplish."