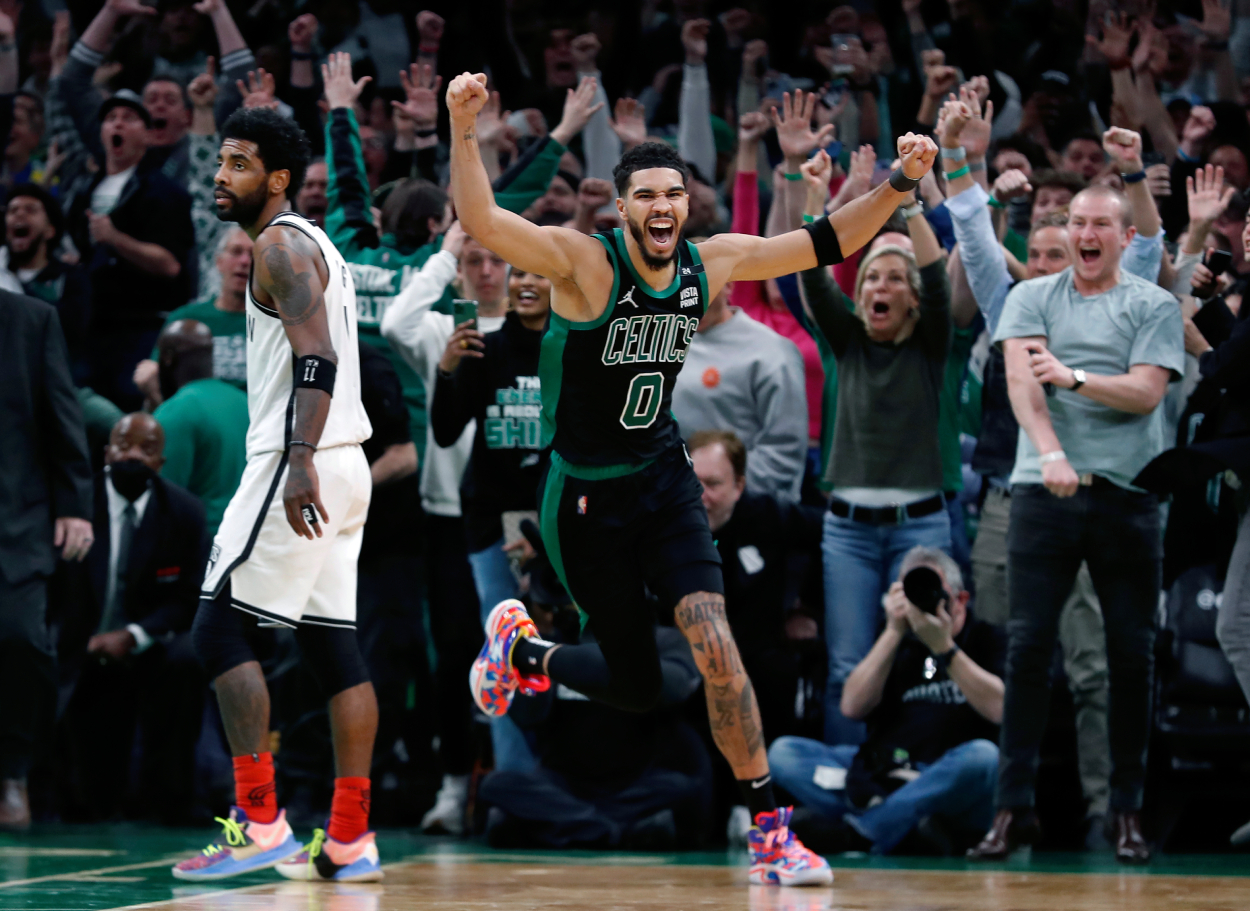 Jayson Tatum Likened to Michael Jordan, Kobe Bryant by a 7-Time NBA Champ
Boston Celtics star Jayson Tatum received quite the compliment from seven-time NBA champ Robert Horry.
Robert Horry might be getting a little ahead of himself, but he threw one heck of a compliment at Jayson Tatum on Tuesday. The seven-time NBA champ was a guest on Boston radio station WEEI and had nothing but love for the Boston Celtics star.
Tatum guided the Celtics to the No. 2 seed in the Eastern Conference and had the game-winning basket Sunday against the Brooklyn Nets. Horry said Tatum is as talented as they come, calling him an "MJ-Kobe Bryant-type guy."
Jayson Tatum is proving to be one of the NBA's best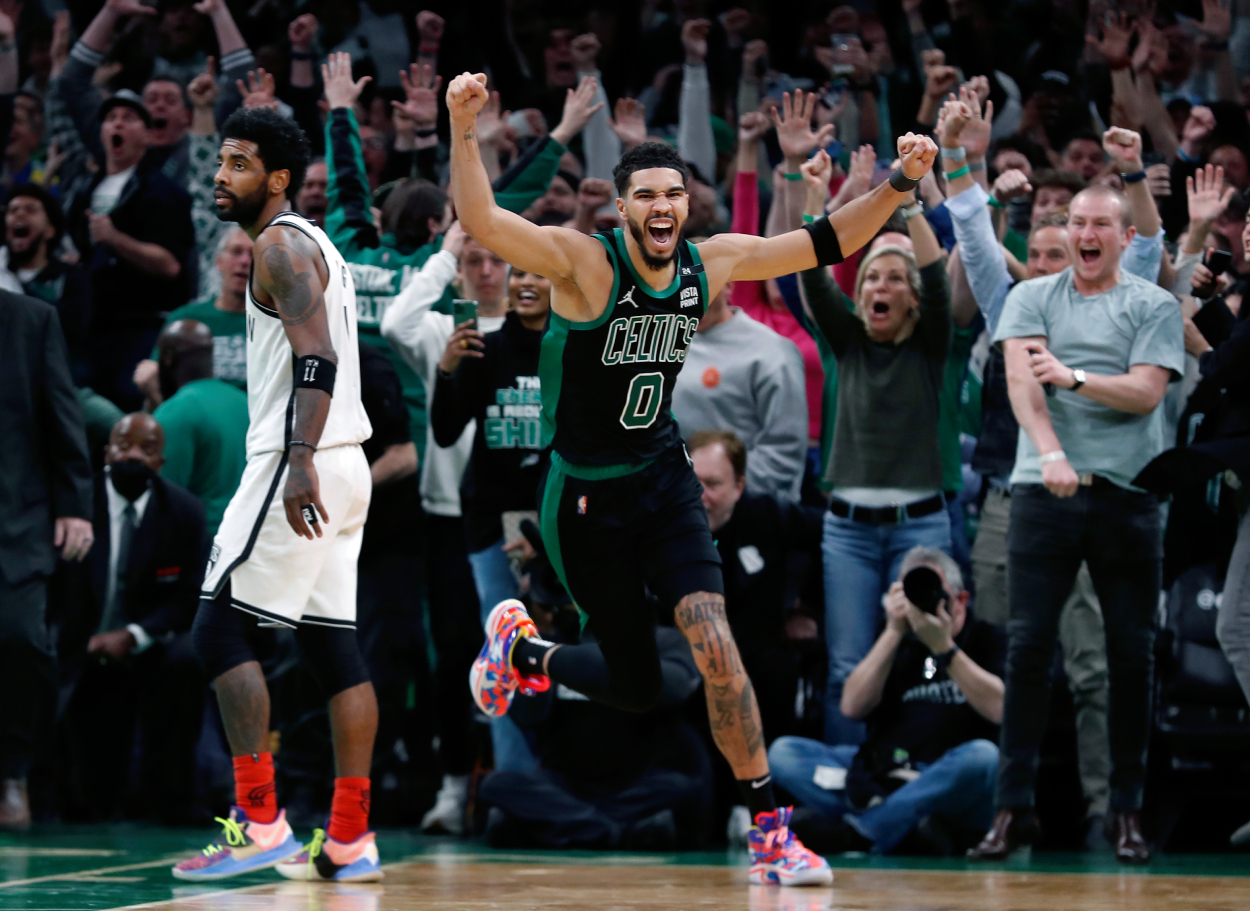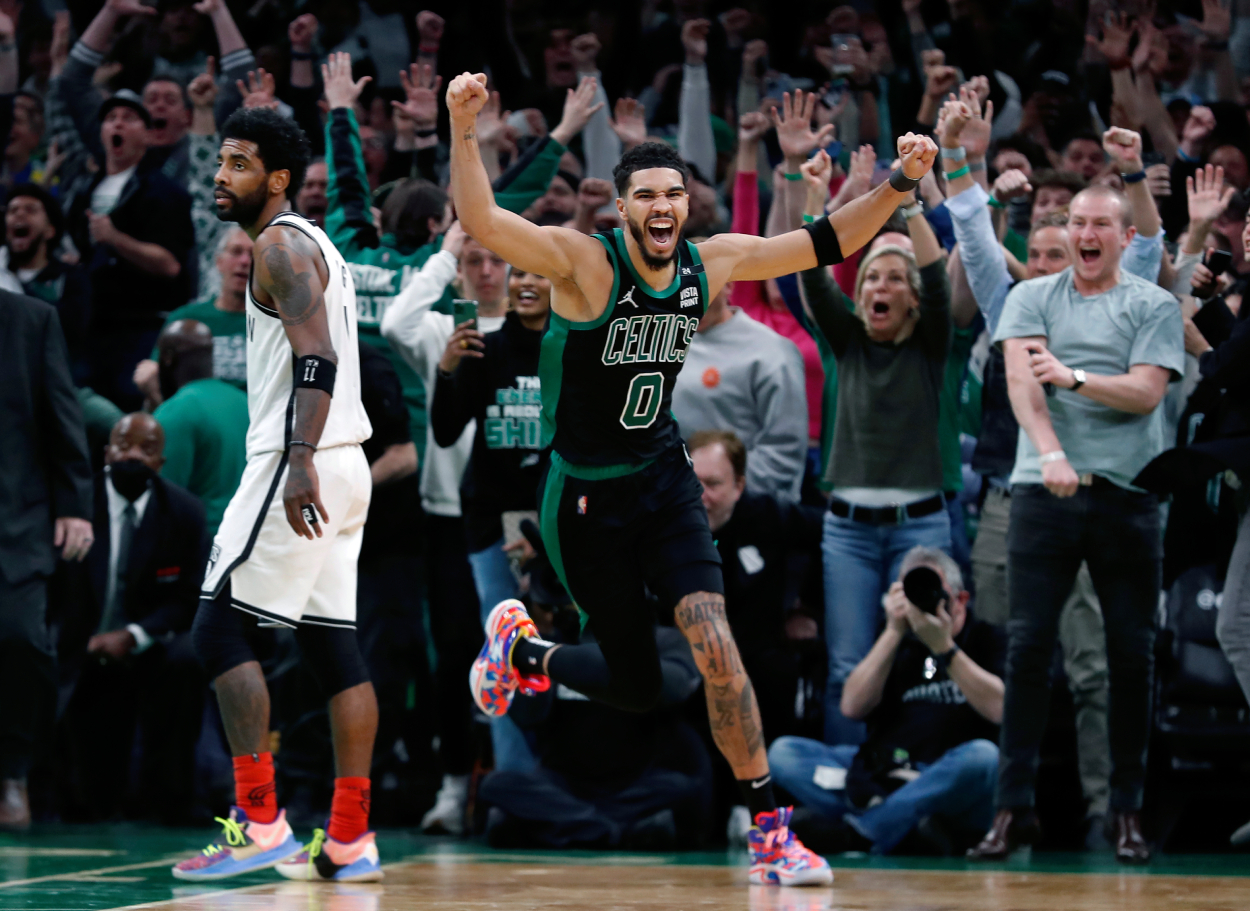 Tatum has probably worked his way into a top-10 player in the NBA. The three-time NBA All-Star is in his fifth year in the league and has consistently led the team in scoring.
Tatum has improved in every major category in each of his five years. He averaged career-highs in points (26.9), assists (4.4), and rebounds (8.0). He's come up big when his team needed him most. That was evident Sunday in Game 1 against the Nets.
He finished with a team-high 31 points, including the game-winning layup as time expired. It's a game the Celtics might have lost had it been played in December. The Celtics turned things up a notch the last 30 games of the season, and Tatum showed his maturity during that stretch. Tatum played at an MVP-type level the final two months.
First-year coach Ime Udoka said the Celtics showed poise during their final possession that ended with Marcus Smart pump-faking and finding Tatum under the basket.
"I think that's kind of a microcosm for our season, guys moving the ball being unselfish," coach Ime Udoka said, per ESPN.
Robert Horry mentioned Jayson Tatum in the same breath as Michael Jordan and Kobe Bryant
Horry knows a thing or two about basketball. He spent 16 years in the NBA, winning seven championships. Horry made an appearance on WEEI's Gresh & Keefe show and was asked his thoughts on Tatum.
He's a combination of Durant, he's a combination of Reggie Miller," Horry said. "A combination of so many guys because he can put the ball on the floor. He's tall and he's talented. He can play defense.
"There are certain guys in this league that make the game look so effortless. You know, he just makes the game look so easy. I don't think I've ever seen him sweat.
"He's making his own path. To me, it's hard to compare him to anybody because he's so different — his body type, the way he can do his handles. His ability to shoot. He's an MJ-Kobe Bryant-type guy."
That's high praise for someone who hasn't won anything yet. Kobe Bryant and Michael Jordan combined for 11 titles. Putting Tatum up there with those two guys is a bit of a reach — for now.
Tatum has become the leader the Celtics want him to be
Tatum is still just 24 years old. Although he leads by example, he's become more of a vocal leader this season. As he goes, the Celtics go.
"As far as a leader, he's much more vocal," Udoka said in early March, per NBC Sports. "In the past, obviously, coming in as a younger player, his elite status had him up there right from the start, but he had a lot of veterans around him, so he's kinda picking and choosing his way.
"Now him and Jaylen (Brown), with the guys who have been gone over the last few years, they know it's their team."
Udoka also said Tatum has done great getting his teammates involved in the flow of the game.
"(He's) much more vocal, and then on the court he's a bucket," he said. "He can get 30 in his sleep. We've just tried to help him grow and expand his game. He's doing all the things he naturally does, but also becoming much more of a playmaker, a leader out there and getting everybody else involved."