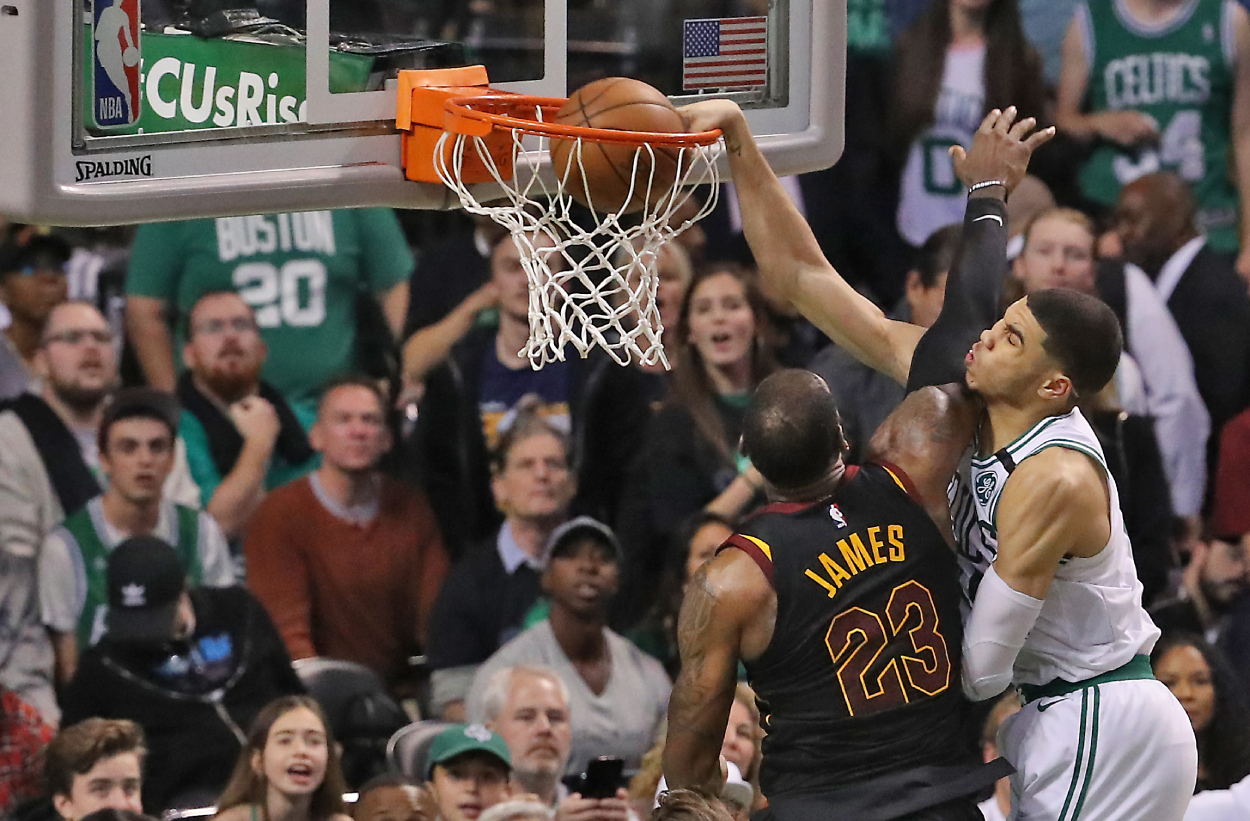 Jayson Tatum on Posterizing LeBron James: 'I Was Fully Aware of What I Had Just Done'
Jayson Tatum sad he knew he made it big when he dunked on LeBron James in the 2018 Eastern Conference Finals.
It was Game 7 of the 2018 Eastern Conference Finals. The Boston Celtics had blown a double-digit lead against LeBron James and the Cleveland Cavaliers. They needed a second-half spark. A young Jayson Tatum gave it to them.
Although James and the Cavs went on to win and reach the NBA Finals. That spark — a thunderous dunk over James — ignited the Boston crowd and gave Tatum confirmation that he could play with the big boys in the NBA.
Jayson Tatum recalls posterizing LeBron James in 2018
Tatum was 20 years old and here he was facing James in a winner-take-all matchup for the right to go to the NBA Finals. The Celtics had so much promise heading into the season with the additions of Kyrie Irving and Gordon Hayward, although both were injured when it came playoff time.
Despite the loss of the two All-Stars, the Celtics overachieved and had their chance at a berth in the NBA Finals. During a recent appearance on The Old Man & the Three podcast, hosted by former NBA player JJ Redick, Tatum reflected on that season. He specifically mentioned the posterizing dunk over James that drew national attention.
With his team down 71-67 midway through the fourth quarter, Tatum drove the middle of the lane and slammed home a dunk over James. That moment has stuck with Tatum ever since.
"I was fully aware of what I had just done," Tatum said. "I remember as soon as the game ended, I had talked to Bron for like a minute. In that moment, I had realized what I had just done, how close we were, and that was kind of like alright, I'm going to be pretty good for a while.
"I think the world realized it. LeBron had realized it at that point. I was 20 years old. I remember obviously being upset. It was Game 7, and you want to go to the Finals, but I remember like, I'm gonna be pretty good at this."
Jayson Tatum talks recent surge by the Boston Celtics
Tatum tasted early success with the Celtics, reaching the Eastern Conference Finals in two of his first three seasons. Last year, they struggled to a .500 season and were bounced in the first round by the Brooklyn Nets. This season has also been a struggle, although it's been aided by a hot stretch that saw Boston win nine of its last 10 games before the All-Star break.
The fifth-year Celtics star spoke about his team's recent nine-game win streak that has Boston back in the thick of the Eastern Conference race.
"I think health and awareness," Tatum said when asked what has been the key to their recent success. "Being aware of, quite frankly, the things we weren't doing right — things we were messing up on. I think healthwise, having our core group, having our starting unit, for the majority of the last 17 or so games.
"The beginning of the season has been the toughest, up-and-down, you go up two games above 500 and then go down two games. I remember my first year we won 18 games in a row. My second year, we were supposed to have the most talented team. My third year, we went back to the conference finals. I was spoiled. I thought this was how it's supposed to be every year."
Tatum admits he was spoiled his rookie season
During the last two seasons, Tatum has been dealt a dose of reality. He had gone deep into the playoffs in his first three years in the league. As a rookie, he faced James and the Cavs and had his special dunking moment over King James.
Last year was one and done, and this year has been a roller-coaster ride. Tatum admitted he realizes he has a new perception in his fifth season.
"When you're a rookie, you don't know any better," Tatum said. "I'm on the Celtics and we got Kyrie Irving, Al (Horford), JB (Jaylen Brown), Marcus Morris, Terry (Rozier), Gordon (Hayward), but he got hurt. I think this is just going to last forever, and we're going to win a championship because we've got 17. I thought this was normal and how this was supposed to be.
"Looking back on it, I didn't cherish it as I probably should have, but at the same time, how could I? I didn't know any better."
Tatum and the Celtics enter the break at 34-26 after spending much of the year around the .500 mark. They are the sixth seed and 4.5 games out of first place. Tatum now knows you don't just cruise to get in the playoffs. He's certainly shown it during Boston's last 10 games. The Celtics could be a team to watch out for down the stretch.