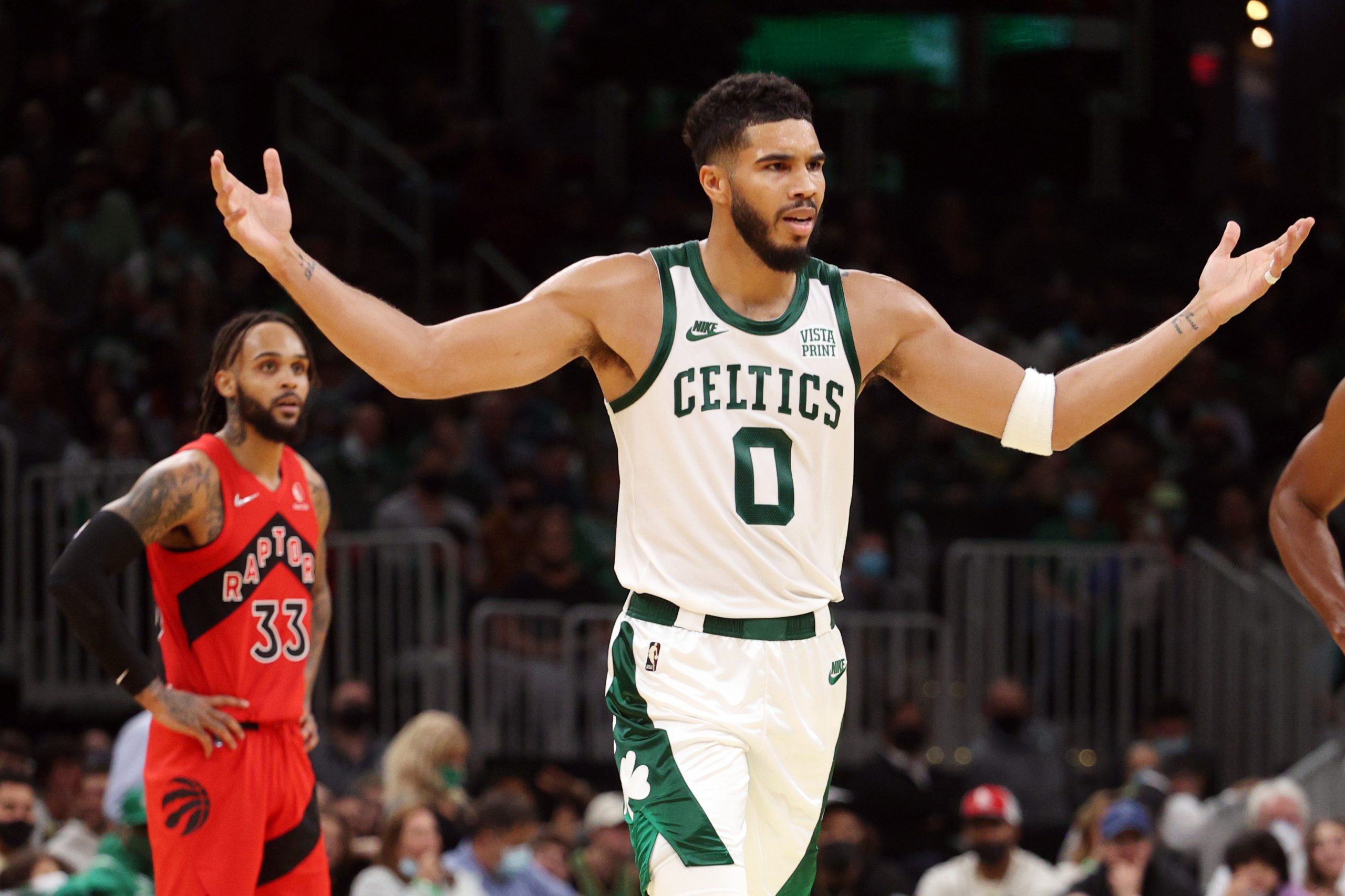 Jayson Tatum's Troubling Comment After Embarrassing Loss in Home Opener Should Be of Major Concern to Boston Celtics Fans
Jayson Tatum made a troubling comment after the Boston Celtics' embarrassing loss to the Toronto Raptors.
For Boston Celtics fans, it's already deja vu after two games. Jayson Tatum even confirmed it after Friday's night's ugly home loss to the Toronto Raptors.
Last season was a disaster for the Celtics, who underwent an offseason of change after a rough 36-36 season. Despite the changes, it's been the same story for the team through two games this year. Tatum's troubling comment after Friday's game had to have raised more than a few eyebrows.
Jayson Tatum and the Boston Celtics haven't changed, and that's not a good thing
The good news for Celtics fans is that it's only two games into the season. The bad news is that in those two games, they are playing like they did a year ago.
Last year under head coach Brad Stevens, the Celtics were bounced in the first round of the playoffs despite having a pair of NBA All-Stars in Tatum and Jaylen Brown. Frustration ran wild throughout the locker room as the team struggled all season before finishing at .500.
Brown displayed his frustration after an ugly loss to the lowly Washington Wizards. A reporter asked Brown how he felt about the team's ball movement. Brown stared in silence for some time before simply answering, "No comment."
Former Celtics point guard Kemba Walker vented after the loss, questioning the team's effort.
"(We) just need to play harder," Walker said in a press conference. "That's it. We're not playing hard. We're not playing as hard as we know we can. When you play hard, great things happen. And right now, it just hasn't been consistent, our play."
Jayson Tatum's troubling comment after Friday loss should concern Boston Celtics fans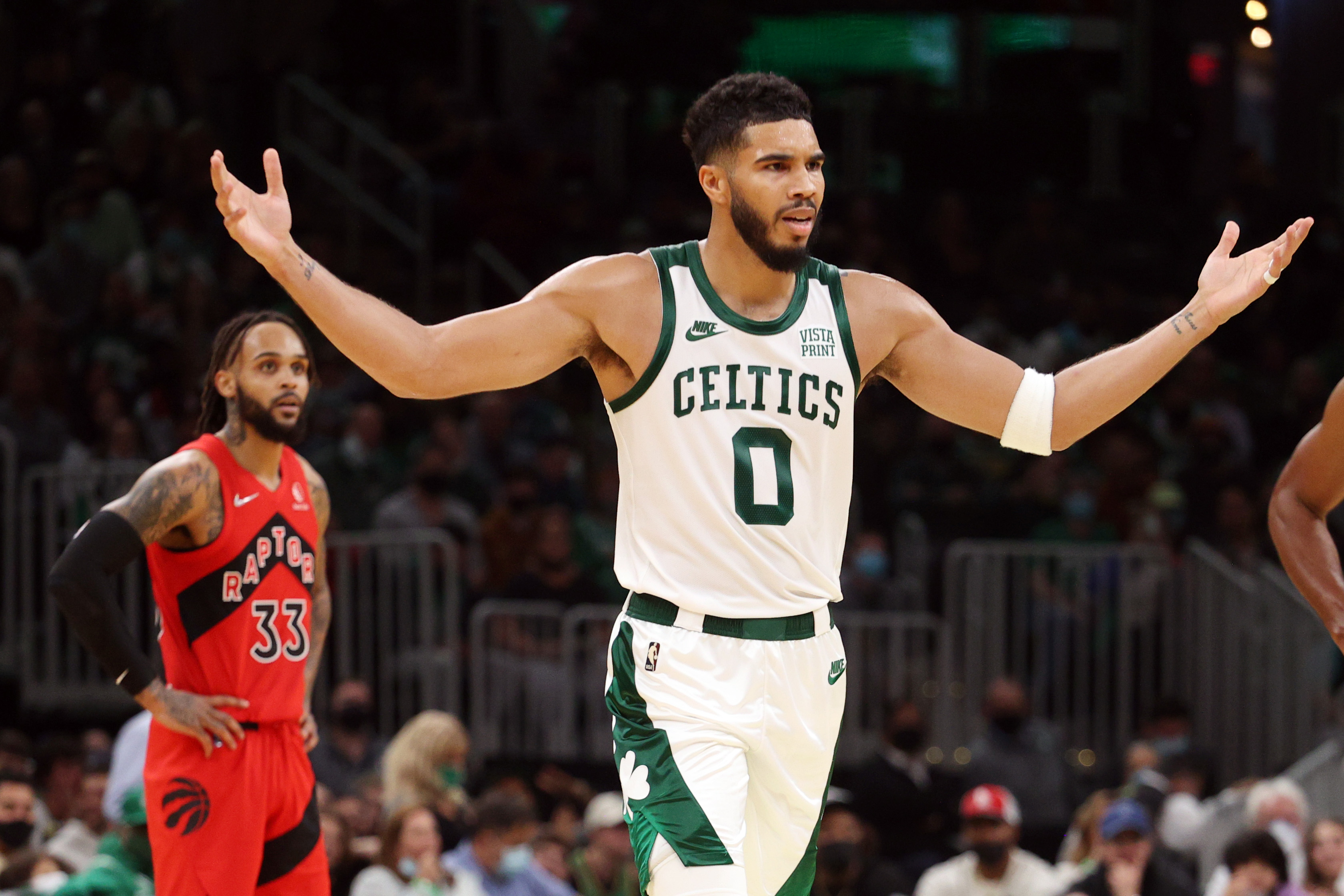 After Danny Ainge, the team's president of basketball operations, retired at the end of the season, Stevens moved into the front office as his replacement. The Celtics brought in Ime Udoka as their new head coach. So far, not much has changed.
In the season opener, the Celtics rallied from a fourth-quarter deficit, only to lose in double overtime on the road to the New York Knicks. It wasn't the loss in that game that was disturbing. It was the fact three guys alone chucked up 40 3-pointers. Tatum went 2-for-15 from beyond the arc. They took 59 as a team.
More startling was Friday's home opener when the Raptors trounced the Celtics in Boston, winning 115-83. The lopsided loss was bad enough, but what Tatum, the supposed leader of the team, said after the game should have Celtics fans deeply concerned.
"We know why we lost," Tatum said, according to Mass Live. "They just played harder than we did, played tougher. It wasn't rocket science. We're all professionals; we're all adults. We understood what had happened." 
Tatum might not be the leader Celtics fans expected
Two games into the season and the Celtics aren't playing hard enough? Is this a case of grab your $200 million contract and run?
This doesn't appear to be a Stevens thing. There had been some questions about the former coach not being able to motivate his players, but clearly they still don't have the fire in them.
This appears to be a Tatum issue.
How can a team playing in its season opener under a new coach not play hard or tough? As the leader of the team, it's Tatum's job to lead by example and give the effort. Maybe he's too comfortable that his financial future is set.
If it's not "rocket science" Jayson, then why haven't you fixed it?