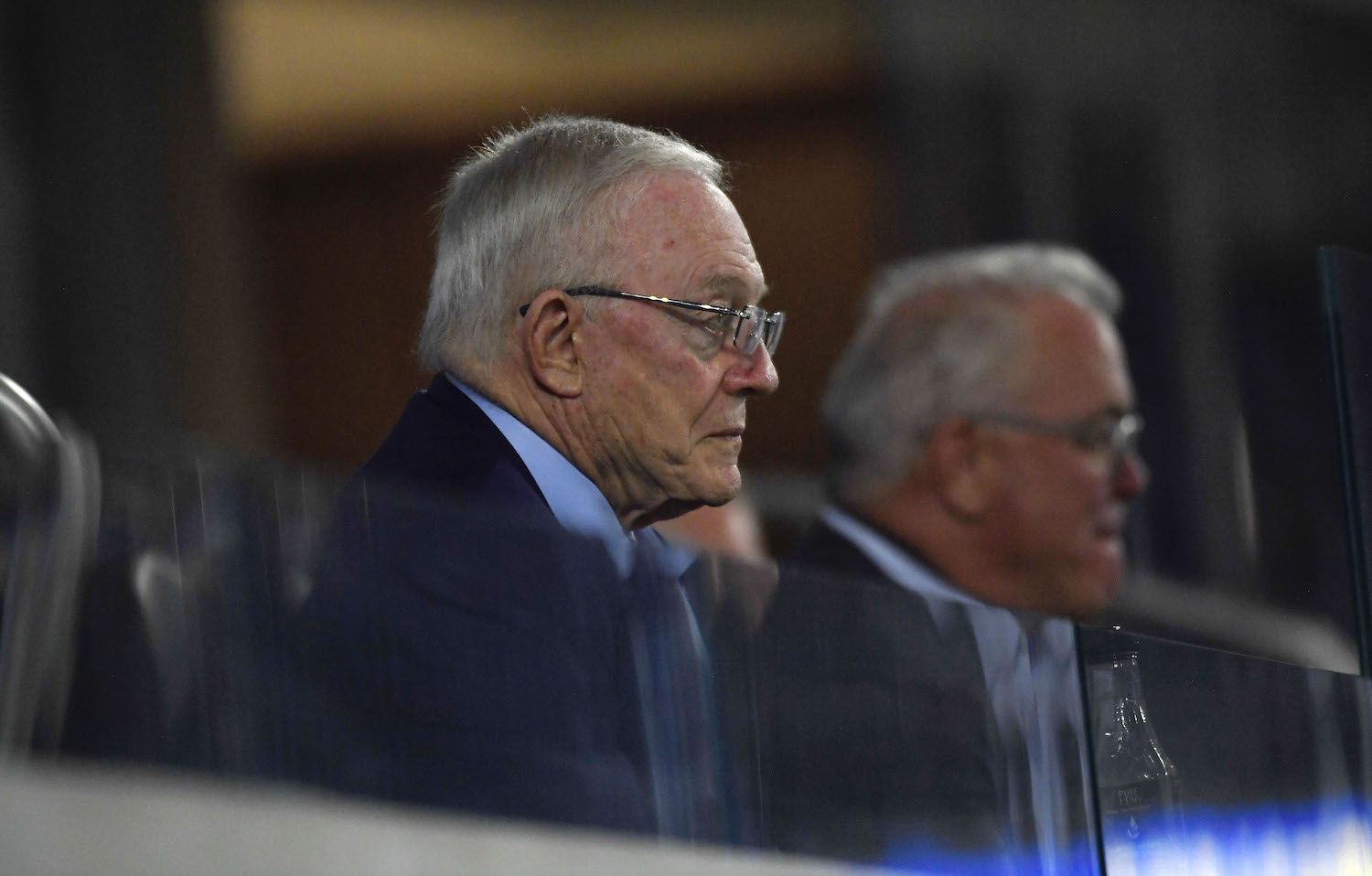 Jerry Jones Continues Defensive Purge Dismissing Former Pro Bowler and His Huge Contract
Dallas Cowboys owner Jerry Jones continues to purge the defense. His latest move is dumping a two-time Pro Bowler and the huge contract he signed this offseason.
This offseason Jerry Jones made numerous acquisitions to improve the Dallas Cowboys defense. Those moves have been an abject failure. The Cowboys have the worst-ranked defensive unit in the NFL, allowing a staggering 34.7 points per game. The Cowboys defense against the run is the most porous, surrendering a league-worst 178 yards per game on the ground. On Wednesday, for the second time in as many days, the Cowboys' purge on defense continued, moving another big-name defensive player brought in this past offseason who has failed to produce. 
Jerry Jones' defensive moves in offseason have failed miserably
This past offseason, the Dallas Cowboys brought in several big-name players for a revamped defensive line, including defensive tackle and six-time Pro Bowler Gerald McCoy, as well as Pro Bowlers Everson Griffen of the Minnesota Vikings and Dontari Poe from the Carolina Panthers.
Unfortunately, McCoy never played a regular-season snap as he suffered a season-ending injury in the first week of training camp. Interestingly, Griffen and Poe have been almost as ineffective as McCoy this season through seven games.
Just before the midway point of the season, Griffen has recorded 2.5 sacks, 20 tackles, and three tackles for loss. Poe has fared much worse. The nine-year veteran and two-time Pro Bowler has registered no sacks and a measly seven tackles.    
Jerry Jones sings high praises of Dontari Poe earlier in year
Following the Dallas Cowboys' miracle win over the Atlanta Falcons in Week 2, an enthusiastic Jerry Jones made his weekly radio appearance on 105.3 The Fan. When one of the talk show hosts asked the Cowboys owner about the defense, which had surrendered 60 points in two games, Jones offered a surprising answer.
"I think we're pretty satisfied with what we have on our roster. Poe is really performing at a higher than expectations level," Jones said.
At the time, Jones' definition of Poe exceeding expectations consisted of three tackles in two games. In the five games since, Poe's performance must have really impressed the owner as he registered four tackles in five games with no sacks.  
Dallas Cowboys release Dontari Poe because of weight, not kneeling
On Tuesday of this week, Jerry Jones made the first move in an effort to improve the much-maligned Dallas Cowboys defense. The Pokes traded Everson Griffen to the Detroit Lions for a conditional draft pick. Numerous reports indicated Jones wasn't stopping there.
On Wednesday, after failing to find any teams willing to trade for Dontari Poe and cornerback Daryl Worley, the Cowboys released both players. In an interview with ESPN's Chris Mortensen, Jones discussed Poe and whether or not the defensive tackle's decision to become the first and only Cowboys player to kneel during the national anthem had anything to do with his release.
"When you're 30 pounds overweight and you're not doing anything about what's keeping you from performing well on the field, there is no reason to get into the other stuff.
"I understand your question, and I'm deliberately not going to answer it," Jones said. "We have a platform here, but the platform on the football field has a high standard, and [Poe] was not up to the standard. He needed to correct that, and he did not. I'm going to leave it at that."
Jerry Jones' decision to release Poe is in stark contrast to what he said just a month ago about the defensive tackle exceeding expectations. It's clear to those paying attention, the owner's comments and his actions don't properly line up, which, ironically, is consistently the same problem with the Cowboys defense. 
All stats courtesy of Pro Football Reference.