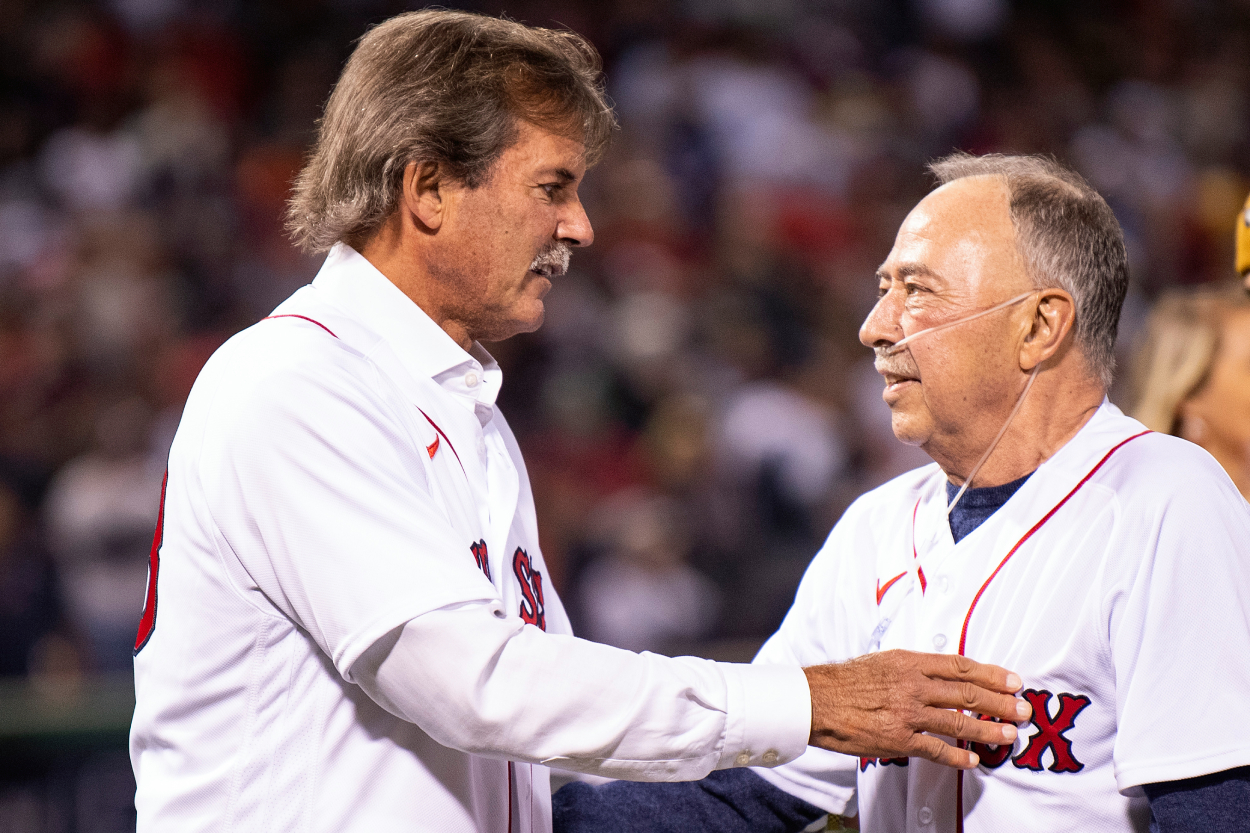 Jerry Remy Touched the Lives of Many, Including Dennis Eckersley, Who Recalled His Final Words to His Late Broadcast Partner
Former Boston Red Sox player and broadcaster Jerry Remy died Saturday after a long battle with cancer. He was 68.
Jerry Remy loved his Boston Red Sox. He loved life. That was all on public display at the beginning of the 2021 MLB playoffs when he threw out the ceremonial first pitch at Fenway Park while hooked up to an oxygen tube. Weeks later, Remy lost his long and public battle with cancer. Remy died Saturday. He was 68. Dennis Eckersley, his broadcast partner, shared his final moment with Remy after he was on the receiving end of RemDawg's pitch on Oct. 5.
Jerry Remy played seven years with the Red Sox before returning as a beloved broadcaster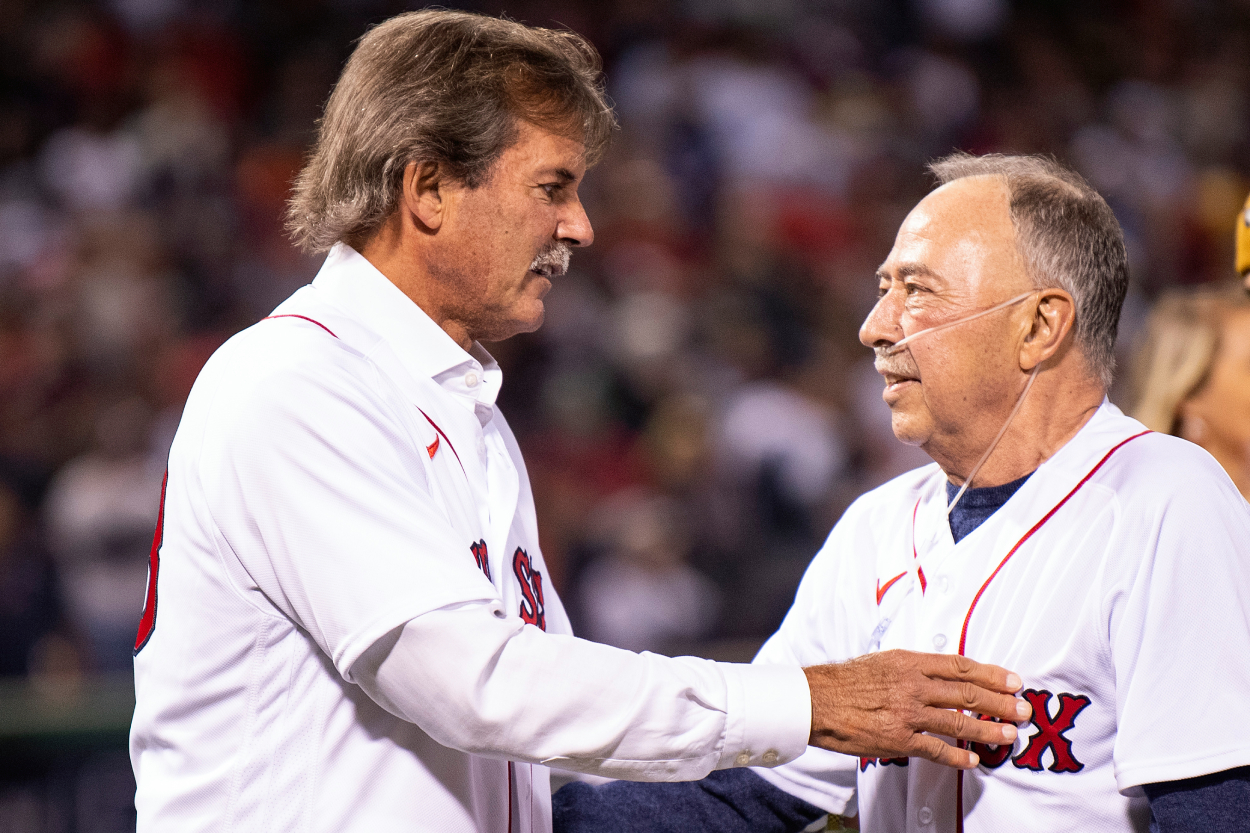 Remy played the first three years of his 10-year MLB career with the California Angels. In December 1977, he was traded to his hometown Red Sox in exchange for pitcher Don Aase. He spent the final seven years of his career in Boston before battling knee injuries. The Red Sox released the second baseman in December 1985, and he retired during spring training in 1986.
In his first year in Boston, Remy made his first and only All-Star appearance. He hit .278 in 148 games during that 1978 season. He collected 162 hits and 30 stolen bases.
In 1988, he turned to broadcasting, which seemingly was a natural fit. His knowledge of the game, combined with his sense of humor in the booth, made for must-watch TV. It wasn't always so easy for him, however.
According to Boston.com, Remy was stressed out early in his broadcasting career, so much that he prayed for rainouts.
"I remember the first game I worked in spring training," he recalled in 2004. "I didn't know the score and I didn't know the count. I knew baseball, but I knew nothing about TV. I was totally lost. 
Dennis Eckersley recalled his final moments with his good friend Jerry Remy
Remy and Eckersley came to Boston the same year as players. When their playing days were over, they continued similar career paths, winding up in the same NESN broadcast booth calling Red Sox games.
"It's wasn't shocking," Eckersley told WCVB5 when he heard of Remy's death, "but you're never really prepared for it until you get that call. Right away, because it was so recent, you go back to when he threw out the first pitch, the Wild Card Game, about a month ago.
"I think we all knew that was kind of a goodbye at that time, but it's so moving to look back at that. It's special at the same time. I got the chance to catch the ball, hug him, tell him how much I loved him and how much the crowd loved him. He got that moment.
"The last time I texted him was to tell him how privileged I was to be there for that. He said, 'I'm so glad it was you.' I'll always remember that. He said it was a really nice feeling. So, you know, he had that moment. I had a lot in common with him. We came here in 1978 together, he from the Angels, me from the Indians.
"That '78 season, very memorable to say the least. We played together a long time. He was a great friend, great teammate. Then we sort of had parallel careers. I got the chance to really get to know him over the last five years, joining him in the booth. It was his booth."
What they're saying about Remy
Remy's cancer battle began in 2008 and was an on-and-off struggle until his death. Throughout his career, both in baseball and broadcasting, Remy touched the lives of many. Red Sox principal owner John Henry said Remy left an "indelible mark" on the franchise, according to The Providence Journal.
In a statement released Sunday, Henry said Remy "left an indelible mark on this club and on an entire nation of Red Sox fans. He devoted his entire career to baseball and whether, from his seat in the clubhouse or his perch above the field in the broadcast booth, he took generations of rising Red Sox stars and a multitude of fans along for the ride with him."
Also in a statement, MLB Hall of Famer and former Red Sox great Carl Yastrzemski said Remy was a "very, very hard worker" and a good friend.
"He made himself an outstanding player. He carried those same work habits over to the broadcast booth," he said.
"When you listened to him, it was as if you were having a beer with your best friend, and his insight, humor, and charm lifted your spirits," Tom Werner, the Red Sox chairman, said, according to The New York Times.
Remy was Boston Red Sox baseball. He toughed out life as he did his baseball career.
Rest in peace, RemDawg.