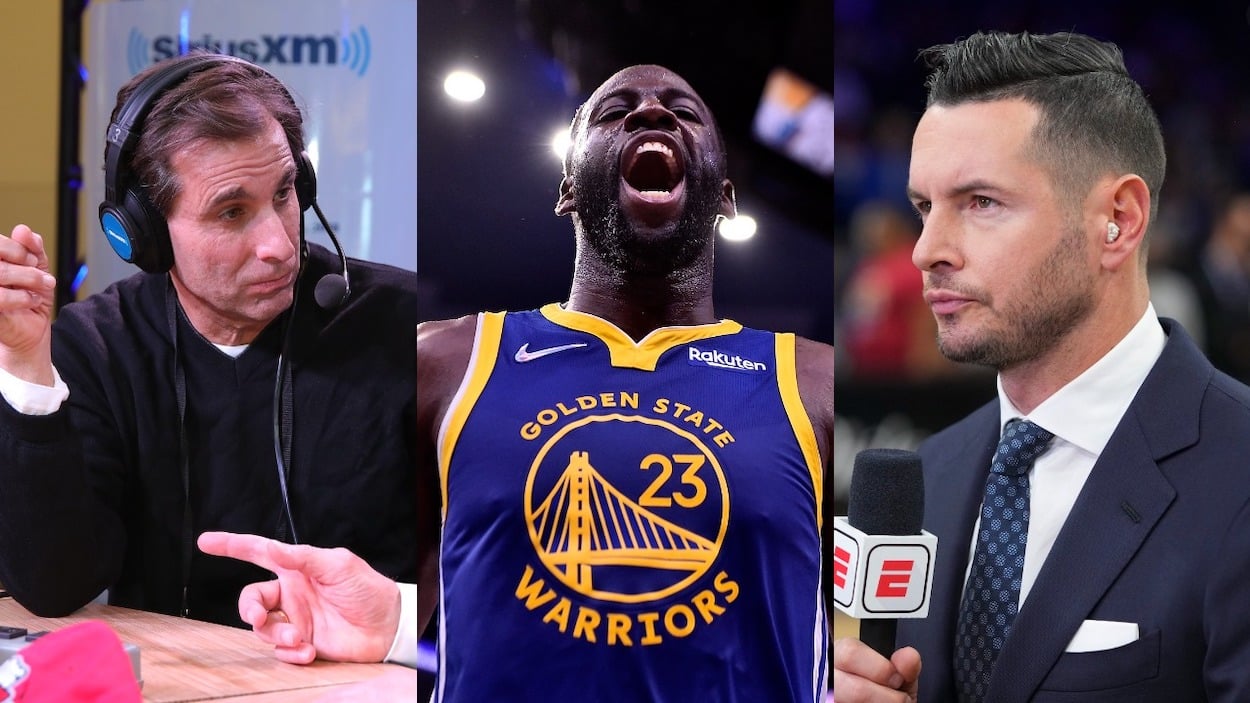 JJ Redick Attacks Chris Russo for His Draymond Green Take: 'The People on Fox News Talk About Athletes That Way'
JJ Redick and Chris 'Mad Dog' Russo got in a heated debate on 'First Take' over Draymond Green and Redick turned it political after Russo told Green to 'shut up and play.'
Former NBA player JJ Redick hung up his high-tops before the 2021-22 season and now spends part of his time as an analyst for ESPN. As part of his duties at The Worldwide Leader, Redick occasionally appears on the hot take morning debate show First Take. This week, things got heated between the former Duke guard and co-host Chris "Mad Dog" Russo when discussing Golden State Warriors forward Draymond Green.
Chris 'Mad Dog' Russo is not a fan of the Golden State Warriors' Draymond Green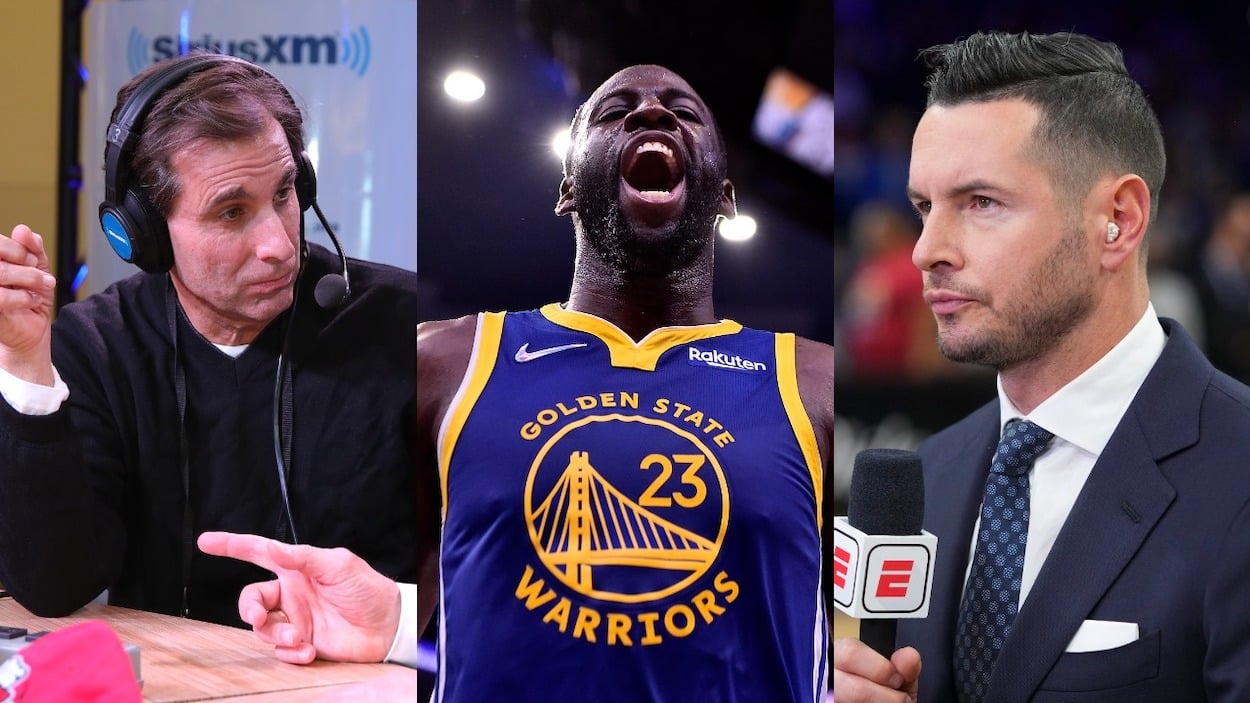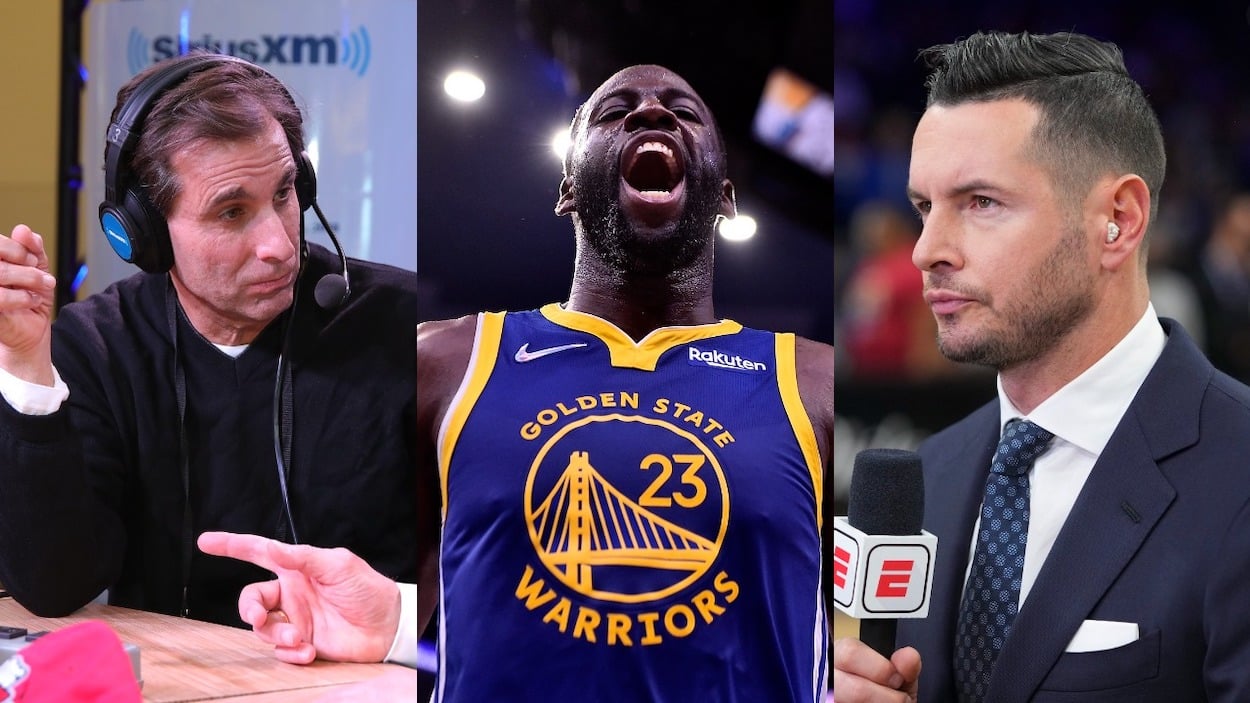 "You guys were really entertaining in that A block," JJ Redick told Stephen A. Smith and Chris Russo when he sat down on Wednesday's episode of First Take. "Really just enjoyed that first segment."
"I didn't antagonize you a little bit?" Russo asked.
"We'll get to that," Redick wryly responded.
The antagonizing came from Russo and Smith's discussion surrounding the hard (dirty?) foul by Memphis Grizzlies guard Dillon Brooks on the Golden State Warriors' Gary Payton II. After the foul, Warriors coach Steve Kerr called out Brooks for breaking "the code."
Russo argued that next morning that, while he believes Kerr was right, the coach doesn't have a leg to stand on making that argument with Draymond Green on his team. The Mad Dog brought up Green kicking then-Oklahoma City Thunder center Stephen Adams in the groin during the 2016 playoffs as an example of Kerr's player "crossing the line, too."
Green continued to be a hot topic when Redick joined the discussion later in the show. The night before, Green took an elbow to the eye area from Memphis' Xavier Tillman. The Grizzlies fans cheered as he left the court to get stitched up.
The player responded with double middle fingers to the crowd and, after the game, was unrepentant. Green said it "felt really good to flip 'em off." He also noted that he makes $25 million a year, so he's not overly concerned about the incoming fine from the NBA.
Russo didn't like any of this and started in on Green, opining, "He's so hard to root for."
Then, the longtime New York City sports talk host uttered the four words that would set Redick off: "Shut up and play."
JJ Redick was not happy with Chris Russo's comments 
After Chris Russo's "shut up and play" comments, Stephen A. Smith took after the radio host first. He supported Draymond Green's unhappiness with the fans booing (although not Green flipping the birds). He also teased Russo that one of his favorite baseball players, Barry Bonds, was also an unlikeable crank at times, as Russo seems to think Green is.
All the while, JJ Redick sat stone-faced, waiting his turn. And when his turn came, Redick didn't hold back on Russo.
"I want to take a little umbrage with 'shut up and play,'" Redick said, turning to Russo. "Because that has the same sort of connotations as the 'shut up and dribble' crowd has towards athletes. And I have a real problem with that."
Redick then launched his attack on 62-year-old Russo. Redick noted that Green has a very popular podcast and a talent deal with Turner Broadcasting, proving people care about what he says. The sharpshooter also pointed out that this is all because Green is "real, authentic, and unfiltered," both on and off the court.
While Russo admitted that some fans, especially younger ones, do want to hear what Green has to say, he said he could also find "older fans, who have followed the NBA for 60 years" who can't stand the Warrior. He also offered the caveat that this dislike from Green by older fans "is not a political scenario or a race situation."
Redick disagreed.
Redick called out 'older' fans who don't like Draymond Green 
While defending the older fans who don't like Draymond Green, Chris Russo cited a host of Black players who fans like this loved, such as Wilt Chamberlain, Clyde Frazier, and Willis Reed.
JJ Redick was fine taking race out of it, but he wasn't willing to concede that politics didn't play a role.
I disagree with you on that. I'm not saying it's a race situation. I'm saying it's the fans you're talking about. They talk about athletes that way. Like you just talked about an athlete. The people on Fox News talk about athletes that way. That's my issue. I don't actually care about the fans that watched Bob Cousy play or Wilt play, I don't care! I appreciate that they've been NBA fans that long, but I don't appreciate the undertones.

JJ Redick on fans critisizing Draymond Green
Stephen A. Smith — of all people — had to step in and tell Redick to "calm down" after his rant. Smith also defended Mad Dog, saying, "With Doggy, it's not a race thing."
The First Take mouthpiece continued by saying he understands both sides. While he's OK hearing what most players have to say off the court these days (Kyrie Irving excluded), he understands how "old-school fans" want to prioritize players' performance on the court and not their opinions off it.
Cooler heads ultimately prevailed, but both Russo and Redick stuck to their guns and agreed to disagree on this polarizing topic.
Like Sportscasting on Facebook. Follow us on Twitter @sportscasting19 and subscribe to our YouTube channel.