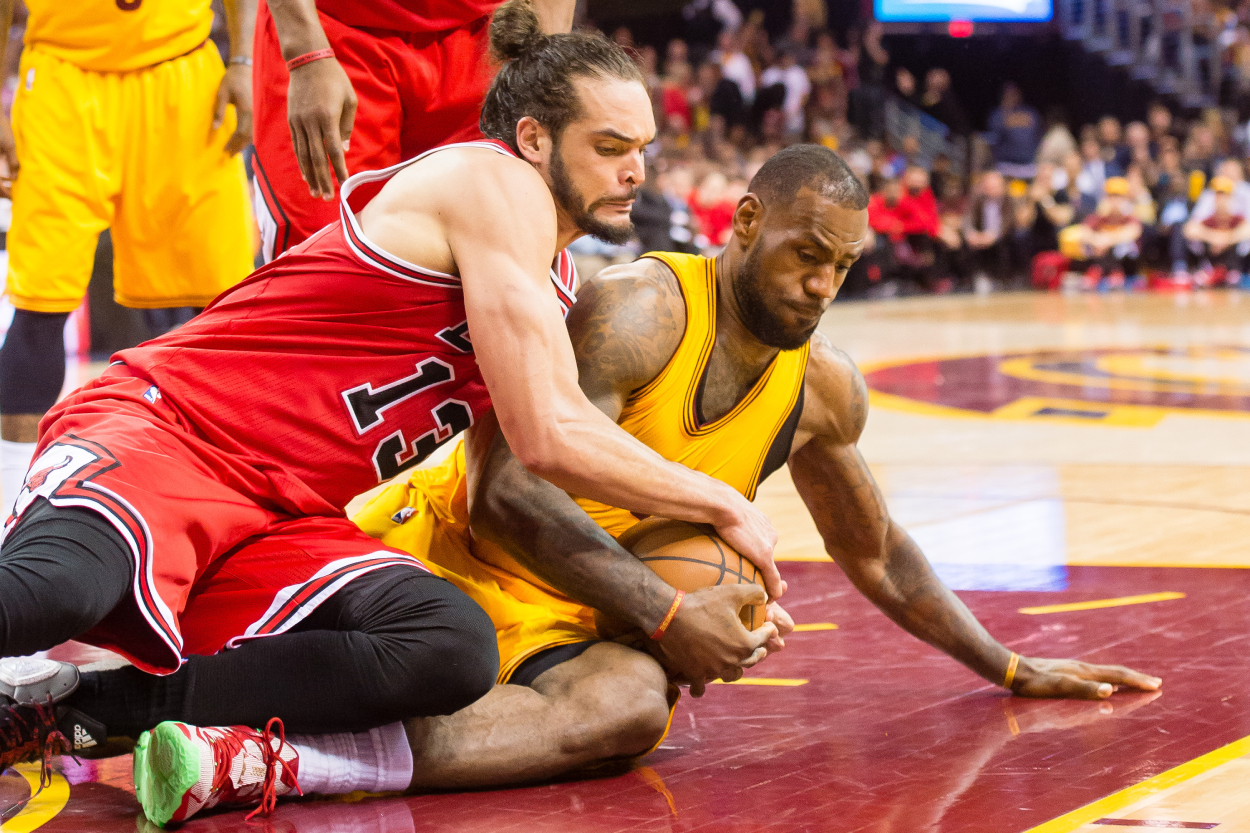 Joakim Noah Relives His 'Beef' With LeBron James
Two-time NBA All-Star Joakim Noah reflected on his so-called beef with LeBron James.
Former Chicago Bulls All-Star Joakim Noah had a few heated moments with LeBron James on the court. Noah's competitive fire contributed heavily to battles, and the 13-year NBA veteran never backed down.
Noah recently recalled those tense moments with James, explaining how and why they occurred. Those battles heated up when James joined the Miami Heat and "there were times where I hated him," Noah said.
Joakim Noah always did the dirty work for the Chicago Bulls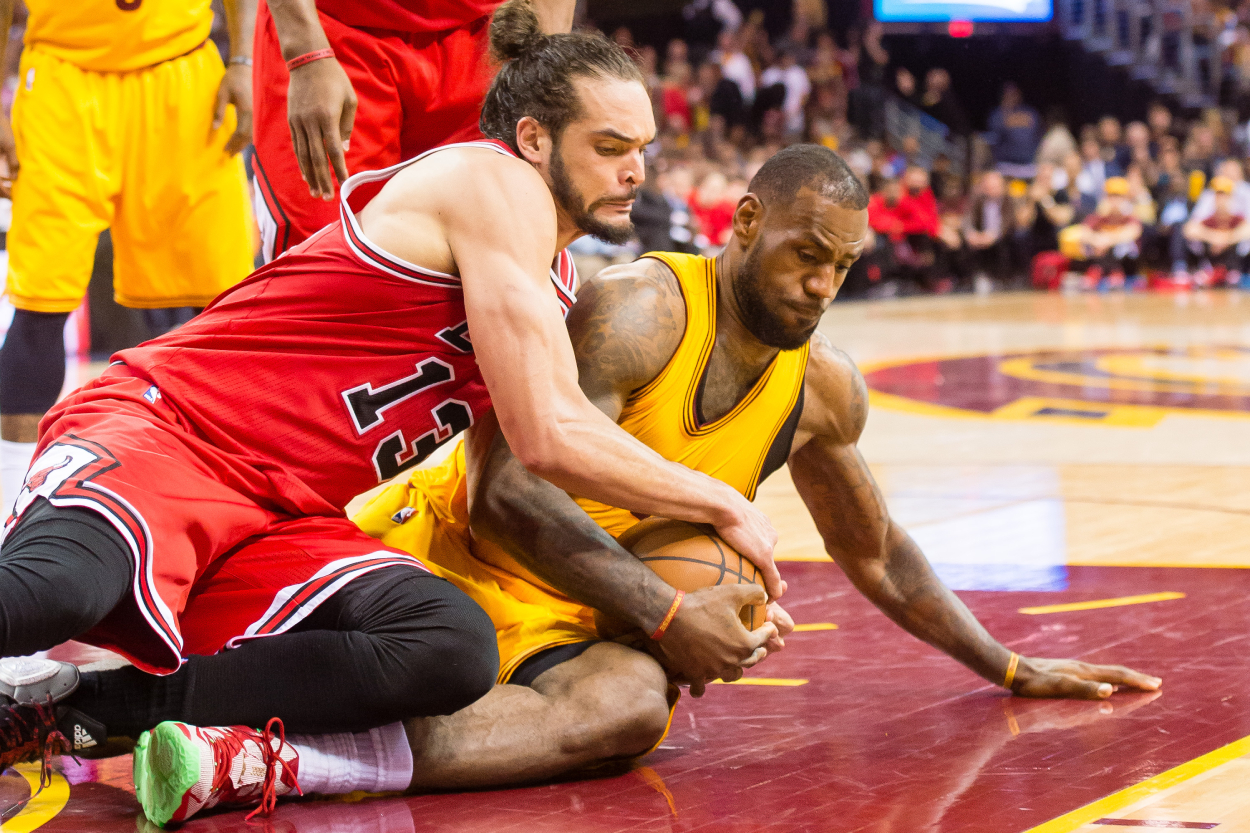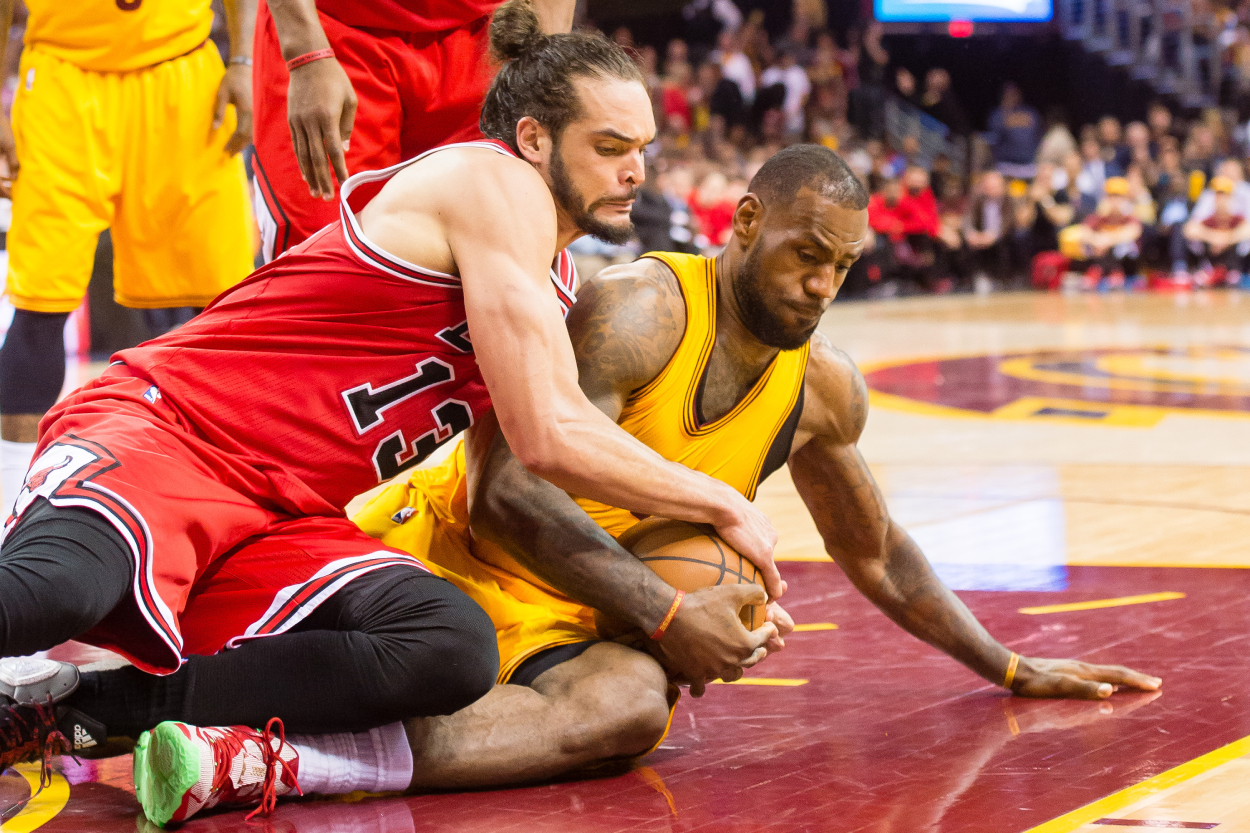 Noah was a rarity. He twice made his way to the All-Star game, barely averaging double digits in points scored. Noah did it with defense and by doing all the little things that go unnoticed.
In his nine seasons with the Bulls, he averaged 9.3 points and 9.4 rebounds, yet he was an All-Star in back-to-back years, beginning with the 2012-13 season. During that year, he put up 11.9 points and 11.1 rebounds and was a defensive presence in the paint.
His best season came the following year when he was named the league's Defensive Player of the year. He also had the best offensive year of his career, averaging 12.6 points, while pulling down 11.3 rebounds. Noah also started a career-high 80 games that season.
Noah's hard work also paid off financially as his hometown New York Knicks inked him to a four-year deal worth $72 million in the 2016 offseason. The deal did not pay off for the Knicks as Noah only played 53 games for the team after suffering through injuries and a 20-game suspension in 2017 for violating the league's anti-drug policy.
Noah ended his career by playing 42 games for the Memphis Grizzlies during the 2018-19 season. He then played in five games with the Los Angeles Clippers the following year.
Joakim Noah reflects on his so-called beef with LeBron James
Noah's beef with James began in 2010 when Noah was with the Bulls, and James was with the Cleveland Cavaliers. It started when James was at the free-throw line as the Cavaliers were cruising at home in the fourth quarter. James was enjoying the moment, dancing on the court, and Noah didn't appear too happy with the antics.
From the bench, Noah was yelling at James as he took a free throw. James jawed back, made his foul shot, and headed toward Noah. James was slapped with a technical foul, but that's where it all began.
Things heated up when James announced his decision to sign with the Miami Heat.
"LeBron made his decision to go play in Miami, and I think the whole country was against that," Noah told Wosney Lambry of The Ringer. "Those games (against the Heat) were neck and neck and then a lot of injuries happened.
"Competition is a funny thing, man. I realize that everybody I had a so-called beef with were the people who were in the way of getting a 'ship. People made it personal, and I kinda, at times, got caught up in it. I think that's what people love about sports. There's a beautiful part of competition. There's also an ugly side.
"That's a big stage. People always saw the ugly side and they highlighted that. It was real, man. There were times where I really felt like I hated him. I hated everybody who was in the way. I was like, I'm not feeling you, I'm not trying to be friends with you."
Noah also had battles with Kevin Garnett but said 'it's love' now
James wasn't the only superstar Noah had a "beef" with. As a rookie, Noah had a problem with his idol, Kevin Garnett, after KG made a comment about Noah's long hair.
"One time, he asked Noah if he could rub through his hair, like a female or something. … And I know that kind of made (Noah) hot," Paul Pierce said, per Bleacher Report.
In 2010, Noah admitted he didn't like the guy he grew up loving.
"Kevin Garnett will not — will not — get a Christmas gift from me," Noah said via ESPN. "I don't like him."
Today, Noah's feelings toward James and Garnett may have changed a bit.
"It's love, man. It's cool," he said to Lambry. "I saw LeBron a lot in the bubble when I was playing with the Clippers. That bubble, it sucked, man. It was weird where the players were always in that bubble together. There was no running from that.
"KG, same thing. It was always battle on the court. There were times where we played a couple of All-Star games together and stuff like that. We definitely bumped into each other a few times, but there's no friends in battle."