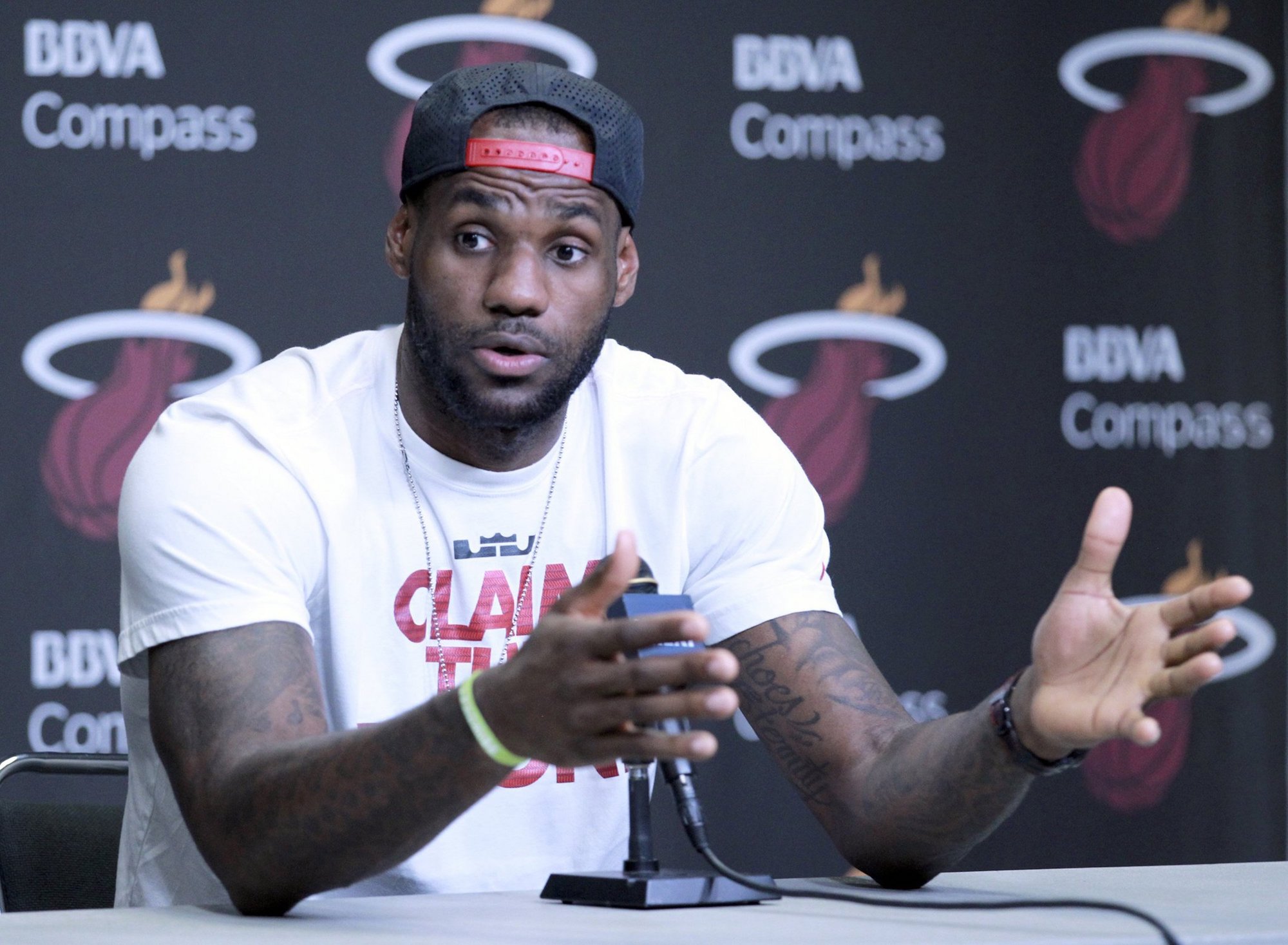 LeBron James Quickly Came to Regret His Infamous 'The Decision' TV Special
While LeBron James joined the Miami Heat in 'The Decision' he quickly came to regret how he handled his free agency.
During his basketball career, LeBron James has found incredible success at every level. He became a national star in high school; in the NBA, he immediately became the face of the Cleveland Cavilers. He's three championships and established himself as one of the greatest players to ever hit the hardwood. LeBron's 2010 The Decision TV special, however, proved to be an incredible flop.
During that awkward hour of television, LeBron James made himself a pantomime villain, seemingly uninterested with anything beyond placing himself in the spotlight. Unsurprisingly, the forward came to immediately regret his choices.
By 2010, LeBron James had already become a star
While it might seem like an eternity ago, LeBron James burst onto the scene in the early 2000s. From the start, he was a star.
During his difficult childhood, James found solace in sports. While football was his first love, he found a home on the basketball court; at St. Vincent-St. Mary High School, however, he took things to the next level. LeBron began dominating the competition and, before long, the media took notice. He graced the cover of magazines, took center stage on ESPN, and, by all accounts, was the NBA's next chosen one.
James, of course, skipped college and entered into the 2003 NBA draft; in a touch of serendipity, he went first overall to his hometown Cleveland Cavaliers. The young forward immediately lived up to the hype, claiming the Rookie of the Year crown and making the lowly Cavs relevant to the wider NBA audience.
With each passing season, James became a bigger and bigger star. His pregame powder toss became a signature spectacle; a giant 'Witness' billboard towered over the Cavs' home arena. On the court, LeBron was still improving, too. He averaged 30 points per game during the 2007-2008 campaign and captured back-to-back league MVP awards in 2009 and 2010.
In July 2010, however, everything would change. Over the course of a one-hour TV special, LeBron would go from a hometown hero to public enemy number one.
'The Decision' proved to be a massive public relations mistake
In the summer of 2010, LeBron James officially became an unrestricted free agent. While that reality set the stage for plenty of fanbases to feel hard done, things went worse than anyone could have imagined.
James decided to announce his future on ESPN, in a special that was branded as The Decision. While the plan stemmed from noble intentions—as Maverick Carter told ESPN, the base idea was to let LeBron tell his own story while raising money for charity—those sentiments were lost on most viewers.
The special ended up feeling more like an infomercial, with viewers sitting through filler conversation waiting to hear where James would be heading in free agency. When the moment of truth came, LeBron didn't do himself any favors by announcing that he was taking his talents to South Beach to team up with Dwyane Wade, Chris Bosh, and the Miami Heat.
While that choice stung everyone in Ohio—jerseys promptly burned and Cavs owner Dan Gilbert penned his infamous open letter—no one outside of Miami was particularly thrilled. On the whole, the forward came off as selfish; rather than simply releasing a PR statement, he had to place himself on center stage.
LeBron James immediately regretted how he handled 'The Decision'
Based on how things worked out in Miami, LeBron James' decision to head south paid off. The forward, however, immediately regretted how he handled his free agency.
"If I had to go back on it, I probably would do it a little bit different," James told Michael Wallace of ESPN in October 2010. "But I'm happy with the decision I made. There's always going to be a misunderstanding. I don't know what I would [have done], but I definitely would have changed it."
He echoed those sentiments a few years later in a conversation with Oprah. "I think the whole decision, in general, could have been done differently," he explained. "It could have been done differently but, at the end of the day, I still would have wanted to be a part of [the Heat]."
Stats courtesy of Basketball-Reference