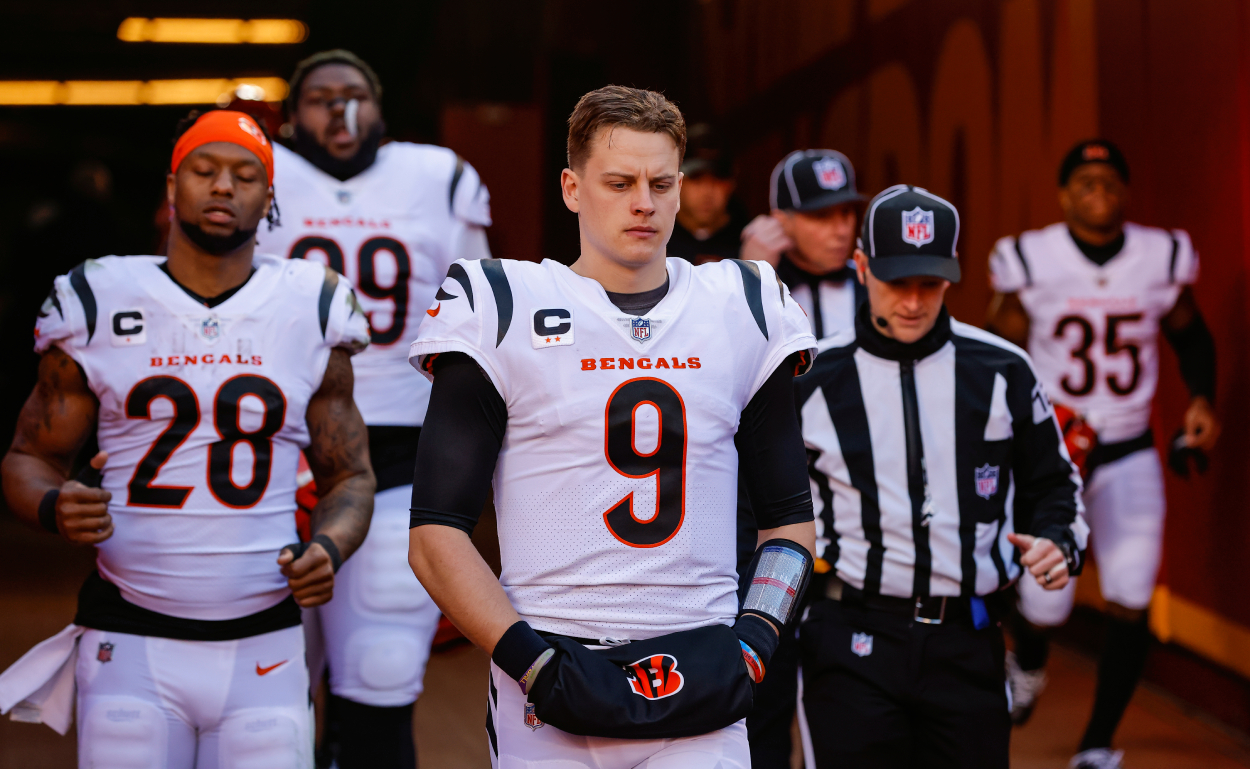 Joe Burrow 'Vividly' Remembers the Vicious Hit That Made Him Want to Be Like Tom Brady
A vicious hit on Tom Brady years ago was what made Joe Burrow want to be just like the seven-time Super Bowl champ.
Second-year quarterback Joe Burrow estimates he was in middle school at the time. The Cincinnati Bengals signal-caller reflected on a vicious hit on former New England Patriots quarterback Tom Brady that opened his eyes. From that day on, Burrow, prepping for his first Super Bowl appearance at age 22, knew he wanted to be just like the seven-time Super Bowl champ.
With Tom Brady retired, could Joe Burrow be the next big quarterback?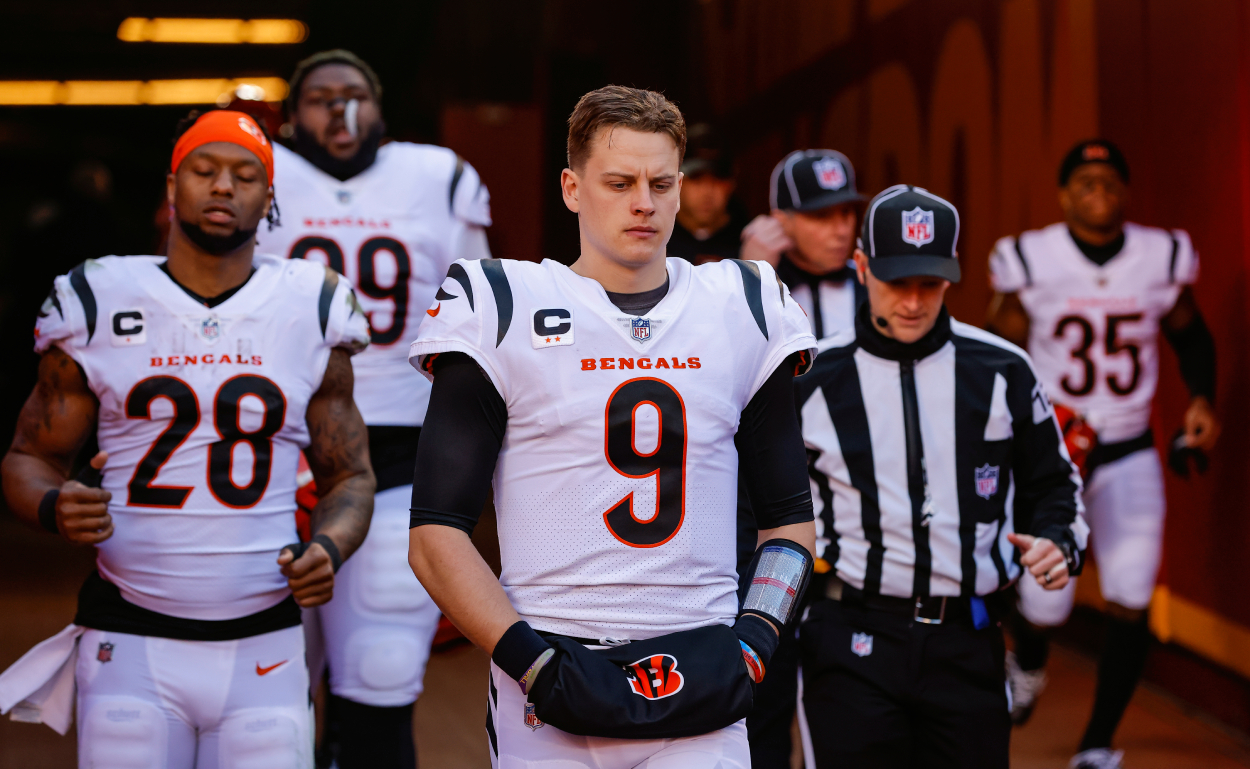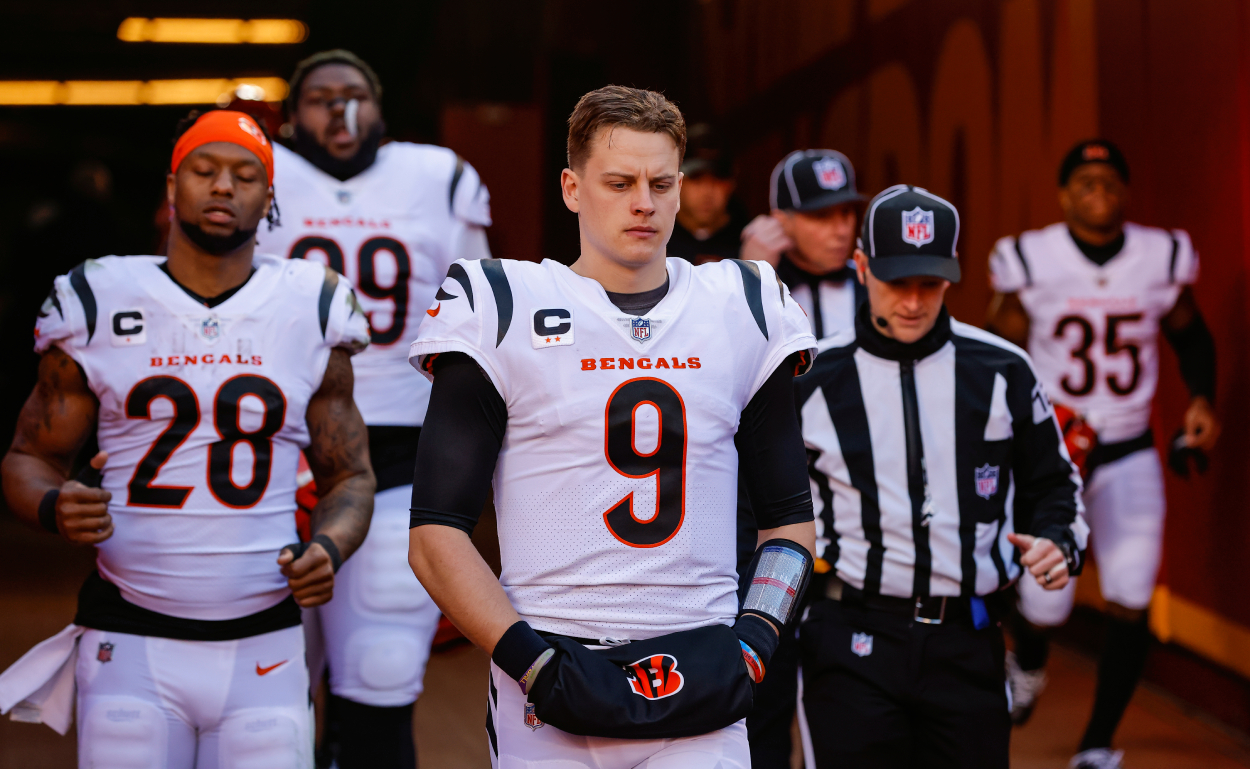 They call him Joe Cool, and it's quite the compliment for a player in his second year in the NFL and one who's coming off major knee surgery. Burrow rallied his team from 18 points down in the AFC title game against the Kansas City Chiefs and helped pull off the upset victory in overtime. The Bengals, who hadn't won a playoff game in 31 years before this season, are headed to the Super Bowl.
A year ago, Burrow won two games with the Bengals before tearing up his knee in Week 11 against the Washington Football Team. Cincinnati finished the season 4-11-1, and there weren't big expectations for the 2021 season. After all, the Bengals hadn't been a consistent winner in years, and Burrow's knee was a serious question mark.
Burrow, however, was reunited with his college teammate Ja'Marr Chase, whom the Bengals selected with the fifth overall pick in the 2021 NFL Draft. He also healed enough to play in Week 1, when the Bengals defeated the Minnesota Vikings 27-24. Burrow threw for 261 yards and a pair of touchdowns in his first games back.
His poise and confidence carried over from LSU, where he won a national title. He guided the Bengals to a 10-win season and helped them earn their first playoff win in three decades. Now, he's got them in the Super Bowl at 22 years old with a boatload of talent around him.
Patrick Mahomes appeared to be the logical choice to replace Brady as the NFL's next greatest quarterback, having played in the previous two Super Bowls. Burrow beat Mahomes and the Chiefs twice this year, and he just might be the next guy in line behind Brady.
Joe Burrow recalls the moment when he wanted to be like Tom Brady
Burrow was a recent guest on the Let's Go podcast with Jim Gray and Brady. Brady complimented Burrow on his composure and his resiliency after returning from his ACL injury.
Joe Cool then jumped in and spoke about the time when he was a young kid and saw Brady take a massive hit from a defender in an NFL game. It was at that point when he wanted to be like Brady. It also may have been the time when Burrow became as tough as he is.
"To kind of take it back on that toughness that Tom was talking about," Burrow said. "My earliest memory of something like that from a quarterback is, Tom, I think you were playing the Bills maybe or the Titans. You were running to the right and you slid, and somebody just knocked your head off.
"The helmet goes flying."
"Nate Clements," Brady interjected.
"Yeah," Burrow continued. "You got up so fast, and I saw that and I was like, 'I want to be like that. I want to do that.' I forget how old I was. I was probably in middle school at this point, but I just remember that vividly and trying to model myself after that."
Brady recalled some of the quarterbacks he looked up to
Brady responded to Burrow by saying he did the same thing to the older quarterbacks he watched while growing up.
"You watch players that are older than you, Joe, and you watch things that they do, and you emulate different things because you like the way they do it," Brady said.
"That's exactly how I was watching Joe Montana, Steve Young, Brett Favre, and Dan Marino and John Elway. Playing quarterback in the NFL challenges you in so many different ways. You've got to be a leader for the team, and you've got to set the example. You've got to show a lot of toughness.
"Even with success comes different challenges. It's going to be interesting to watch you as a player as you grow and deal with success of being in the NFL, not just getting to the NFL."
Burrow knows he had a long way to go to get to Brady's class, but he's off to one heck of a start.