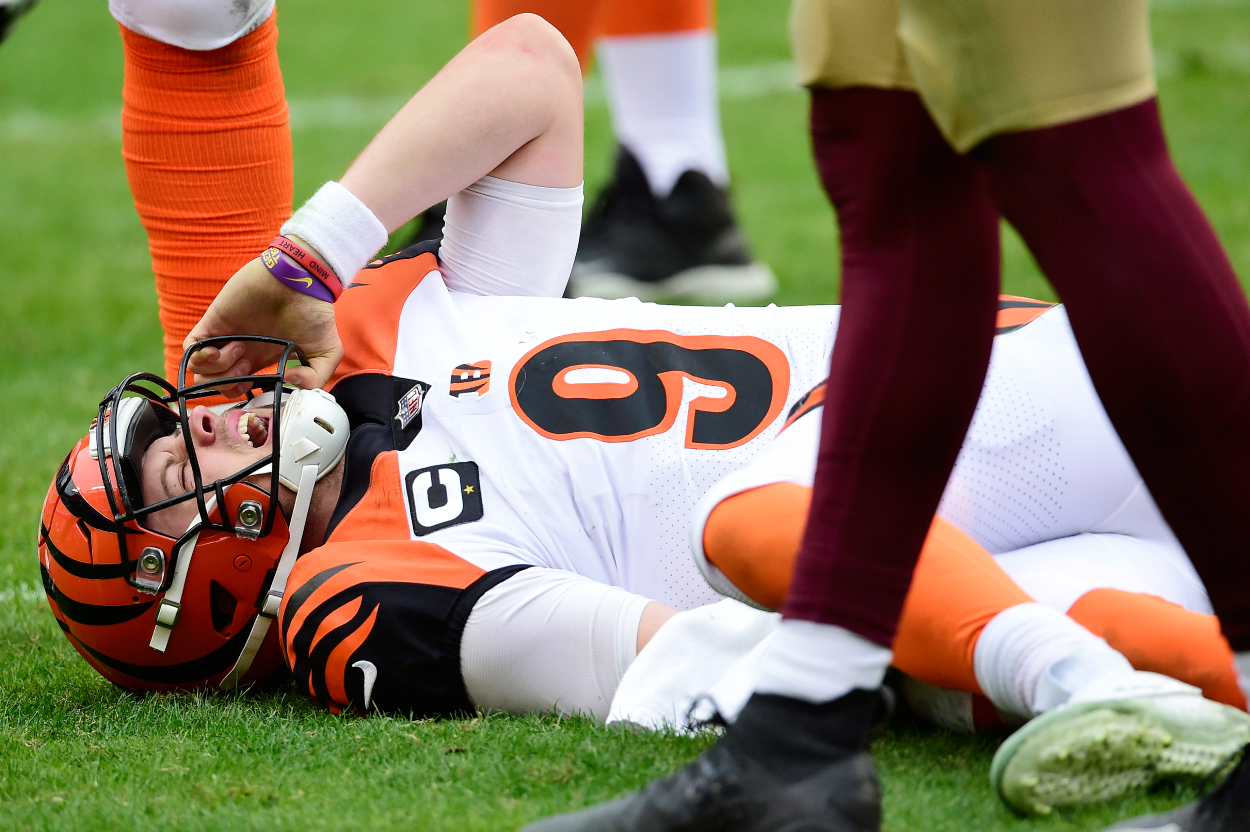 Joe Burrow's Father Said His Son Saw His Devastating Injury as a Challenge, Just as He Sees Everything Else
Joe Burrow's football life has included many challenges, and there is another one coming Sunday.
Don't ever doubt Joe Burrow. That message has already been sent loud and clear. In just his second year in the NFL, Burrow has guided the Cincinnati Bengals to the AFC Championship Game. What's more impressive is that he did it after his rookie season was interrupted by a torn ACL after 10 games.
Jimmy Burrow, Joe's father, recently spoke about that devastating injury and how his son overcame it. The quarterback's resurgence this year is hardly surprising to his father.
Joe Burrow and the Cincinnati Bengals are a win from the Super Bowl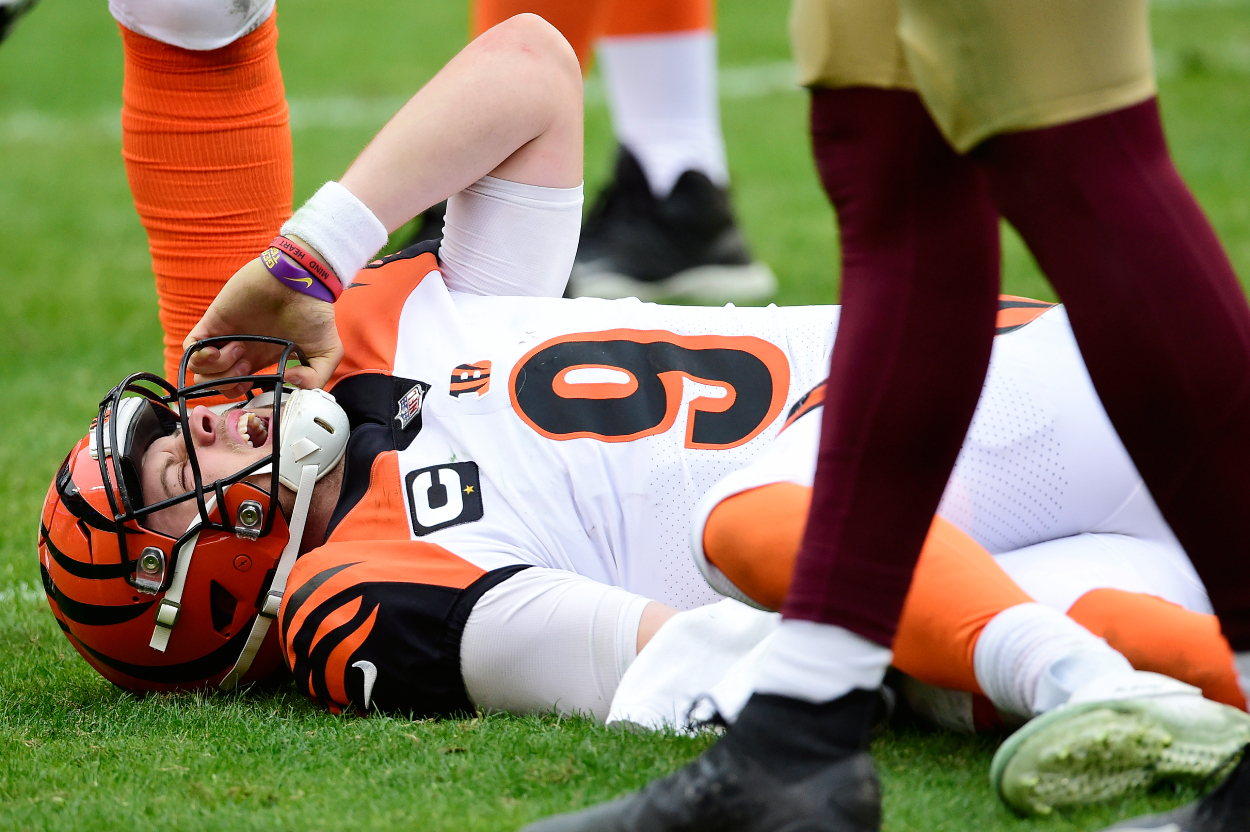 Joe Burrow started 10 games as a rookie last year before he tore up his knee in a game against the Washington Football Team. During his 10-game stretch, the Bengals went 2-7-1.
There were some doubts about Burrow returning for the season opener in 2021, but he quickly erased them all when he threw for a pair of touchdowns in a 27-24 victory over the Minnesota Vikings in Week 1. Burrow's leg held up, and it also didn't hurt the Bengals drafted Burrow's college teammate, wide receiver Ja'Marr Chase, with the fifth overall pick in the 2021 NFL draft.
Chase and Burrow maintained the strong connection they had at LSU as Chase racked up 1,455 receiving yards and 13 touchdowns as a rookie. For Jimmy Burrow, it's been incredible to see his son lead the Bengals into the playoffs.
"It's almost a recreation of 2019 at LSU," Jimmy Burrow said, per The New York Post. "Every week is almost a playoff game, and it's just incredible to be able to watch and see the growth of Joe as a player and that whole team as a team." 
Joe Burrow tore up his knee in his rookie season, but his father said he never felt sorry for himself
On Nov. 22, 2020, Joe Burrow's football life was in serious doubt. He took a hit after throwing a pass in the second half of a game against the Washington Football Team. The hit resulted in a torn ACL and MCL in his left knee.
His father recalled getting the phone call that day from Joe and the team doctors.
"Once they called us from the locker room, Joe and the doctors — and we knew it was a significant injury — so we hopped in the car, two-and-a-half hours from Cincinnati, so we were waiting for him in his house once he got there," Jimmy said.
When Joe arrived, there was no looking back. There was no feeling sorry for himself. He had been through numerous challenges in his football career. This was just another.
"He was just already focused on getting it fixed and rehabbing and being ready for the first game (of 2021)," Jimmy said. "A lot of people said, 'Well, he might not even play this year, there's no way he's gonna be ready to play the first game.''
Facing Patrick Mahomes and the Chiefs for the AFC title just another challenge for Burrow
It's always one challenge after another for the young Bengals quarterback. After failing to beat out Dwayne Haskins for the starting quarterback at Ohio State, he transferred to LSU. The Tigers promptly won a national title. He bounced back from his devastating knee injury, and now he faces another challenge in Patrick Mahomes and the Kansas City Chiefs.
The Bengals head to Arrowhead Stadium, where it will be loud and nasty for Burrow. The Chiefs are a touchdown favorite. None of that is daunting to Burrow. He has seen it all.
"I think it's his preparation," Jimmy said. "Everybody has a great will to win in any game. But having the will to prepare to win, I think he takes that kind of to another level. He's prepared, so when he gets in those situations, he's prepared to do well, and the pressure has never seemed to bother him. I've even heard him say it before, his preparation during the course of the week puts him in a good frame of mind."
One thing you get with Burrow is consistency. He's a quiet leader who doesn't get careless with the football. Winning that turnover battle is key for the Bengals against the high-powered Chiefs.
"As far as just not throwing five interceptions or making just bonehead mental mistakes, I haven't seen him do that over the course of his career," the elder Burrow said.
Not many expect the Bengals to beat the Chiefs on Sunday. Not many expected Burrow and the Bengals to get this far, either.