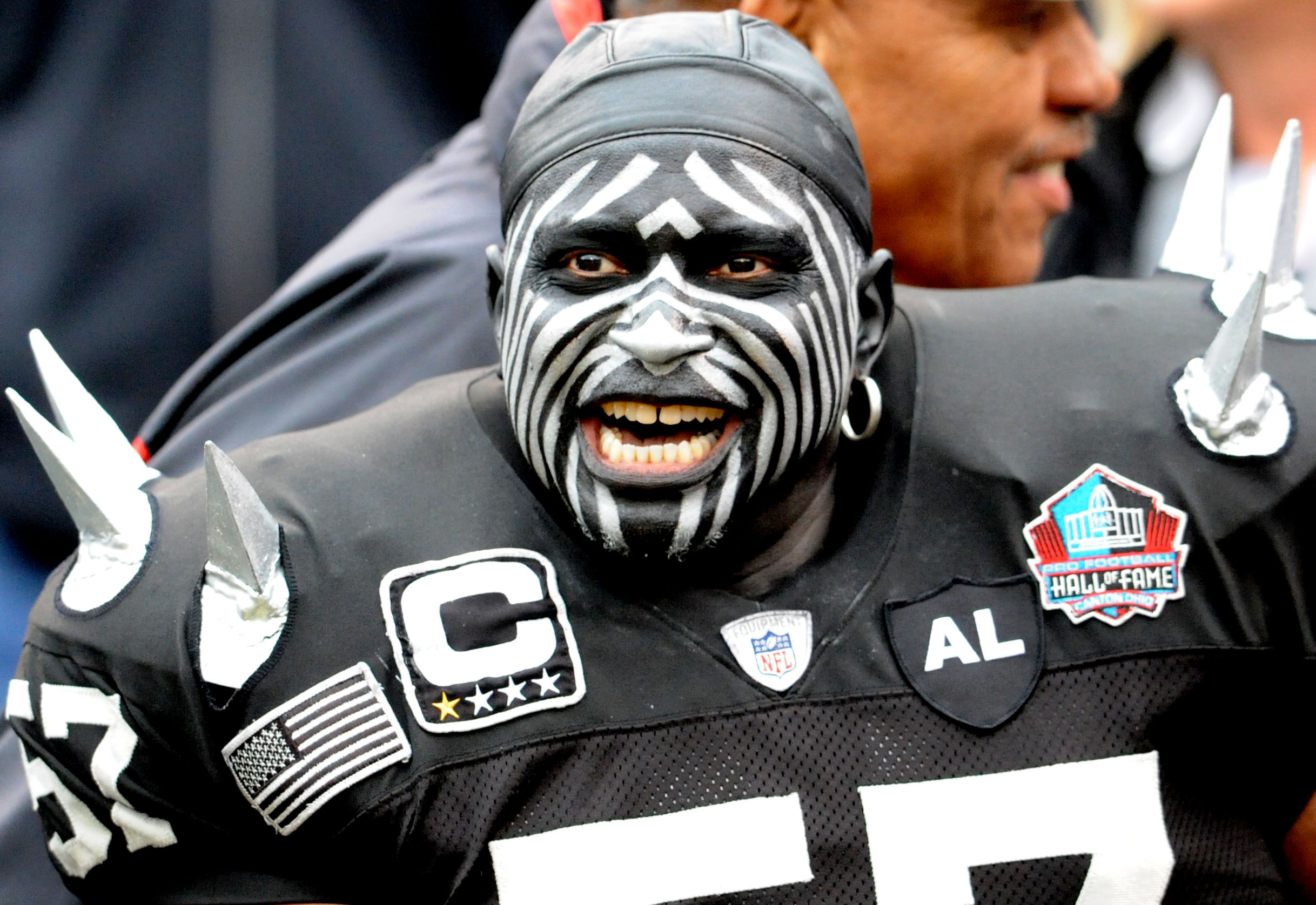 Here's How 'The Violator' Really Feels About The Raiders Losing to the Bengals Last Weekend
Wayne Mabry, known as "The Violator," is one of the Raiders' most passionate and popular fans. He gave Sportscasting his thoughts on last week's loss to the Bengals.
The Las Vegas Raiders saw their season end last weekend in the first round of the playoffs. Their final game, a 26-19 loss to the Cincinnati Bengals, didn't end without controversy. An inadvertent whistle that occurred during a Bengals touchdown pass dominated the postgame talk.
Many Raiders fans, including "The Violator," weren't too happy. Wayne Mabry, who doubles as that passionate and well-known Raiders fan, told Sportscasting how he really felt about last weekend's loss.
Who is The Violator and how long has he been a Raiders fan?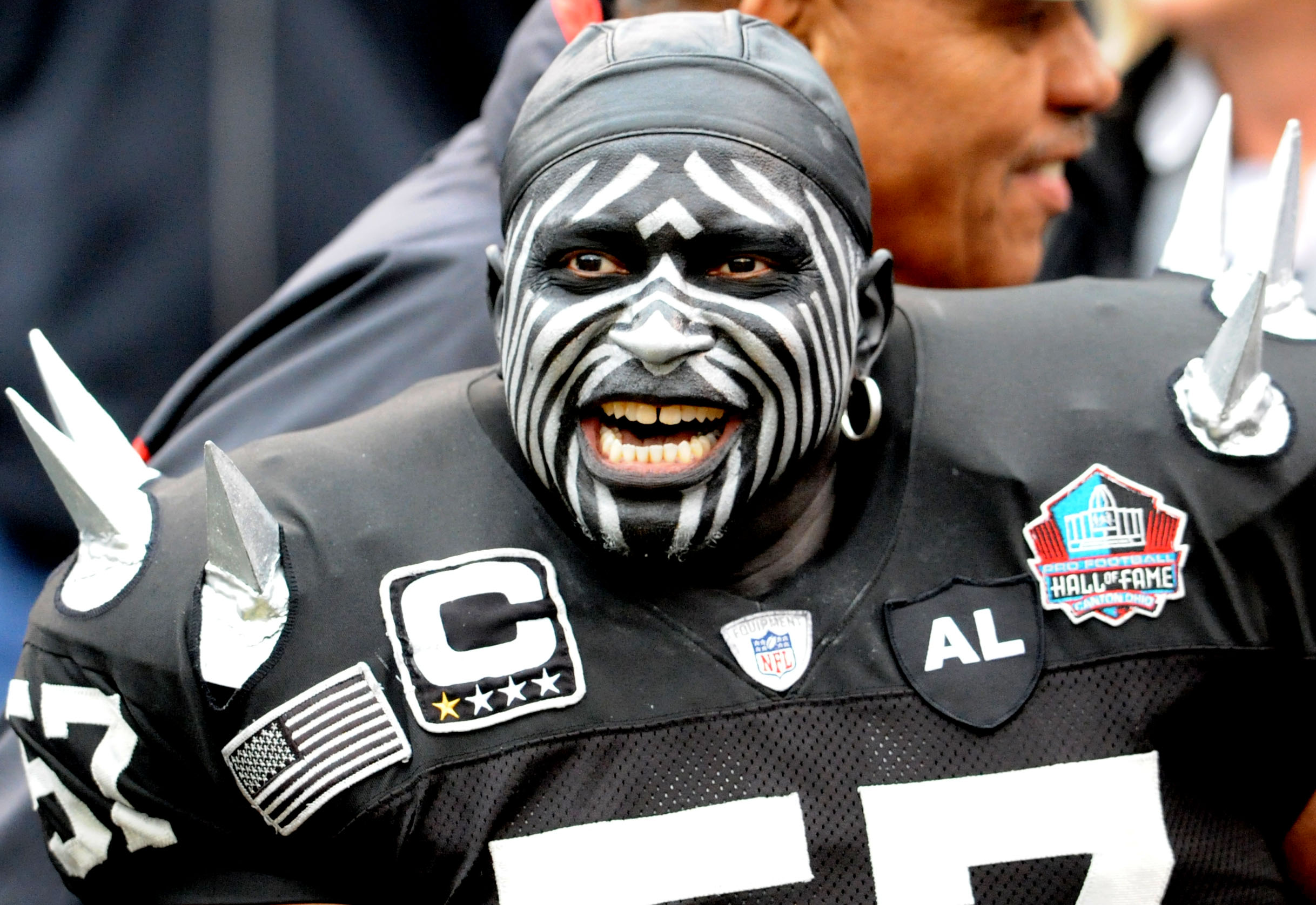 If you're a fan of the NFL, you've likely seen Mabry, 65, in action as The Violator on Sunday afternoons at Raiders home games. He's in his 30th year of decking out in Raiders gear and supporting the team that's closest to his heart. Mabry's passion for the Silver and Black came from watching an Oakland Raiders game against the Kansas City Chiefs when he was 12. More than anything that day, he fixated on the silver helmet.
"I saw the two swords on the helmet and it was love at first sight," Mabry told Sportscasting on Friday. "I always loved knights and gladiators."
Mabry eventually packed up and moved from Mississippi to California. For 53 years, he's been a Raiders fan. For the last 30, he's taken it a step further as The Violator.
When the team was in Oakland, he'd drive 6.5 hours to the game after making a "two-hour transformation" into The Violator. He's gotten strange looks when he's had to stop and use the restroom, gas up, or been pulled over.
"That all might be in my second book," he said. Mabry had his first book,  "The Walk: Footsteps of My Journey," published last year.
He said becoming a Raiders "ambassador" has allowed him to interact with many people he normally wouldn't.
"Doing this has allowed me to meet a whole bunch of people," he said. "I met Mr. (Pat) Bowlen (the late Denver Broncos owner) and he told me how much he appreciated my enthusiasm as a fan. I met (Raiders owner) Mark Davis, but it's hard to get a feel for what he thinks about me."
How does Wayne Mabry really feel about last weekend's playoff loss to the Cincinnati Bengals?
The Raiders earned their way into the playoffs on the final week of the regular season by defeating the Los Angeles Chargers in overtime. That win secured a trip to Cincinnati, where they lost by a touchdown in a game that came down to the wire. Afterward, much of the talk revolved around an inadvertent whistle that was blown as Bengals quarterback Joe Burrow threw a touchdown pass to Tyler Boyd.
Replays have shown that as the ball was in the air, a whistle blew. It appeared some Raiders defenders pulled up on the play just before Boyd caught the ball. The touchdown stood, and the Bengals advanced with the 26-19 win.
"In my mind, that whistle had a great deal to do with the loss," Mabry said. "It gave them a touchdown they didn't deserve. It does bother me.
"But I will say that I'm not blaming that loss on that call. Cincinnati decided to be the more hungry team that game. We shot ourselves in the foot."
Although it's of little value to Mabry and the rest of the Raiders fans, the officiating crew that game isn't expected to work again this postseason, per ESPN's Adam Schefter.
Mabry weighs in on the state of the Raiders, including Jon Gruden and Derek Carr
Mabry admits he's old-school. He says the NFL has changed from having those true battles on the field to becoming more pure entertainment.
"To me, the league is turning into WWE for the sake of entertainment," he said. "It's still war to me."
He's not a fan of all the flags thrown for roughing the passer when the quarterback gets legally taken down hard.
"I'm old-school," he said. "You might as well put Princess Leia back there."
Mabry spoke about former Raiders coach Jon Gruden, who resigned after the NFL discovered several emails he sent, dating as far back as 2010, contained homophobic and racist language.
"I was surprised," Mabry said. "I think he was basically targeted, and I think there was a personal vendetta."
He also offered his thoughts on longtime quarterback Derek Carr.
"That's a tough one," he said. "He's owed $19 million next year. We need to put more stock into the offensive and defensive lines. That's where games are won. He's been here eight seasons, and at some point, you might want to go in another direction.
"I don't know many teams who have kept their quarterback for that long and haven't had a deep run in the playoffs. I think maybe he's reached his plateau. Elite? He's short of that."