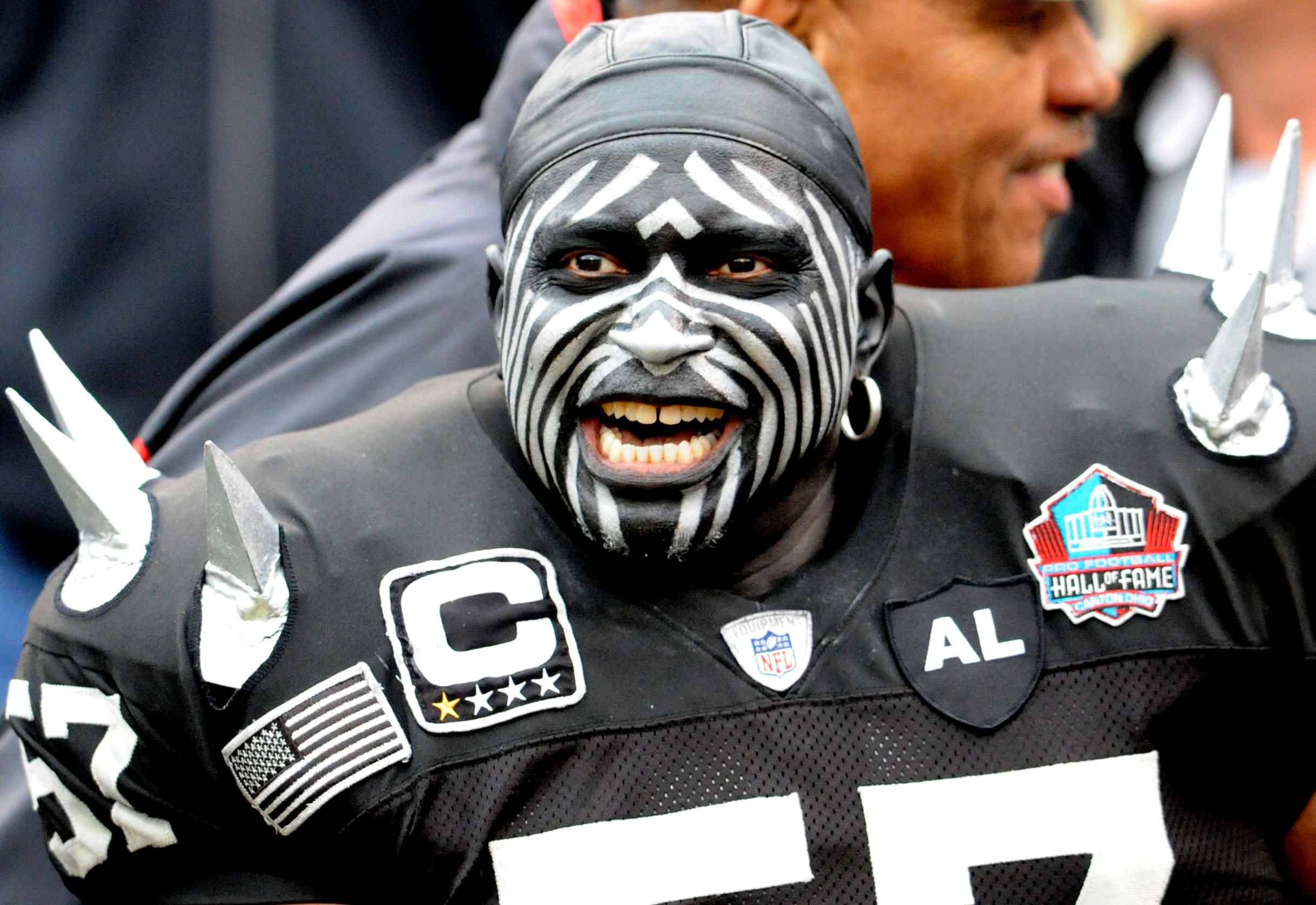 Diehard Raiders Fans Fuming Over Subdued Vegas Atmosphere
Diehard Raiders fans have grown frustrated with the laid-back atmosphere at their home games in Las Vegas.
Wayne Mabry is a diehard Las Vegas Raiders fan. He's more Raiders fan than Vegas fan. Mabry doubles as "The Violator" on Sundays and has been doing so since their days in Oakland. Mabry goes all out on game day, head to toe in costume. He's passionate at home games, but he's growing frustrated with the laid-back atmosphere in the team's new home.
The Las Vegas Raiders have had rough season on and off the field
Things have not gone so well for the Raiders this year. On the field, they are the typical Raiders, mired in mediocrity. They stand at 6-6 and are on the outside looking in at the playoff picture.
Off the field, it's been much worse.
In October, head coach Jon Gruden resigned from his position after it was discovered he sent homophobic, misogynistic, and racist emails sent years ago. Those emails were found during an investigation into the culture of the Washington Football Team. He used a racial term to describe NFL union chief DeMaurice Smith in a 2011 email to Bruce Allen, according to NBC News. Allen was a former Washington executive who worked with Gruden in Oakland and with the Tampa Bay Buccaneers.
"I have resigned as head coach of the Las Vegas Raiders," Gruden announced in a statement after the email findings. "I love the Raiders and do not want to be a distraction. Thank you to all the players, coaches, staff, and fans of Raider Nation. I'm sorry, I never meant to hurt anyone."
Things got worse for the Raiders in early November when promising wide receiver Henry Ruggs III was charged with four felonies and a misdemeanor for his role in a crash in Las Vegas that killed a woman.
Ruggs was also charged with possessing a gun while under the influence of drugs or alcohol, per The New York Times.
Diehard Raiders fans annoyed with laid-back Vegas environment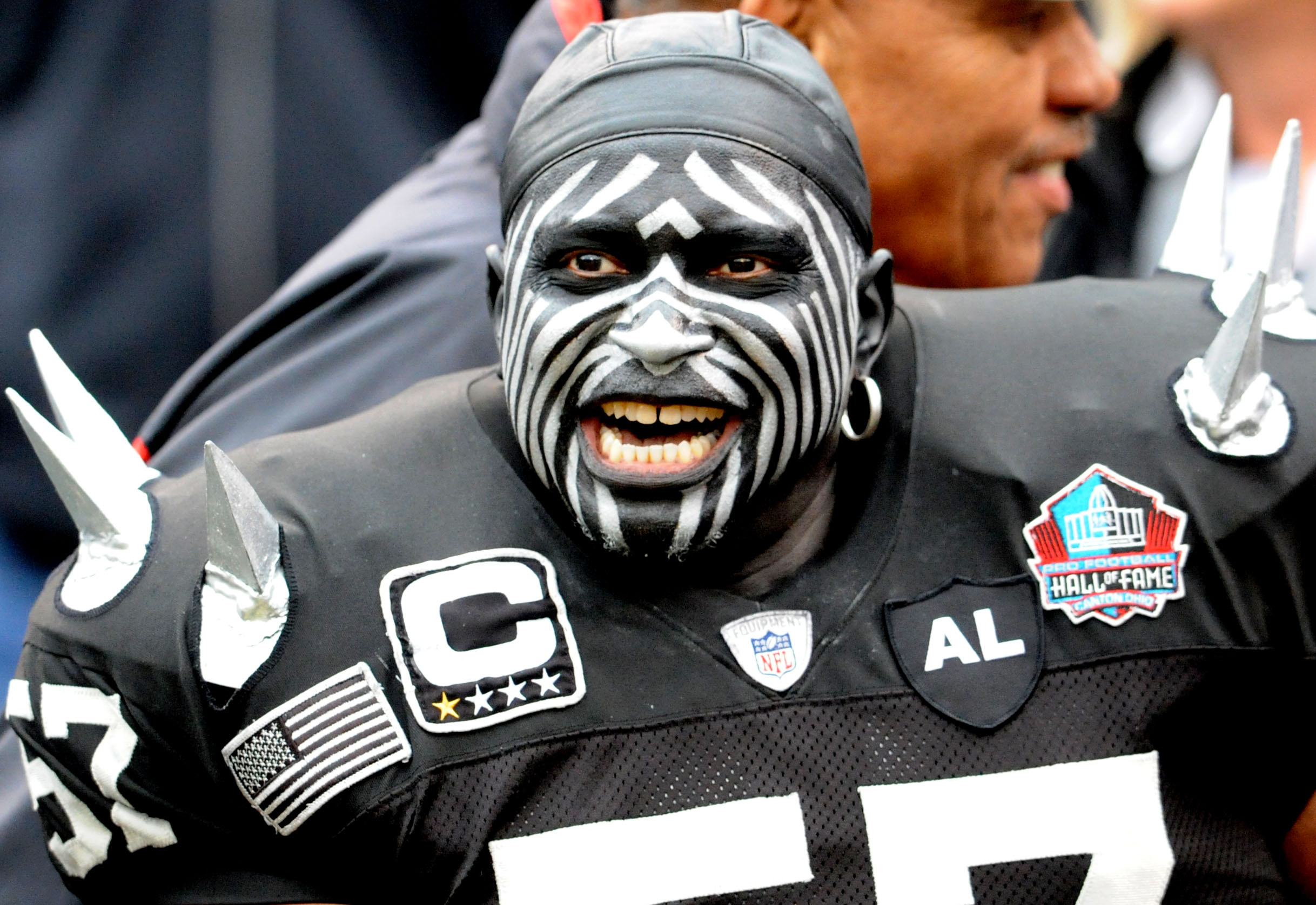 Mabry is used to standing up and cheering throughout the game in his Raiders jersey and his silver-and-black painted face. His level of enthusiasm has always been off the charts. He's the face of the Raider diehards. His enthusisam, however, has been curtailed since the team moved to its new home, Allegiant Stadium in Las Vegas.
He said these Raiders fans would rather sit down and offer a clap or two. Needless to say, they don't share his passion for the team.
"Everybody wants to sit on their ass," said Mabry to the Las Vegas Review-Journal. "They need to put them at the baseball stadium over there near Red Rock and let them watch the game there. This is not a sit-on-your-ass event.
Back in Oakland, fans were rowdy. The Black Hole in sections 104-107 at the Oakland Coliseum was known for those dressed-up, highly-passionate fans. According to Mabry, it's just not the same in Vegas.
"From my point of view, it may take two or three seasons just for them to let that sink in, that the team feeds off your energy," Mabry said. "If you're sitting on your ass, ain't no energy. I'm speaking as a fan. Forget corporate. We're talking in the seats.
"Me personally? It's like I'm in some visitor's (expletive) stadium."
The Raiders have performed much better on the road
Since the move to Allegiant Stadium in 2020, the Raiders are 5-10 at home. They are 9-4 away from Vegas. It hasn't gone unnoticed with the players.
"You want to win at home," Raiders defensive end Maxx Crosby said. "It's got to get better. There's no excuse. … It can be frustrating."
Another diehard Raiders fan, Christian Ruiz, said he notices that opposing fans have a strong showing at Allegiant Stadium and "it doesn't make any sense," he said. "It's like, 'Wow, what's going on here?'"
Mabry said the only part that's better in Vegas is the entertainment aspect. As far as the passion for the team goes, he'll take Oakland any day.
"I love the entertainment there. That's on a different level than we've ever had in Oakland," Mabry said regarding halftime and in-game acts. "It's Vegas. So they had to raise that bar. But the fan part …"