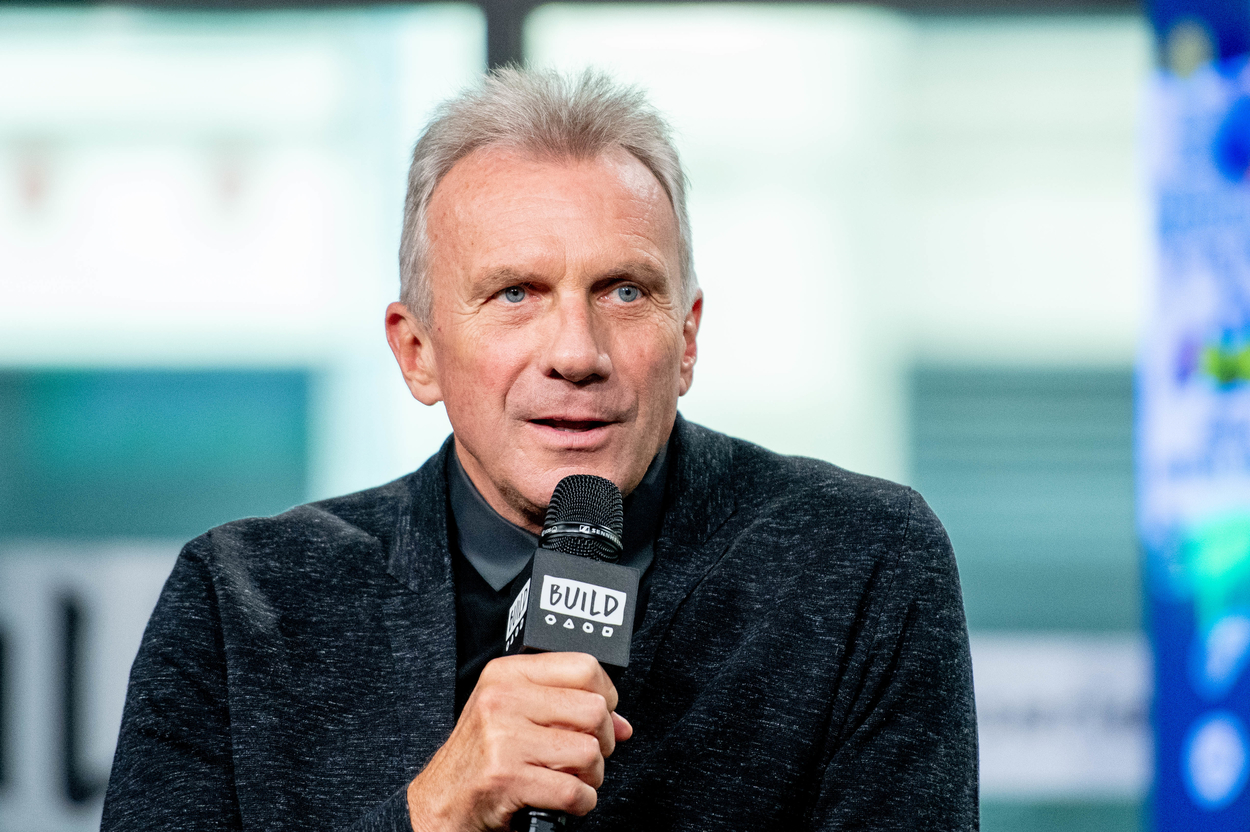 Joe Montana Lasted 9 Games at NBC Before Deciding to Quit Midway Through Super Bowl 30: 'I'm Out of Here; I Can't Do This'
Although Joe Montana had the resume and personality to become a TV star, he almost immediately figured he wasn't cut out for broadcasting.
Considering his intellectual background as a Notre Dame graduate, his NFL pedigree as a four-time Super Bowl champion, and the simple fact that he could put two coherent sentences together, former San Francisco 49ers quarterback Joe Montana checked every box NBC Sports likely had when the network hired him as an analyst in 1995.
There was only one problem. Montana seemingly had the resume and personality to become an overnight TV star. But he almost immediately figured he wasn't cut out for broadcasting.
Joe Montana decided to quit NBC midway through Super Bowl 30
In hindsight, Montana's tenure on NBC was doomed to end in disaster from the start. The two-time NFL MVP only worked nine total games, including six in the regular season, on NBC's pregame show in large part because he didn't want to travel from California to New York every week.
When he did travel, Montana worked with Greg Gumbel, ex-Chicago Bears head coach Mike Ditka, former Washington Commanders head coach Joe Gibbs, and four-time Pro Bowl receiver Ahmad Rashad. In a 2021 interview with the New York Post's Andrew Marchand, the Hall of Fame quarterback said he enjoyed the camaraderie but wasn't a fan of the on-air experience.
Although Montana finished the season, he said he accepted midway through Super Bowl 30 that broadcasting wasn't for him. Montana said he made a point in the pre-halftime meeting about how the Pittsburgh Steelers needed to stop the Dallas Cowboys. However, someone told him not to say that on air.
Fine, fair enough. Montana could live with that. But he couldn't believe when another analyst — he didn't specify who, although he told Marchand it wasn't Ditka — made the same comment, and there were no problems. 
That proved to be the final straw for Montana, who wanted nothing more to do with broadcasting or NBC Sports.
"At halftime, I called my wife from the phone. We all had phones next to us, and said, 'I quit. I'm out of here; I can't do this.'"

Joe Montana
According to SF Gate, Montana said in February 1996 that he retired to spend more time with his family. Interestingly, NBC replaced Montana with former Cincinnati Bengals receiver Cris Collinsworth. Now, viewers best know Collinsworth for his work as Sunday Night Football's longtime color commentator.
Montana quickly realized he wasn't an ideal fit for what broadcasting required
By no means did Montana want to be the grumpy former player who criticized current players. In fact, he told Marchand he didn't really want to critique anyone.
When he reflected on his brief time at NBC, Montana admitted his reluctance to criticize players. He'd either played with or against many of them in a 16-season career, which proved to be a significant roadblock.
"I hear guys say, 'He did this, and he did that.' I say, 'How do you know that he did [what] that offense does or what the defense does or whose mistake it is?' Making that kind of judgment wasn't fair to the players because I had it made on me so many times."

Joe Montana
Montana has participated in no shortage of interviews and documentaries since retiring. But he never returned to broadcasting in any capacity. Nine games and $400,000 were more than enough.
Montana's successor, Steve Young, clearly didn't feel the same way about broadcasting
Nearly 30 years after his final NFL game, two former 49ers come to mind upon hearing Montana's name. Both Jerry Rice and Steve Young went on to work at ESPN. Rice spent the 2011 and 2012 seasons as an analyst before leaving ahead of the 2013 campaign.
On the other hand, Young joined ESPN in a part-time role in 2000. He became a full-time employee one year later. As of publication, the three-time Super Bowl champion still works at ESPN and remains an on-site panelist for Monday Night Countdown.
Unlike Montana, Young has never hesitated to criticize current players and coaches. He ripped the Pittsburgh Steelers organization in October 2021 for failing to have a backup plan if quarterback Ben Roethlisberger didn't play well in his age-39 season. Two years earlier, Young made it clear he wasn't a fan of then-Jacksonville Jaguars cornerback Jalen Ramsey's decision to demand a trade following a Week 2 loss.
"[The NFL] is going to have to come together as a league and say, 'We're not gonna do this' because it will be insane," Young said on Monday Night Countdown. "Every guy that's on a bad team's like, 'Get me out of here.'"
Young, to his credit, has remained comfortable in his own skin and clearly enjoys expressing his beliefs. At least Montana had the self-awareness to accept he wouldn't feel comfortable doing the same.
Like Sportscasting on Facebook. Follow us on Twitter @sportscasting19.