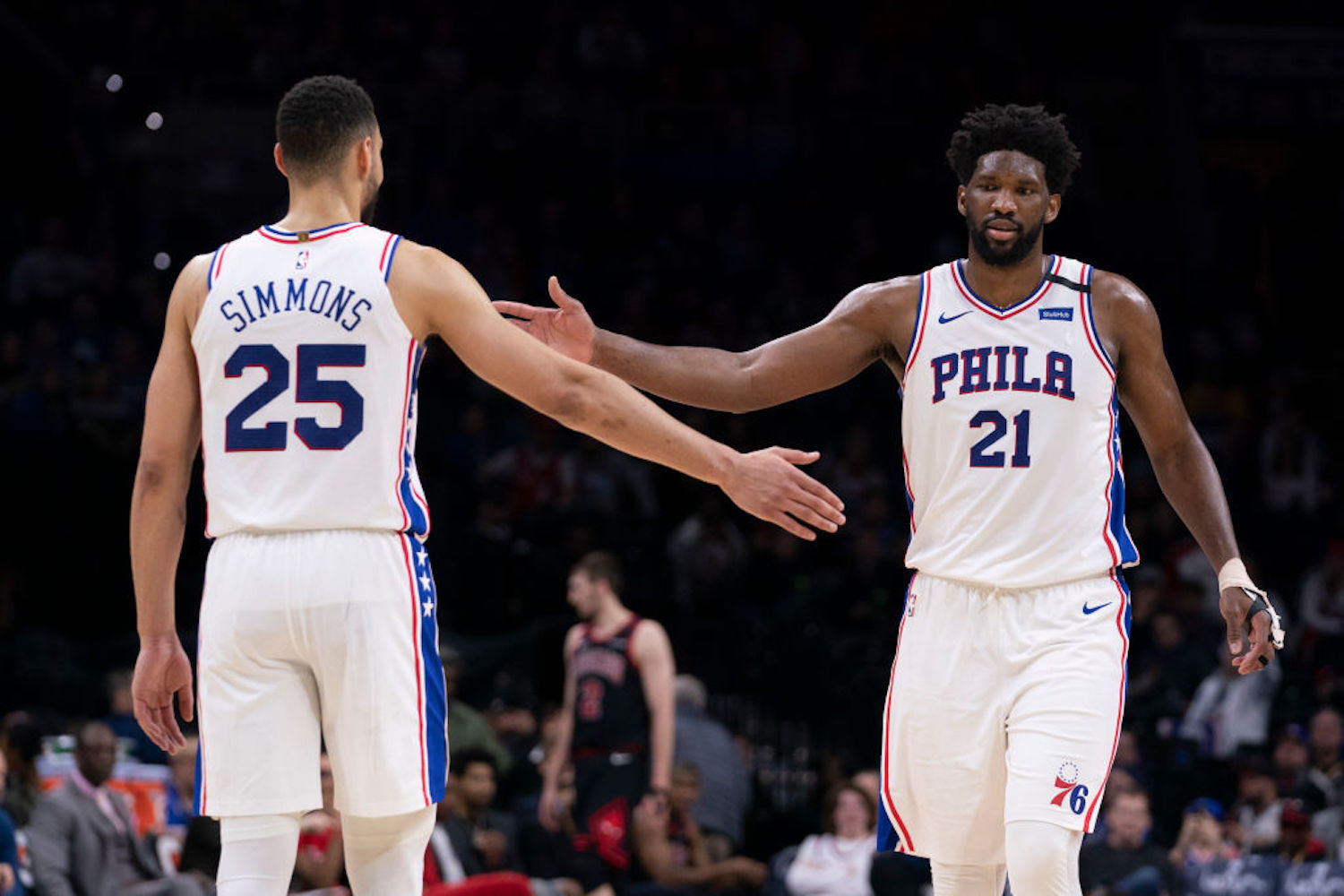 Joel Embiid and Ben Simmons Aren't Even Close to the Highest-Paid 76ers
Joel Embiid and Ben Simmons are by far the two most important 76ers, but they aren't even close to the two highest-paid on the roster.
There's no debate over who the two most valuable 76ers are in the 2020 season. Joel Embiid and Ben Simmons are two of the brightest young stars in the entire NBA, and Philadelphia wouldn't even be in the playoff race without them.
Despite their crucial role on the 76ers, neither player cracks the top two highest-players on the roster this year. In the grand scheme of the NBA, both Embiid and Simmons are severely underpaid. That's even more evident when you look at who makes more money on their team.
Joel Embiid and Ben Simmons make up one of the best young duos in the NBA
Joel Embiid and Ben Simmons are only 26 and 24 years old, respectively, but they're already two of the NBA's brightest stars. Both players have made multiple All-Star games, and they led the Sixers from the basement of the NBA to a title contender in a few short years.
In four NBA seasons, Embiid has averaged 24.2 points, 11.6 rebounds, and 1.8 blocks per game. He's already established himself as one of the best centers in the NBA, and his game isn't even close to polished yet.
Simmons receives tons of criticism for his inability to shoot from the outside, but he does seemingly everything else at an elite level. He's averaging 16.8 points, 8.3 rebounds, and 8.0 assists per game in his young career.
After finishing 14th or worse in the Eastern Conference for four straight seasons, the 76ers are on pace to make their third playoff appearance in a row, all thanks to Embiid and Simmons.
Embiid and Simmons don't even crack the top two in highest salary on the 76ers
Both Embiid and Simmons recently signed lucrative contracts to stay in Philadelphia, but they still aren't the highest-paid players on the roster.
Embiid signed a five-year, $147 million deal in 2018 that gave him an average of $29.4 million per year. However, he will only make $27.5 million this season, as his yearly earnings increase each year.
Simmons signed his five-year, $170 million max contract last year. The deal won't kick in until the 2020-21 season, so Simmons will just make the $8.1 million remaining on his rookie deal this year.
Despite their massive contracts, Embiid is just the third highest-paid player on the 76ers roster, while Simmons is the fifth.
Tobias Harris and Al Horford make more money than both Embiid and Simmons
Embiid and Simmons are by far the most valuable 76ers this season, but both Tobias Harris and Al Horford will make more money in 2020.
Harris is due a whopping $32.7 million this season. Harris was brought in to be the volume-scoring guard on the roster, and he's largely achieved just that. The former Clipper is averaging 19.5 points per game on 47.1% shooting, but he hasn't been the best player on the team.
Horford is set to make $28 million this season after signing his four-year, $109 million contract last offseason. He's turned that massive contract into the worst shooting season of his entire career. Horford has career-lows in shooting percentage (44.2%) and 3-point percentage (34%) in 2020. His 12.0 points per game is his lowest mark since 2008.
All contract figures courtesy of Spotrac. All stats courtesy of Basketball Reference