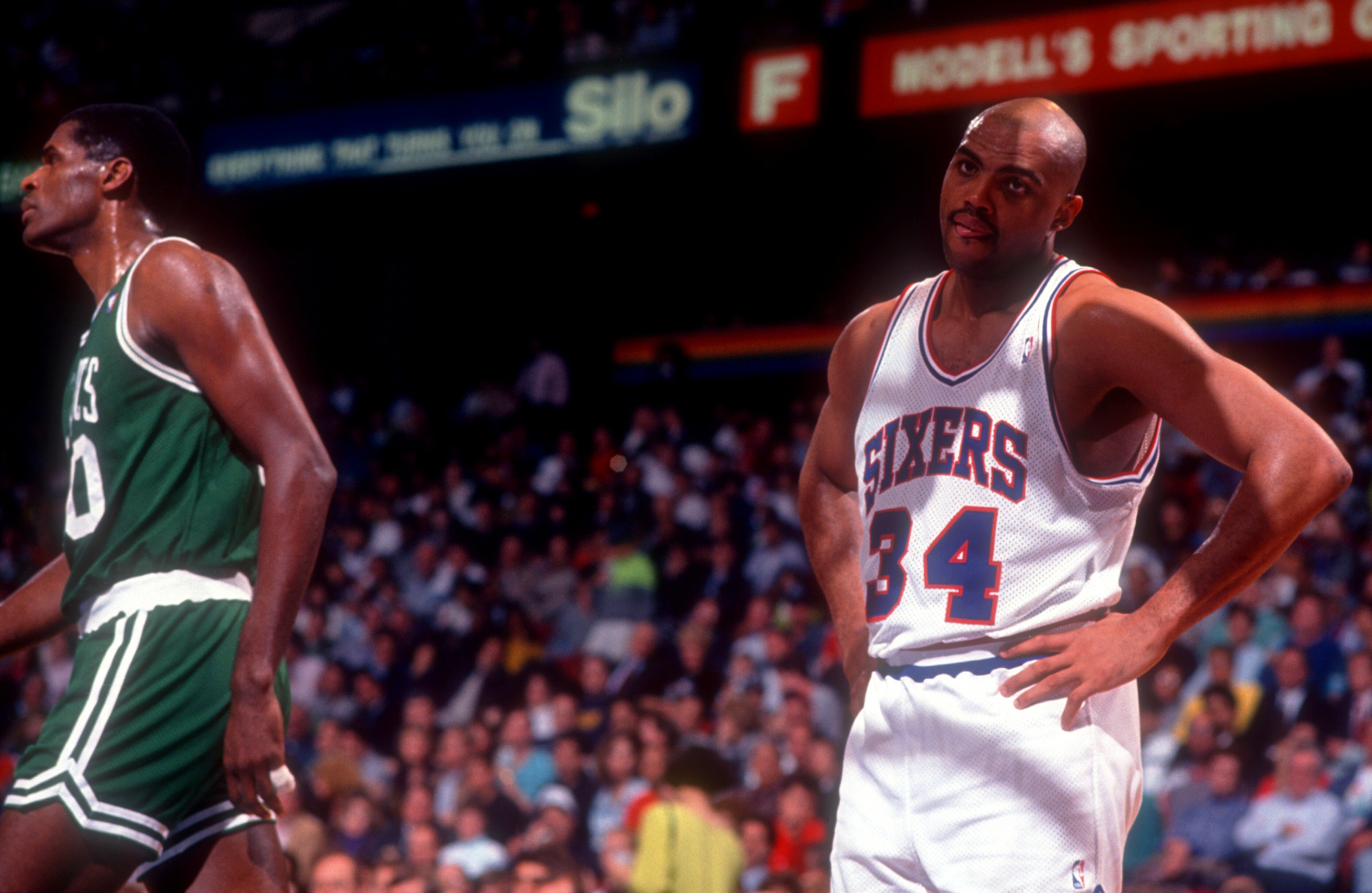 Charles Barkley Reveals the One Trade That 'Wrecked' His 76ers Career and It Didn't Even Involve Him
Former NBA All-Star and Hall of Famer Charles Barkley reveals the one trade that 'wrecked' his 76ers career and it didn't involve him.
There have been several regrettable trades in the NBA. The Charlotte Hornets traded Kobe Bryant to the Los Angeles Lakers for Vlade Divac. The Milwaukee Bucks dealt Dirk Nowitzki to the Dallas Mavericks for Robert Traylor. Former Philadelphia 76ers star Charles Barkley said one trade 'wrecked' his career and it didn't even involve him.
Charles Barkley's basketball career
Charles Barkley played his college basketball at Auburn and was a first-round selection by the Philadelphia 76ers in the 1984 NBA draft. Barkley was the fifth overall player taken. Barkley made an impact in his rookie season, averaging 14 points and 8.6 rebounds per game. In his second season, he burst onto the scene by averaging 20 points and 12.8 rebounds per game.
At just 6-foot-6, Barkley became one of the league's best rebounders. It showed in his third season in the league when he led the NBA by averaging 14.6 rebounds per contest. He also was putting up 23 points per game, and that third season began a stretch of 11 straight NBA All-Star appearances.
Barkley played eight seasons with the Sixers and averaged 23.3 points and 11.6 rebounds. He was traded to the Phoenix Suns prior to the 1992 season and continued his all-star play in the Western Conference. In four seasons with the Suns, his numbers were very similar to those in Philadelphia (23.4 ppg, 11.5 rpg.). He was then traded to the Houston Rockets where he played out the final four years of his career. For his career, Barkley averaged 22.1 points and 11.7 rebounds. He was inducted into the Naismith Memorial Basketball Hall of Fame in 2006.
Barkley was traded twice
In 1992, the Philadelphia 76ers were heading in a new direction. They had just brought on an up-tempo style of coach in Doug Moe and figured they could get younger and collect a pretty good return on their star player Charles Barkley. The Sixers pulled the trigger and sent Barkley to the Phoenix Suns prior to the start of the 1992 season in exchange for Jeff Hornacek, Andrew Lang, and Tim Perry.
Barkley was numb and didn't know what to make of the deal. "I just want this trade stuff to be over one way or the other so I can concentrate on basketball," Barkley said in The Los Angeles Times. "Phoenix is not a bad place. I could play golf every day. I'm not sure, I've got to sit back and see how it goes. In shock? I just don't know how I feel and I don't know if I'm happy or sad. I have to pick up my family and move them across the country. It's been a great eight years in Philadelphia and now I play for Phoenix. Whatever happens, I will deal with it."
After four years in Phoenix, and four seasons as an NBA All-Star, Barkley was on the move again. He and a second-round draft pick were sent to the Houston Rockets for Sam Cassell, Robert Horry, chucky Brown, and Mark Bryant. In Houston, he was an all-star in his first season, but only played a combined 62 games in his final two seasons with the Rockets.
The trade that 'wrecked' Barkley
The Philadelphia 76ers had the No. 1 pick in the 1986 NBA draft. Brad Daugherty was the clear No. 1 pick and would certainly help the Sixers. Instead, the Sixers traded the pick for Roy Hinson. If that trade wasn't bad enough, they made another one that Barkley said 'wrecked' his career.
"I remember getting a phone call at about 6 in the morning — this is the day of the draft, I might add," Barkley said in an NBCSports.com article. "It was from (Daily News writer) Phil Jasner in Philadelphia. And Phil calls me, he says, 'Charles, can you talk?' I said, 'Phil, it's like 6 in the morning.' He says, 'The Sixers made a trade. You need to talk about it. I need your opinion.' I said, 'Well, what'd they do?' He said, 'Traded the No. 1 pick in the draft. … I said, 'What? That's all we got for the No. 1 pick, was Roy Hinson?' And then he says, 'Oh, and they traded Moses (Malone) to Washington.'"
"Moses was gonna be a great mentor (for Daugherty), because Moses was like a dad to me. … That was the beginning of the end, where I could have actually had a really good team. … That wrecked my entire Philadelphia career and that was the biggest disaster of my career, plain and simple."