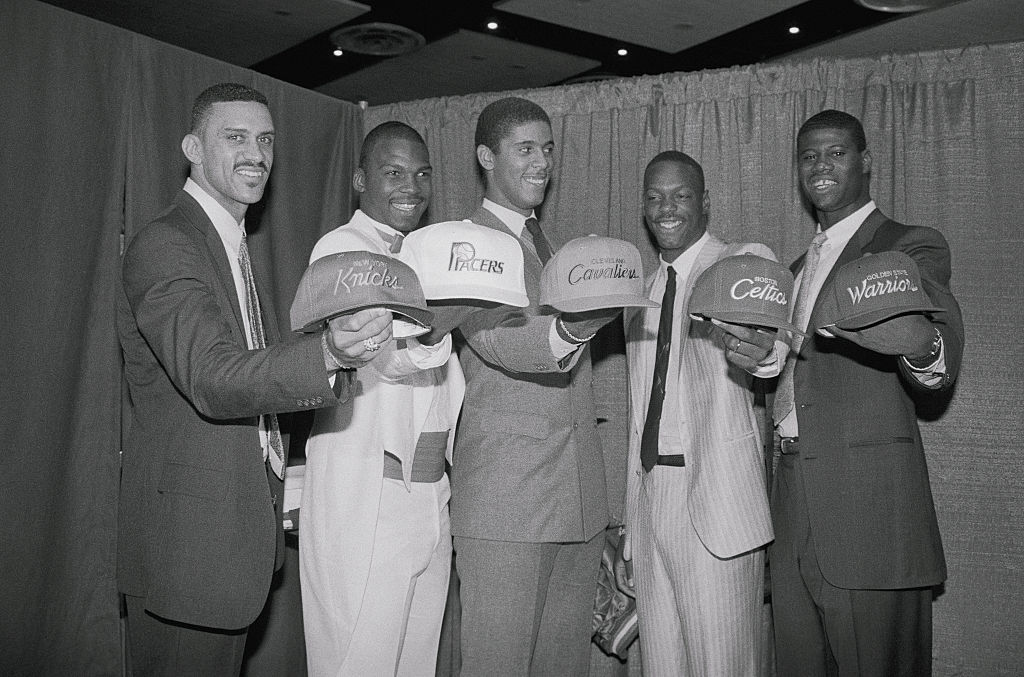 The 1986 NBA Draft Was Filled With Busts, Drugs, Death, and Second-Round Steals
The 1986 NBA draft was loaded with busts, drugs, death, prison sentences, and a lot of second-round steals.
It has to go down as the worst NBA draft of all-time, especially if it's based on first-round success. The 1986 NBA draft was cursed. Three of the top 13 picks have died, with No. 2 pick Len Bias having never played an NBA game. Two of the top six picks served lengthy prison sentences. The best players, including Dennis Rodman, weren't picked until the second round. The 1986 NBA draft is one that most would like to forget.
The bad outweighed the good in the 1986 NBA draft
Brad Daugherty, the University of North Carlina's talented center, was the consensus No. 1 pick heading into the 1986 NBA draft and the Cleveland Cavaliers lucked out by grabbing him. After Daugherty, who played eight years in the NBA, there wasn't a whole lot of success in the top section of the draft. Only Chuck Person (No. 4) and Ron Harper (No. 8) were playeers drafted in the top 10 who lasted more than 10 years in the league.
After Daugherty was selected, the Boston Celtics took Len Bias, who died two days later from a cocaine overdose. Two other players, Roy Tarpley (No. 7) and Dwayne 'Pearl' Washington (No. 13) have already died. Tarpley, who had been banned from the league for drug and alcohol abuse, died in 2015. Washington, who lasted just three years in the NBA after a stellar career at Syracuse, died in 2016 from a brain tumor.
Two of the top three players, Bias and Chris Washburn, who went No. 3 to the Golden State Warriors, didn't play more than two seasons in the league. Five of the top 16 picks never made it past three years in the NBA.
Drugs and prison affected many in the top part of the draft
Along with Len Bias, whose death that was attributed to a cocaine overdose, Chris Washburn (No. 3), William Bedford (No. 6), and Roy Tarpley (No. 7) all had their careers hampered by drugs. Washburn and Tarpley were both banned from the league. Bedford and Washburn spend significant time in prison due to drug offenses.
Things got so bad for Washburn that after he blew through his money and was using drugs, his mother cut him off. She wouldn't give him any money, knowing he would just use it to feed his habit. "She told me to put my name and address on a piece of paper in my pocket so the police could identify me when they found my dead body somewhere," Washburn told The Hickory Record in 2012.
Tarpley managed to play six years in the NBA and he did have some success. He won the NBA Sixth Man Ward in his rookie year, averaging 13 points and 11 rebounds per game. In 1995, however, he was permanently banned from the league for multiple substance-abuse violations. He finished his career averaging 12.6 points and 10 rebounds per game.
The 1986 NBA draft's late steals
Not all was bad in the 1986 NBA draft. The treasures were just hidden in the second round. Although there were a few other first-rounders who had some lengthy NBA careers (John Salley No. 11), Dell Curry (No. 15), and Scott Skiles (No. 22), the best players were found in Round 2.
The Cleveland Cavaliers opened the second round by picking point guard Mark Price, who had a 10-year career. The Price selection began a string of six straight players who went on to play at least nine years in the league. Price was followed by Greg Dreiling, Dennis Rodman, Larry Krystkowiak, Johnny Newman, and Nate McMillan.
Also found in the second round were Kevin Duckworth, David Wingate, and Jeff Hornacek.