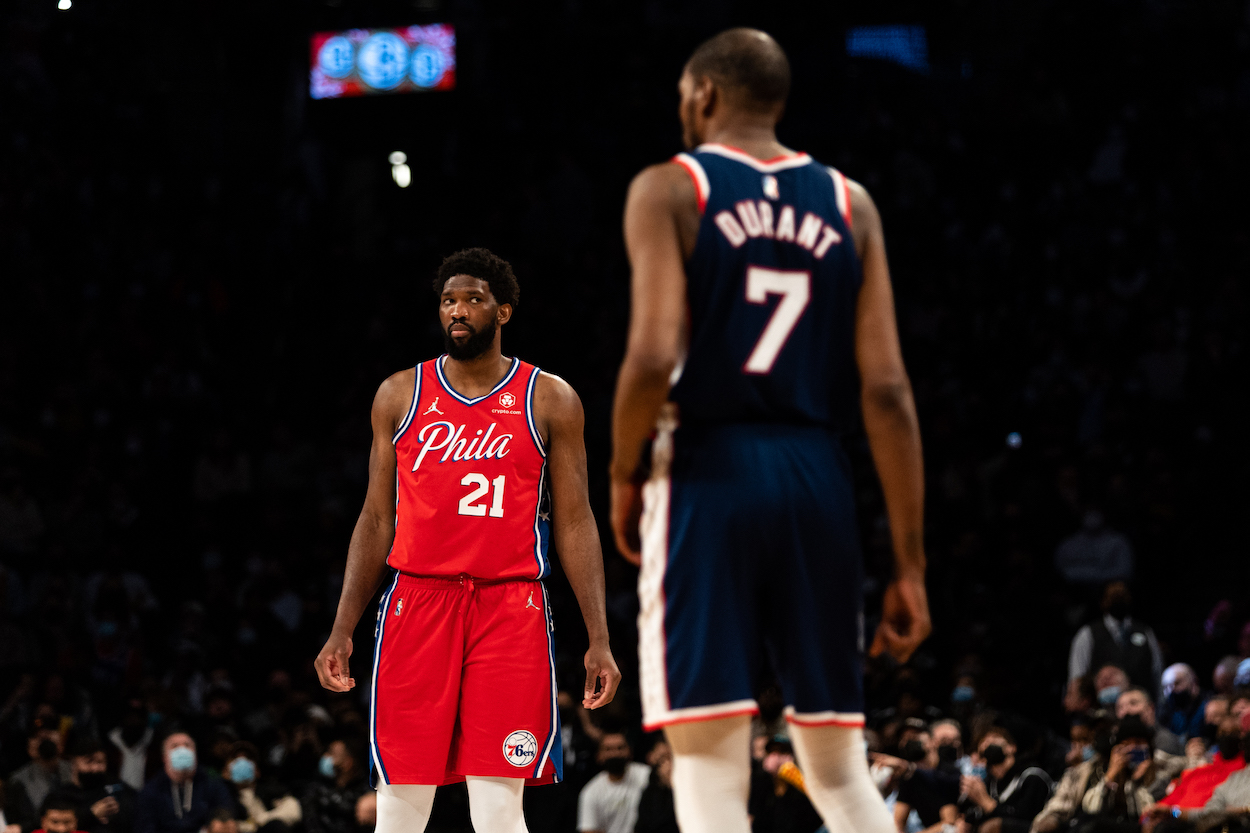 Joel Embiid Explains the Genesis of His Fierce Rivalry With Kevin Durant
Joel Embiid loves talking trash to Kevin Durant, but he's trying to tone down his cursing.
Joel Embiid and Kevin Durant have already locked horns more than once this season. It seems as if every time these two superstars share the same court they're bound to get in each other's faces and exchange words at some point throughout the night.
In a recent interview, Embiid explained how this beef started and what it is about Durant that brings out an extra fire in him.
Joel Embiid and Kevin Durant have developed a fierce rivalry
Every NBA player has that one opponent who gets their competitive juices flowing a bit more than others. For Embiid, that seems to be Durant.
Earlier in the season, Durant put the Philadelphia 76ers away with a clinching jumper and proceeded to wave Embiid off the court. Just a few weeks later, Embiid returned to favor by beating the Brooklyn Nets on their home court and throwing the same gesture back at Durant.
From there, a rivalry was born.
Embiid and Durant got into it again earlier this month when the Nets paid the Sixers a visit. After drawing a hard foul in the paint, Embiid had some words for Durant and the two got nose-to-nose before being separated by teammates.
In a recent interview with JJ Redick on The Old Man and the Three podcast, Embiid explained what led to that fiery encounter.
"We talk about flopping, I felt like this was a flop," Embiid said. "If you're man enough, if you get hit, don't flop. Stay up. I don't really wanna talk about what was said, but it was something like, 'I'm still here.' And then I'm like, 'Well if you're still here, why would you flop?' It doesn't make sense." 
Embiid explains how Durant brings out his competitive fire
Embiid has been working hard to keep his temper under control on the court, but when he's playing against Durant, he just can't help it.
"I've changed a lot over the years. As you know, I used to be all over the place whether it's talking trash or cussing people out. There's only a few guys that can really bring it out of me, and he's one of them because he's just talking nonstop. He really doesn't stop, and I love that about him. I love that energy. He's competitive. He knows how good he is, he knows no one can stop him and he uses that to his advantage."

Joel Embiid
Embiid might beef with Durant on the court, but he respects the future Hall of Famer and loves how he approaches the game.
"I love talking trash, and I love letting them know that, you know, I'm here. I'm dominating you. And that's just the way he is," Embiid said.
"I don't forget anything"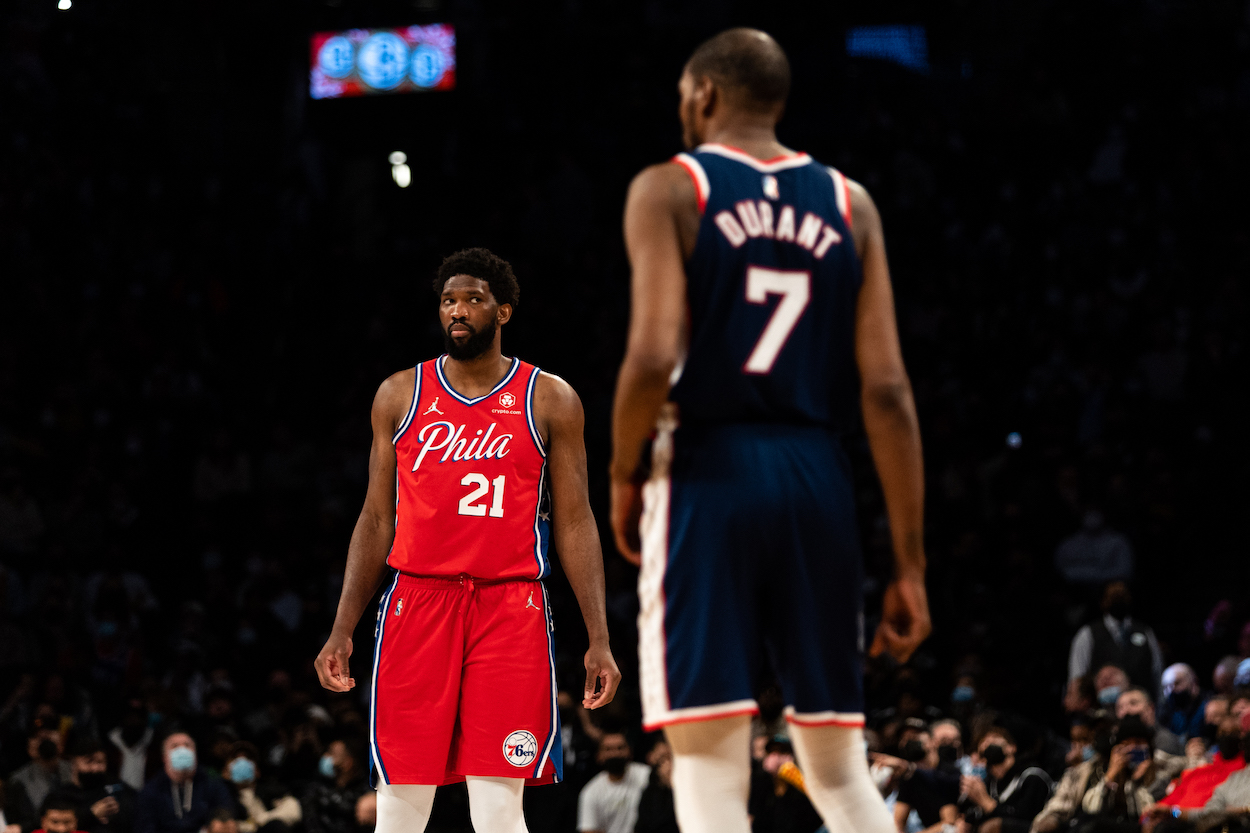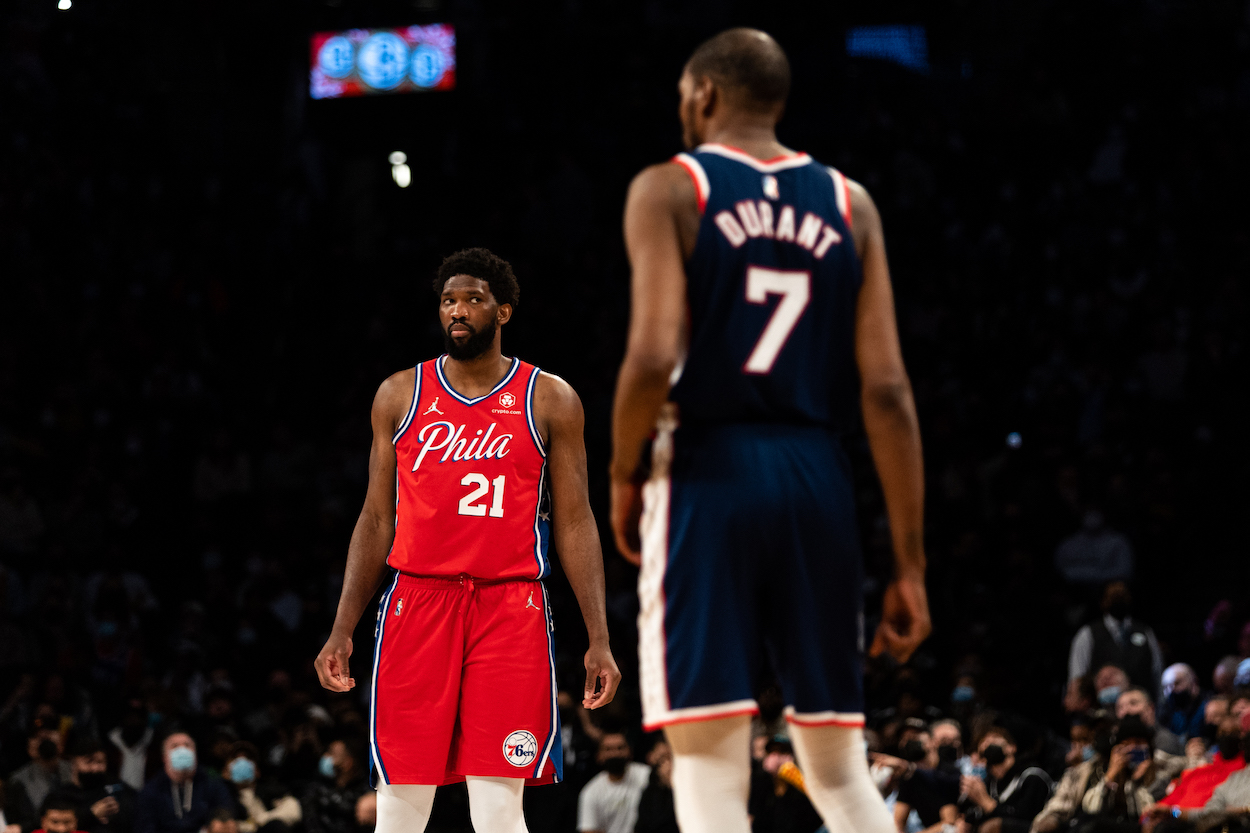 Embiid is very good at a lot of things, and holding a grudge is one of them. He can't wait to get Giannis Antetokounmpo back for showing up the 76ers on their home court, and he didn't hesitate to wave Durant off his home court as an act of revenge.
"I don't forget anything," he said. "I still remember Giannis sitting on our court a couple of years ago, so I've got to get him back for it in the playoffs. But going back to this, obviously the history. He waved me off the first game when they beat us in Brooklyn, and the second game, you know I had to. We beat them, so I had to tell him to get off his home court."
If the Sixers and Nets end up meeting in the playoffs, there better be some extra security around.
Like Sportscasting on Facebook. Follow us on Twitter @sportscasting19.