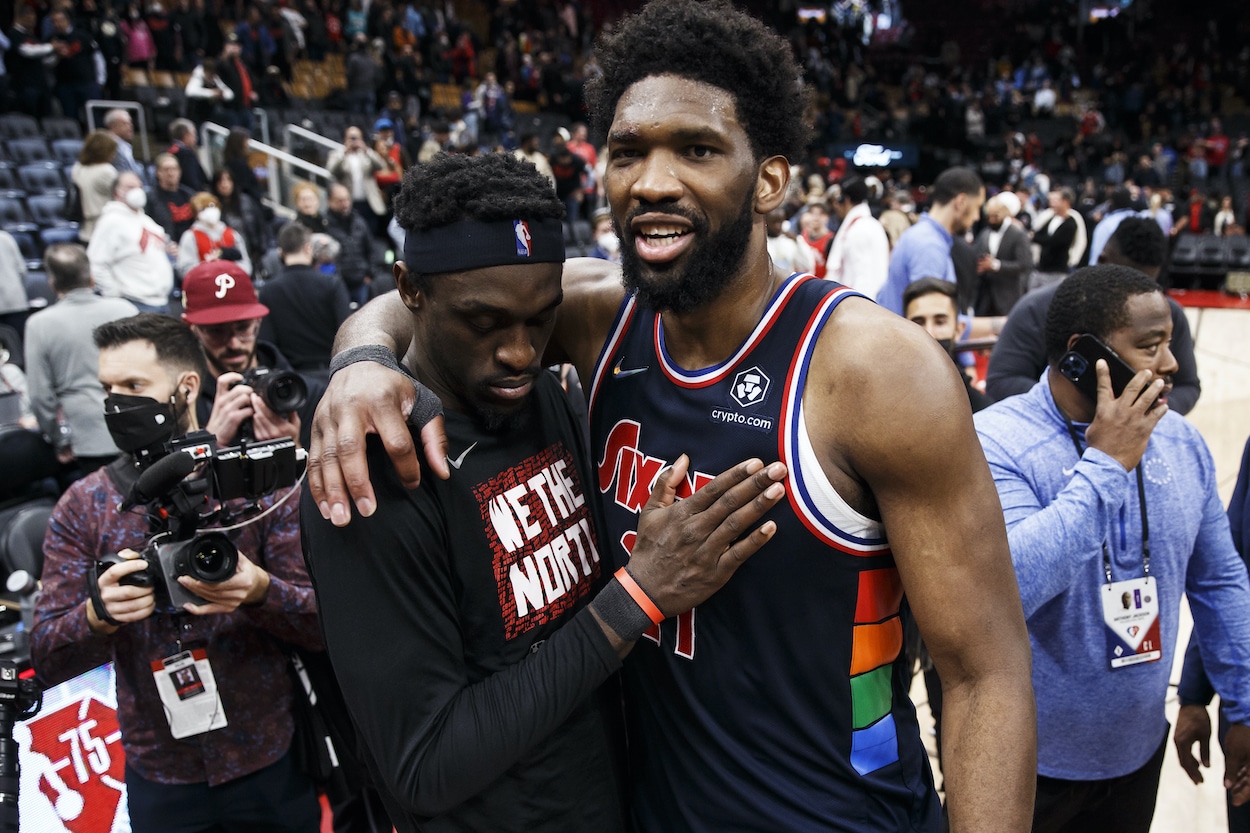 Joel Embiid Doesn't Blame Pascal Siakam for His Injury, but He Won't Forgive Raptors Fans for Celebrating It
Joel Embiid has lost respect for the Toronto Raptors' fan base.
Joel Embiid returned to the court Friday after missing two games due to a concussion and orbital fracture he suffered during a collision with Pascal Siakam in the first round of the playoffs. Many Philadelphia 76ers fans and media pundits complained online that Siakam intentionally elbowed Embiid in the face with the intent to hurt him, but the big fella knows that wasn't the case.
After his return to the lineup, Embiid defended Siakam in light of the backlash he's been receiving. Only, he wasn't as forgiving to the Raptors fans who cheered after he suffered the injury.
Joel Embiid and Raptors fans didn't get along this postseason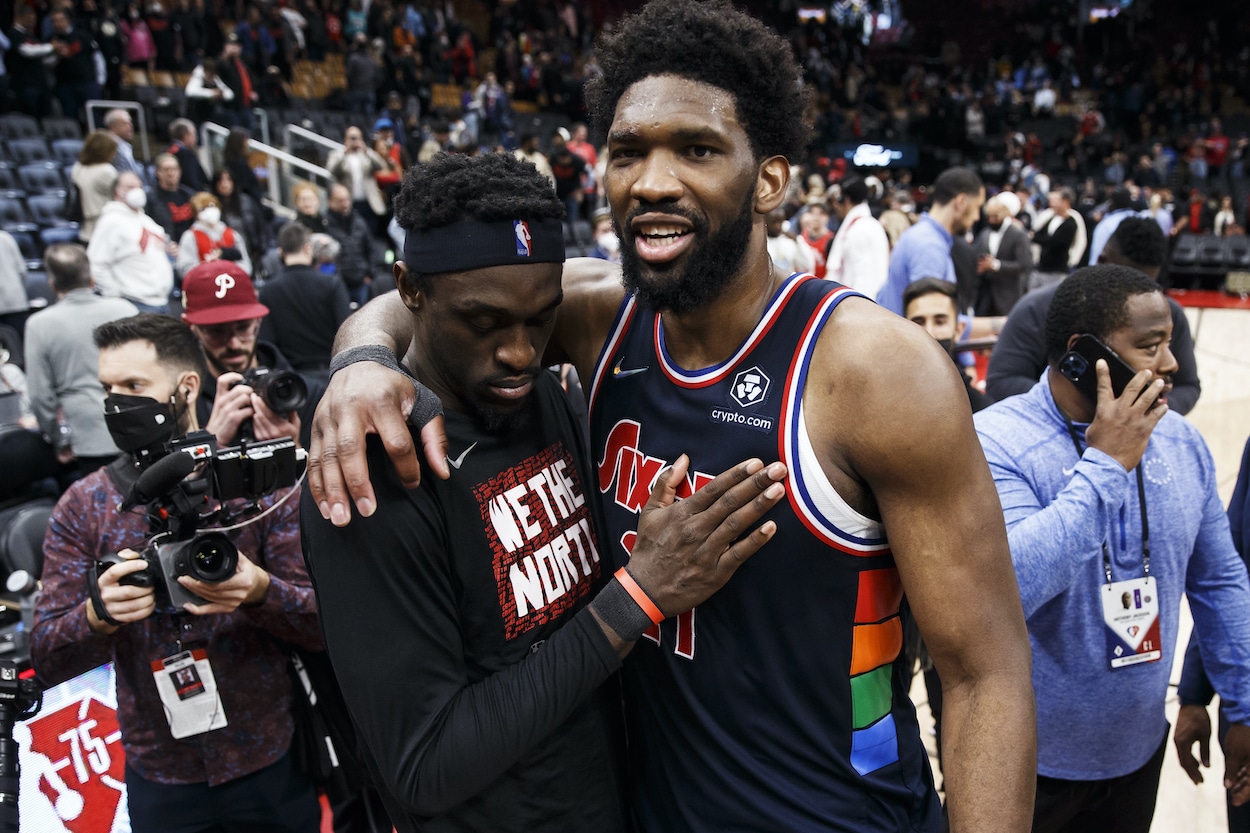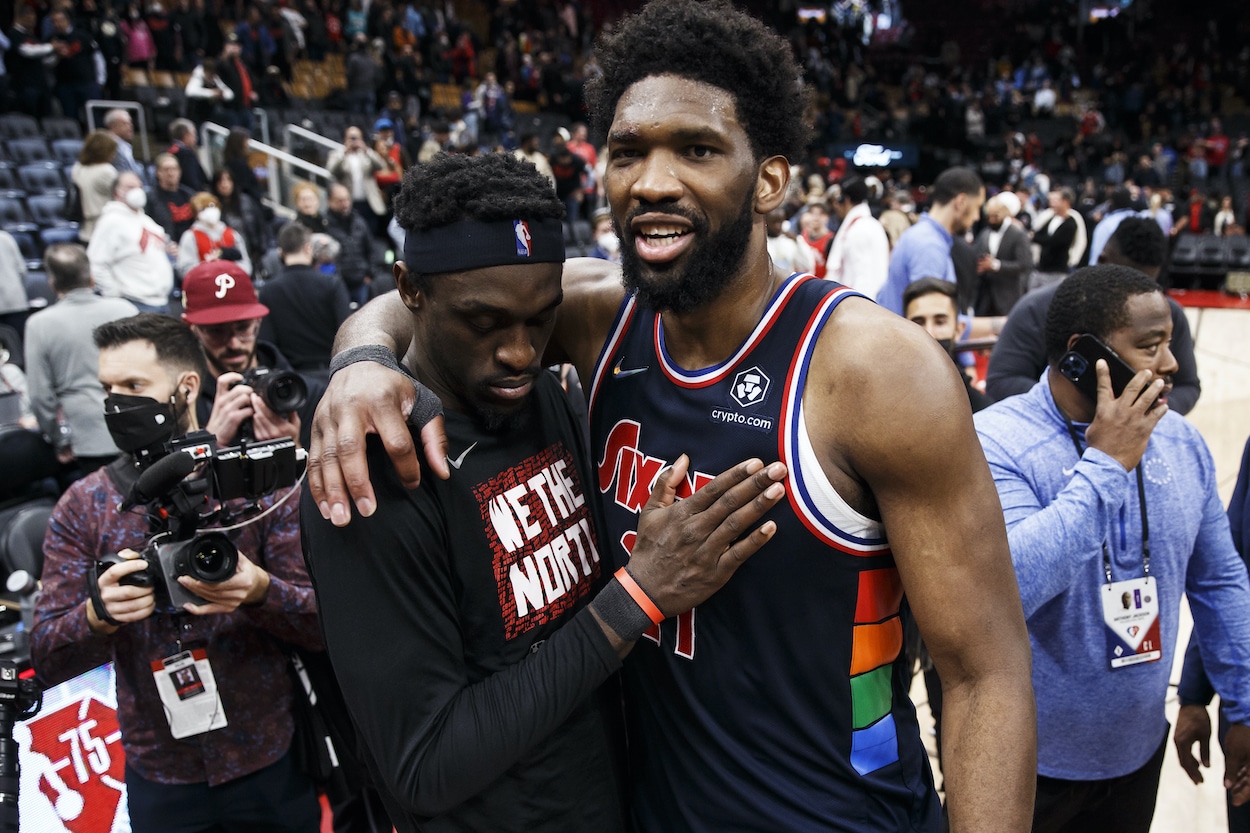 Embiid doesn't exactly get praised by opposing fans everywhere he goes, but there seemed to be genuine hate emanating from the Toronto faithful throughout the first-round playoff series between the 76ers and Raptors.
In all three games played in Toronto, the fans chanted profanities directed toward Embiid and cheered whenever he missed a shot or gave up a basket on the other end. As Embiid writhed in pain after taking an elbow to the face from Siakam late in Game 6, the fans in attendance erupted despite their team having no chance of coming back to win the game. Some threw up middle fingers directed at Embiid. Others pointed and laughed in a mocking fashion.
Even longtime Raptors broadcaster, Jack Armstrong, celebrated Embiid injury.
"You get what you deserve," Armstrong said on the broadcast. "That's just uncalled for. Be a good sportsman. You know what it is? Karma's a you-know-what."
Everyone cheering on the injury was upset that Embiid ran back on defense while doing an airplane gesture, which is something he's done before in celebration. They would've celebrated Siakam if it was an intentional elbow, but Embiid doesn't think that was the case.
"I don't think it was intentional," he said Friday after Game 3 against the Miami Heat. "That's my guy. It's unfortunate. I don't think he meant to do it, but I was more irritated by the perception of when that happened by really their fans."
But he didn't stop there.
Embiid bashes Raptors fans
After clearing Siakam of any wrongdoing, Embiid lit into the Raptors' fan base as a whole for how they treated him in Round 1.
"I always thought they had great fans, but it kinda changed my mind about their fans up there. Whether it was throughout the series and the F chants and all that stuff," he said.
"It never gets to me anyway, but I think they got mad that I did the airplane celebration. It's been going on in a few arenas these days. The fans, they just feel like it's OK to just say F somebody. There's a bunch of kids in the arena. I don't think that should be OK. Even if there wasn't kids.
"It's almost like if you respond to it, it's almost like the Draymond (Green) situation. The league fines you. It doesn't bother me, I'm just speaking for really everybody in the NBA and like I said, if you give it, you also gotta be able to take it. I've said it about our fans too. When they boo and if the players are gonna go back, you gotta be able to take it too."
Don't expect this rivalry between Embiid and the diehard fans of Toronto to end soon.
Like Sportscasting on Facebook. Follow us on Twitter @sportscasting19.