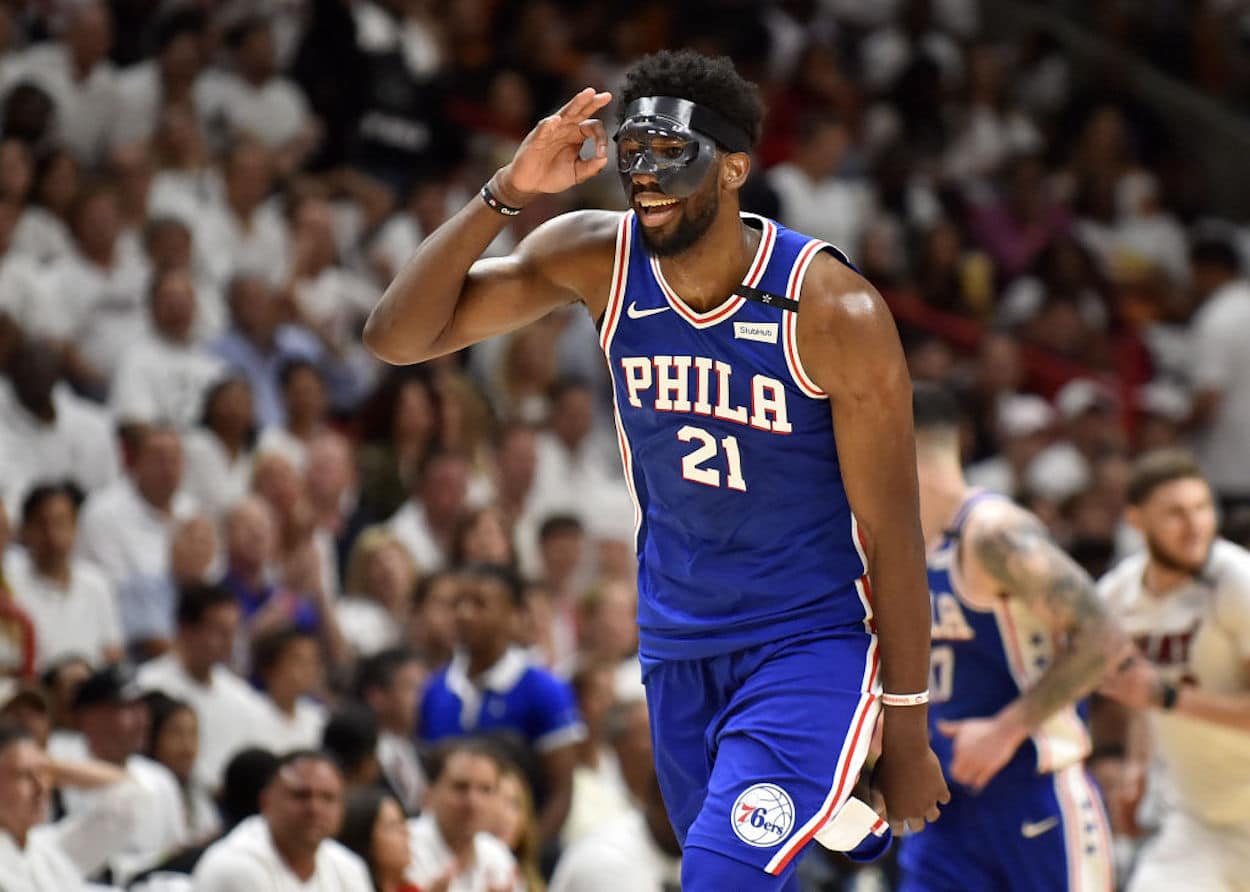 Why Is Philadelphia 76ers Star Joel Embiid Wearing a Mask?
Joel Embiid is back in action for the Philadelphia 76ers, but he'll look a bit different when he hits the court. Why is the big man wearing a mask?
While injuries are simply part of sports, they can still be back-breaking for the team in question. Take the Philadelphia 76ers as an example of that. The Eastern Conference club may have outlasted the Toronto Raptors, but they paid a painful price. Joel Embiid took an elbow to the face, ruling him out for the start of Philly's series with the Miami Heat.
As of May 6, though, it looks like things have taken a turn for the better. The big man has cleared concussion protocol and, according to Shams Charania, he's got a good chance of taking the floor for Game 3. If and when Embiid does play, though, things will look quite a bit different. Thanks to Pascal Siakam, the center will be wearing a protective mask.
Joel Embiid will be wearing a mask after Pascal Siakam fractured his orbital
During the Sixers' first-round series with the Toronto Raptors, news broke that Joel Embiid was playing with a torn thumb ligament. While that injury didn't force him out of the action, he still found himself forced to the sidelines.
In the final minutes of Game 6, Embiid absorbed some contact from a driving Pascal Siakam. The Philly big man immediately grabbed hold of his face, and, before long, it became clear why. He suffered both a fractured orbital and a mild concussion, ruling him out of Games 1 and 2 of Philly's second-round series against Miami.
While it originally seemed like Embiid wouldn't be ready to return for Game 3, news broke on May 6 that he had cleared concussion protocol. That makes him eligible to return to the lineup but doesn't solve the issue of a broken orbital.
Thanks to that injury, the center will be wearing a protective face mask when he hits the court. It might be a bit uncomfortable or, at the very least, feel unnatural, but it will allow him to rejoin his teammates and try to save the Sixers' season.
Some masked heroics will only add to Embiid's stature in Philadelphia
As long-time NBA fans will tell you, several other players have donned masks over the years. LeBron James and Kobe Bryant both used protective gear to stay on the court; Rip Hamilton even made a mask part of his signature look.
At the risk of trotting out cliches, there's something visceral about seeing an athlete wear a mask. It becomes an apparent symbol of their willingness to play through the pain. You can't look at them and pretend everything is normal. This player, whether it's LeBron, Kobe, or Embiid, could be sitting on the sidelines, but he's pushing through adversity to try and help the team. Even if battling through injury shouldn't really be praised, it still speaks to sports fans on an emotional level.
If we add that emotional component into the already high-stakes situation, it's easy to see how Embiid can emerge as a hero in Philadelphia. The 76ers, for better or worse, have to make a legitimate run at the title. They're down 2-0 in the series, and James Harden hasn't been able to do it on his own. If Embiid can return and salvage the series, it will only bolster his reputation as a star who gives everything to his city.
It's also worth noting the contrast between Embiid and Ben Simmons. Whether it's fair or not, Simmons has earned a reputation as someone who couldn't handle the pressure and ran away from the spotlight. By getting back into the lineup, the center is saying the opposite. He's embracing the challenge, and, in a city like Philadelphia, that attitude counts for quite a lot.
At this point, it's not clear how things will play out on the court. It does seem safe to assume, however, that Joel Embiid will have something to say about the Heat-76ers series.
Like Sportscasting on Facebook. Follow us on Twitter @sportscasting19 and subscribe to our YouTube channel.