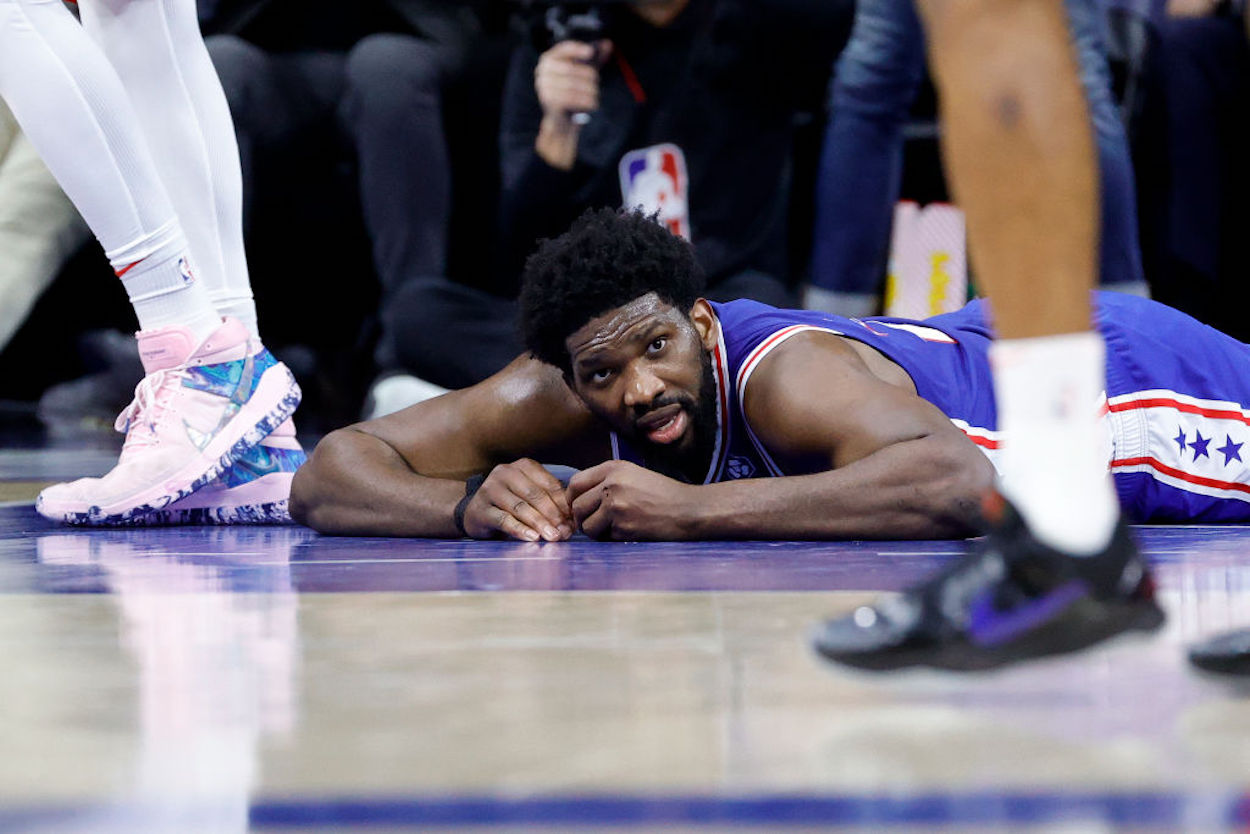 Philadelphia 76ers: Why Isn't Joel Embiid Playing and When Will He Return From Injury?
While injuries are part of pro sports, the Philadelphia 76ers won't be happy about entering their series against the Heat without Joel Embiid.
While the cliche might claim that defense wins championships, the modern NBA is all about star power. If you don't have some serious top-end talent on the roster, you aren't going to get far. Thankfully for those in Philadelphia, the 76ers boast the duo of Joel Embiid and James Harden.
Well, at least they have those two stars on paper. When the second-round series with the Miami Heat tips off, Philly will be without their starting center.
So why is Embiid out of the lineup? And, perhaps more importantly for Sixers fans, when can he return from injury to take part in the series?
Joel Embiid will miss at least two games with a concussion and a broken orbital
During the first round of the 2022 NBA Playoffs, Joel Embiid tore a ligament in his thumb. While he pushed through that pain to help Philadelphia dispatch the Toronto Raptors, the big man will now find himself on the sidelines.
In the final minutes of the series-clinching Game 6 win, Embiid absorbed an elbow to the face as Pascal Siakam drove to the basket. Shams Charania of The Athletic would later tweet that the center had suffered a mild concussion and a fractured right orbital. Those injuries have ruled him out of the action, and the team didn't provide an official timetable for his return.
Despite that reality, we do know some details about a potential timeline. Adrian Wojnarowski tweeted that Embiid won't travel to Florida for the first two meetings with the Heat but did note there was "optimism" that the big man could get back into the action for either Game 3 or Game 4.
Ramona Shelburne also chimed in, noting that it seemed like Embiid would not need surgery for his orbital fracture. Furthermore, she added that Joel would need to be out for at least five days; if we start counting from the morning after he sustained his injuries, the sixth day would be May 3. That would mean it's theoretically possible for Embiid to clear concussion protocol ahead of Game 3.
With all of that being said, though, it is worth remembering that concussions affect everyone differently. The 76ers star could be ready to go the day he's eligible to return, but it's equally possible that he needs more time to recover. At this point, we'll just have to wait and see what happens.
While Joel Embiid will be missed, this is why the 76ers traded for James Harden
It goes without saying that the 76ers will want Joel Embiid back as soon as possible. Having him on the sidelines simply makes them a worse team on both ends of the floor. With that being said, Philadelphia is at least partially prepared for this moment.
As laid out by Ky Carlin on Sixers Wire, Philly did play 14 games without their star center this season. While they were below .500 in those contests, the 76ers did beat the Heat twice.  Paul Millsap, DeAndre Jordan, and Paul Reed played their part with Embiid sidelined, and Doc Rivers knows his role players will need to step up again.
"DJ and Millsap, the two Pauls is what we call them, they both had significant minutes in that game," the head coach explained. "I thought DJ's height had significance in that game, and that's what we're gonna do. We're gonna play center by committee."
Beyond them, though, the biggest ace up the 76ers' collective sleeve is James Harden. While the guard isn't the perfect player, he can still score with the best of them. Embiid's injury also means he's the main option on offense, which will allow him almost unlimited access to the ball.
While Daryl Morey acquired Harden to play alongside the center rather than replacing him, this is an added benefit of having multiple stars on the roster. The bearded guard can't win a championship on his own, but he's capable of holding down the fort for a few games, even against Miami's tough defense.
During the 2021 NBA Playoffs, the 76ers learned that Ben Simmons wasn't a reliable secondary option. Now they're prepared to weather the storm with Joel Embiid on the sidelines. If he's able to return to the court within a week or so, Philly will still like their chances of beating the Heat.
Update: As of the morning May 6, Embiid has cleared concussion protocol. The big man is still listed as "out" for Game 3, but he's reportedly going to try to don a mask and play on Friday night.