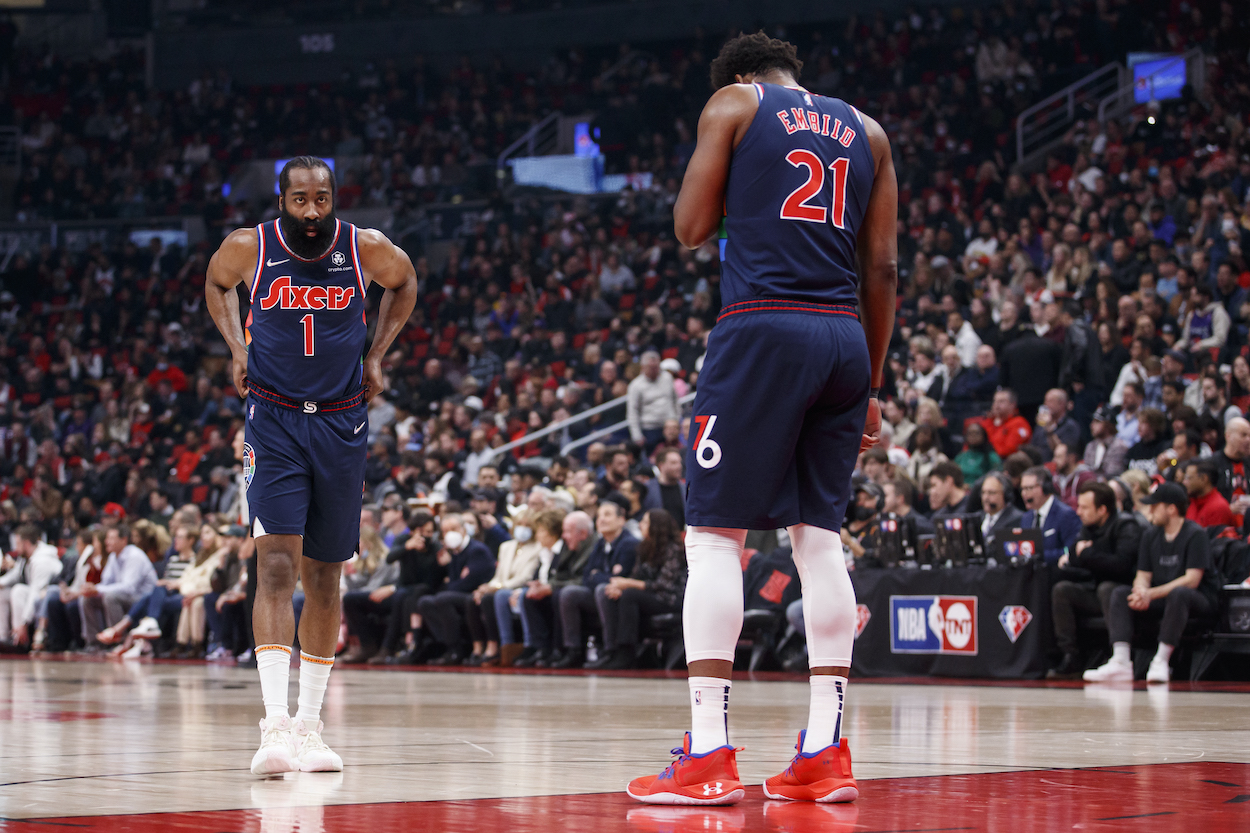 James Harden Receives Harsh Wake-Up Call From Joel Embiid After Another Playoff Disaster
James Harden needs to listen to Joel Embiid's advice about being more aggressive.
After going up three games to one on the Toronto Raptors in the Eastern Conference first-round playoff series, it looked as if the Philadelphia 76ers were poised to cruise to the second round. A few days later, the Sixers have now lost two straight games in embarrassing fashion to inch closer to becoming the first team in NBA history to blow a 3-0 lead.
Despite playing nearly 40 minutes in Game 5, James Harden attempted just 11 shots and scored 15 points while continuing to look nothing like his old self. After the game, Joel Embiid slapped Harden with a harsh wake-up call that will either inspire the 10-time All-Star or torpedo his confidence even further into the ground.
James Harden disappoints once again in the 76ers' lifeless Game 5 loss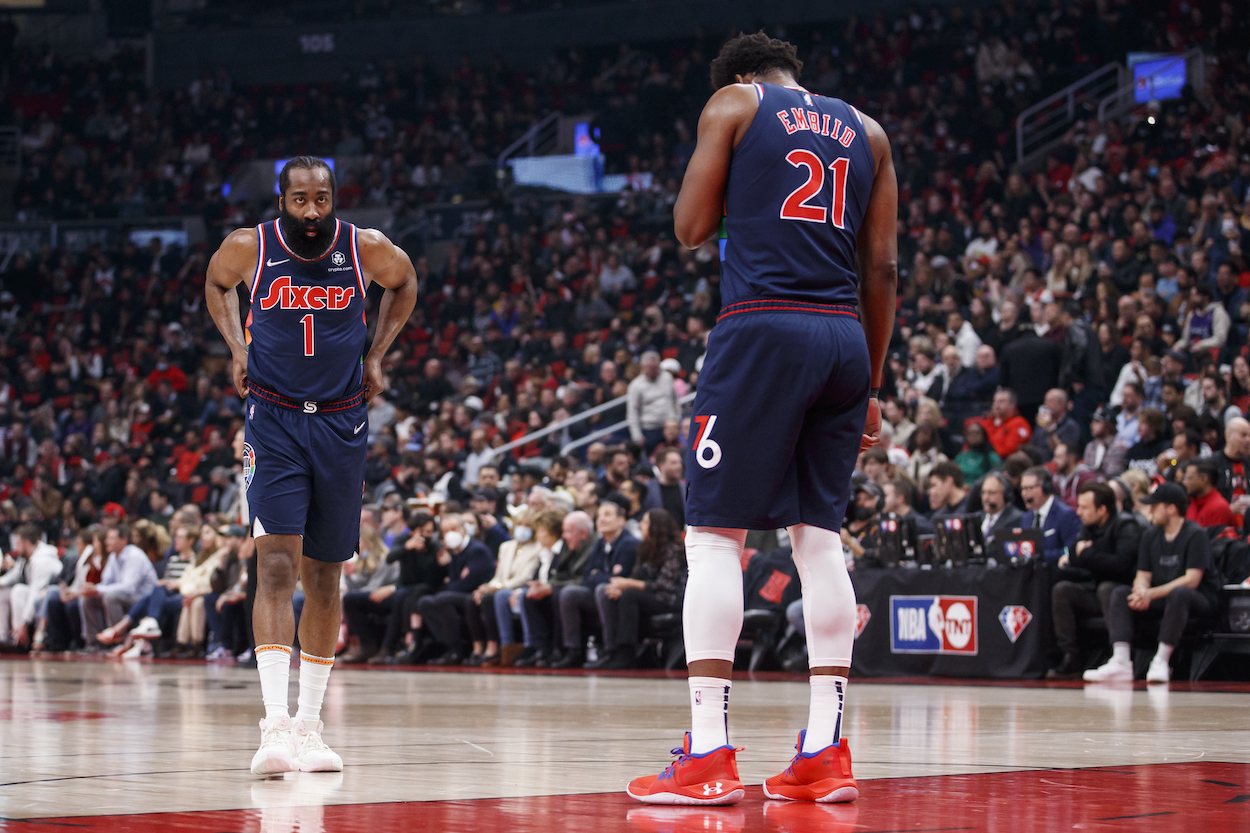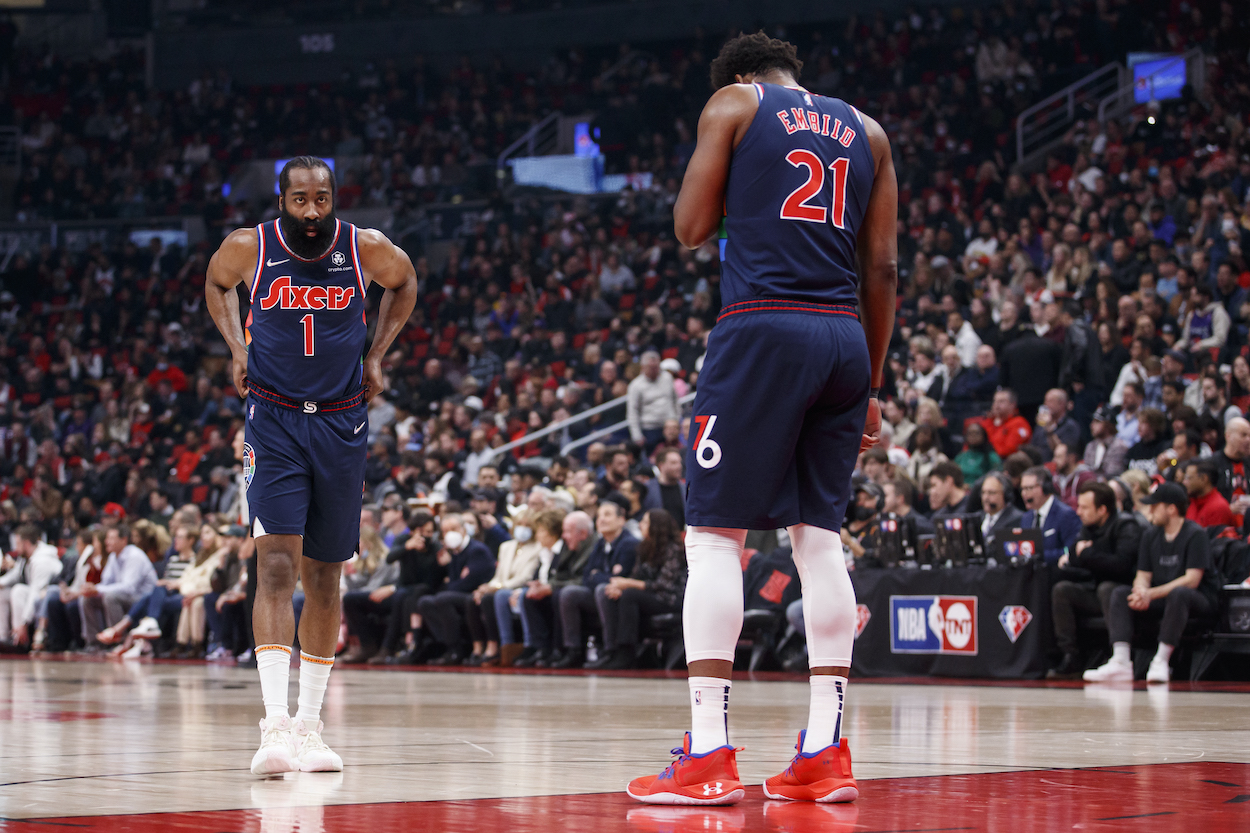 When the 76ers traded for Harden at the NBA trade deadline, they thought they were adding an elite scorer who was going to take pressure off Embiid on the offensive end and help the team finally make it past the second round. He looked like that player early on, but that play hasn't translated to the playoffs.
In five postseason games, Harden is averaging just 18.4 points and shooting 37.3% from the field. The once-unstoppable offensive force has struggled to beat defenders off the dribble even in mismatches, and his finishing around the rim has been abysmal.
Harden is starting to lose more confidence with each and every game. In Philadelphia's 103-88 loss in Game 5, he looked uninterested in challenging the Raptors at the rim. Even when he had open looks in the paint, he opted to kick the ball out to shooters instead of putting up a floater or trying to draw a foul. The 32-year-old made just four of his 11 shot attempts, and his 15 points weren't nearly enough to give the Sixers a fighting chance.
If Philly is going to close out this series, Harden is going to have to be much more aggressive and much more efficient on the offensive end.
Joel Embiid sends a harsh wake-up call to James Harden
Embiid understandably wasn't thrilled with Harden's performance in Game 5. After the loss, he gave a brutally honest assessment of what Harden needs to do to help the Sixers succeed. He even threw in a slight shot at head coach Doc Rivers.
"I've been saying all season since he got here, he needs to be aggressive and he needs to be himself," Embiid told reporters, per ESPN. "That's not really my job. That's probably on Coach to talk to him and tell him to take more shots, especially if they're going to guard me the way they've been guarding. But that's really not my job."
Sheesh. A two-for-one diss.
Even though he singled out Harden, Embiid said the team as a whole hasn't been executing on the offensive end.
"But we all need to be better offensively," he said. "We missed a bunch of wide-open shots. At times, I just felt like we just invited, when I was getting doubled, we were not aggressive attacking the ball. We just kept moving the ball around the perimeter, and that gave them time to recover, and that's why we're not able to get anything out of it."
Ben Simmons Part 2?
Embiid's comments were clearly meant to push Harden to be more aggressive with the ball in his hands, not belittle him. But if he's not careful, the star center could find himself in another Ben Simmons situation.
Simmons took Embiid's criticism so hard that he vowed never to play for the 76ers again. We've seen Harden quit on two franchises in a 13-month span before, and he could easily do the same to the Sixers this offseason.
Embiid better hope Harden handles his challenge better than Simmons did.
All stats courtesy of Basketball Reference.
Like Sportscasting on Facebook. Follow us on Twitter @sportscasting19.