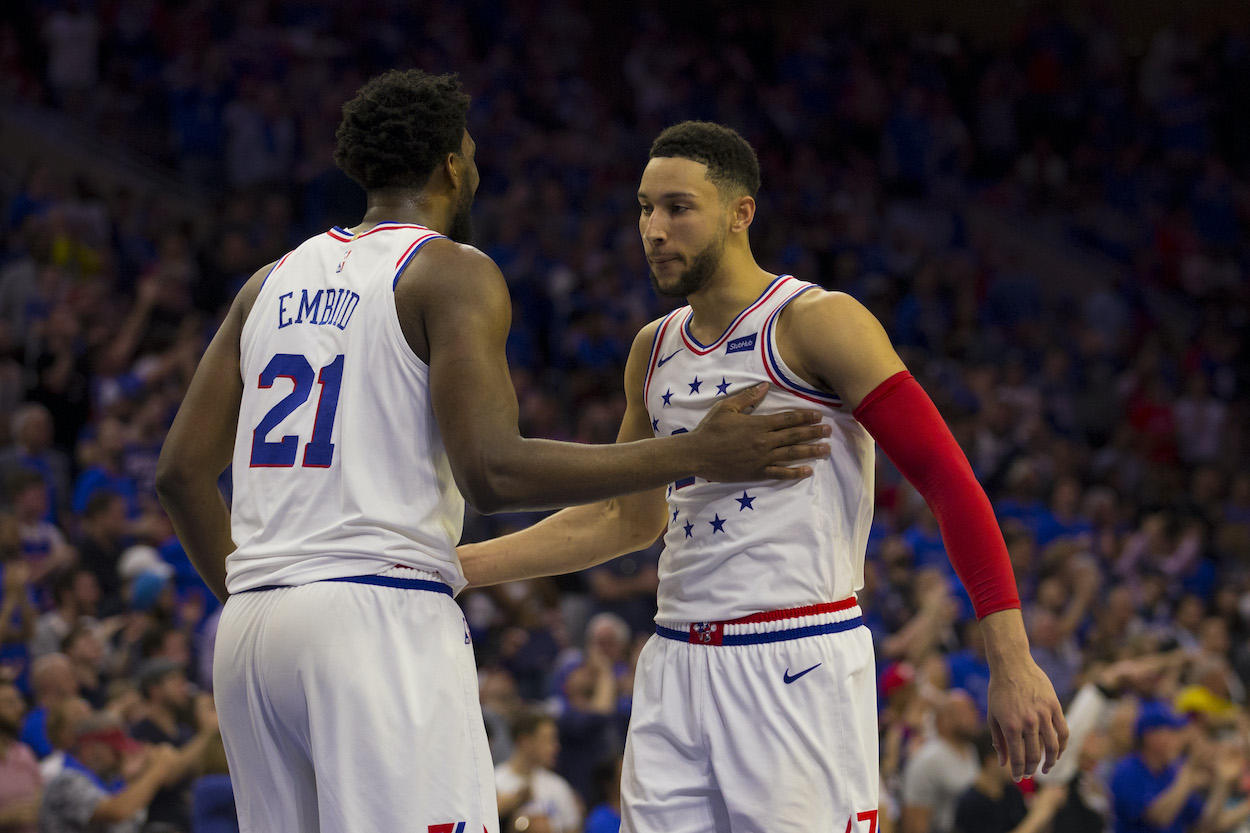 Joel Embiid Has Already Forgiven Ben Simmons: 'I Wouldn't Mind Being Friends'
Ben Simmons gave up on the 76ers, but Joel Embiid has no hard feelings and hopes to become friends again.
A majority of Philadelphia 76ers fans will never forgive Ben Simmons for giving up on the franchise and forcing his way out of town. The 25-year-old refused to honor his contract and blamed everyone but himself for his shortcomings in the postseason.
Although Simmons might not have any more friends among the Philly faithful, he'll always have one in Joel Embiid. The two haven't spoken in months, but Embiid said recently he has no hard feelings toward Simmons, and he hopes to bury the hatchet soon.
Joel Embiid blames the media for tearing him and Ben Simmons apart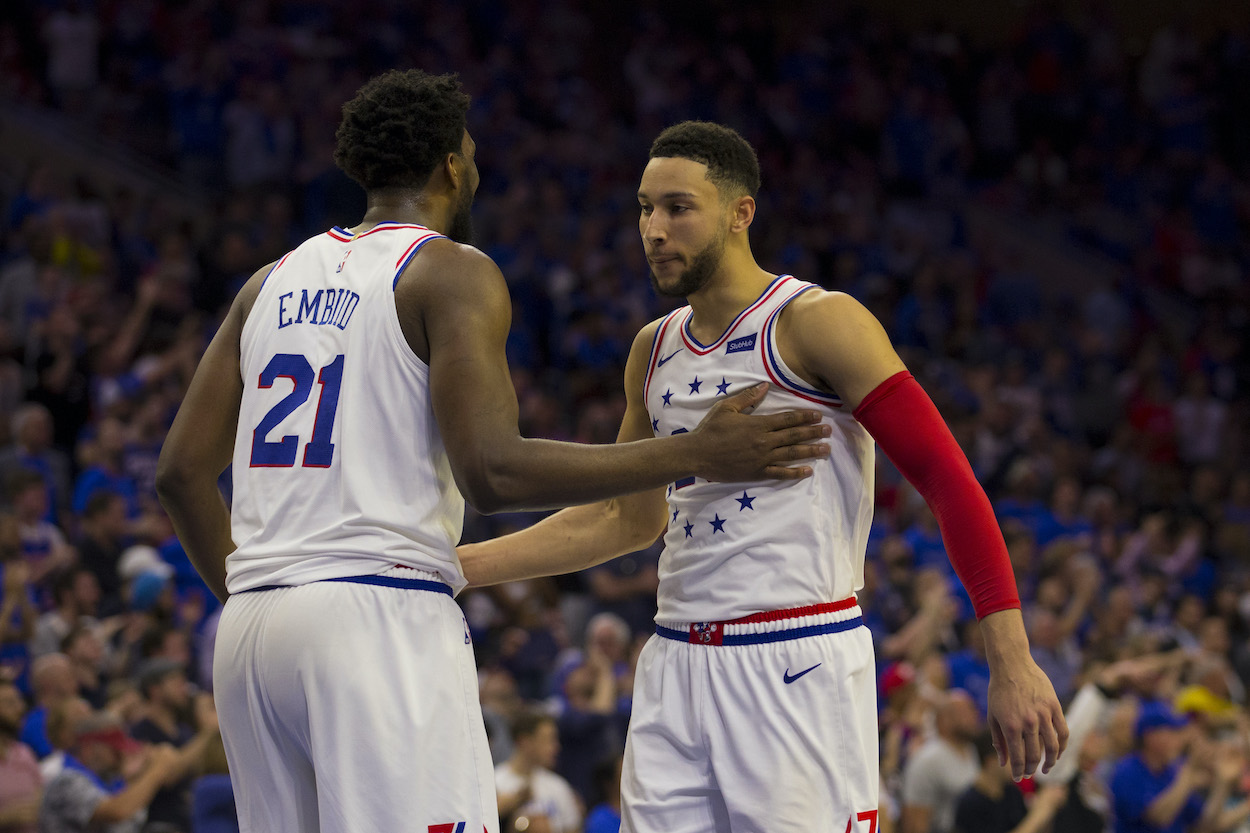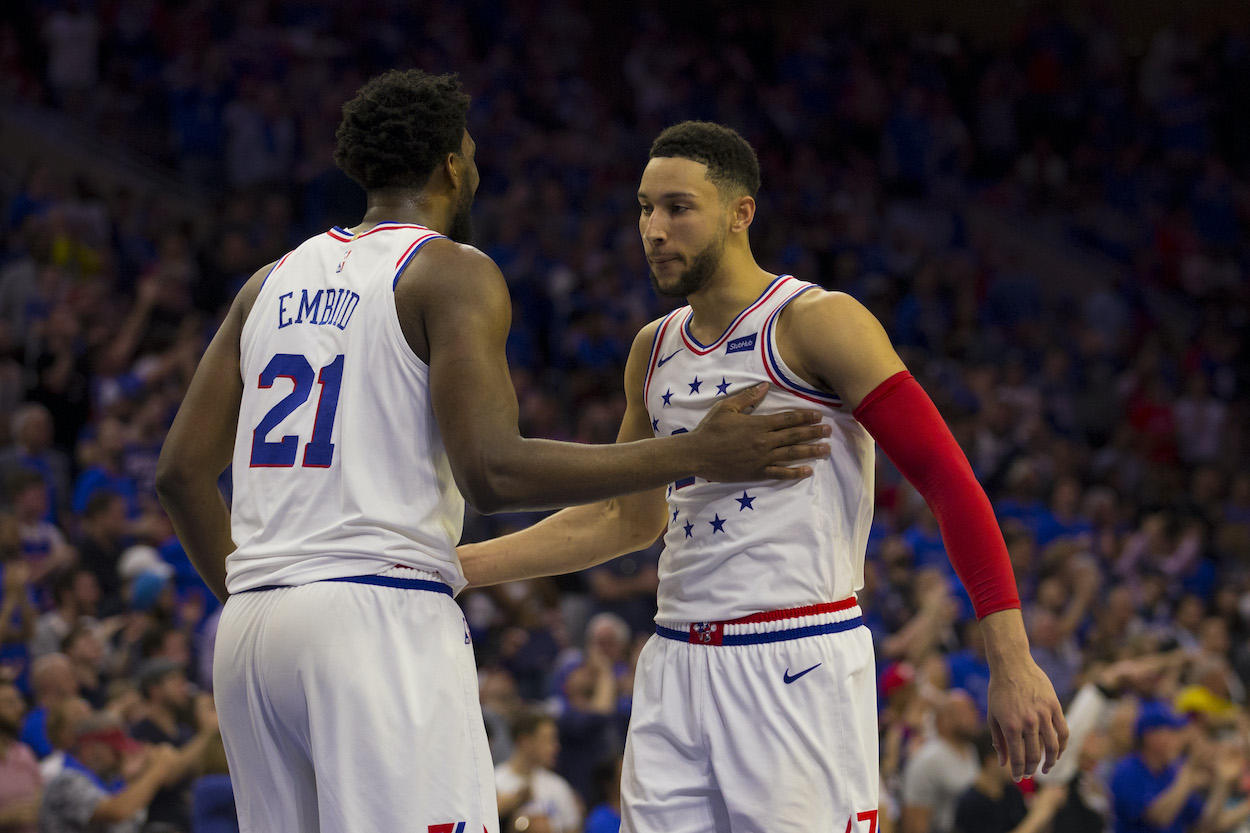 The drama between Simmons and the 76ers began immediately after the 2021 postseason. After Simmons refused to shoot a wide-open layup late in Game 7 against the Atlanta Hawks, Embiid seemed to call his teammate out in his postgame press conference.
"I mean, I'll be honest. I thought the turning point was when we — I don't know how to say it — but I thought the turning point was just we had an open shot and we made one free throw and we missed the other and then they came down and scored," he said.
That quote about Simmons passing up an open look circulated online for weeks, but it wasn't all Embiid said.

"We didn't get a good possession on the other end and Trae came back and he made a three, and then from there down four, it's on me. I turned the ball over and tried to make something happen from the perimeter. But I thought that was the turning point."
So, Embiid really blamed himself as much as he blamed Simmons for the loss. In a recent interview with Chris Mannix of Sports Illustrated, the Sixers center blamed the media for blowing his quote out of proportion.
"I didn't call out anybody," Embiid told SI. "This is what [the media] does. I listed a bunch of stuff that happened. And that one little piece of it was everywhere. We couldn't get anything going. It's unfortunate, but if, as a player, if you want to read into that, I can't help you."
Embiid would like to be friends with Simmons again
Ever since that quote, Simmons started to distance himself from the 76ers. He decided he wasn't going to suit up for Philadelphia ever again, and he finally got his wish when he was traded to the Brooklyn Nets at the NBA trade deadline.
Embiid and Simmons haven't spoken since that day, and they didn't interact much even before the trade. But even after all the drama, Embiid would like to one day bury the hatchet.
"I don't have any hard feelings. I don't have any hate toward him. I wouldn't mind being friends. That's just me. I don't care. Honestly. I respect the decision he made. I think it's unfortunate what happened, but to me it's whatever."

Joel Embiid
That sure is a mature mindset for the big fella, but good luck getting Simmons on the same page.
"Whatever gets me the best chance to win a championship, that's what I'm going to do."
Embiid said he never pushed the 76ers to get rid of Simmons. All he wants is the best chance to win an NBA title, and if Simmons didn't want to be a part of that journey, then so be it.
"I'm trying to win a championship," he said. "Whatever gets me the best chance to win a championship, that's what I'm going to do. We needed to help him as much as possible. If he comes back, we got to take him back and try to go win a championship. If he still wants to get traded, we got to do whatever is necessary to make sure that we don't go and trade for, I don't know, a first-round pick, or a second-round pick, or whatever, because what does that do for me? I'm not going to be able to work with a bunch of first-round picks or second-round picks. So, to me, I always looked at the bigger picture."
And now that Simmons is gone, Embiid and the Sixers are in a much better position to do just that in 2022.
Like Sportscasting on Facebook. Follow us on Twitter @sportscasting19.