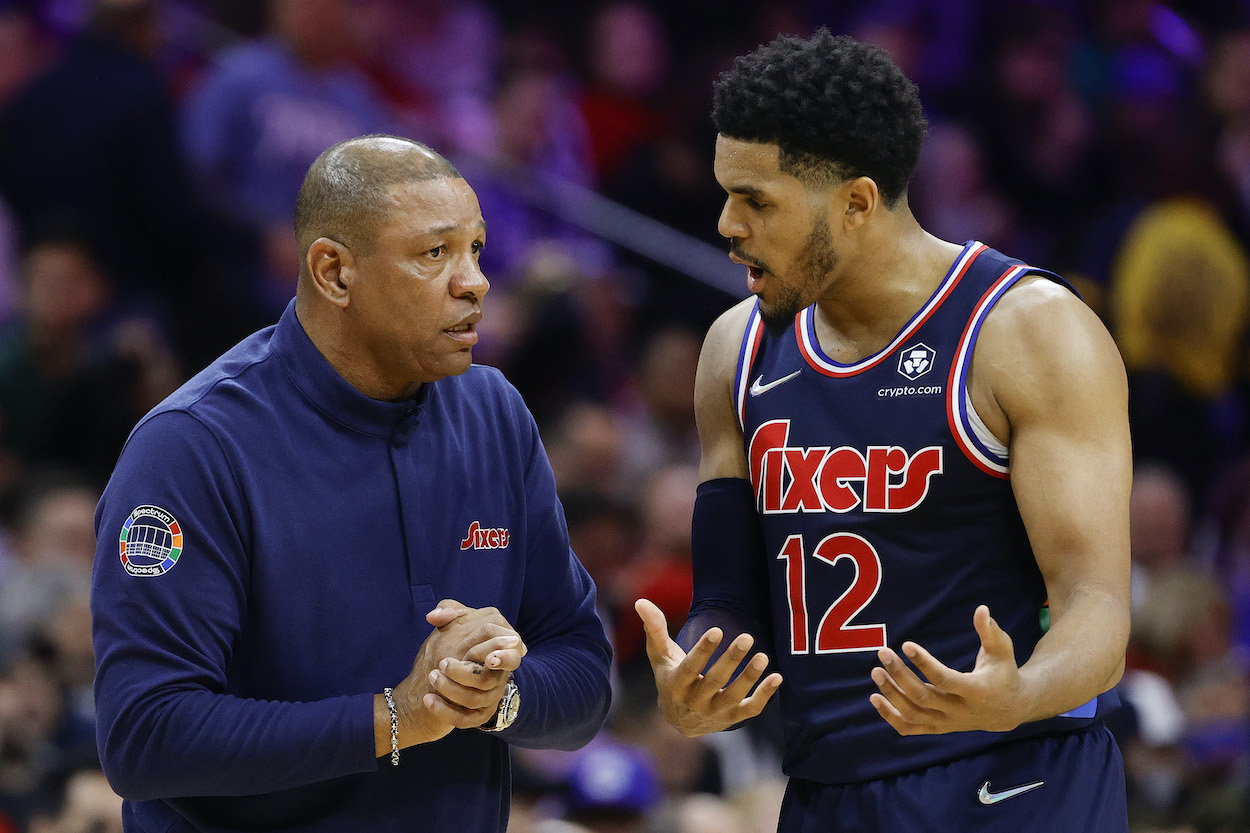 The 76ers' 2 Worrisome Problems Have Surprisingly Become Major Strengths in the Playoffs
Doc Rivers and Tobias Harris are shattering expectations so far in the 2022 playoffs.
Heading into the 2022 NBA playoffs, Philadelphia 76ers fans had more than a few concerns about their beloved team. James Harden's declining ability as a scorer and their slim bench were surely in the conversation, but Doc Rivers and Tobias Harris squarely topped that list.
Rivers struggled with the bench rotations down the stretch of the season and has a history of blowing leads in the playoffs, while Harris hasn't lived up to his $180 million contract and has his own share of postseason failures.
But, in a surprising development, Rivers and Harris have been two of the biggest brights spots for the Sixers in their first-round series against the Toronto Raptors.
Doc Rivers has surprised some folks early in the playoffs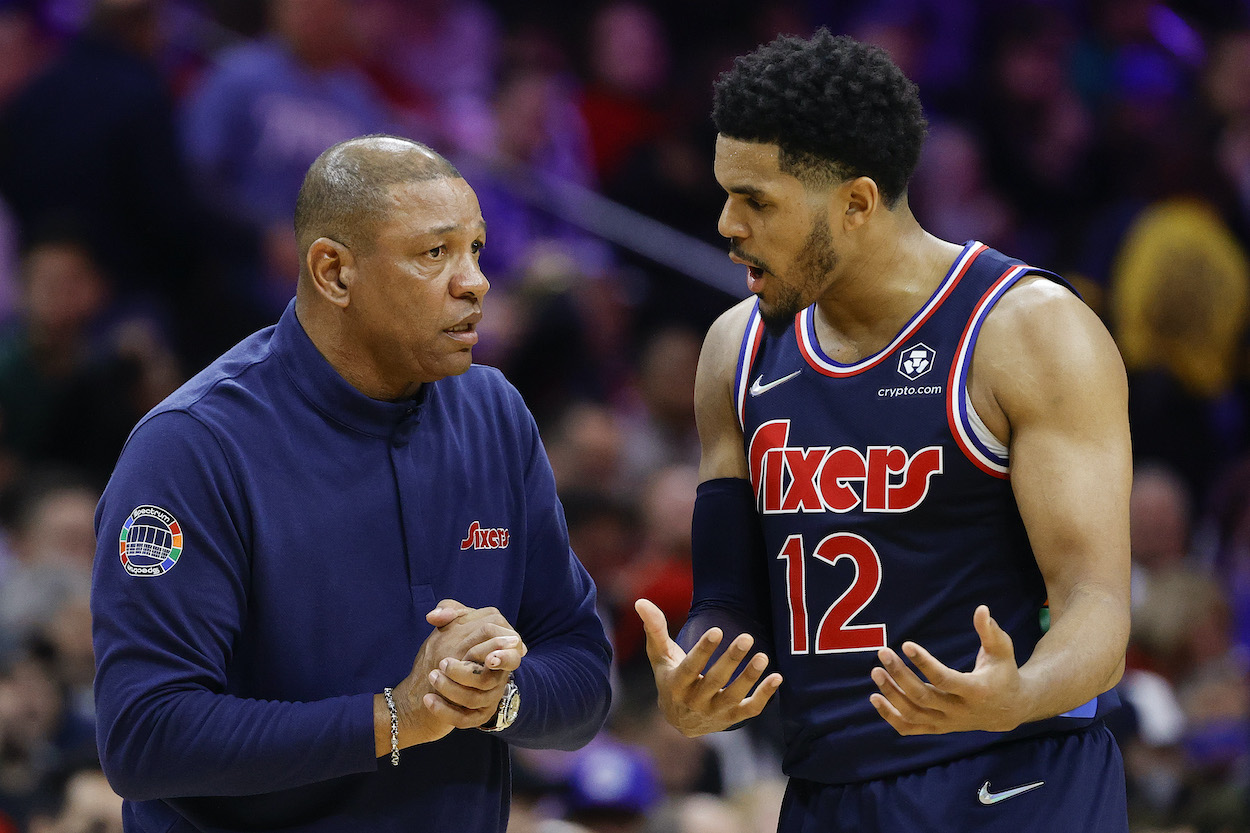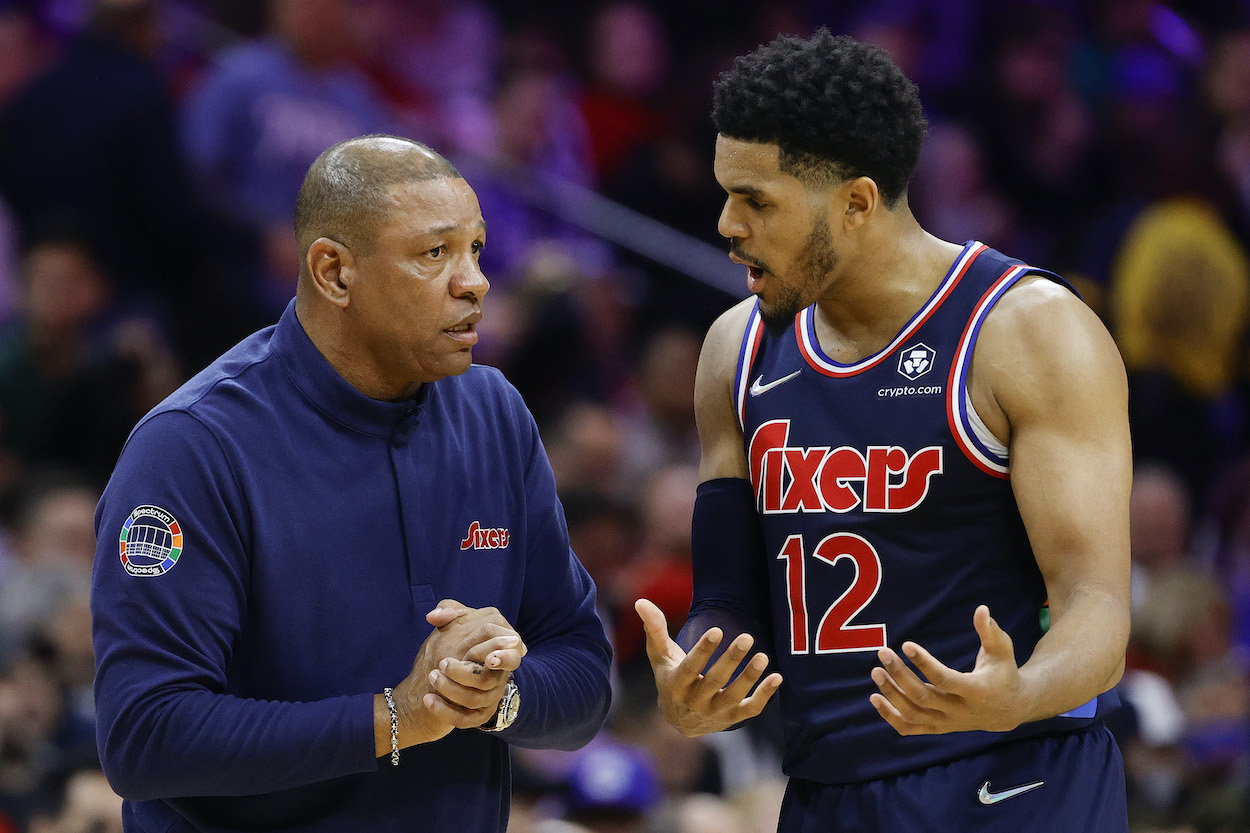 Rivers is primarily known as one of the winningest head coaches in NBA history, but he'll always be remembered as the only coach to blow three 3-1 leads in the playoffs. Despite his prolonged success in the NBA and his championship ring from 2008 with the Boston Celtics, Rivers will always have more flops than triumphs on his postseason resume.
76ers fans have started to lose faith in Rivers dating back to the team's disastrous loss to the Atlanta Hawks in the Eastern Conference semifinals last season. This year, he's struggled to land on a consistent rotation since Harden joined the team at the NBA trade deadline, and his substitutions have frustrated fans looking for more minutes from the younger players on the roster.
But so far in the playoffs, he's been brilliant.
Through four games against the Raptors, Rivers has used only eight players in every game. To the delight of Sixers fans everywhere, DeAndre Jordan hasn't been one of them. Paul Reed has filled in for Joel Embiid the entire series, and he's been much better than Jordan would be against Toronto's small lineup.
Rivers has also mixed in some zone to take the Raptors out of their groove offensively, and he drew up the nifty screen that freed Embiid up for his heroic game-winner in Game 3.
Unfortunately for the 76ers, they currently hold a 3-1 lead in the series after losing Game 4. Let's see if Rivers can overcome his demons and lead Philadelphia to the second round.
Tobias Harris has also been a pleasant surprise for the 76ers
Harris finished the regular season averaging 17.2 points and shooting 36.7% from three, which are both his worst marks since the 2016-17 season. Considering he's the 16th-highest-paid player in the NBA this year, it's safe to say he hasn't been playing up to his massive contract.
But, like Rivers, he's had somewhat of a renaissance in the postseason. Harris has averaged 18 points and 9.8 rebounds per game on 58.7% from the field and 53.3% from three. He's been aggressive and decisive on the offensive end, and his on-ball defense throughout the series has been impeccable.
Embiid understandably got most of the love for Philly's Game 3 win, but Harris' strip and steal on Gary Trent Jr. late in overtime was crucial in giving the Sixers a chance to win at the end. Even Embiid has noticed how much Harris has meant to the 76ers building a 3-1 lead.
"He's been great," Embiid said of Harris after Game 3. "He's been doing a good job on Pascal (Siakam). He's been doing an amazing job on him and, really, whoever he's guarding. He had a block or a steal on (Gary) Trent in overtime. He had a couple key stops. He's been doing that all series."
He sure has, and the Sixers are one win away from the second round because of it. If Rivers and Harris can continue to be assets for the 76ers instead of concerns, the sky is the limit for Philadelphia.
Like Sportscasting on Facebook. Follow us on Twitter @sportscasting19.