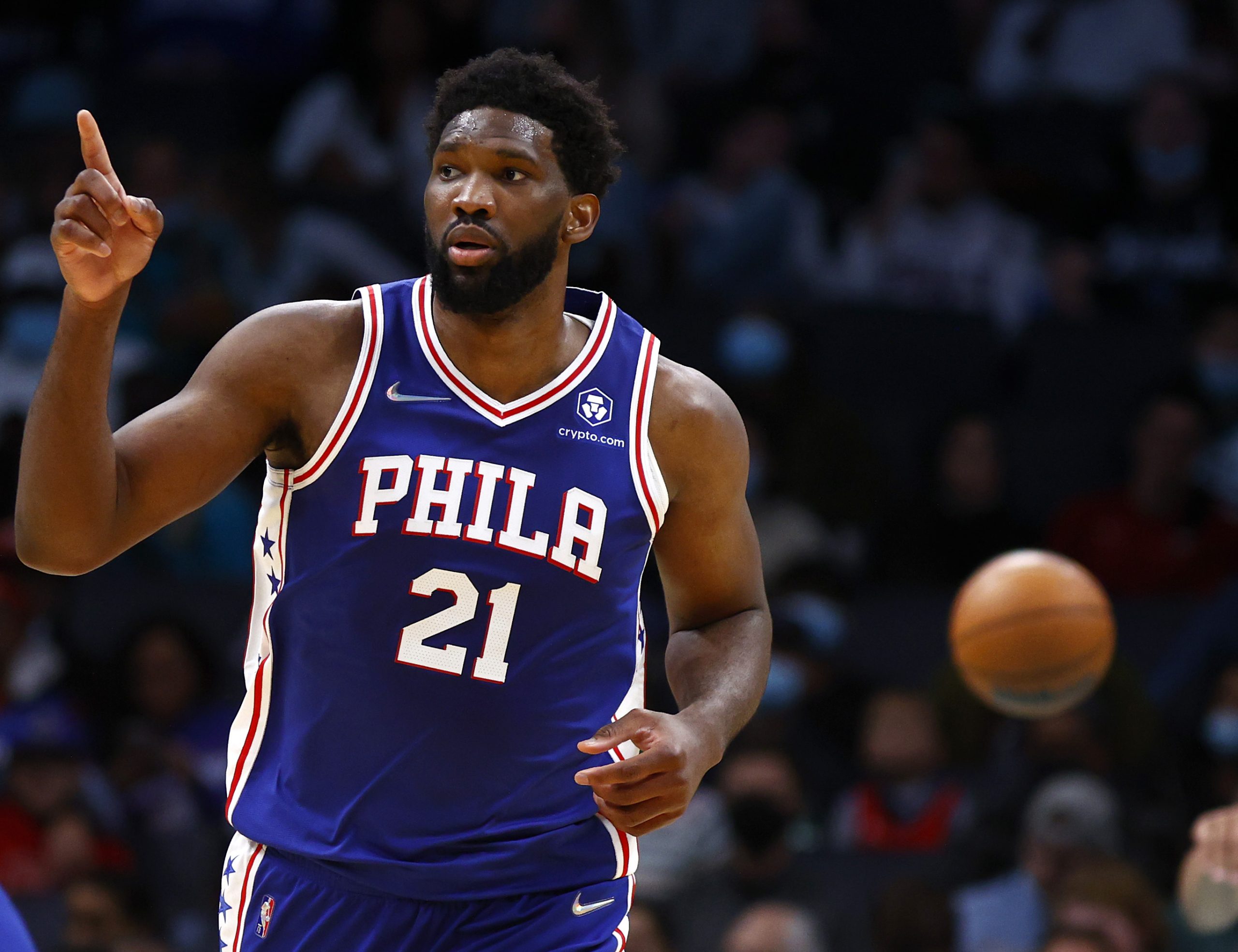 Joel Embiid's 4-Word Message Could Mean a Shift of Power in the Eastern Conference
Joel Embiid had a short message earlier this week that could signal a shift in power in the NBA's Eastern Conference.
Philadelphia 76ers center Joel Embiid is out to prove the NBA's Eastern Conference is more than a three-team race.
For now, the Brooklyn Nets, Milwaukee Bucks, and new-look Chicago Bulls appear to be the class of the East. After Embiid's 43-point performance Monday against the Charlotte Hornets, Philly's big man had a four-word message that just might make the top of the Eastern Conference a little more crowded.
Joel Embiid missed three weeks after testing positive for COVID-19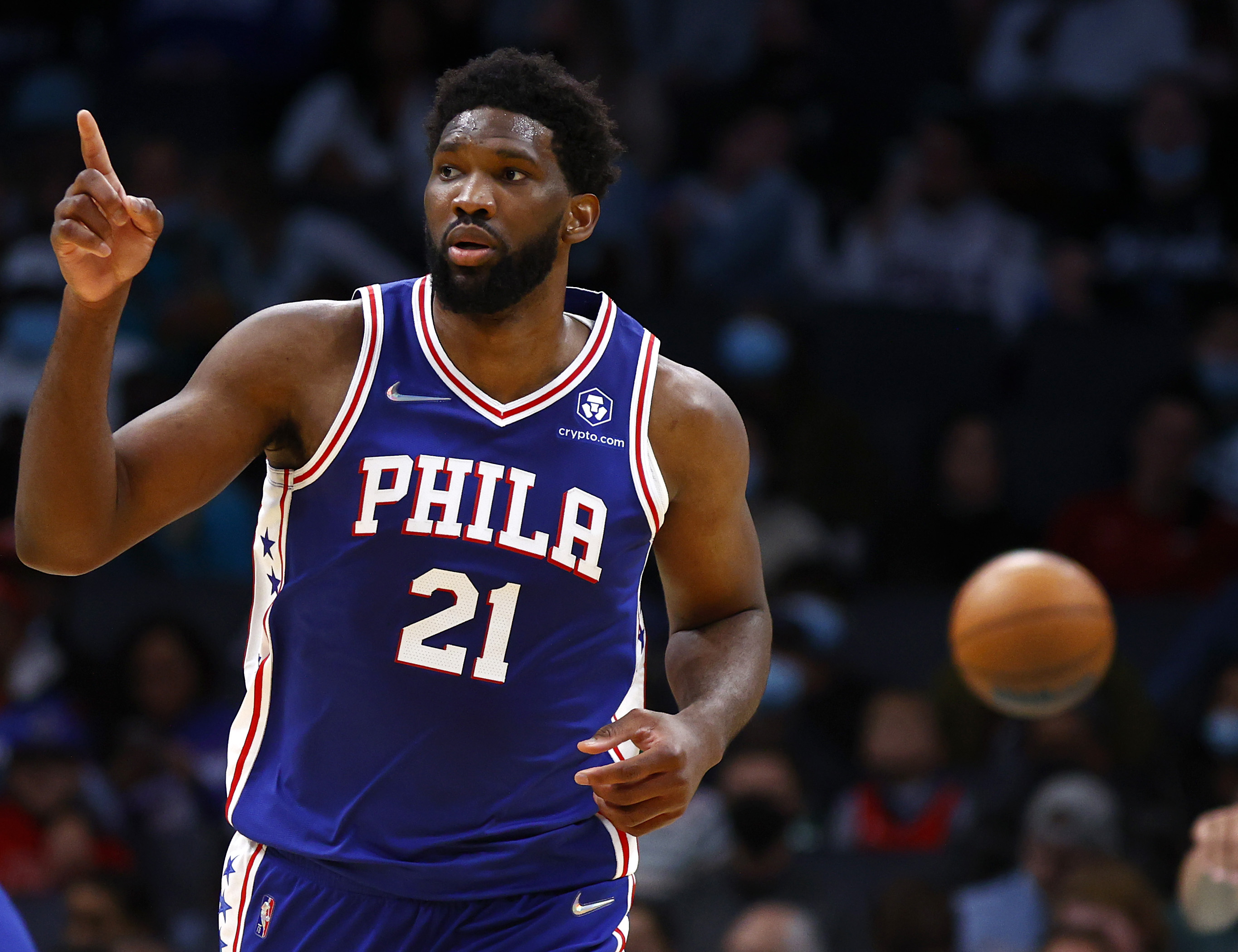 Embiid has been limited to 15 games this season, but the team has managed to stay afloat in his absence. With him sidelined and with 2016 No. 1 pick Ben Simmons out of action, the Sixers have managed to hang tough at 14-11 after Wednesday's rematch with the Hornets. The Sixers won 110-106.
Embiid had his biggest game of the season Monday by adding 15 rebounds and seven assists to his 43 points. He proved a mismatch for the Hornets, who had no answer. He used his physicality to pound the ball down low and took just 20 shots on the night.
"He took over all game really," Sixers coach Doc Rivers said after the game, per The Athletic. "We identified it early — not early enough to me. We had a matchup, and we kept going to it. Feed the pig."
Feed him is what they did. The Sixers pounded the ball inside, and Embiid capitalized.
"I feel like especially the past few games, (I) really imposed myself inside," Embiid said. "Whether it's ducking in or trying to get deeper position on the block, I think it's helped a lot. When I go to the free-throw line or get those easy hook shots and layups, I think it helps me."
Joel Embiid had a short message after the game that could prove scary to the rest of the Eastern Conference
The Sixers gave up 124 points in the 127-124 win that went to overtime. Playing without Simmons has hurt them defensively, and Monday night was no different.
"We sucked defensively," Embiid said.
"I just thought we made a lot of mistakes tonight," Rivers said. "And on a lot of those nights, you don't win the game. Tonight we did."
Maybe the best news of the night was that despite Embiid's dominance, he said he still isn't at full strength. He was asked if he was back to 100% and delivered four words in response:
"I'm not even close."

Joel Embiid on beng fully recovered
"I'm still feeling it," Embiid said, per CBS Sports. "I get tired easily, feel pretty weak. But every single day slowly getting better. So I just got to keep pushing myself. My teammates, they push me. They want me to be making all the plays offensively and defensively, so as long as I got that trust I'm still going to keep pushing." 
The 76ers could make some noise in the conference
Embiid's comment is good news for the Sixers. If he can put up 43-15-7 when he's not close to full strength, things will only get better.
It's now up to the Sixers' front office to make a decision. They need to move on from Simmons.
It's clear Simmons no longer wants to remain in Philadelphia. The problem is the Sixers no longer have leverage in a deal, and Daryl Morey, the team's president of basketball operations, needs to stop asking for the moon.
CBS Sports had the Sixers turning down a deal that would include CJ McCollum from the Portland Trail Blazers. The report also said the Sixers will keep their options open until February's trade deadline. The problem with that is the value for Simmons will only go down.
If Morey gets 70 cents on the dollar for Simmons, and if Embiid is only going to get stronger, the Sixers will make some serious noise in the Eastern Conference.