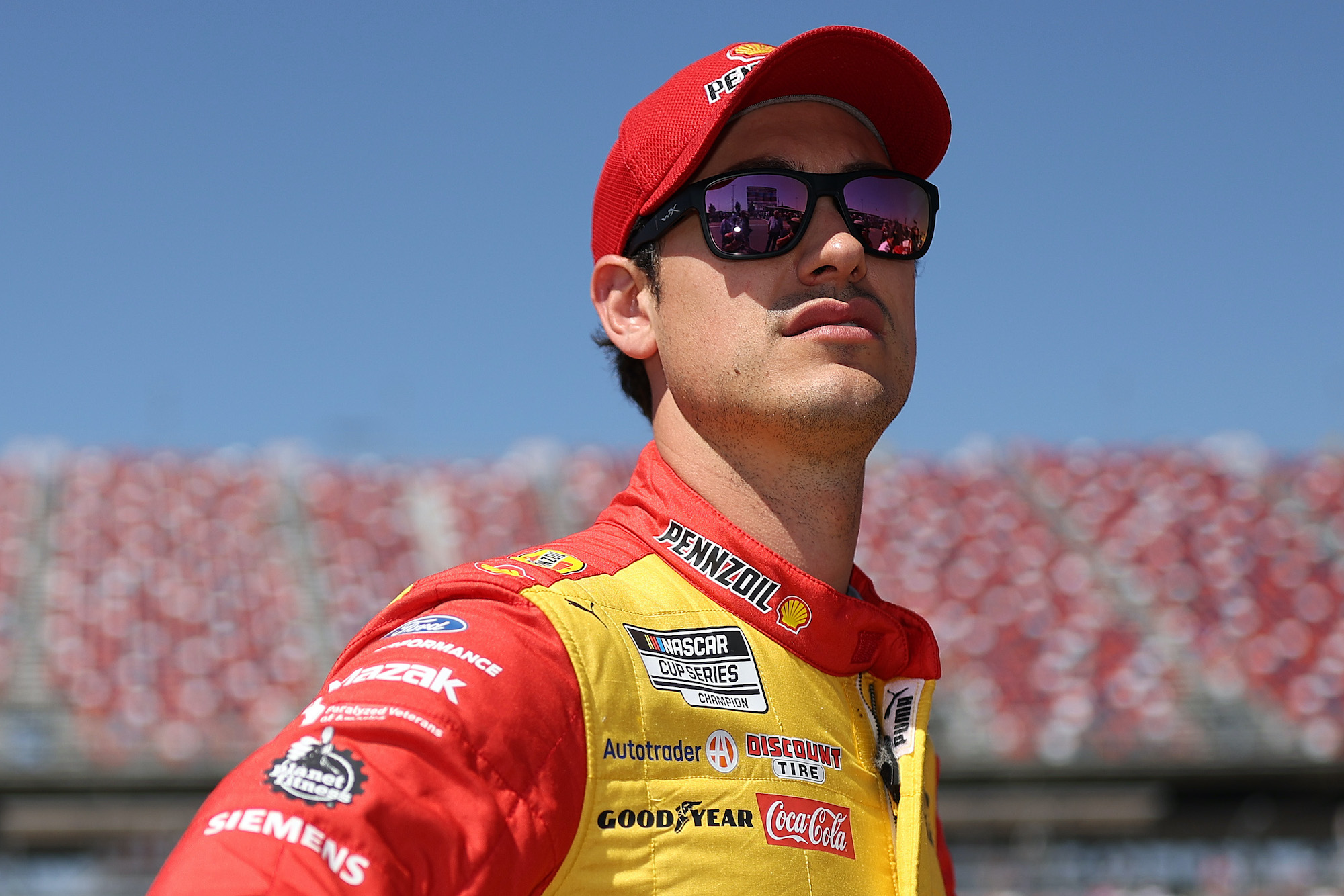 Frustrated Joey Logano Takes Stance and Bluntly Admits Many Fans Will Disagree With Him
Joey Logano visited with reporters after his early exit at Talladega and took a frustrated stance that he admits many fans will disagree.
Last year, Joey Logano ended his day at the NASCAR Cup Series Talladega spring race in violent fashion, sliding down the track backward, upside down, before flipping back over and coming to rest on all four wheels. He was outspoken after the race about the incident and admitted he came perilously close to dying. 
The 2022 edition of the race for the No. 22 team featured the new Next Gen car but ended with the same result — a big crash resulting in his first DNF of the year. During the Penske driver's postrace interviews, he didn't sugarcoat what he thought about the racing on the track type and acknowledged a lot fans won't agree with him.
Joey Logano wrecks early at Talladega
With 32 laps remaining in Stage 2, Joey Logano rode eighth on the outside lane during a restart. As both lines went through the gears and picked up speed, the inside line, led by Chase Elliott, slowed just enough to allow his HMS teammate William Byron to drop down in front of him from the outside. 
On the outside line, Martin Truex Jr., now in the front, backed it down so that the cars behind him could get connected and they could make a run. It never happened. 
After crossing the start-finish line and before making it to Turn 1, Bubba Wallace got into the rear of Logano, sending the No. 22 car hard into the outside wall. Unfortunately, it was just the beginning as Logano became a pinball, bouncing off the wall down into the oncoming traffic, where he hit Ty Dillon and set off a chain-reaction crash that took out numerous cars, including Daytona 500 winner Austin Cindric, Ricky Stenhouse Jr., and Daniel Suarez. 
Logano takes stance and disagrees with many fans
A few minutes after checking out of the infield care center, the 2018 Cup Series champion watched the replay and visited with Fox's Jamie Little about the incident. 
"It looks like from what I see there; it looks like Truex was trying to get everyone connected, which it's part of it, maybe overconnected a little bit," Logano said. "Got all four of us stacked on top of each other. At that point, you're getting pushed from behind, you're pushing the car in front. There's nothing you can do, and I was the one that got shuffled out.
"Stinks. It's Talladega. I don't know. Some people love it. I can't say I do. It seems like it just happens a lot for us on these tracks, we run up front and something happens." 
Several minutes later when talking with reporters, the 31-year-old offered some additional thoughts on superspeedway racing.
"They suck," he said. "I don't think drivers enjoy it. The fans enjoy it so that's good, but I don't think there's many drivers that look forward to it right now."   
Voiced concerns last year after violent crash
The early crash at Talladega was Logano's first DNF of the season. It was his third DNF in the last four races at the track and a leading cause for the sentiment. 
Last year, Logano was also outspoken after the race, but that was because he was in a violent crash, flipped upside down, landed on his roof, and came close to dying. He admitted as much later during an appearance on NASCAR Race Hub. 
"Anytime you see something like that from inside the car, you take a step back. You naturally do," Logano admitted. "You just take a step back and realize how close you were to not being able to race again, maybe not seeing your family again. It was that close and we cannot have that. We have to be better than that. We've made improvements. We're never going to be where we need to be. I think that's the attitude we have to have is to keep forging forward to make our cars safer and safer."
The Next Gen car has proven safe as it has endured multiple big crashes, including a Harrison Burton rollover in the season-opening race at Daytona, and all the drivers have walked away without serious injury. 
Logano's opinion, many would suggest, is directly related to his recent finishes on the track. He wasn't complaining in 2015 when he won the Great American Race and the fall race at Talladega. However, he is right about one thing — many fans won't agree with him. And after that wild finish, there's even more who think he's got it all wrong.
Like Sportscasting on Facebook. Follow us on Twitter @sportscasting19.