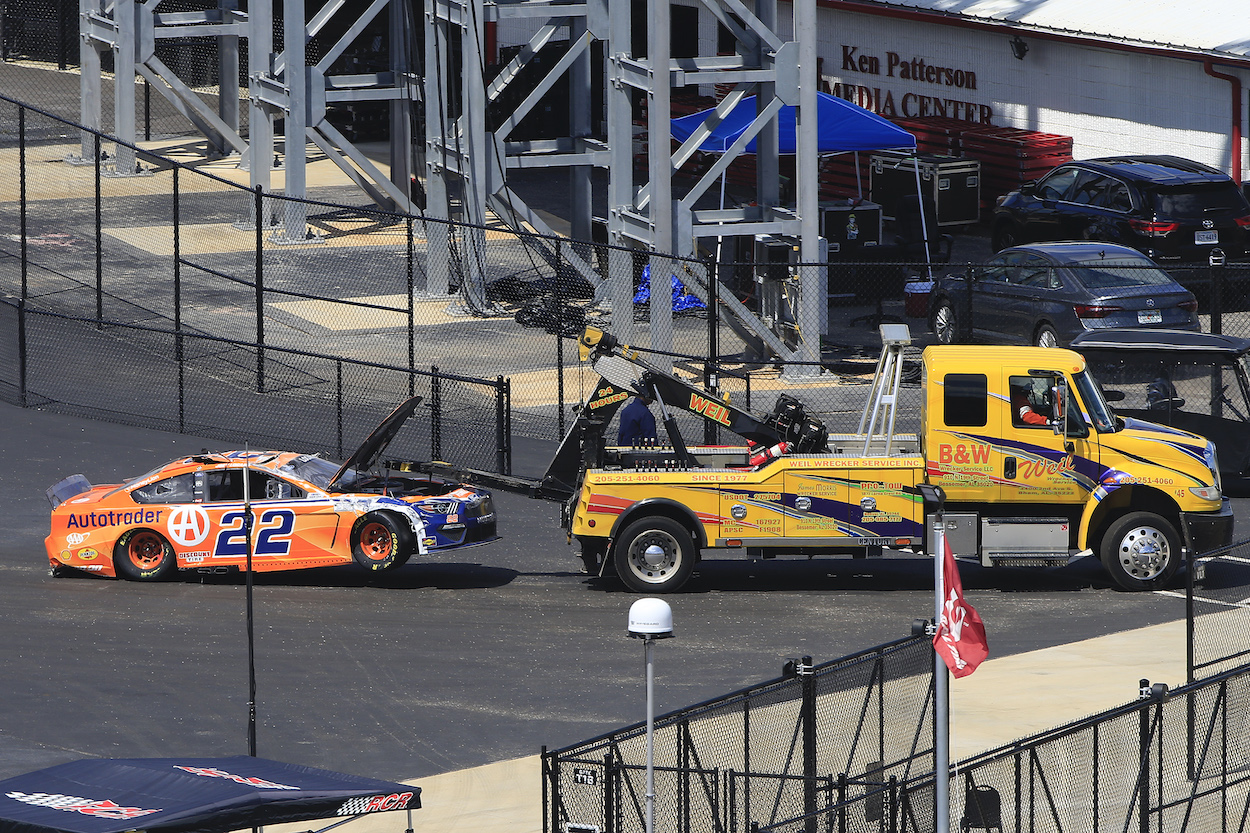 Joey Logano Reveals Frightening Photos of Damaged Car After Going Airborne and Landing on Roof at Talladega
After Joey Logano endured a scary accident at Talladega on Sunday, he shared frightening photos of his damaged vehicle on Monday.
Joey Logano is unquestionably one of the top drivers on the NASCAR Cup Series. At just 30 years old, Logano has already won 27 times, including the 2015 Daytona 500. He also won the 2018 season championship.
On Sunday at Talladega, no level of success or skill could help Logano when he was involved in a frightening crash where his car went airborne before flipping upside down, landing hard on the roof, and sliding down the track, where it eventually tumbled over and came to rest on its wheels. Minutes later, during an interview, an understandably shaken Logano talked about NASCAR needing to make changes. Now there are photos of his vehicle, and it shows why he was so upset.    
Joey Logano goes airborne at Talladega
Talladega and Daytona are identified as superspeedways and are known for "the big one." Sunday's GEICO 500 at Talladega didn't officially have a "big one." Don't tell that to Joey Logano.
Late in the first stage, a large pack of cars raced together when Denny Hamlin tapped Logano's No. 22 Penske car on the left rear, which turned the car sideways. Ricky Stenhouse Jr. delivered a glancing blow in almost the exact same spot as Hamlin moments earlier. Hamlin and Stenhouse flew by. Logano flew up. 
The bright orange Autotrader car went airborne before it slammed back down on the roof directly over where Logano sat. After sliding down the track on its roof for several seconds, the vehicle slowed and flipped over on its four wheels before coming to a stop.   
Joey Logano shaken in interview just moments after accident
Seconds after Logano's car came to rest, cameras showed movement inside the vehicle as he tried to lower the window net. He was freed from the car by the safety staff and taken to the infield care center. A couple of minutes later, Logano visited with Fox's Jamie Little about the terrifying accident.
"I guess I don't know what to think. It's a product of this racing. On one hand, I'm so proud to drive a Cup car that is safe. That I can go through a crash like that and get out and speak about it. On the other hand, I'm just happy I'm alive. On the other hand, I think when are we going to stop because this is dangerous doing what we're doing. I got a rollbar in my head. That's not okay. I'm one hit away from the same situation Ryan Newman just went through."
Logano was referencing the scary accident Newman endured during the final lap of the 2020 Daytona 500, which knocked him unconscious and sent him to the hospital. He was released two days later.
Photos of car show damage to roof over driver's seat
On Monday, Joey Logano shared photos on his Instagram account, revealing the damage to his vehicle and showing what he meant by a rollbar to his head. The images showed a severely damaged driver-side window with the window netting cut in one photo. Another showed the roof had somewhat caved in at the location where the car took the brunt of the impact when it came crashing back down to earth. 
"My office got a little dinged up yesterday," Logano wrote. "The good lord had his hand on me! turns out, being a tall race car driver is not a good thing I will take this opportunity to continue to push our sport to become safer with even better racing on track. Thank you for all the support yesterday!"
On Monday, Scott Miller, NASCAR senior vice president of competition, shared his thoughts on the accident with The Morning Drive on SiriusXM NASCAR Radio.
"We're disappointed that what transpired transpired, but super happy that Joey was OK and the roll hoop — and all the things that needed to protect him — did. But cars getting up in the air is not good. It's something that we've been working on and will continue to work on."
It was a frightening accident and obviously one NASCAR and Joey Logano hope to avoid in the future. But when you're traveling at such high rates of speed, is that even possible?
Like Sportscasting on Facebook. Follow us on Twitter @sportscasting19.