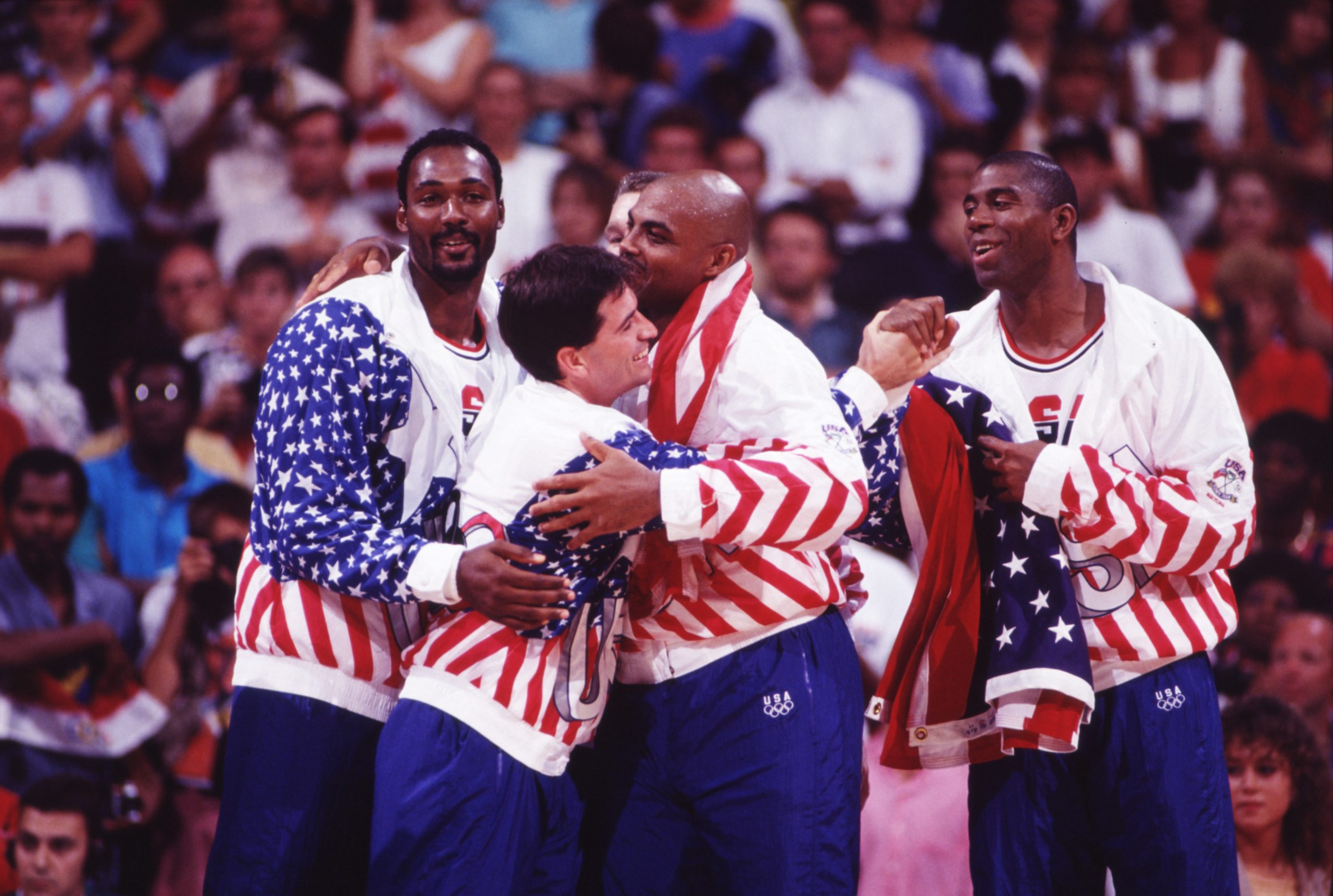 John Stockton Nearly Giggled as He Stepped on the Court With a Broken Leg Courtesy of Michael Jordan: 'That Wouldn't Have Been Appropriate'
John Stockton fulfilled a childhood dream at the 1992 Olympic Games in Barcelona.
John Stockton had a decision to make. His dream was to win an Olympic gold medal, but how far would he push that dream? Stockton, the Utah Jazz Hall of Fame point guard, collided with Michael Jordan during a game against Canada in preparation for the 1992 Olympic Games.
Stockton had been cut from the 1984 Olympic team, and this was his last real chance of fulfilling that dream. He could play with pain, but would it jeopardize his NBA career?
John Stockton broke his leg in a collision with Michael Jordan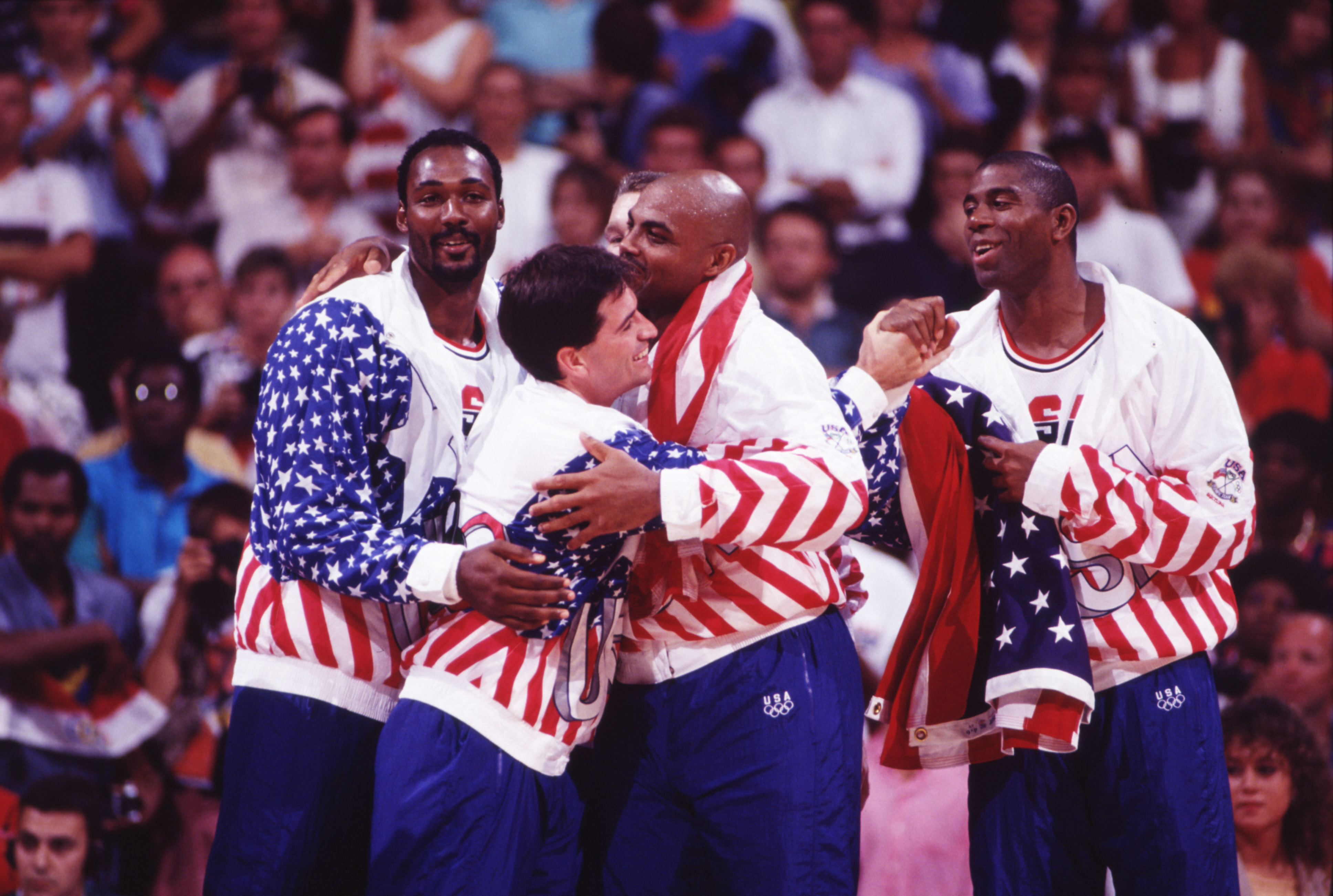 Weeks before the 1992 Barcelona Olympics began, Stockton cracked his right fibula after a collision with Jordan in an exhibition game in preparation for the Games. Stockton had a childhood dream of playing in the Olympics and stressed how important it was to him to play, even with a broken leg.
"The whole Olympic thing is extremely important to me," Stockton said in June 1992, according to United Press International. "I have dreamed about it since I was a child. It is one of the most important things in my life, certainly in my career.
"If it is necessary to play in pain, I'll do it. I wouldn't do anything to threaten my career. But if it is pain and pain alone, I'll do it."
Team doctor David Fischer told Stockton it would be up to the player and the Jazz if he played on the Dream Team.
"This is the type of injury that can remain painful for a number of weeks," Fischer said. "But if the athlete can function, it is a safe injury for him to continue playing with."
With permission from the Jazz, Stockton elected to play with pain in order to fulfill his Olympic dream.
John Stockton couldn't imagine sitting out the Olympics like he was forced to do in 1984
Stockton thought he had a shot at making the 1984 Olympic team but was a late cut. Being told he wasn't going to be a part of the team left him crushed. When he fractured his leg ahead of the 1992 Games, his mind veered back to 1984.
"It was a pretty sick moment for me," he said in 1992 after the injury, per The Washington Post. "I thought when it first happened, sitting in my room, that I might be replaced. It was pretty much the same feeling as being cut in '84. Your stomach feels, well, bad."
Stockton toughed it out and made his Olympic debut with 9:55 in the first half in a convincing victory over Spain.
"I wanted to start giggling, but that wouldn't have been appropriate," he said, according to The Post. "I felt a quick rush, a lot of adrenaline. It helped me deal with my apprehension about the leg. In a competitive game, I don't know if I'd have played."
He played, but he certainly wasn't himself. He played six minutes and had four points and no assists. Stockton seemed hesitant and somewhat gimpy.
"He showed a lot of heart by being out there," Jazz and Olympic teammate Karl Malone said. "But that's not the Stock I play with every night in Utah. I'm still worried about him. He's dealt with it great, but I know he's not 100 percent, and you just never know."
Stockton fulfilled his Olympic dream without jeopardizing his NBA career
Stockton got his gold medal. He was able to play with what many have said is the best basketball team ever assembled. Although he couldn't showcase his full talents, he fulfilled that lifelong dream he had, even if he only played sparingly.
"Not to be able to play would have put a damper on it," he said back then. "It would have been a great experience, being named to the team and spending the summer with these guys, but there would have been a cloud hanging over it."
He said he didn't care about playing time and tried to ease his pain mentally.
"I don't care about playing time," he said "I expect to have some discomfort through the Olympics. But I hope to be as close to 100 percent as my mind will allow me to be."
Stockton's NBA career didn't suffer from him playing with the injury. In fact, Stockton nearly fulfilled another dream after those Olympics. He nearly guided the Jazz to an NBA championship.
In 1997 and 1998, the Jazz reached the NBA Finals, only to lose to Michael Jordan and the Chicago Bulls both times.