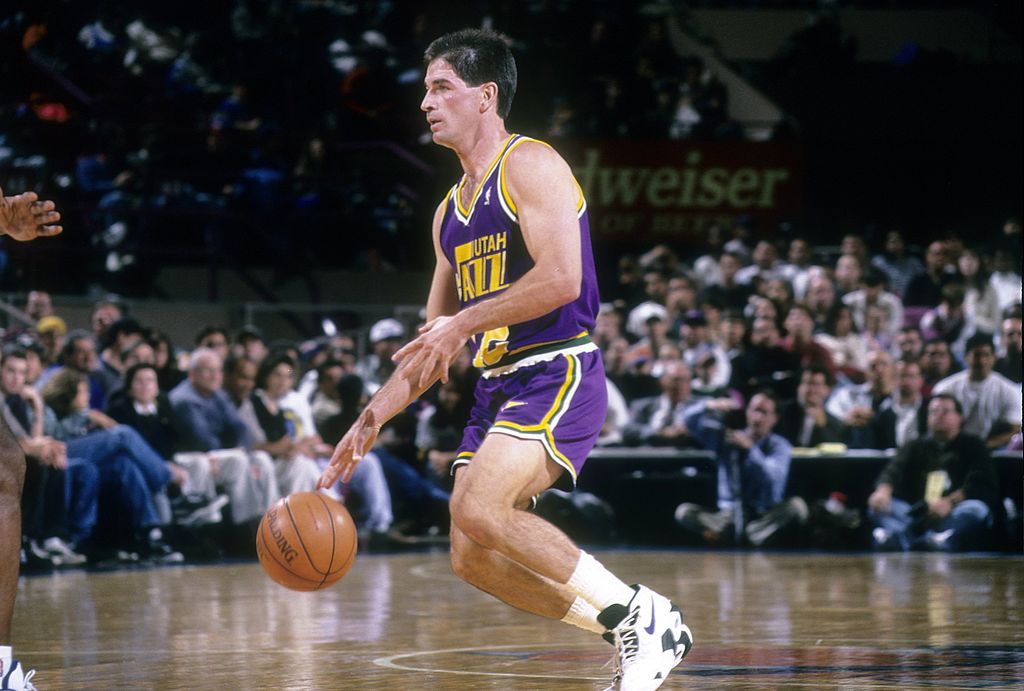 Charles Barkley Gives John Stockton the Credit He Deserves
There was nothing flashy about John Stockton. The former Utah Jazz point guard got the job done without the flashy no-look passes and the behind-the-back assists. Stockton played a major role in getting the Jazz to back-to-back NBA Finals appearances in the late 1990s but doesn't usually get all the credit he deserves. NBA Hall …
There was nothing flashy about John Stockton. The former Utah Jazz point guard got the job done without the flashy no-look passes and the behind-the-back assists. Stockton played a major role in getting the Jazz to back-to-back NBA Finals appearances in the late 1990s but doesn't usually get all the credit he deserves. NBA Hall of Famer Charles Barkley recently paid Stockton a very handsome compliment.
John Stockton's NBA career
John Stockton is the guy who put Gonzaga basketball on the map. After a very successful college basketball career at Gonzaga, the Utah Jazz selected Stockton in the first round of the 1984 NBA draft. He was selected 16th overall.
One thing Stockton could always be counted on for was showing up. He never missed a game in his first five seasons. In 12 of his first 13 years, Stockton missed four regular-season games. Stockton was the floor general of the Jazz and was one of the best in the league. For nine straight seasons, the 6-foot-1 point guard led the NBA in assists. For two of those seasons, he also led the league in steals.
While Stockton was one of the best distributors in the game, he also showed he was a more-than-capable scorer. For three straight seasons, he averaged better than 17 points per game. For his career, Stockton averaged 13.1 points and 10.5 assists per game. Stockton spent all 19 of his NBA seasons with the Jazz. He was a 10-time NBA All-Star and he was voted into the Naismith Memorial Basketball Hall of Fame in 2009.
Stockton never got the hype he deserved
John Stockton wasn't overly blessed with athleticism, at least the kind needed to carve out a Hall-of-Fame career in the NBA. Yet, Stockton used his skills, smarts, and durability to become one of the best point guards in the history of the league. He felt he was never a star. During his Hall-of-Fame speech in 2009, he said he was never the best on his teams.
"I played 30 years competitively," Stockton said, referring to his high school, college, and pro careers, "and all those years, not once—never—was I the best player on my team." He even took it further, saying he wasn't even the best player in his family. "I wasn't even the best player in my own house. My brother Steve boasts the record of about 1,000-1 in our bloodied driveway battles."
In an article written by Eric Neel for ESPN's Page 2 back in 2002, he pointed out that Stockton, at age 40, was still dominating against players half his age. "He's going against guys half his age — the quickest, jumpingest, most devastating ballers in the world — and he's blowing by them, beating them to the spot and picking their pockets on a regular basis," Neel wrote. "He's almost as good now as he's ever been, and he was among the best players in the league this year.
Charles Barkley gives Stockton a lot of love
While John Stockton isn't a man of many words, NBA Hall-of-Famer Charles Barkley is. Barkley tells it like it is and when it came to his view on the best point guards ever to play in the NBA, Stockton's name was right near the top of the list.
Barkley had been talking about former Detroit Pistons point guard Isiah Thomas getting a bad rap during ESPN's The Last Dance, so he offered his take on Thomas. Stockton's name then popped up. "I just thought some of the stuff that happened to Isiah after last week was disrespectful because he's the greatest pure point guard ever. Him and John Stockton," Barkley said in an article in The Score.
Barkley then clarified himself a little bit in true Charles Barkley fashion.
"Magic Johnson is the greatest point guard ever, but he's a freak of nature," he said. "But Isiah Thomas and John Stockton are the two best pure – when I say pure, I mean little guys to play the point guard position. They're the best to ever do it."