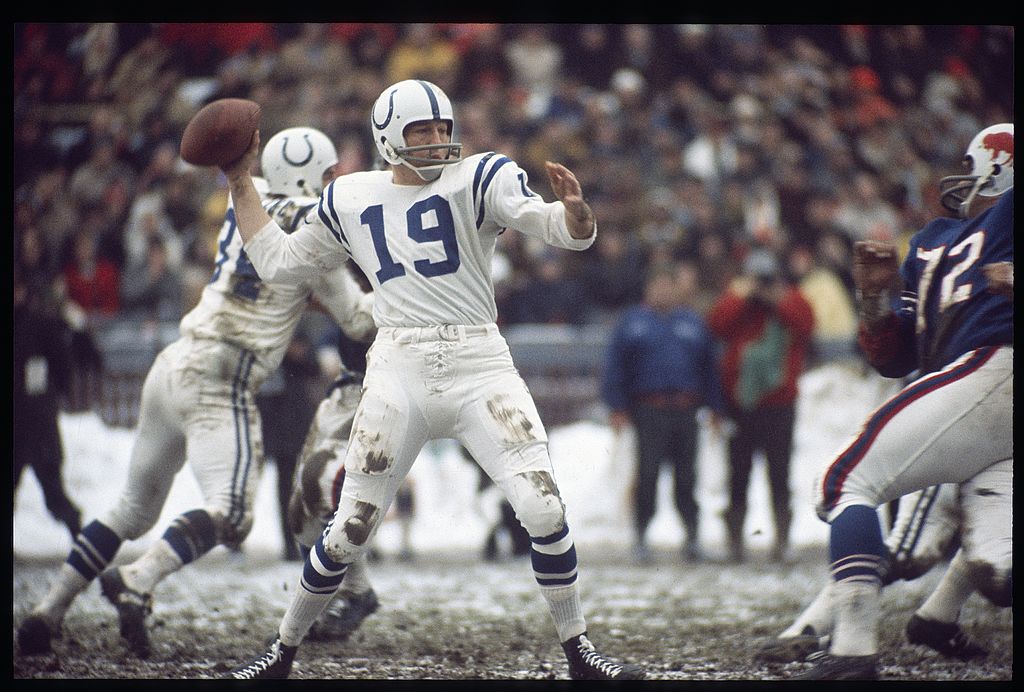 Johnny Unitas Was Forced to File for Bankruptcy After an Awful Investment
Johnny Unitas was an NFL star, but one bad investment eventually forced the quarterback to file for bankruptcy later in life.
While professional football has changed a great deal over the years, some things have remained constant. One of those realities is the status of the quarterback; there's a reason why guys like Johnny Unitas are still household names decades after their retirement. Star status, however, doesn't automatically solve every problem off the field.
Although he was a model of leadership and consistency, even the great Johnny Unitas fell into financial trouble. Later in life, he made one bad investment; eventually, he was forced to file for bankruptcy.
Johnny Unitas' unlikely road to the NFL
Once he made it to the NFL, Johnny Unitas established himself as one of the greatest quarterbacks in football history. His road to the pros, however, was anything but easy.
In high school, Unitas was the back-up quarterback until the starter broke his ankle. He then hoped to play for Notre Dame, but the school was skeptical that the slight teenager could survive under center. The University of Pittsburgh was interested in Unitas, but he failed the school's entrance exam. Eventually, he found a home at Louisville; the team was far from dominant, but the quarterback found his niche.
Things didn't get easier for Unitas, though. He was drafted by his hometown Pittsburgh Steelers, but ended up as the fourth quarterback on the depth chart; they cut Unitas before he played a single snap. He then spent the season working construction and playing semi-professional football. The following year, however, the Baltimore Colts gave him a chance.
Becoming the stuff of NFL legends
When he arrived in Baltimore, Johnny Unitas was the opposite of a household name. Over the next 17 seasons, however, he would grow into an NFL legend.
After Colts starter George Shaw broke his leg in 1956, Unitas stepped into the breach. Despite some hiccups—he threw an interception and lost a fumble shortly after taking over—the Colts didn't have a choice; with their other back-up in law school, they had to stick with Unitas. When the next season began, he was the man under center.
Unitas promptly turned the Colts into a winning team during his first season as a starter; they'd reach even higher heights in 1958 when the club won the league title in "the Greatest Game Ever Played." The Colts had a brief slump in the early 1960s, but would return to prominence after Don Shula took over on the sidelines. No matter who was coaching the team, however, you could count on Unitas to deliver.
Over the years, time and injuries eventually combined to slow Unitas down. He finished his career in San Diego, playing a handful of games for the Chargers. Despite that decline, his stats still speak for themselves; despite playing in a different era of football, he still threw for 40,239 yards and 290 touchdowns, helping to define the modern role of a quarterback.
After football, Johnny Unitas didn't find the same success in business
After his playing career ended, Johnny Unitas got involved in a variety of business ventures. While he tried his hand in the broadcast booth, dabbled in real estate, and lent his name to restaurants and bowling alleys, one particular investment went incredibly wrong.
In 1984, Unitas and two joined forces to buy a circuit board company. While the investment looked like a can't miss opportunity, things quickly went south. After borrowing money from the state of Maryland, the city of Baltimore, the company failed and sold off its assets.
Several years later, Unitas was forced to declare bankruptcy to protect his personal assets. According to a wire report from the time, the former quarterback owed as much as $3.2 million.
"John was a very trusting guy," Unitas' longtime friend Richard Sammis recalled in Mike Towle's book, Johnny Unitas: Mr. Quarterback. "He would listen to you, and he would help you, and then he got hurt in some of these ventures."