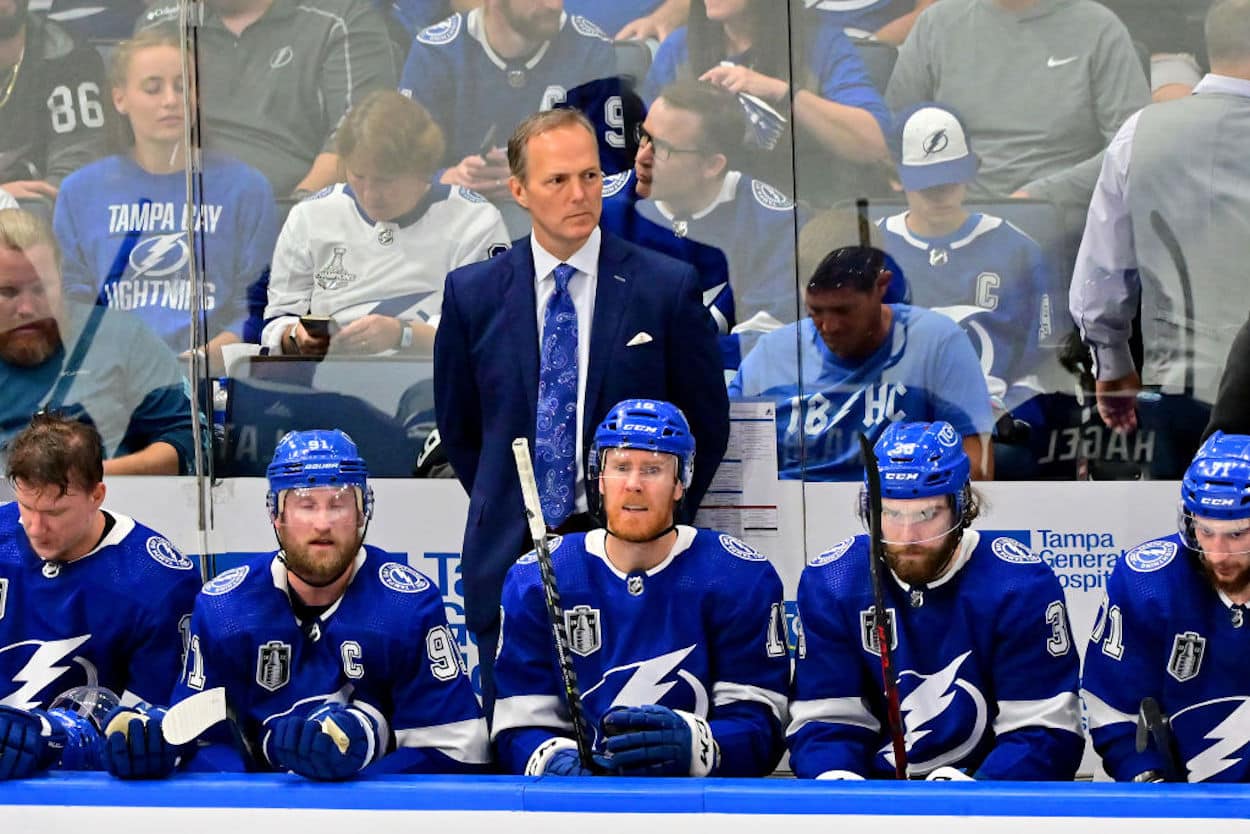 Jon Cooper's Post-Elimination Comments Shine a Light on the Ugly Reality of the Stanley Cup Playoffs
In the world of hockey, playing through injuries is simply part of the playoffs. That reality, however, isn't ideal when you consider the big picture.
And just like that, both the Tampa Bay Lightning's potential dynasty and the 2021-22 NHL season have come to an end. The Colorado Avalanche won the Stanley Cup on Sunday, June 26, bringing another campaign to a close and sending hockey into the offseason.
Before the teams left the building, though, Lightning head coach Jon Cooper had to fulfill his media obligations. During those comments, he briefly remarked on the sheer amount of injuries his team had suffered.
While that's not surprising — players battling through various bumps and bruises is the norm during the postseason — we shouldn't become numb to the reality. If anything, Coopers' words shine a light on how numb hockey has become to guys gritting their teeth and getting onto the ice.
Jon Cooper confirms that the Tampa Bay Lightning suffered through some extensive injuries during the NHL Playoffs
In the world of playoff hockey, three things — a hot goalie, strong special-teams play, and good injury luck — usually need to align for a team to find success. This year, the Tampa Bay Lightning didn't have the third factor working in their favor.
Brayden Point was the most obvious absence, as he struggled through a lower-body injury since the end of the first round. The forward attempted to come back, playing the first two games of the Stanley Cup Final, but couldn't stay in the lineup.
Beyond that, though, there were plenty of other injuries. While we'll have to wait for break-up day to hear the itemized list and learn who will be having offseason surgery, Jon Cooper provided us with a bit of a sneak preview.
"What they put themselves through. It's mind boggling," the head coach said after Game 6, according to Sportsnet. "We would have had half our minor-league team playing if it was the regular season."
Expecting players to literally put their bodies on the line shouldn't be the norm
To be clear, Cooper's comments aren't surprising. Virtually every hockey season ends with a parade of injuries being announced before the players vanish for the summer. That normalcy, however, shouldn't make it OK.
As the logic goes, winning the Stanley Cup is a life-long dream. Hockey players are so dedicated and willing to sacrifice that they'll play through pain to even have a chance at lifting the iconic trophy.
That sentiment may sound warm and fuzzy, but it feels a bit different when things become an expectation. We're not talking about a one-off, like Willis Reed limping back onto the court to play a few minutes. This is a regular occurrence featuring serious injuries. Players who should be sitting in the press box for a few weeks, if not having surgery, are gritting their teeth through the playoffs.
And, over time, that becomes an expectation. After Gregory Campbell finished a shift on a broken leg, he was held up as the example of what it meant to be a 'real' hockey player. The NHL, as much as it may have evolved, is still a relatively conservative league when it comes to innovating and pushing beyond cliches. If playing through pain in the playoffs is what happens in your locker room, no young player is going to risk rocking the boat.
While that's bad enough when you consider that professional athletes are real people and shouldn't be expected to work through legitimate injuries, things look even worse in the larger context.
As laid out in John Branch's masterful New York Times work (and subsequent book), enforcer Derek Boogaard had access to a plenty of prescription drugs. A perception history compiled by his father noted that "in a six-month stretch from October 2008 to April 2009, while playing 51 games, Boogaard received at least 25 prescriptions for the painkillers hydrocodone or oxycodone, a total of 622 pills, from 10 doctors."
Boogaard died in May 2011. An AP report from the time (h/t ESPN) stated that his cause of death was "due to a toxic mix of alcohol and the powerful painkiller oxycodone."
More recently, Ryan Kesler, who played more than 1,000 NHL games, said that he developed a chronic digestive issue from Toradol. The forward used the drug, which isn't approved for long-term use, to play through a nagging hip problem.
"I never wanted to hurt the team, so I knew I had to play," Kesler said, according to ESPN. "To play, you have to take painkillers."
Those quotes ring especially true as post-playoff injuries are announced.
Hearing how guys gritted their teeth and hit the ice with broken bones and injured muscles isn't the point of pride that hockey seems to think it is.
How to get help: In the U.S., call the National Suicide Prevention Lifeline at 1-800-273-8255. Or text HOME to 741-741 to connect with a trained crisis counselor at the free Crisis Text Line.