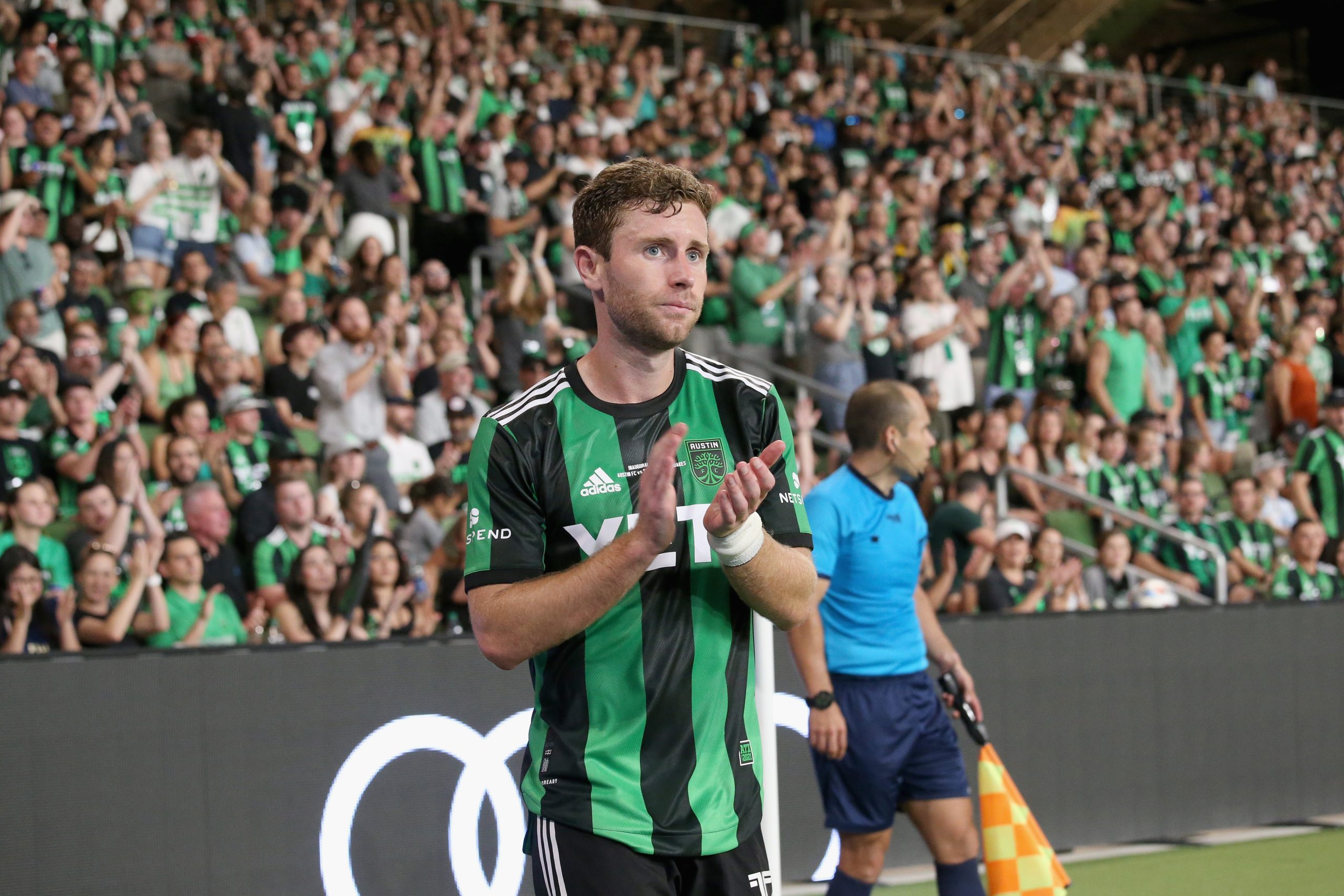 Jon Gallagher Fought Through Injury to Score First Goal in Q2 Stadium History and Reveals the Kind of Culture Josh Wolff Is Building at Austin FC
Austin FC forward Jon Gallagher fought through an injury to score the first-ever goal in Q2 Stadium history and in the process showed just what kind of culture head coach Josh Wolff is building in Austin.
Jon Gallagher will always be remembered as the first Austin FC player to score a goal in Q2 Stadium history. Most fans didn't realize that he made history after suffering a serious enough injury that made him exit the game after halftime and will force him to miss more time in the coming weeks. 
While Gallagher's goal is undoubtedly memorable and will be talked about for years to come, it's what he did before and after he scored that paints an impressive picture of the kind of players Josh Wolff has brought to Austin and the willingness they will do whatever it takes to succeed.  
Jon Gallagher suffers serious injury early against Portland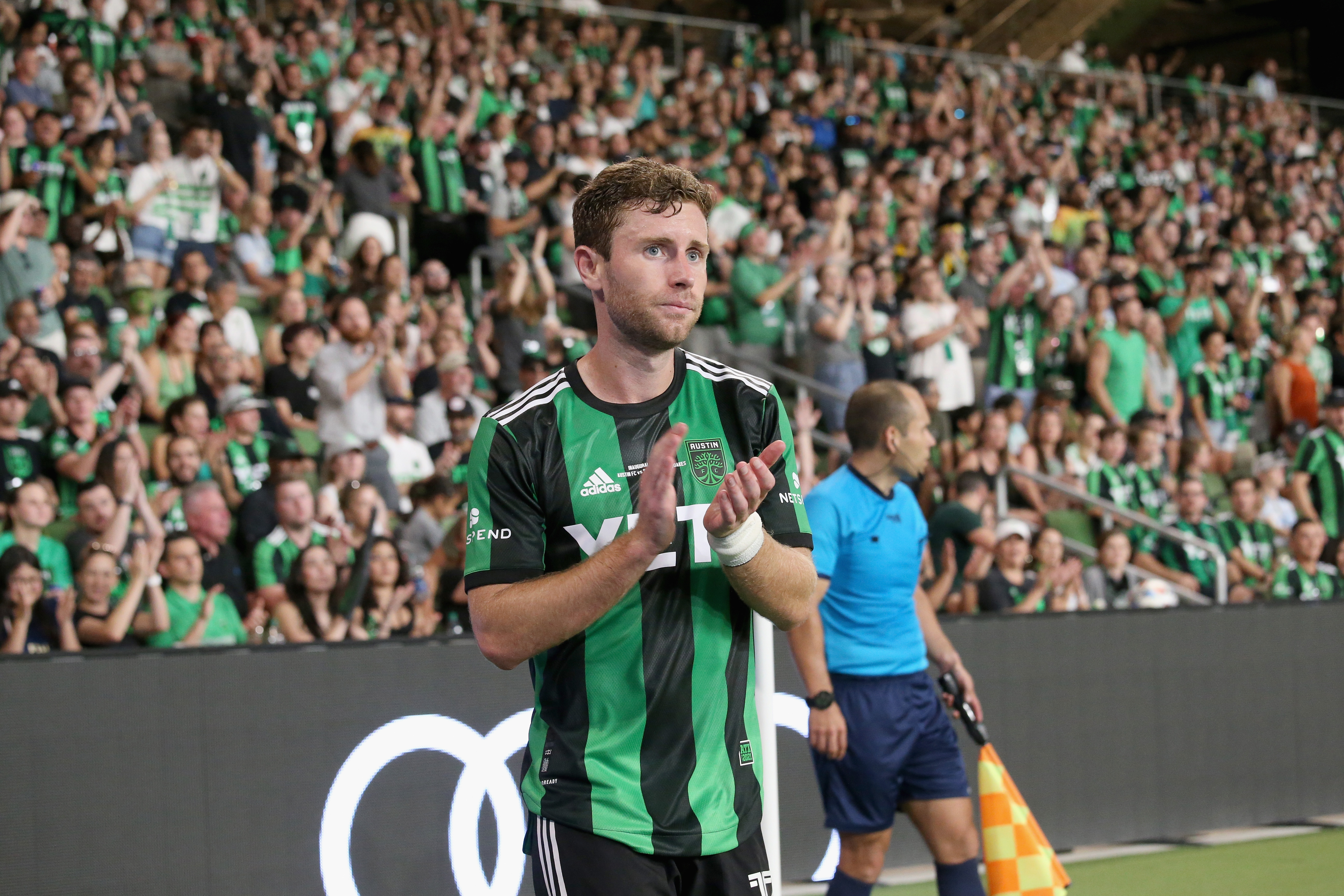 Jon Gallagher started the inaugural Austin FC season on the bench. After coming on as a sub and showing his pace and ability to create problems for the opponent in the attacking third in those early matches, Josh Wolff named the Irishman a starter in the fourth game of the season on the road against Sporting Kansas City. 
Gallagher rewarded his coach and team with a goal in that first game. However, after that trip to Kansas City, the 25-year-old forward went cold just like the rest of the team.
After going scoreless in the first two home games, Gallagher and his Austin FC teammates were energized by the home crowd against the Portland Timbers. Unfortunately, in the sixth minute, Gallagher received a pass on the right side of the 18-yard box where a Timbers defender tackled him and caught his left foot in an awkward position.
He kneeled down on the ground for several seconds in obvious pain before getting to his feet and returning to play. 
Scores first goal in Q2 Stadium history after injury
Limping noticeably, Gallagher pushed through the pain for almost 20 minutes before going to the ground again. He came off to the sidelines and had a word with his coach.
"When he took the tackle, we obviously saw it," Wolff said. "Throughout the half, you could kind of see him niggling at it. It was causing him to limp a little bit. He came over right before the goal. You could tell it was bothering him. He knew he was in a little bit of trouble but certainly didn't want us to have to eat a sub prior to half. For him, you know he's a grinder."
Gallagher's pain tolerance and perseverance paid off a couple of minutes later when he delivered the ball out wide of the 18-yard box to Tomas Pochettino, who promptly returned it to him, and he one-timed the ball with his injured left foot into the back of the net for the history-making goal.   
Jon Gallagher injury reveals what kind of culture Josh Wolff is building at Austin FC
At the close of the first half, none of the excited 20,000-plus fans in the stadium would have been able to tell that Austin FC was ahead 2-1 and that Gallagher had scored that first goal by the look on his face. As he limped off the field, he tugged at his jersey, shook his head, and muttered to himself, clearly dejected by the injury.
After the game, Gallagher limped into the press conference and addressed reporters. He talked about the game, how the team had finally broken the seal, and why Austin FC is different than any other experience in his professional career.
"I think the coaching staff does a brilliant job of scouting the opponents' weaknesses," Gallagher said. "Something in detail that I have not experienced in my previous teams is how tactically smart the coaches are. I mean every game they draw a plan on how we're going to exploit them, and it works nearly every game."
Austin FC returns to exploiting its opponents' weaknesses on Wednesday night at home against LAFC. Wolff said Gallagher will not be available.    
"The prognosis is it's going to be a little bit," Wolff said. "He's walking around gingerly at the moment. So we'll just have to see how he progresses but I expect that he'll be out for a little bit."
While the Austin FC attack will miss Gallagher's presence, there are numerous other quality players on the first-year squad waiting in the wings ready to step up and produce. That's the type of roster Wolff and sporting director Claudio Reyna have assembled in Austin and why all of it appears to be the beginning of something special in the ATX.
Like Sportscasting on Facebook. Follow us on Twitter @sportscasting19.