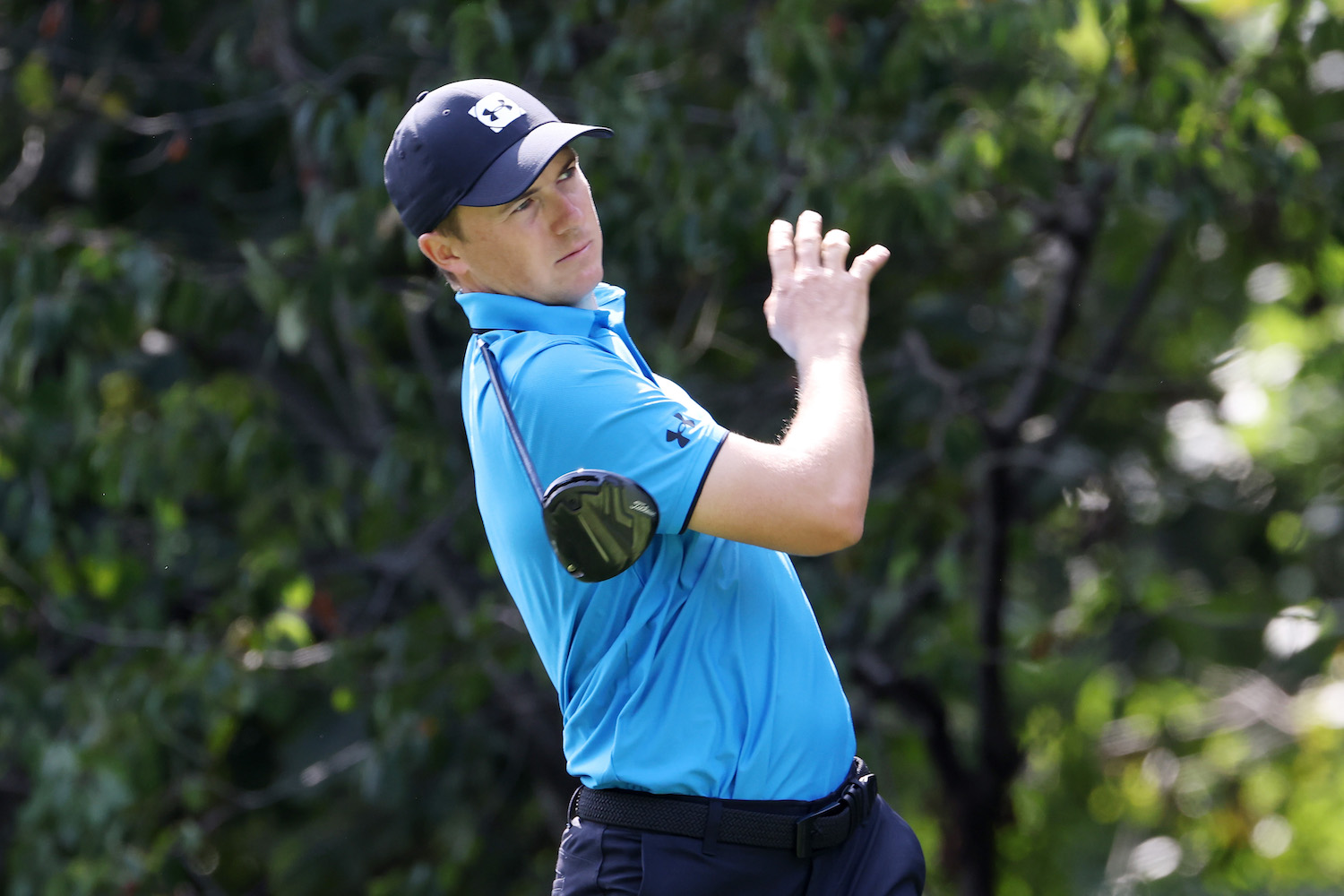 Jordan Spieth Offers Brutally Honest and Sad Admission About His Game
Jordan Spieth is a three-time major champion winner. His last win came in the 2017 Open Championship. What happened? Spieth offered a sad self-assessment at the U.S. Open.
Jordan Spieth was destined for golfing greatness. When he was just 16, Spieth received an exemption and played in the Byron Nelson Championship near his hometown of Dallas. His name appeared on the leaderboard on Sunday. He finished 16th. Fast forward several years later to 2013 and he won the PGA Tour Rookie of the Year. As a professional, he's earned 14 wins in seven years, including three majors, his last the 2017 Open Championship. 
Painfully, that was Jordan Spieth's last victory of any kind. Since that win in England, Spieth has struggled mightily. One of the most popular players on Tour has witnessed all of his success and the accompanying brightness of superstardom in 2015 slowly grow dimmer with each passing season. In 2020, a year where nothing is normal, Spieth has confessed that his game is anything but normal. He's lost. 
Jordan Spieth's early days showed promise
Jordan Spieth won the U.S. Junior Amateur in 2009 and 2011 to become only the second two-time champion of the event along with Tiger Woods. Also in 2011, he was the No. 1-ranked junior golfer in the world.
Sandwiched in between his junior titles, Spieth received an exemption to play at the Byron Nelson Championship. The 16-year-old Texan played like a veteran golfer. After becoming the sixth-youngest player to make a PGA Tour cut, he completed the third round in seventh place. He finished on Sunday in 16th. He finished tied for 32nd the following year at age 17. 
Jordan Spieth signed on to play college golf for the University of Texas. He played for just over a year in Austin, and it was impressive. He won three events his freshman season, helped lead the Longhorns to an NCAA national title, was named Big 12 Freshman and Player of the Year, and was an All-American. 
In 2012, in the middle of Spieth's sophomore season, he turned professional.
Jordan Spieth's rise to the best in the world
During the 2013 season, Jordan Spieth earned his first PGA Tour win at the John Deere Classic, winning on the fifth playoff hole. He narrowly missed a second trophy at the Wyndham Championship but lost on the second playoff hole to Patrick Reed. For his efforts, Spieth was named 2013 PGA Tour Rookie of the Year.
In 2014, Spieth went winless. That all changed in 2015 when he had one of the best years in PGA Tour history. He won five times, including a pair of majors at the Masters and the U.S. Open. He also won the Tour Championship, the FedEx Cup Championship, and finished as the No. 1-ranked golfer in the world. 
The following year, Jordan Spieth won the Hyundai Tournament of Champions, matching Woods for winning his seventh PGA Tour event by age 23. He appeared poised to add another green jacket to his collection with a five-stroke lead going into the back-nine on Sunday at Augusta. He collapsed. 
That was the first time Spieth revealed a crack in his game. Despite that disappointment at Augusta, he bounced back winning once in 2016 and three times in 2017, including the Open Championship, his third major championship. 
Spieth has struggled for years  
Since that win in England, Jordan Spieth has shockingly not won another tournament. He's come close. He's been able to put a couple of exceptional rounds together, like the 2018 Masters, when he opened with a six-under 66 and finished with a record-tying final round score of 64. But he's not done it consistently. 
For the last two years, golf fans and experts have predicted and hoped to see the likable Spieth return to form. It just hasn't happened. In 2020, Spieth has four more missed cuts and just two top 10s. Following his opening-round 73 at the U.S. Open at Winged Foot Golf Club in New York, Spieth, in his very down-to-earth style, flat out admitted he's confused about his game.
"There's a lot that's off. I'm not really sure. If I knew, I'd fix it," he said following the round. When asked how he feels over his shot, Spieth, once again, offered a brutally honest self-assessment. 
"Standing on a tee at the U.S. Open and not exactly knowing where the ball is going to go is not a great feeling," Spieth said to the reporters gathered. "I know you guys probably haven't experienced that before, but it's not incredibly enjoyable."
Jordan Spieth had a dream season in 2015. He's been living in a nightmare for the last couple of years. Spieth's journey demonstrates that even if you're an elite athlete with incredible physical gifts, if your mind isn't right, the chances for success are significantly reduced. Will he achieve high-level success ever again? Is this just a bad winless drought like 2014. Time will tell. 
Like Sportscasting on Facebook. Follow us on Twitter @sportscasting19.