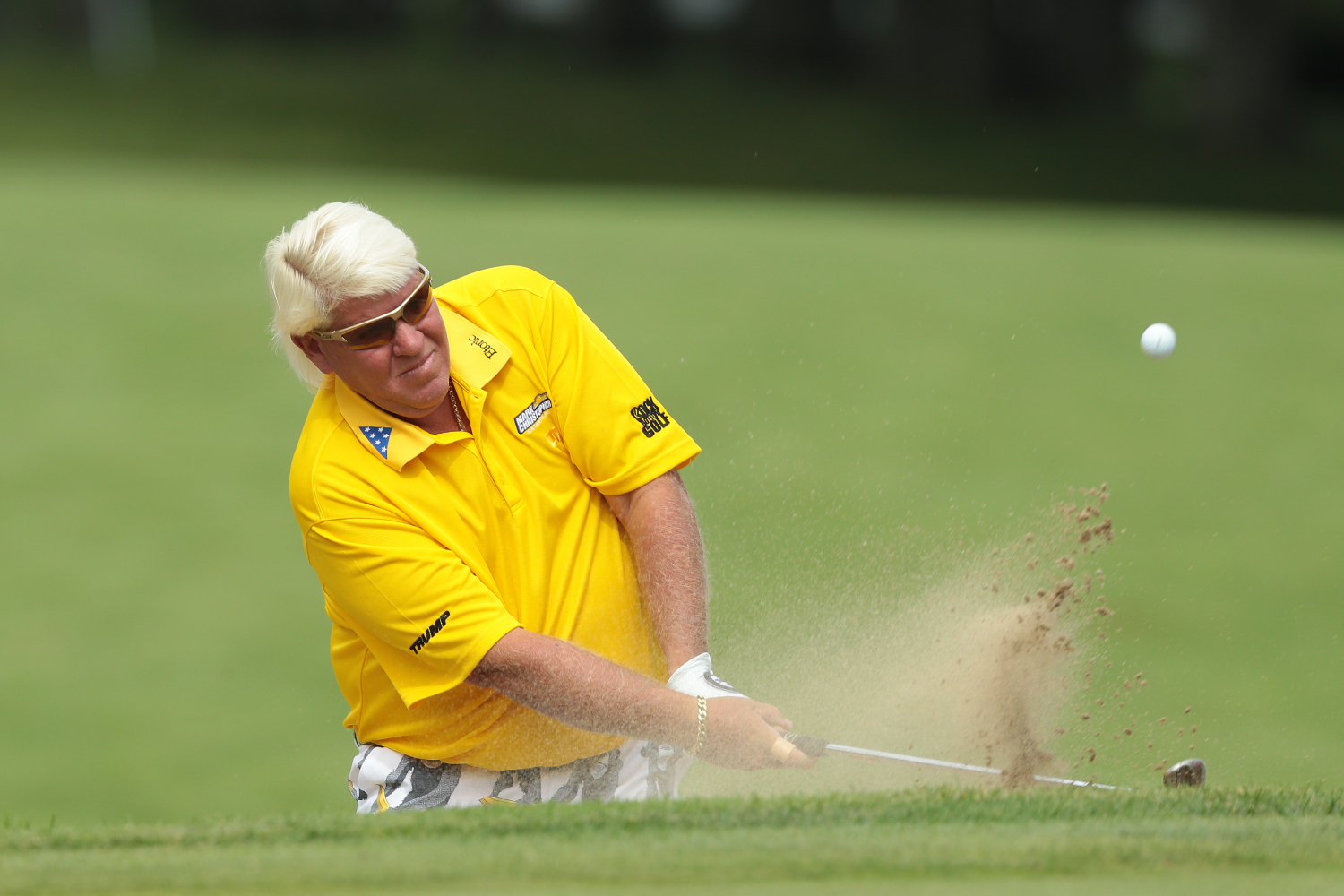 John Daly Finds Himself Facing the Toughest Battle of His Life
Professional golfer John Daly has had his ups and downs on and off the golf course. Daly now finds himself facing his toughest battle.
John Daly has been through a lot in his 54 years. The professional golfer and two-time major champion has had his ups and downs. On the golf course, he's won the PGA Championship (1991) and The Open Championship (1995). Off the course, he's been through four divorces and has battled alcohol and gambling addictions. Daly now finds himself in the toughest battle he's ever faced.
John Daly collected two major championships
John Daly has always been one of golf's biggest personalities. His powerful swing, combined with his two major titles, put him up there as one of golf's biggest names. Daly turned pro in 1987 and joined the PGA Tour four years later.
It didn't take long for Daly to make his mark on the PGA Tour. In 1991, he was the final alternate for the PGA Championship. Days before the event, Nick Price dropped out because his wife was about to give birth, and Daly jumped in at the last minute. Without any practice rounds, Daly went on to win the event by three strokes. He was named PGA Tour Rookie of the Year in 1991.
In 1995, Daly was struggling on the course. He broke out of his slump at The Open Championship when he won in a playoff against Costantino Rocca. In 1993, Daly made a run at the Masters Tournament, finishing in third place. Daly has five PGA Tour victories in his career.
Daly off the golf course
John Daly is a free spirit. He tells it like it is. He admits his mistakes and isn't shy about speaking about his addictions or his four divorces. In his 2006 autobiography, Daly admitted he had an issue with gambling and that became evident when he lost more than $1 million at a $5,000 slot machine at a Las Vegas casino.
"And here's how my sick mind analyzed the situation," Daly wrote in 2006 autobiography "John Daly: My Life In and Out of the Rough." "My sponsorship payments would be coming through in January, so I'd be able to pay everything off and get back to even by the beginning of the new year. Everything's fine. Everything's OK. No problema. Hell, yes, there's a problema."
In the book, Daly wrote he had stopped drinking and gambling was his biggest problem. "I'm off those … medications," Daly wrote. "I don't drink JD (Jack Daniel's) anymore. I don't beat up on hotel rooms and cars as much. Only gambling remains a problem."
John Daly reveals cancer diagnosis
On Thursday, John Daly told The Golf Channel he has bladder cancer. Daly said he had been battling kidney stones lately and went to the doctor. "(The urologist said) it doesn't look like any stones are in there. But unfortunately, you have bladder cancer," Daly said. "After I did the CT (scan), I was fixing to sip on my Diet Coke and he said, 'Don't drink anything. We have to get you back in here and get this cancer out of you.'"
Daly had a successful procedure to remove the cancer, but was told it was likely to return. "He said there's an 85 percent chance it comes back. So I've got to go back and see him in three months. They will probably have to cut it out again," he said. "It's probably going to come back, and then another three months that you don't know. You just don't know. Luckily for me they caught it early, but bladder cancer is something that I don't know all the details. But it doesn't look like it may go away. We will just see what happens. Maybe there's a miracle."
Daly said he will make a few changes to his lifestyle, but he won't stop living life. "I'm cutting way, way back on the Diet Coke and counting minutes before I can have a cigarette. I'm trying to quit smoking," Daly said. "The doctors aren't saying it's too late. Unfortunately, it's a cancer that keeps coming back. But I'm going to listen to them, and I'm going to try and quit smoking. If it comes back, it comes back. Six months to a year, if it doesn't go away, I'm going to live my life. I'm gonna have some fun."