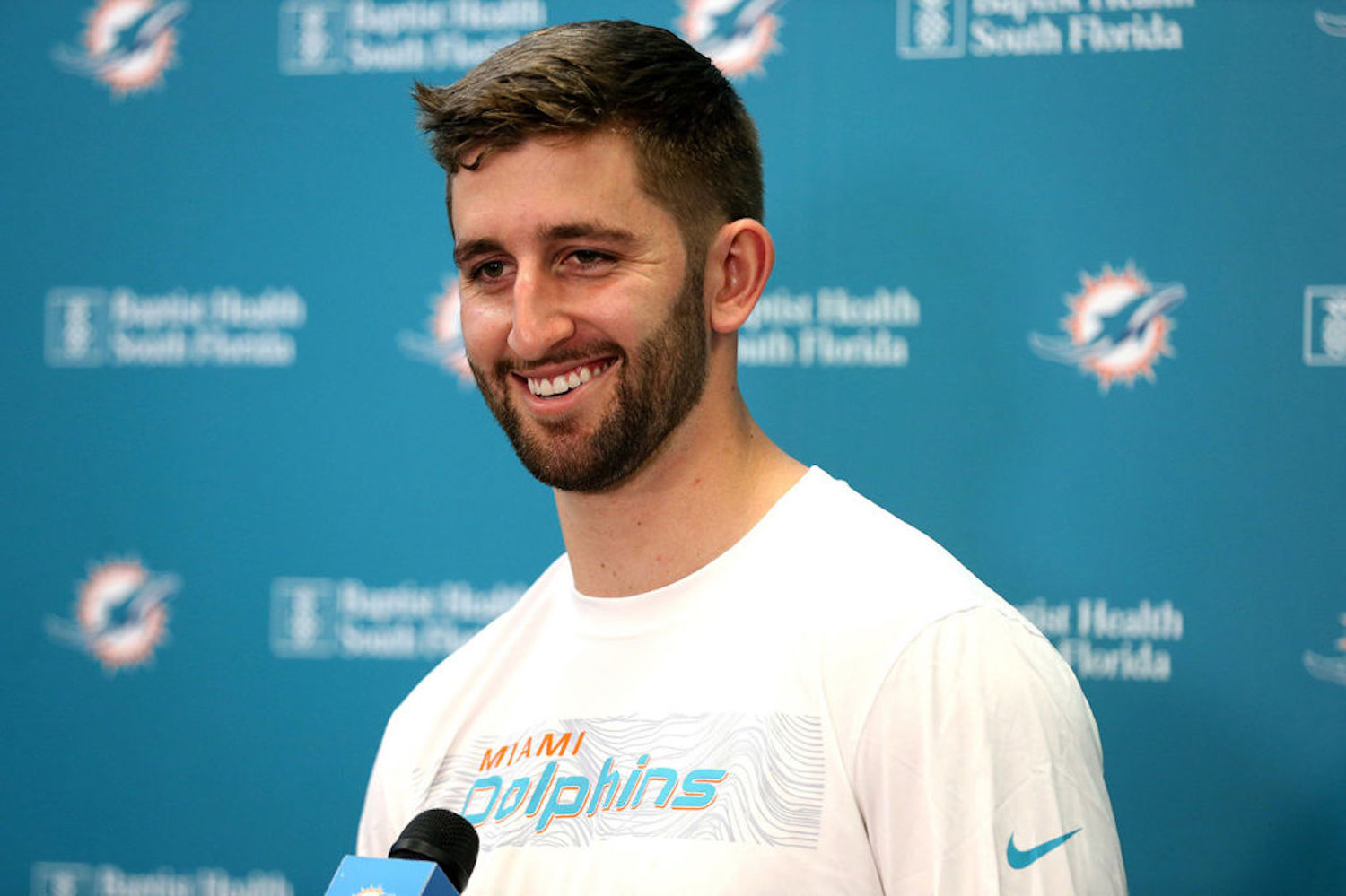 Josh Rosen Finally Got the Break He Desperately Needed
Josh Rosen has had a roller coaster of a start to his NFL career, but he might've finally received the lucky break he desperately needed.
Josh Rosen sure hasn't caught many breaks in his short NFL career. The former UCLA standout came into the league with tremendous talent and high hopes to be a star, but that hasn't panned out thus far.
Rosen entered into a no-win situation with the Arizona Cardinals, and the franchise replaced him with Kyler Murray a year later. The Cardinals shipped the QB to the Miami Dolphins shortly after, but Rosen couldn't find his footing there either. After getting released by the Dolphins prior to the 2020 season, it seemed as if Rosen would never catch a break in the NFL. But his fortune changed two days later.
Josh Rosen's NFL career is off to an extremely unlucky start
Before the 2018 NFL draft, Rosen was considered arguably the most talented quarterback in the entire class. Rosen slipped to the ninth pick because of some off-the-field issues, but his potential was still off the charts.
Rosen started the 2018 season as the starter in Arizona. He started 13 games in his rookie season and went 3-10 for the Cardinals. Not all of it was Rosen's fault, though. Arizona's offensive line was one of the worst in the NFL, and he didn't have many weapons around him to help him succed.
The Cardinals earned the No. 1 overall pick in 2019 after an abysmal season, and they decided to use the pick to select Rosen's replacement, Kyler Murray. Arizona didn't even give Rosen a second year before kicking him to the curb, and the team traded him to Miami after Murray got to town.
Rosen served as the backup for the Dolphins most of last year. He started three games and lost all three, throwing for just one touchdown and five interceptions in 2019. After drafting Tua Tagovailoa in the 2020 NFL draft, the Dolphins released Rosen on Friday to finalize their 53-man roster.
Two days later, though, Rosen started another chapter of his career with the Tampa Bay Buccaneers.
Rosen might've finally caught a break with the Buccaneers
After two years of turmoil with below-average football teams, Rosen might finally be in the right place for him to thrive.
On Sunday, Rosen agreed to join the Buccaneers as a practice squad quarterback. He'll now be practicing and learning under one of the greatest winners to ever step foot on an NFL field — Tom Brady.
Many quarterbacks have succeeded after backing up Tom Brady
Brady isn't just one of the greatest quarterbacks to ever live. He's also a world-class teacher on the practice field. Just in the last few years, multiple Brady backups have gone on to start impressive starting careers of their own.
Jacoby Brissett, who played with Brady in 2016, went on to start 30 games for the Indianapolis Colts. He threw 18 touchdowns to just six interceptions as the starter last year.
Jimmy Garoppolo had even more success since leaving New England. He led the San Fransisco 49ers to a Super Bowl appearance in 2019, and it wouldn't be surprising to see him there again soon.
Rosen has gone through an unlucky start to his NFL career, but learning under Brady could be exactly what he needs to turn things around.
All stats courtesy of Pro Football Reference