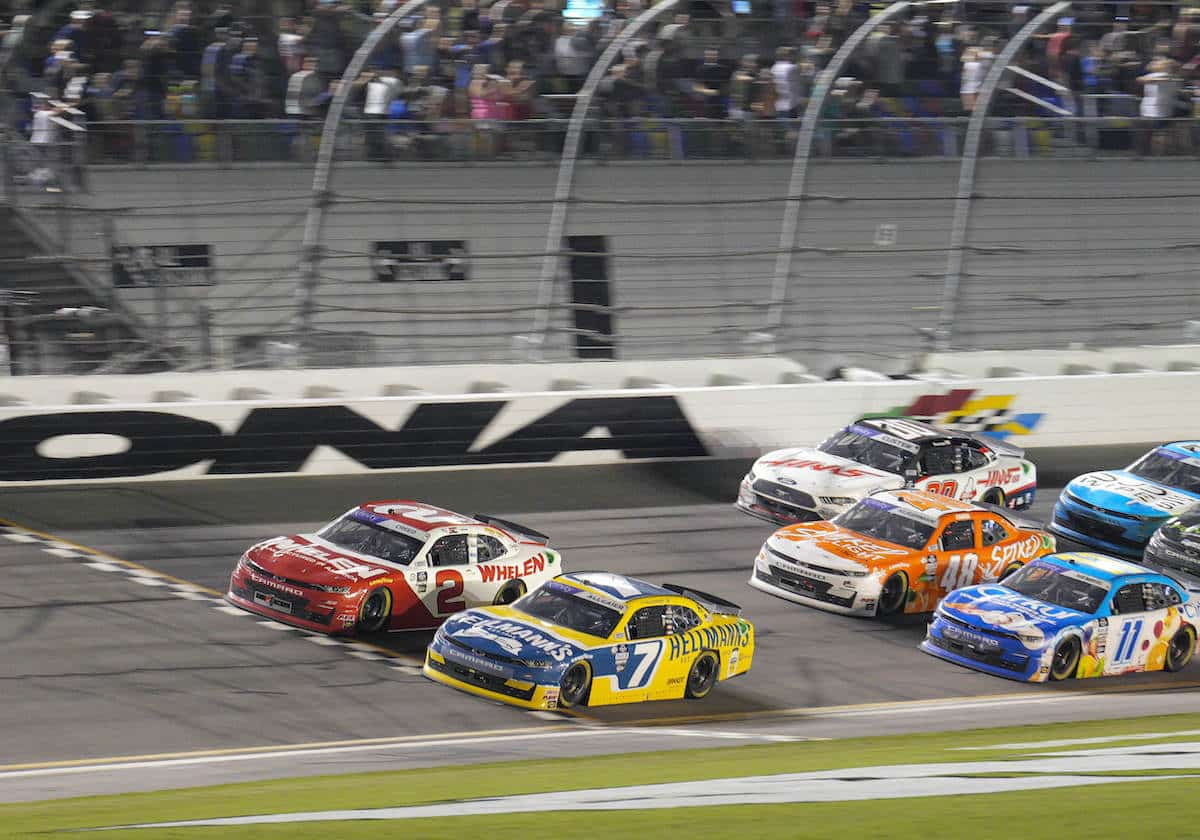 Justin Allgaier's Panicked Reaction and Question in His Post-Race Interview Reveals Just How Close the Photo Finish Was at Daytona
Justin Allgaier panicked after winning at Daytona for the first time when he saw a replay of the photo finish and wasn't sure he'd won.
Justin Allgaier had 20 career Xfinity Series wins entering the race at Daytona but never had one on a superspeedway. He was 0 for 25 in his previous trips to the World Center of Racing. Interestingly, the first time he crossed the finish line before the rest of his competition on the 2.5-mile track, he wasn't even sure of the result because it was so close between his No. 7 car and Sheldon Creed. 
He revealed as much during his post-race interview when he questioned whether he was victorious on live television before NBC's Dave Burns quickly reassured him that he was, in fact, the winner.
Justin Allgaier wins for first time at Daytona
Justin Allgaier didn't get off to a good start at Daytona. The No. 7 team was one of five that started the race by serving a pass-through penalty due to multiple pre-qualifying inspection failures. After falling down a lap early, the JR Motorsports driver fought back and found himself leading the field on Lap 85. 
Trevor Bayne, making his first start of 2023, had a fast No. 19 Joe Gibbs Racing car and took the lead from Allgaier, only to have the 37-year-old reclaim it after multiple cars in front of him were taken out of the race during a crash on a late restart.
The JRM pilot managed to fend off the competition on a pair of overtime restarts, including an intense battle with Creed on the final lap that ended with Allgaier narrowly edging out the Richard Childress Racing car by 0.005 seconds, tying for the fourth-closest finish in Xfinity Series history.
Allgaier questions his win in post-race interview
Moments after the thrilling finish, NBC's Dave Burns caught up with Allgaier and talked to him about his night and first win at Daytona.
"Wish my family was here. You know they're not here. We've got softball tomorrow," the father of two girls said. "I'm disappointed they're not here. Miss Evelyn. It is Miss Evelyn Brandt's 100th birthday today. That's special man.
"Michael McDowell said it after Indy. God is good. There's nothing," Allgaier paused as the big-screen television at Daytona and the NBC broadcast showed a slow-motion replay of the race ending, the driver's first glance of the photo finish. 
"Ooh. Did I win? Think I did, right? That angle looks bad doesn't it?" he asked, looking toward the fans in the stands. 
"No, you're definitely the winner," Burns assured him. 
Confirms he was panicked for a moment
During the winner's press conference, Fox's Bob Pockrass asked Allgaier about his post-race comments and how much panic he was feeling when watching the replay.
"Significant panic," the driver admitted. "I'll be honest with you, from that angle, I mean it looked bad, right? As close as the noses are. Any type of angle that way but I also knew that it was posted and obviously when they got out there, he said NASCAR's already said you won so I kind of in the back of my mind went back to that and said, 'OK, we're good. I've already won.' 
"But yeah there was a moment of panic slightly greater than I thought it would be in that moment."  
A moment that he, those in attendance, and those watching at home won't forget anytime soon.
To stay up to date on the latest happenings in NASCAR, including breaking stories you can't find anywhere else, follow Kyle on YouTube and Twitter.