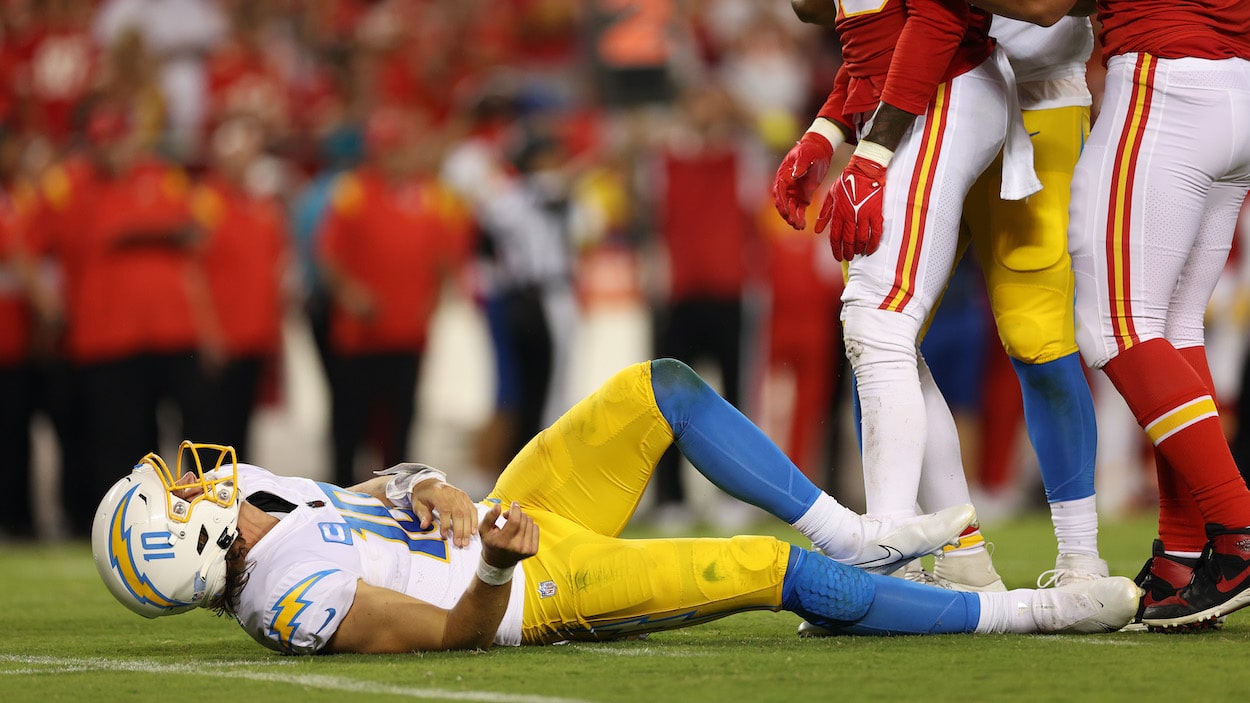 Rex Ryan Would Tell His Team to Take Shots at Chargers QB Justin Herbert With His Injury
The Chargers' Justin Herbert is a game-time decision with injured ribs. Rex Ryan said he'd make sure the QB was 'uncomfortable' if he plays.
After taking a shot in the ribs last week against the Kansas City Chiefs on Thursday Night Football, Los Angeles Chargers quarterback Justin Herbert looked like he was in a ton of pain. After the game, team doctors diagnosed him with fractured rib cartilage. Herbert is a game-time decision for Sunday, but if he does play, he has to watch out for Jacksonville Jaguars defenders taking shots at his ribs. Because that's what former NFL coach Rex Ryan said he'd tell his players to do.
Rex Ryan said he'd tell his player to take shots at Justin Herbert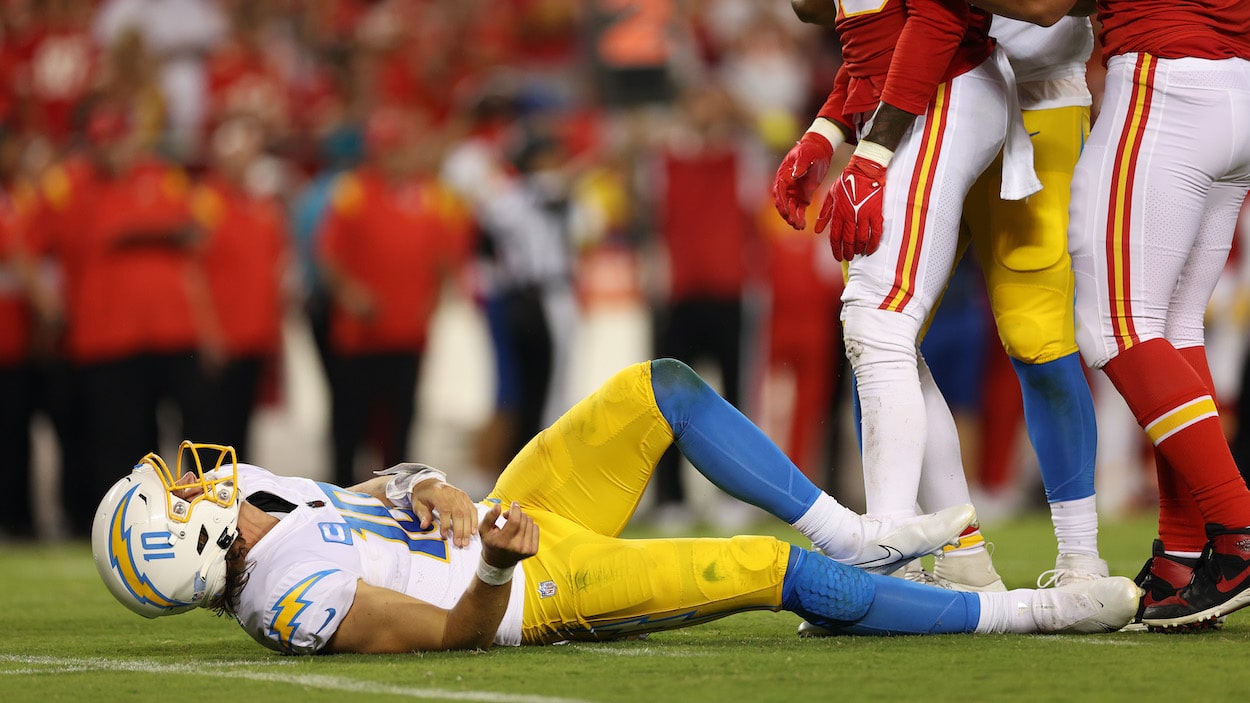 On ESPN's Sunday NFL Countdown ahead of Week 3, the crew did a segment on LA Chargers QB Justin Herbert's rib injury.
Former NFL QB Matt Hasselbeck showed off the shoulder pad and flak jacket combo Herbert will wear and discussed the pain the signal-caller will be in. Hasselbeck knows about it first hand, as he suffered the same injury in his playing days.
The pain of moving and throwing is one thing, but former coach Rex Ryan noted that Herbert will have something else to worry about once he gets out on the field.
If he does play today, defensive coaches are going to say, look, I gotta make this guy uncomfortable. I don't want to injure this man, but I'm gonna make him uncomfortable," Ryan said. "And that means if anytime we get a pass-by, you're tryin' to give a little shot as you go by, and it's just what it is. It's what happens in this game."
As Ryan explained that he'd like his players to "give a little shot," he demonstrated by punching Hasselbeck in the ribs.
With the knowledge of what he and other defensive coaches will do to players with an injury like Herbert, Ryan also said that if Herbert were his franchise QB, he'd make him sit this week.
The Chargers QB is a game-time decision in Week 3 vs. the Jaguars
Whether or not Justin Herbert will be on the field for Week 3 vs. the Jacksonville Jaguars is still unknown. A few hours before his game's 4:05 pm ET kickoff, the Chargers signal-caller is still questionable to play.
ESPN's Adam Schefter reports "make a decision during pregame warm-ups on Sunday about whether to take a painkilling injection in his fractured rib cartilage to try to play" in Week 3 vs. the Jaguars.
Several other factors complicate the Oregon native's decision. One is that he will not have his starting center, Corey Linsley, which will hurt his pass protection.
Also, while Herbert did have a painkilling injection for practice Thursday, that type of shot is dicey in LA. The jab he'll need Sunday is similar to the one Chargers training staff gave to Tyrod Taylor in 2020. That needle punctured the QB's lung, giving Herbert his first NFL start and cementing him as the team's starter.
Like Sportscasting on Facebook. Follow us on Twitter @sportscasting19 and subscribe to our YouTube channel.