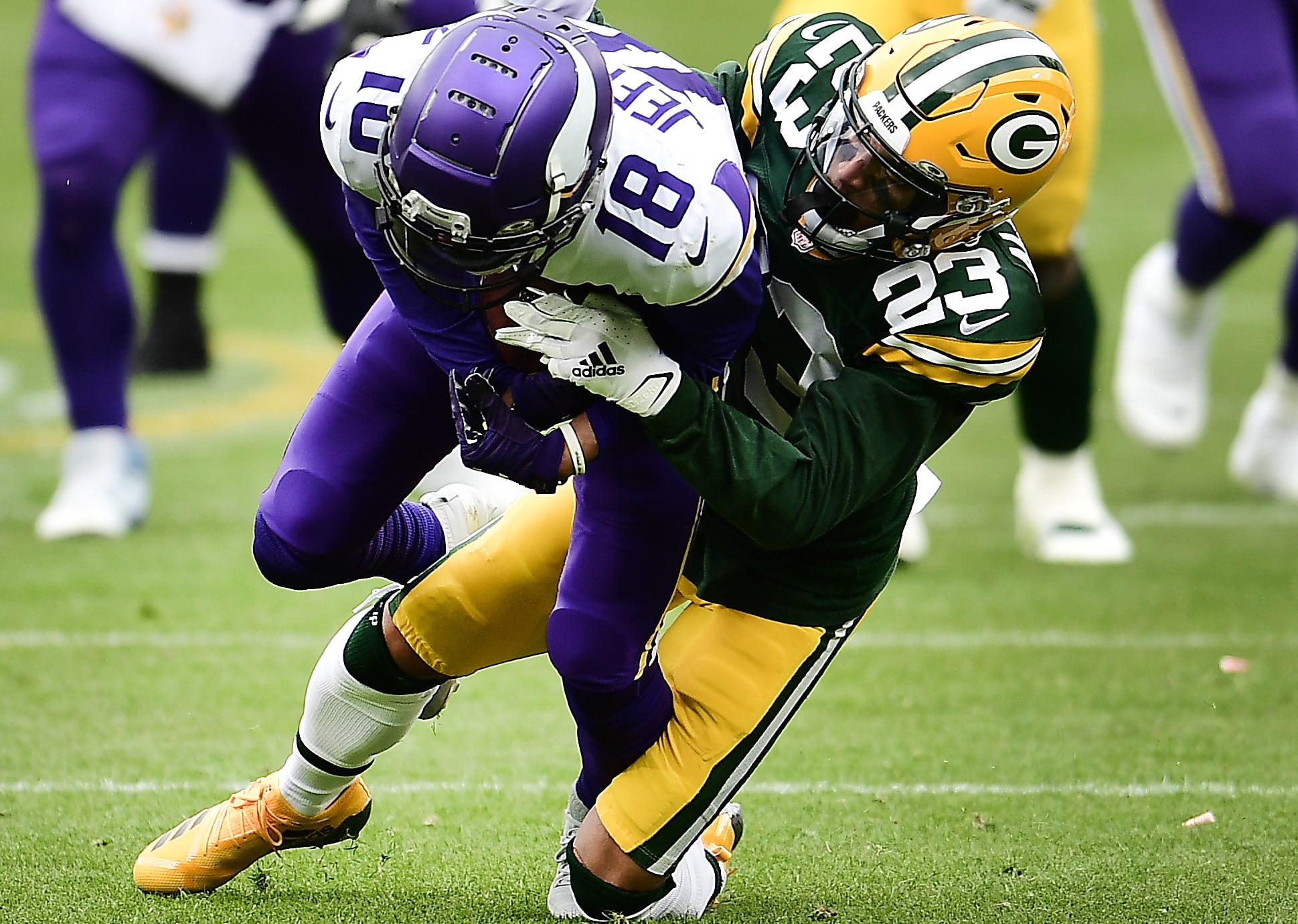 Justin Jefferson Keeps the Fire Burning in Beef With Jaire Alexander: 'Nobody's Really Worried About Him'
A month before the NFL season starts and Justin Jefferson and Jaire Alexander are already talking trash.
Minnesota Vikings wide receiver Justin Jefferson embarrassed the Green Bay Packers secondary in the season opener last year, catching nine passes for 184 yards and two touchdowns in a 23-7 win. In a Week 17 rematch, it was a far different story. Jefferson caught one pass for 15 yards in Green Bay's 41-17 win.
Packers cornerback Jaire Alexander took plenty of credit for shutting down Jefferson in that late-season meeting. Earlier this week, Jefferson downplayed Alexander's comments, saying, "Nobody's worried about him."
Justin Jefferson and Jaire Alexander did plenty of talking last year
Justin Jefferson is arguably the best wide receiver in the NFL. He showed it during that Week 1 meeting last year, even though Alexander referred to Jefferson's performance as a"fluke" as they prepared for their second meeting of the season.
"He's a really good receiver," Alexander said of Jefferson in December, per ESPN. "But at the end of the day, I'm a really good corner. We've got really good corners. We've got really good linebackers, D-line, whatever it is. You don't want to put too much focus on that one person because it's like, the first game, that was a fluke."
During this week's interview with Zach Aldridge of CBS Sports, Jefferson didn't agree with Alexander's fluke assessment.
"You can't call a 180-yarder a fluke, that's something that's not a fluke," Jefferson said. "You just can't walk up on 180 yards in the NFL, especially being one of the top players."
Jefferson on Alexander: 'Nobody's really worried about him'
During Jefferson's interview, Aldridge showed a clip of Pete Prisco interviewing Alexander. In that video, Prisco spoke about last year's matchups, saying in the opener that Alexander didn't match up with him. He then said in the second game Alexander "spent a lot of time on him in man coverage."
Alexander responded.
"I said all week it was a fluke," he said, "So when he came into Lambeau, he thought he was gonna come in here griddyin', but I was the one griddyin'. That's all it was. It was just fun."
Prisco then said Alexander beat him up a little bit.
"Somebody had to," said Alexander. "They was letting him go free all year. Not me."
Jefferson then had a chance to respond.
"It's just him talking at the end of the day," Jefferson said. "Nobody's really worried about him. They had their intentions to really take me out of the game. Everything about that day was to take me out of the game, to not let me touch the ball, to do things to really take me out of my game.
At that point in the season we already had solidified in the playoffs, we had already won the division. I didn't even play the whole game."
He then called that man coverage Prisco was talking about a lie.
"They played totally different the second time. They did not even play man the second time at all. So that statement of him playing man and beating me up all game is very not true, and if you see the film you can see it."
Fans will have to wait a while for the two to lock up again because they don't play each other until Week 8 when the Packers host the Vikings on Sunday, Oct. 29.