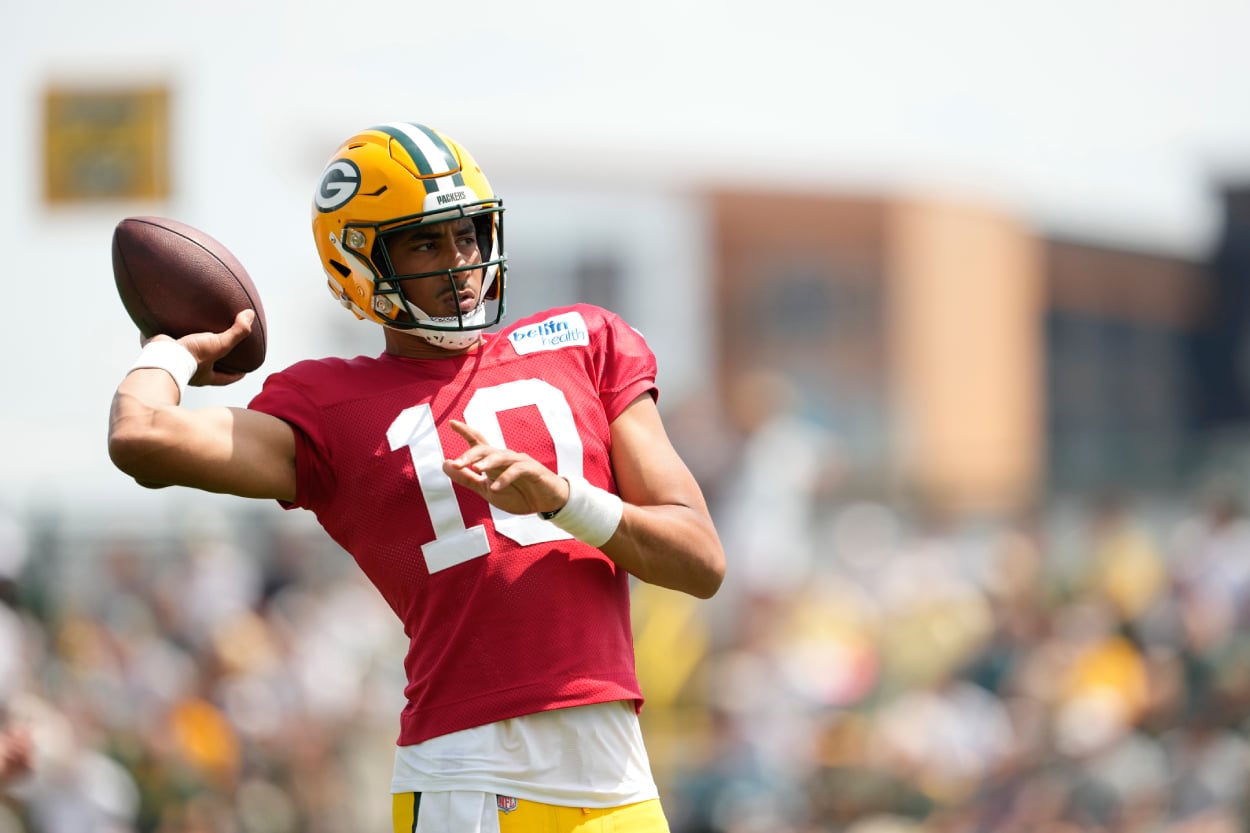 Jordan Love 'Can't Play Football,' and the Green Bay Packers Are On Course for a 'Predictable Disaster,' Says Adam Schein of CBS Sports Network
Jordan Love is already getting blasted and hasn't even played a preseason game yet this year.
The Green Bay Packers are ready to start the season with a quarterback not named Aaron Rodgers or Brett Favre for the first time in 31 years. It was early in the 1992 season when Favre took the starting QB job from an injured Don Majkowski. Since then, the Packers have had two Hall of Fame quarterbacks running the show. Now, Green Bay turns to Jordan Love.
The Packers selected Love in the first round of the 2020 NFL Draft after trading up to do so. It was a controversial pick since Rodgers was still playing at a high level, and Green Bay had just made its way into the NFC title game. With Rodgers having moved on to the New York Jets, it's Love's turn to run the show. According to Adam Schein of CBS Sports Network, Green Bay fans should expect a "predictable disaster."
Jordan Love slammed by Adam Schein: 'He can't play football'
Without doing anything wrong, Jordan Love took plenty of heat in 2020 after the Packers moved up to grab him in the draft. A 6-foot-4 athletic quarterback out of Utah State, Love sat behind Rodgers and watched him win two straight MVPs. In his two seasons with the Packers, Love made one start, that coming in 2021 when Rodgers tested positive for COVID-19.
With Rodgers now out of the picture, Love gets his chance. According to Adam Schein of CBS Sports Network, Green Bay Packers fans shouldn't get their hopes up. In fact, Schein went on a bizarre rant and didn't hold back, stating Love is a disaster in the making.
"I loathe Jordan Love, despise Love," Schein said. "I mean, everyone looks great during preseason practices, except apparently for Jordan Love, who by his own admission has struggled."
Schein's rant was embarrassing. He cited The Athletic's Matt Schneidman for "detailed reporting on how awful Love looks." Schneidman responded to Schein via X (formerly known as Twitter), saying that's not what he reported.
Schein continued his takedown of Love and also implied the team's defensive and offensive units are going at each other.
"You have players on defense calling out the offense," Schein said. "This is a flat-out debacle. It's also predictable because Jordan Love can't play football. Simple as that. You have Rasul Douglas, he's talking all sorts of smack to Aaron Jones saying you guys bleeping stink. Jones is livid and then acknowledges the offense is terrible. Defensive players are calling out the offense. Jordan Love can't do a damn thing.
"This is going to be a predictable disaster with Jordan Love in Green Bay."
Packers linebacker De'Vondre Campbell fires back at Schein
So, who is Adam Schein? According to the Milwaukee Journal-Sentinel, he hosts a daily radio show on Sirius XM in the mornings and a weekday TV show on CBS Sports Network. He also hosts several NFL shows on Showtime and is a contributing writer for NFL.com.
While he's entitled to his opinion, Packers linebacker De'Vondre Campbell is also entitled to his. Campbell fired back at Schein via social media.
"Ain't no way you just got on here with that baggy-ass Steve Harvey suit and them thick-ass dollar tree glasses and disrespected my QB by saying he can't play football," Campbell wrote on X. "He only has one career start let him play at least half a season before you open your big dumbass mouth."
We knew things would be interesting in Green Bay this year but didn't expect the drama to unfold until at least the first preseason game.