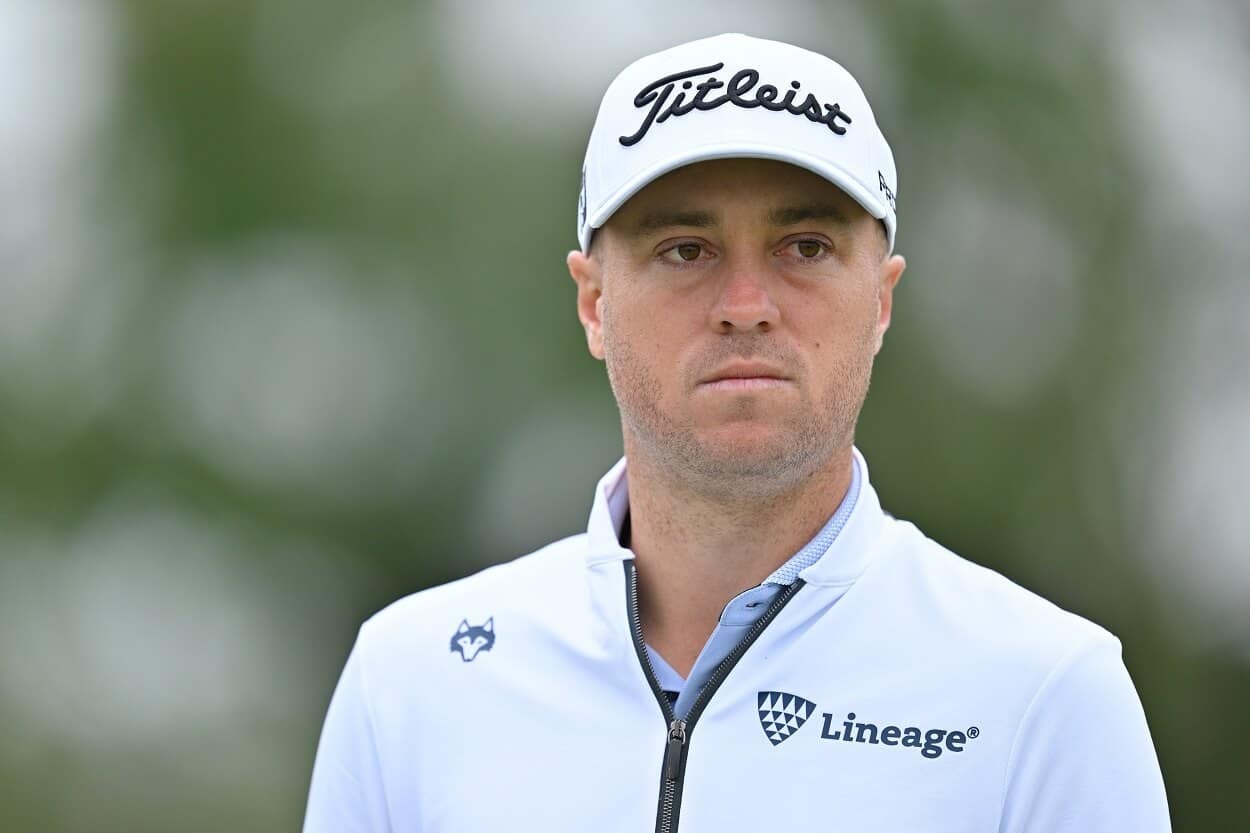 Justin Thomas Predicted the Final Round of the U.S. Open and Badly Missed the Mark
Justin Thomas was way off in his predictions for the final round of the 2023 U.S. Open.
To put it mildly, Justin Thomas had a rough week at the 123rd edition of the U.S. Open.
On a fairly easy scoring day on the par-70 layout at Los Angeles Country Club on Thursday, a day during which a new U.S. Open single-round scoring record was set, JT opened his week with a 3-over 73. And things just got worse from there as the two-time major champion followed it up with an 11-over 81 on Friday, marking the second-worst round of his PGA Tour career.
At 14-over at the midway point, Thomas obviously missed the cut and scored better than just three players in the 156-man field.
But despite missing the weekend in a major for the second time this season (he also missed the cut at the Masters), Thomas was still heavily invested in the outcome of the tournament, no doubt thanks to the fact that one of his best friends on tour, Rickie Fowler, was in contention to win his first major championship.
So, like an everyday golf fan, Thomas took to social media on Saturday and Sunday to offer up his thoughts on the action at LACC. Sunday was particularly entertaining as he and Max Homa, who also loves his social media, hung out and drank a little wine as the final round played out.
JT even went so far as to predict what would happen over the final 18 holes. But just as his own week went, Thomas was off the mark.
Justin Thomas was way off predicting the final round of the U.S. Open
As you can see from JT's tweet pictured above, the 15-time PGA Tour winner predicted that Sunday's final round at LACC would turn into a two-man race between Rickie Fowler and Rory McIlroy, also guessing Xander Schauffele would make a run up the leaderboard.
You'll note that Thomas failed to include anything about Wyndham Clark, who went into the final 18 holes tied with Fowler for the lead and ultimately won the tournament. So he obviously swung and missed big there. He was also off by a stroke for the winning score as Clark finished at 10-under.
He was also wrong about Schauffele, whose 2-over 72 tied for the second-worst score of any player who finished in the top 19. Harris English (T8), Dustin Johnson (T10), and Viktor Hovland (19) also carded 72s.
And who had the worst score? Well, that would be Fowler, who struggled to a 5-over 75 and tied for fifth. And while it was nice of JT to pick his good buddy, who so many were rooting for that day, he was off the mark there as well.
At least Thomas was right about McIlroy, who was right in the thick of things all day but once again failed to win his fifth major championship, finishing one behind Clark at 9-under. He was also technically right about the player who performed best on holes 13-16 being in the driver's seat.
Both Clark and McIlroy played that stretch at 1-over, although Clark bogeyed two of the holes while McIlroy only bogeyed one. Clark's birdie on the par-5 14th, the same hole McIlroy bogeyed, proved to be the ultimate difference maker in the outcome.
But despite being so far off with his projections, one has to give Justin Thomas credit for being such a good sport over the weekend. After declaring on Friday that he feels he's at the lowest point of his professional career, JT could've just sat home and sulked about his performance. Instead, he hopped on Twitter and still entertained golf fans for a couple of days despite not taking a single swing.