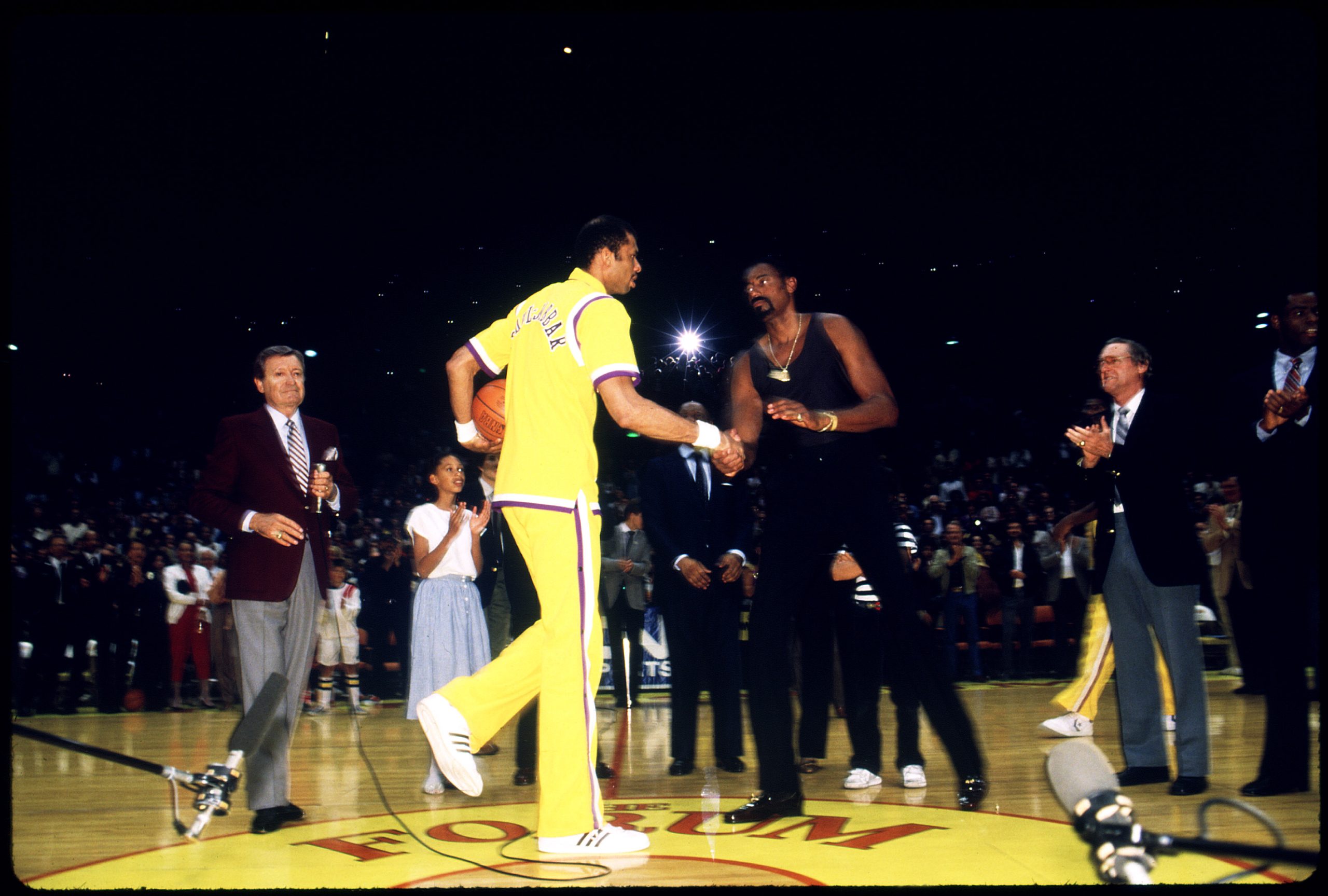 Kareem Abdul-Jabbar Was Anti-Milestone and Relieved When He Passed Wilt Chamberlain on the All-Time Scoring List
Kareem Abdul-Jabbar was happy when all the fanfare about the NBA all-time scoring record was put behind him.
Kareem Abdul-Jabbar has never been one to bask in the glory of his own achievements. The Los Angeles Lakers legend and NBA all-time scoring leader was humble, yet honored, when he broke Wilt Chamberlain's points total on April 5, 1984. Abdul-Jabbar, who still holds the record, admitted he was never big on milestones, but he felt great relief when it was finally over.
Kareem-Abdul Jabbar passed Wilt Chamberlain with his patented skyhook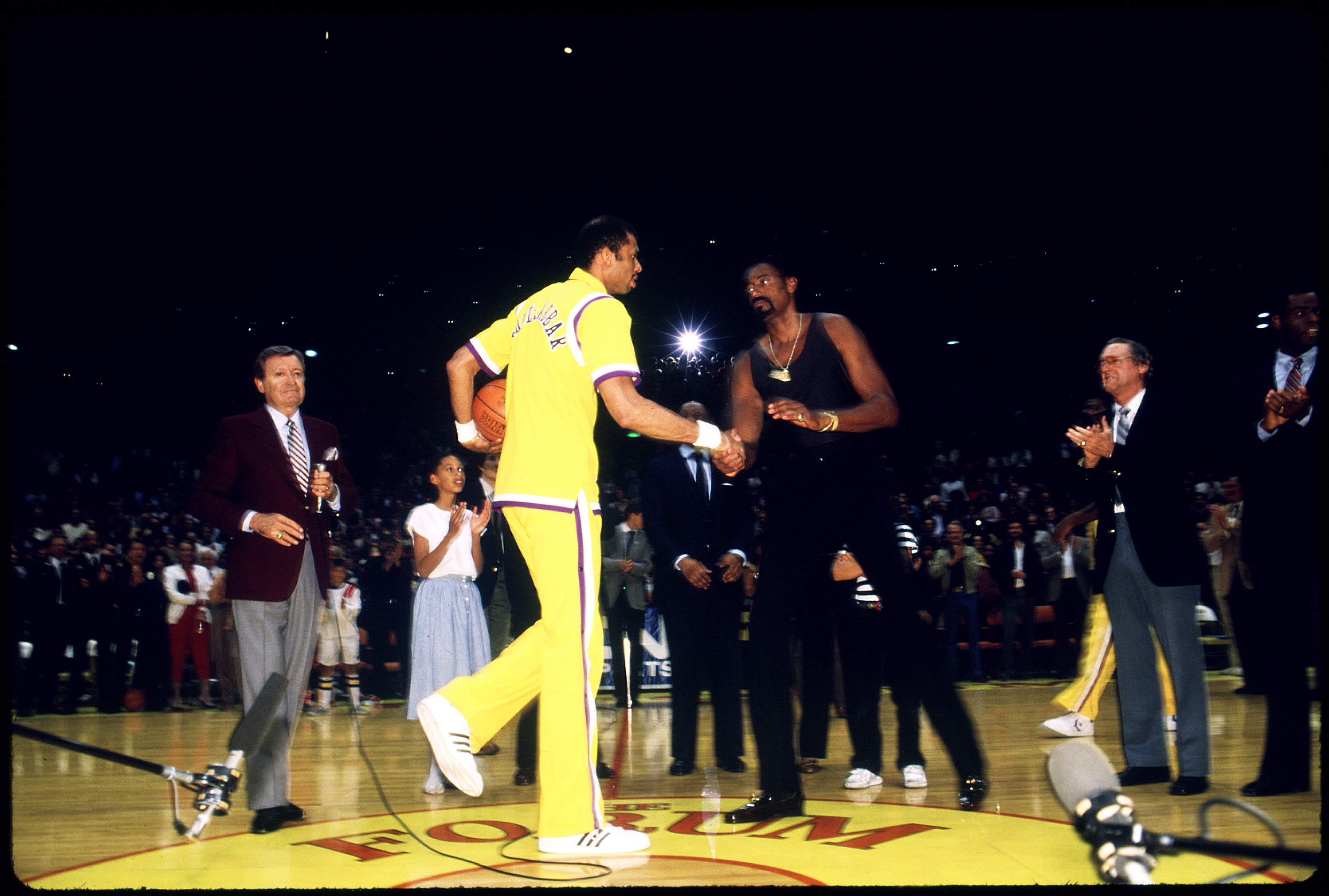 Abdul-Jabbar needed 21 points to pass Chamberlain when the Lakers played at the Utah Jazz late in the 1983-84 NBA season. He finished with 22. It was only fitting that the Lakers center scored his milestone bucket with his signature skyhook, which came in the fourth quarter of the Lakers' 129-115 victory.
The basket gave Abdul-Jabbar 31,421 career points, breaking Chamberlain's all-time mark of 31,419. The journey to get there had been a grind with all the media attention over something that wasn't even on the top of Abdul-Jabbar's list. Even before he topped Chamberlain, he had to surpass Oscar Robertson.
He did that in 1981 and was happy when the fanfare of jumping into the No. 2 slot was over.
"It's a relief that it's over," he said after passing Robertson, according to United Press International. "People put a lot of emphasis on milestones, but I don't.
"Still, it's an honor and a special day. Scoring points is not the main focus of why I play. Winning is still the most exciting for me."
Kareem Abdul-Jabbar always had to deal with talk of the scoring record
It may have been a relief for Abdul-Jabbar after passing Robertson, but little did he know he'd still be hearing talk about the all-time scoring mark for the next three years. Heading into that record-breaking game against the Jazz, Abdul-Jabbar just wanted it to be over. He had a tough time enjoying the moment.
"I'm trying to enjoy it," Abdul-Jabbar said, according to UPI. "When I do (break it), at least I won't have to answer all the questions anymore. There isn't a day that's gone by without somebody telling me exactly how many points I have and how many more I need.
"I'm trying to concentrate on our season. Early in the season, everybody thought I couldn't do it. I'm approaching the point where I can put this behind me and get on with our primary objectives."
Even today, Abdul-Jabbar can't escape the talk. LeBron James sits in third place on the all-time scoring list, 3,200 points behind Abdul-Jabbar. Former Utah Jazz forward Karl Malone is second with 36,928 points. The former Lakers center is rooting for James to break his mark.
"We all win when a record is broken and if LeBron breaks mine, I will be right there to cheer him on," Abdul-Jabbar said, according to The Sporting News.
Chamberlain felt good about Abdul-Jabbar breaking his mark
Chamberlain seemingly felt the same way about Abdul-Jabbar breaking his record as Abdul-Jabbar feels about James potentially breaking his.
"If anyone deserves to break the record, it's definitely, definitely him," Chamberlain said in 1984, according to UPI. "As far as I'm concerned, since the time of Neil Johnston and George Mikan, nobody — no offensive center — has ever played from the post predominantly, mainly and only, other than myself and Kareem.
"If someone's going to take your record, I think you gotta feel good about who it is. He definitely deserves it. It's no fluke of a record. It's something that took a lot of years, a lot of time, a lot of two and three guys hanging on him, and he has done it."
Chamberlain, who died in 1999, now sits seventh on the list.