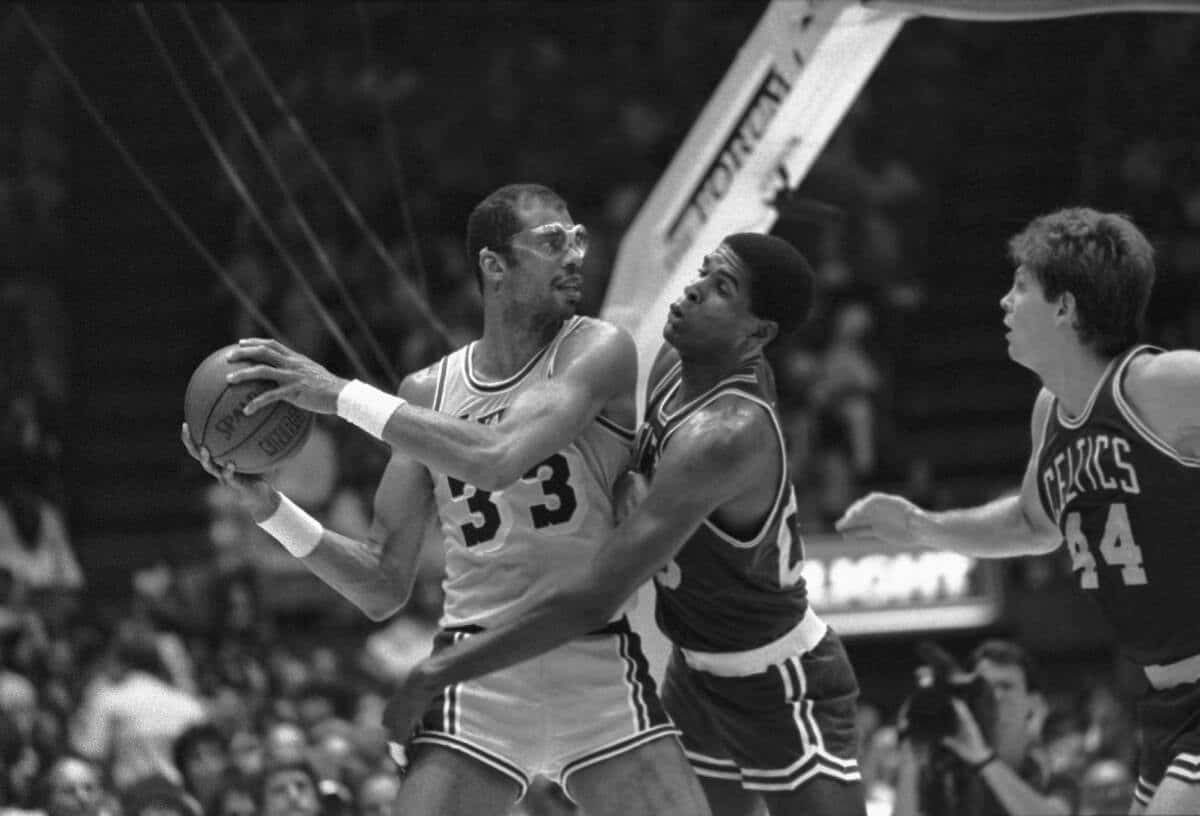 Robert Parish Reflects on 'Humbling' Welcome-to-the-NBA Moment Suffered at the Hands of Kareem Abdul-Jabbar
As a rookie, Robert Parish had a "humbling" experience against Kareem Abdul-Jabbar.
Robert Parish turned out to be one heck of an NBA player and earned his way into the Naismith Memorial Basketball Hall of Fame after his years of success with the Boston Celtics. He came into the league as a relatively unknown from Centenary College, but he contributed as a rookie and helped guide the Golden State Warriors into the playoffs.
It was during those playoffs when Kareem Abdul-Jabbar showed the young center he still had a long way to go. Parish recently recalled that "humbling" experience.
Robert Parish went unrecognized at Centenary College
Parish and his Centenary teammates were basically invisible in college, and it wasn't just because the Louisiana college is a small school. The NCAA put the school on probation for six years, barring it from postseason play and not including stats in their record books. It all happened because Parish and five other freshmen took a standardized test that didn't fit the NCAA formula.
"It was a total of six of us, me and five other players in the class that came in with me," Parish recently said to former Lakers star Michael Cooper on his Showtime With Coop podcast. "We all took the ACT test, and they converted our scores to the SAT. There's nothing in the rule book that says you can't do that — it's like a gray area.
"For whatever reason, I'm getting it because I went someplace unexpected. It's such a small school. They automatically assumed that Centenary did something, you know, under the table to get me to go there. The NCAA said you got two choices: you can transfer or retake the test. So all of us, being arrogant and defiant, we said we ain't taking the test, and we're not leaving.
So that came about us not being recognized because we were tearing it up. For four years, we didn't lose more than three games in any year I was at Centenary. We were tearing it up, if I may say so myself."
Robert Parish quickly got a dose of reality when he faced Kareem Abdul-Jabbar in the playoffs
For a player coming out of a small college, Parish made an immediate impact with the Warriors in his rookie season. Taken with the eighth overall pick in the 1976 NBA Draft, he played in 77 games, averaging 9.1 points and 7.1 rebounds in 18 minutes per game.
While Parish proved he could play with the big boys, his confidence grew. Then he met Abdul-Jabbar and the Los Angeles Lakers in the second round of the playoffs. Golden State had knocked off the Detroit Pistons in the best-of-three series in the first round. Then it was a meeting with the Lakers in the conference semifinals.
"I did not play a lot my rookie year until the playoffs," Parish told Cooper. "I'm feeling pretty good about myself because I thought I was all that in college. Then I went up against Kareem. The big fella averaged 39.9 and, I think, like 15 or 16 rebounds. Humbling. Welcome to the NBA, Coop. Very humbling."
Cedric Maxwell, Parish's former teammate, said Parish always gave too much respect to Abdul-Jabbar
During an interview on the Cedric Maxwell Podcast, Maxwell, Parish's former teammate with the Celtics, razzed the center for giving too much respect to the Lakers great.
"There were certain guys you had respect for," Maxwell said to Parish. "Moses (Malone) was one of them. Then your favorite of all time — I always thought you gave him too much respect with that skyhook, Kareem."
"No, I didn't," Parish said. "I've got to give credit where credit is due. That's the baddest man to ever play the game. I went up against some great ones — Patrick Ewing, Moses, Hakeem Olajuwon, Bob Lanier, Bill Walton. I played against some really top talents, and Kareem hands down — he's the only player where there was nothing I could do to alter, change, redirect him. Nothing I could do.
"I just hoped he wasn't hot because if he was hot, it was going to be a long night."