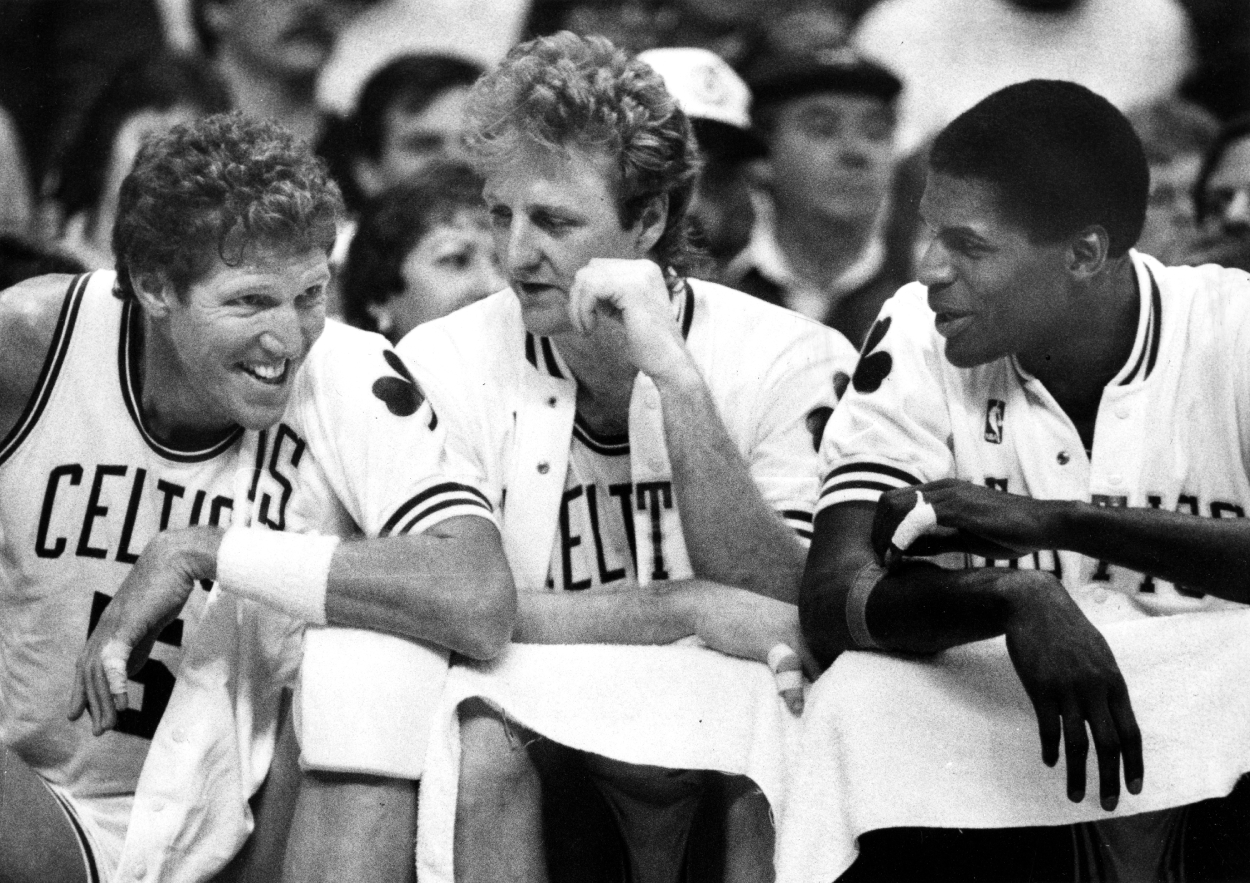 Robert Parish Explains Why He Believes Larry Bird Was the 'Ideal Leader' of the Boston Celtics
Robert Parish believes Larry Bird was the ideal leader of the Boston Celtics.
Robert Parish and Larry Bird teamed up to win three NBA titles with the Boston Celtics. The duo made up two-thirds (with Kevin McHale) of what some consider the best frontcourt in NBA history. Boston's 1985-86 team is also considered one of the best ever.
Led by Bird, the Celtics captured their third championship of the 1980s by defeating the Houston Rockets in the 1986 NBA Finals. Parish explained why he believed Bird was the "ideal leader" of the Celtics.
The Boston Celtics saved Robert Parish by trading for him before the 1980 NBA Draft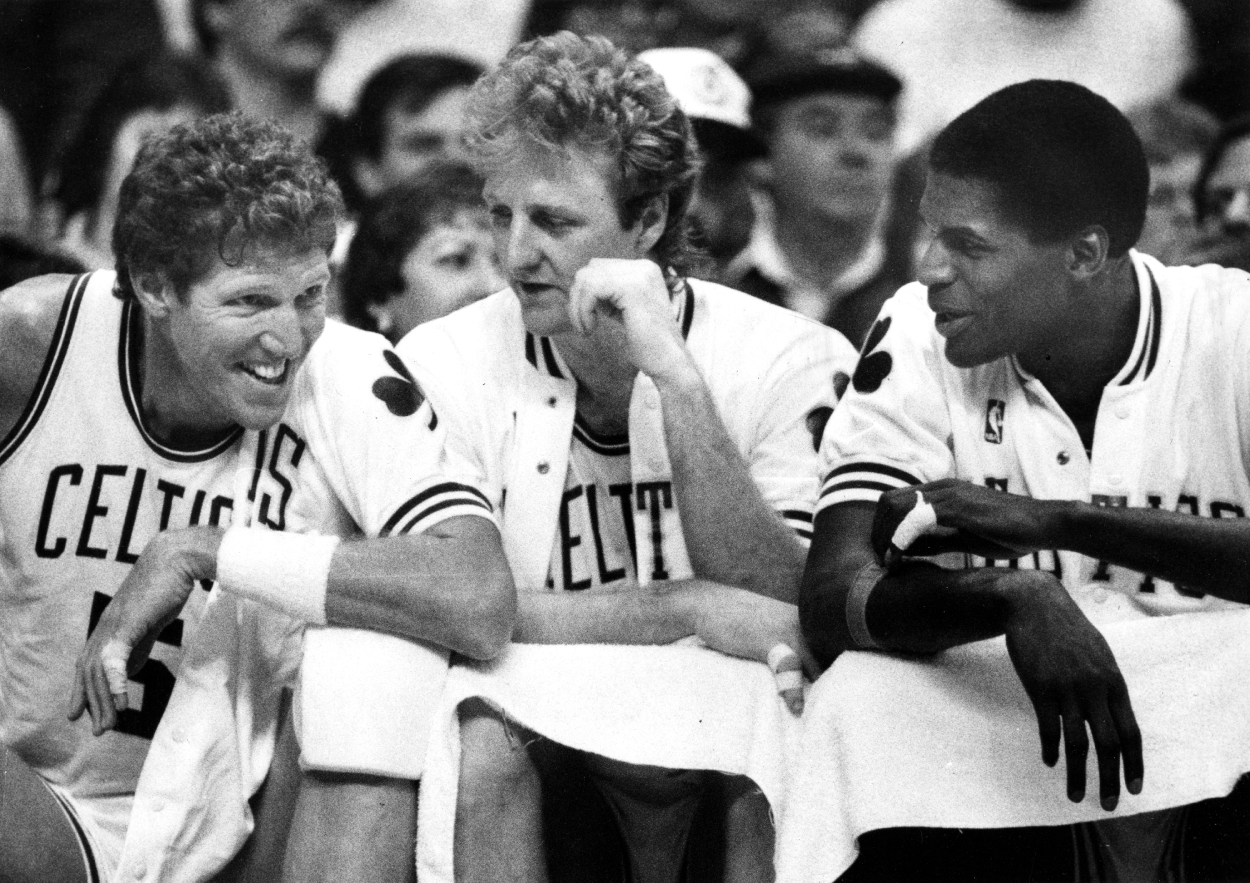 Parish spent four seasons with the Golden State Warriors before his NBA career took a turn for the better. The Celtics acquired the 7-foot-1 center in a pre-draft deal in 1980. Boston held the top pick in the draft and sent it along with another first-rounder in exchange for Parish and Golden State's No. 3 pick. With that third pick, the Celtics selected McHale.
At first, there was some culture shock for Parish, who teamed with a young Bird. Parish found things a bit different in basketball preparation when he attended Celtics camp.
"When I came in, I was in shape for a Golden State camp, not for the Celtics," Parish told Sports Illustrated in 1981. "It was the most physical, intense thing I'd ever been through, but I can't knock the results."
Parish had heard it all in Golden State. The word was he was lazy and had a bad attitude.
"I heard it all — I had a bad attitude, I only played when I wanted to," he said. "Someone even said I was so lazy I got into foul trouble on purpose so I wouldn't have to play."
Robert Parish explained why Larry Bird was the 'ideal leader' for the Boston Celtics
Parish insisted he wasn't lazy, nor did he have a bad attitude. The change in his game when he became a Celtic wasn't because he changed. It was because he surrounded himself with better players.
"Oh, yes, what a turnaround I've made, and, oh, yes, what a difference a year makes." Parish joked during his first year in Boston. "My coming to Boston just did wonders for my attitude. Hey, I'm doing the same things I did at Golden State. And all that talk about the magic of being with the Celtics, forget it. The only difference in me is that the team I'm on is winning, and that's because the people here complement my game."
Bird was one of those players. Even just in his second year, he became a leader of the Celtics. At the end of his career, Parish acknowledged that Bird was the ideal captain of the team.
"We had Larry, which was a great offensive force," Parish said in a video put out by the Boston Celtics last year to commemorate their 1986 championship. "He had the respect of the officials. Plus, he was able to create offense, not only for himself but for Kevin and myself.
"Larry kept to himself, and I think that was one of the reasons why he was an ideal leader. He wasn't very vocal. He led by example every night, practices, also."
Parish and Bird worked well together during their dominance in the '80s
Parish and Bird developed great chemistry during their run together in the '80s. Bird got most of the recognition with three consecutive MVP honors from 1984-86. He knew he couldn't have accomplished all he had done without the big man by his side.
"Everybody knew when we needed a basket, (Dennis Johnson) passed me the ball, and I came off a pick set by Robert, who sets the best pick in the world," Bird told Sports Illustrated in 1991. "I don't know how he does it. Now I don't come off those picks as much because that's not our offense. But if it wasn't for Robert, I wouldn't have scored half the points I have."
They won titles together in 1981, 1984, and 1986. Both are Naismith Memorial Basketball Hall of Fame members, Bird getting inducted in 1998 and Parish following in 2003. They combined for 21 NBA All-star appearances. Without Bird's leadership and Parish's unselfishness, the Celtics wouldn't have had that success in the '80s.