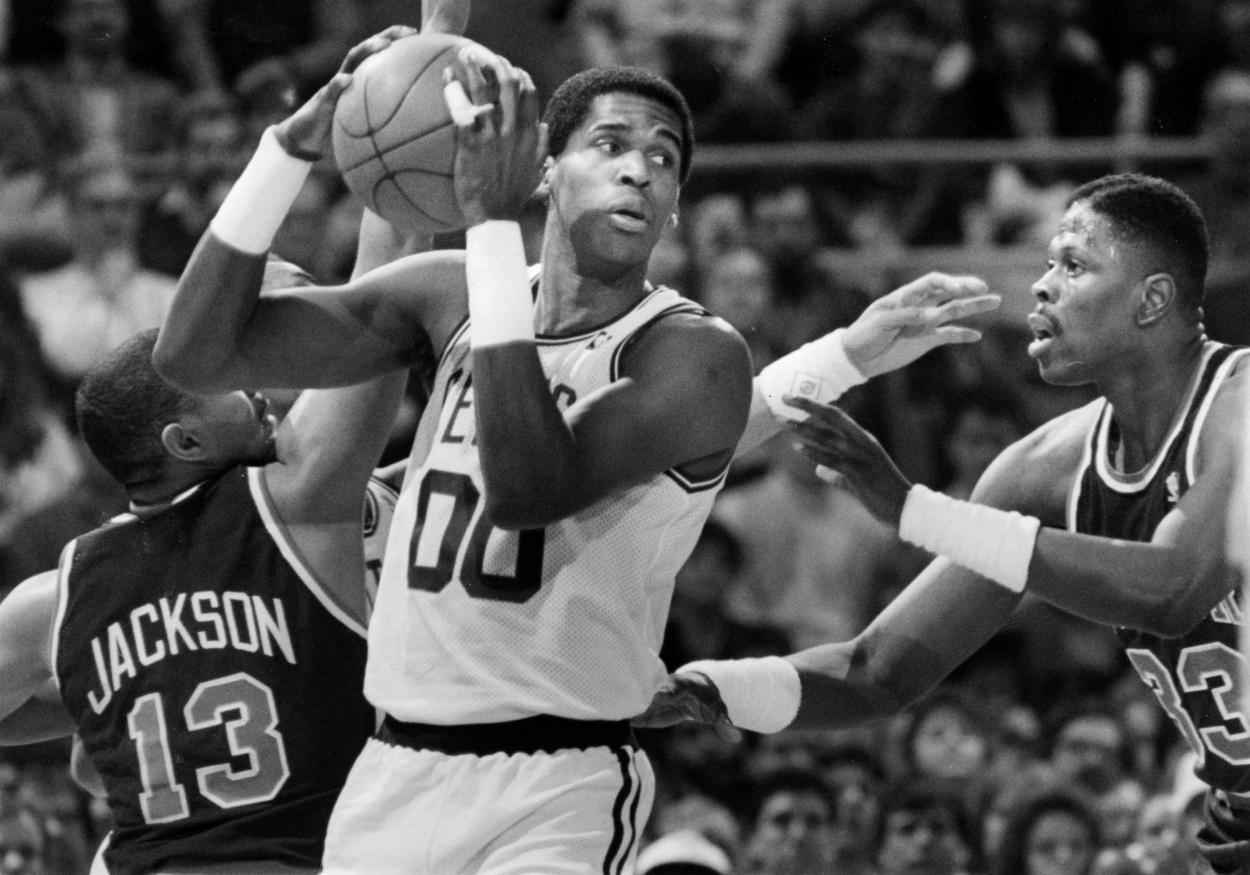 Robert Parish's Biggest Basketball Moment Came in the 8th Grade
Robert Parish had his biggest basketball moment in the eighth grade.
To say Robert Parish was a late bloomer would be quite the understatement. The lone reason the Boston Celtics legend even entertained playing basketball was because of his size. Parish stood 6-foot-5 in the seventh grade.
His feel-good moment came in the eighth grade. It also happened to be his biggest basketball moment.
Robert Parish was not impressed with basketball in his early days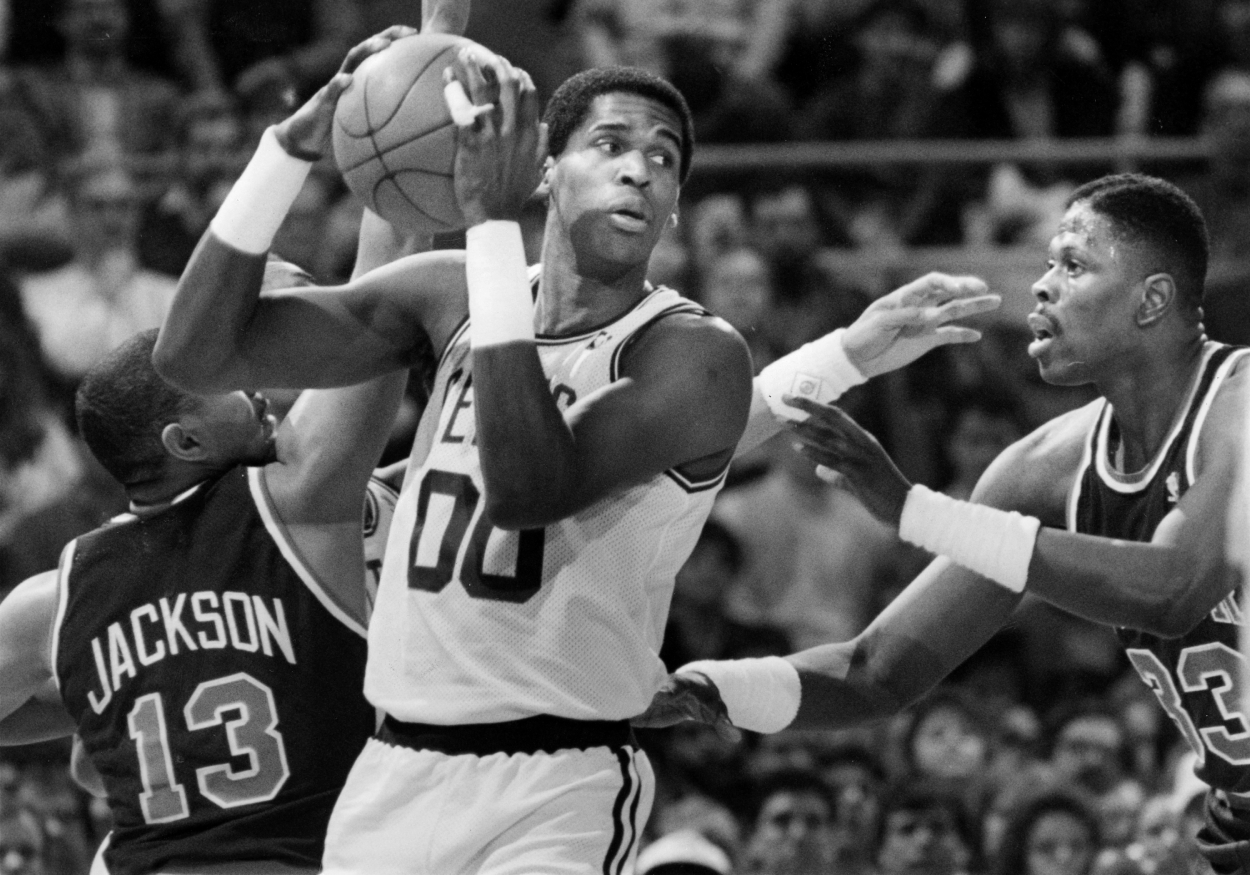 According to a 2004 Sports Illustrated article, Parish's first impression of basketball was torture. He struggled with both his coordination and his game. He was awkward but caught the attention of Coleman Kidd, the coach
at Union Junior High in Shreveport, La., solely because of his height.
Without Kidd, there's no telling what route Parish would have traveled. What is known is that the Celtics Hall of Fame center would not have chosen to make a career out of basketball.
Parish resisted basketball initially. Kidd had to go to Parish's house for the first three months to pick him up and bring him to practices. He dragged the big man to scrimmages. Those scrimmages were held before the first class at school. Other students went to those practice games simply to mock the 6-foot-5 13-year-old who struggled to dribble and shoot.
Robert Parish had his biggest basketball moment in 8th grade
Confidence was a problem for Parish, who stumbled his way down the basketball court. After a full year of working with Kidd and trying to find that confidence he was lacking, it finally happened. He had his biggest moment on the basketball court.
"It took me a year before I made a layup," Parish said. "It was a great moment. I was in eighth grade and I remember feeling very good about myself. I could make a layup."
From there, his confidence grew. So did he.
By the time his high school career was over, he was a seven-footer. He was also much more skilled. Those layups turned into dunks and 10-foot shots. He rebounded and played strong defense. In his senior year of high school, Parish led Woodlawn High School to the state title. At the end of his high school career, more than 300 colleges were knocking on Parish's door.
Parish chose Centenary College and blossomed into a star with the Boston Celtics
Parish wanted to remain close to home in Louisiana, so he elected to play for Centenary College of Louisiana. He played four years and averaged 21.6 points and 16.9 rebounds per game. The Golden State Warriors made Parish the eighth overall pick in the 1976 NBA Draft.
The Celtics held the top pick in 1980 and traded it along with another first-round selection to get Parish and Golden State's No. 3 pick in the 1980 NBA Draft. Boston grabbed Kevin McHale with that pick, setting up what many consider the best frontcourt in NBA history with Parish, McHale, and Larry Bird.
While Bird and Parish were the big scorers, Parish did the rebounding and defended the opponent's big man. He was a proven scorer, but he didn't need the ball like Bird and McHale.
"It's good that I didn't, too," he said. "That's why I fit on that team. If I had been a guy who needed the ball, needed the
touches, it wouldn't have worked. We had a lot of guys who needed the touches. I just went out there and played. 
"It's funny, when Kevin or Larry had a bad night, the stories always were that Kevin or Larry had a bad night. When I had a bad night, it always was, 'What's wrong with Robert?' The stories would run all week. Nobody ever realized that with Kevin or Larry, they could shoot themselves out of a slump the next night. It would take longer for me because I was only getting nine touches a game."
Parish played 21 years in the NBA. He won four NBA titles and earned his way into the Naismith Memorial Basketball Hall of Fame. He had his big NBA moments, but if not for that eight-grade layup, none of them would have ever happened.