Robert Parish Owes At Least Part of His NBA Success to His Junior High Basketball Coach, 2 Broom Handles, and Some Tape
Over the course of their illustrious history, the Boston Celtics have had plenty of talented players don the iconic kelly green and white. One of those men was Robert Parish. While The Chief actually began his career in California, he had his best seasons in Massachusetts and, perhaps more importantly, helped bring three championships back to Beantown.
For all of his fame and fortune, though, Parish honed his craft in rather humble circumstances. In fact, the big man owes his signature high-arcing jump shot to his junior high school basketball coach, two broom handles, and some tape.
Robert Parish proved to be a legitimate two-way talent in the NBA
These days, NBA big men have to be comfortable stepping outside and putting up a jump shot. While he wasn't quite a long-range assassin, Robert Parish did prove to be a legitimate two-way player during his time in the Association.
After making a name for himself at Centenary College, Parish joined the Golden State Warriors as the eighth overall pick of the 1976 NBA draft. Although he showed plenty of individual talent, the club wasn't going anywhere fast. In June 1980, though, a single trade changed everything.
As part of a blockbuster trade, Parish swapped coasts and joined the Boston Celtics. In contrast to the Warriors, the team was in the ascendancy, with a young Larry Bird on the roster and Kevin McHale joining the club during the 1980 draft. From there, the rest is history.
In Boston, Parish kept stuffing the stat sheet — he averaged 16.5 points, 10.0 rebounds, and 2.2 blocks per outing with the Celtics — and won three championships as part of a legendary squad. He ultimately saw out his career with the Charlotte Hornets and the Chicago Bulls, refusing to retire until age 43. Unsurprisingly, The Chief's number 00 hangs from the rafters in Boston, and he's earned a place in the Basketball Hall of Fame.
Developing his signature jump shot by shooting over broom handles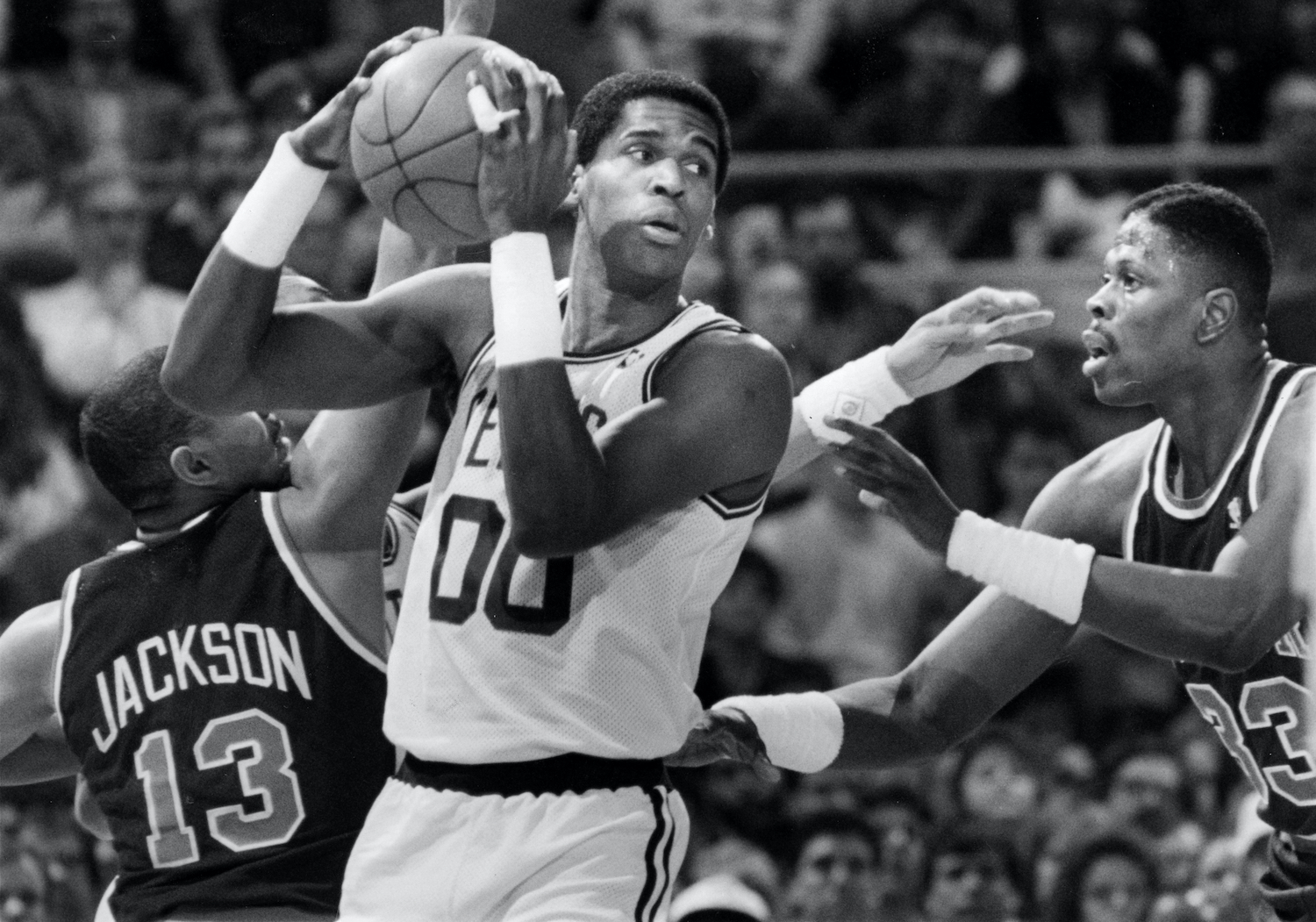 While Parish developed a reputation as a tough defender and a fearless rebounder, he also possessed a signature offensive weapon. The big man boasted a high-arcing jumper, capable of evading even the best shot-blockers and falling into the basket like it was dropped from the rafters. That shooting touch dated back to junior high school.
"My junior high school coach was 5-foot-2," Parish explained on the In the Post with Elvin Hayes podcast. "And he had me shooting over the handle that's in a push broom. He had me shooting over the handle that came out of a push broom. And that's how I developed that high-arcing shot because I had to shoot over two broom handles that were taped together. So he always told me that the reason why I should have arc on my shot [was] because one day I was going to play against someone my size, and I was going to have to be able to get my shot off against another seven-footer."
Over the course of Parish's career, that coaching paid off. The big man was a capable shooter, knocking down 53.7% of his two-point attempts. That number, however, could have been even more impressive, as some poor season at the end of The Chiefs' time on the hardwood dragged things down. During his time in Boston, for example, the center shot 55.2% from the floor.
While jump-shooting big men weren't as essential in the 1980s as they are today, and Parish would have still be welcome on any team due to his defense and rebounding, that offensive element of his game did help The Chief earn a nice salary. Although some of his annual salaries have been lost to time, Spotrac's records show that he made more than $27 million in the pros. As valuable as energy players can be, you're not paying someone that much money purely because of their hustle.
Robert Parish wasn't the only NBA player to develop a shooting touch thanks to some unusual coaching
In isolation, it's easy to write Parish's story off as an artifact of the time. These days, talented young players are put through their paces by an army of coaches and watch highlights on Youtube; shooting over brooms seems charmingly archaic. In some situations, though, necessity is still the mother of invention.
Take, for example, James Harden's time in high school. At that point in his career, the guard preferred to shoot outside jumpers rather than driving to the basket, which prompted his coach to propose a deal. If Harden shot more than six free throws in a game, he'd get a free hamburger; if he didn't earn enough trips to the charity stripe, he'd have to run sprints. That deal clearly worked out, as the bearded guard is now one of the NBA's best (or worst offenders, depending on your personal taste) at drawing fouls and knocking down uncontested shots.
It goes without saying that Parish and Harden both possess plenty of talent. If you combine that with some savvy coaching, you'll get two incredible, albeit very different, players.
Stats courtesy of Basketball-Reference