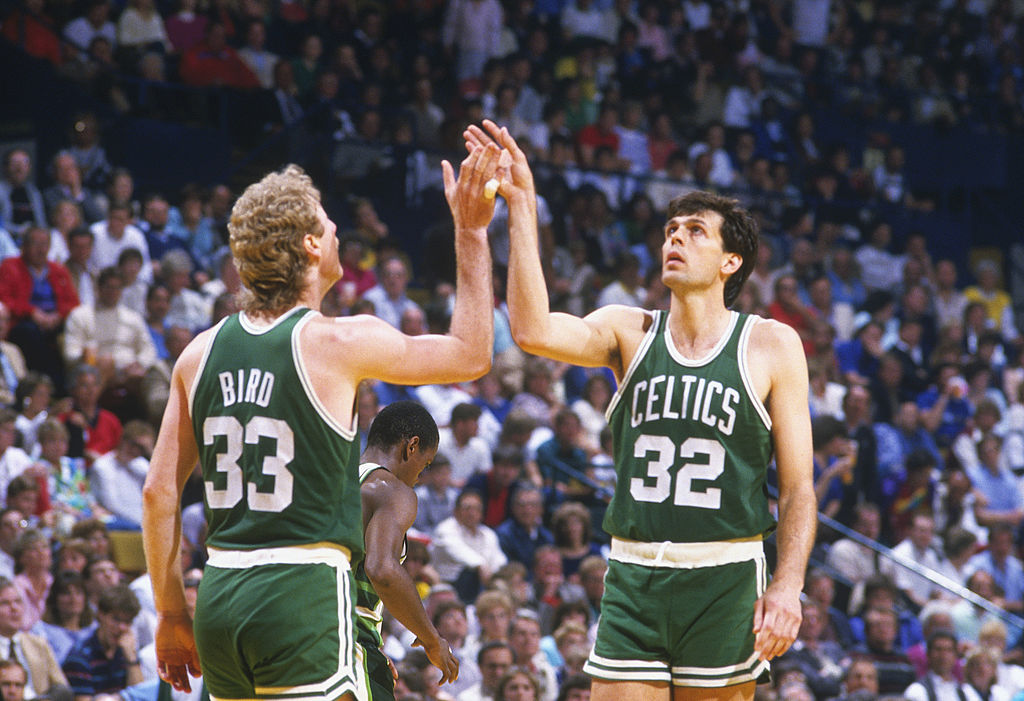 Where Is Celtics Legend Kevin McHale Now and What Is His Net Worth?
Kevin McHale is a Hall of Famer and three time NBA champion, but what is he up to today and what is his net worth?
Kevin McHale is one of the greatest Celtics of all time. He played all 13 years of his NBA career in Boston and won three titles. McHale was inducted into the Naismith Basketball Hall of Fame in 1999, but what has he been up to since then and what is his current net worth?
Kevin McHale's NBA career
McHale was a huge part of the Celtics' success throughout the 1980s. Larry Bird was the star of the show, but Boston would not have won as much as it did without McHale. He was crucial to the Celtics' three NBA championships from 1981-86.
Although he was one of the best players on the team at the time, McHale actually came off the bench for a good portion of his career. The most starts he recorded in a single year was just 33 before the 1985-86 season. McHale started just over 20 percent of Boston's games in his first five seasons in the NBA. He won Sixth Man of the Year twice in his career.
Even in his sixth-man role, McHale excelled for the Celtics. He averaged over 10 points in every single year of his Hall of Fame career. His best scoring season came in 1986-87 when he scored 26.1 points per game. McHale also averaged a career-high 9.9 rebounds the same season.
McHale was a seven-time All-Star in the NBA and a six-time All-Defensive team member. He was selected to the Fifty Greatest Players list in 1996, and the Celtics retired his No. 32 after he retired.
McHale got into coaching and television after retiring from the NBA
Immediately after his retirement in 1993, McHale started his second career in Minnesota with the Timberwolves. From 1993-2009, McHale worked with the Timberwolves as a coach, TV analyst, and even the General Manager.
McHale coached Minnesota to a 39-55 record in 2008, but he left the team after the season to become an analyst for Turner Sports. He called play-by-play for NBA games for a few years before getting the itch to return to coaching.
In 2011, McHale was hired by the Houston Rockets to be their head coach. He led Houston to a Western Conference Finals appearance in 2015, but he was fired the next season after just 11 games. McHale decided to return to the booth in 2016, and he still announces NBA games today for Turner Sports.
What is Kevin McHale's net worth?
Back in the 1980s and '90s, the NBA didn't pay players the way it does now. McHale made just $3.5 million a year for the final two seasons of his NBA career. Steph Curry is laughing somewhere with his $201 million contract in hand.
He might not have built a massive wealth from his NBA contracts, but McHale has done quite well for himself in his second career. According to Celebrity Net Worth, McHale's current net worth is $16 million. NBA broadcasting must pay pretty well.
McHale was overshadowed a bit by Larry Bird, Bill Walton, and Robert Parish during his time with the Celtics, but he was just as important to the three championships as those legends were. McHale had an incredible career as a player, and he's still excelling today as an NBA analyst.