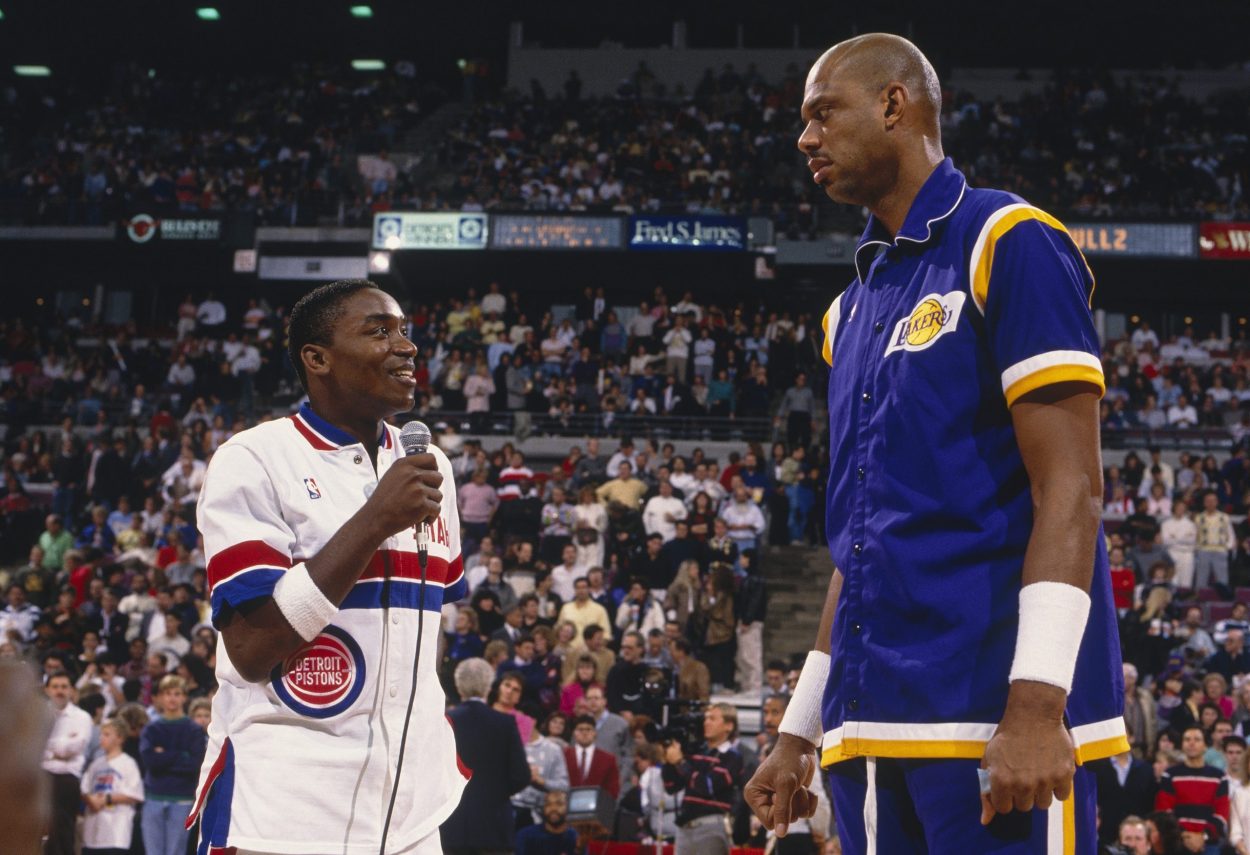 Kareem Abdul-Jabbar Changed Isiah Thomas' Perception of Him With 1 Hotel-Room Meeting
A rookie Isiah Thomas discovered a new appreciation for Kareem Abdul-Jabbar following a hotel-room meeting in 1982.
These days, Kareem Abdul-Jabbar is one of the more outspoken figures in NBA circles. He uses his Substack to speak on various social issues and criticized star players for being reluctant to receive the COVID-19 vaccine. During his playing days, however, there was a notion that the Milwaukee Bucks and Los Angeles Lakers preferred to remain hidden from the spotlight, a detail Detroit Pistons rookie Isiah Thomas hoped to better understand.
Thomas initially bought into the media's portrayal of Cap as a standoffish figure who came across as cold and unwilling to engage with the public. But that all changed when he arranged a meeting with Abdul-Jabbar during the 1982 NBA All-Star Weekend.
A young Isiah Thomas sought Kareem Abdul-Jabbar's advice on becoming a champion
Isiah Thomas experienced a good deal of success at Indiana University after a rigorous recruiting pitch from Bob Knight, winning a national title with the Hoosiers in 1981 before being drafted No. 2 overall by Detroit Pistons that summer. But he had to start from scratch in the NBA and turned to one of the game's ultimate winners for advice.
A rookie Thomas tried to soak up all the information he could during his first All-Star Weekend in 1982. That included (h/t New York Times) setting a meeting with Kareem Abdul-Jabbar at a hotel room in New Jersey.
"I asked Kareem if I could come to his hotel room and speak to him about how you go about winning in this league."
Abdul-Jabbar might otherwise have paid the Pistons rookie no mind. He could have retreated to his private life and let Zeke make inquiries to other star players.
Instead, the all-time scoring leader chose to indulge Thomas. That acceptance and the subsequent conversation between the two NBA icons changed Isiah's past perceptions of Cap.
Thomas gained valuable perspective from Kareem
Thomas likely had plenty of respect for Kareem Abdul-Jabbar's talents on the hardwood. But his hotel-room meeting with the Lakers star in 1982 gave birth to a newfound appreciation for Cap as a person.
Per the New York Times, Zeke described Abdul-Jabbar as being "kind" and "gracious." He never once associated the man he spoke to with the hermit-like figure the media so often described.
"[Kareem] gave me about two hours in his room, just talking. I never saw that side of him that a lot of people talk about."

Isiah Thomas on Kareem Abdul-Jabbar, via the New York Times
Thomas instantly felt aware of Abdul-Jabbar's shy nature. But he began to understand the Hall of Fame center when Cap told him about the nastiness he encountered in his career.
"Then [Abdul-Jabbar] told me a couple of stories about how he used to get treated in certain arenas and the names they would call him. I remember being at a couple of his series in Boston and hearing some hard, terrible things said about him. They'd call him a big freak and things like that."

–Isiah Thomas, via NYT
Perhaps Kareem's ability to block out the noise rubbed off on Zeke.
After years of struggle and playoff heartache, Isiah Thomas and the Pistons ultimately embraced their "Bad Boy" status en route to back-to-back championships in 1989 and 1990. They shrugged off widely-held notions that they were a dirty team, with Michael Jordan calling the Pistons "unworthy champions."
In any event, Thomas' conversation with Kareem had a lasting impact. Zeke's respect for Abdul-Jabbar is evident in his words and actions over the last couple of decades.
Thomas hailed Abdul-Jabbar as the NBA GOAT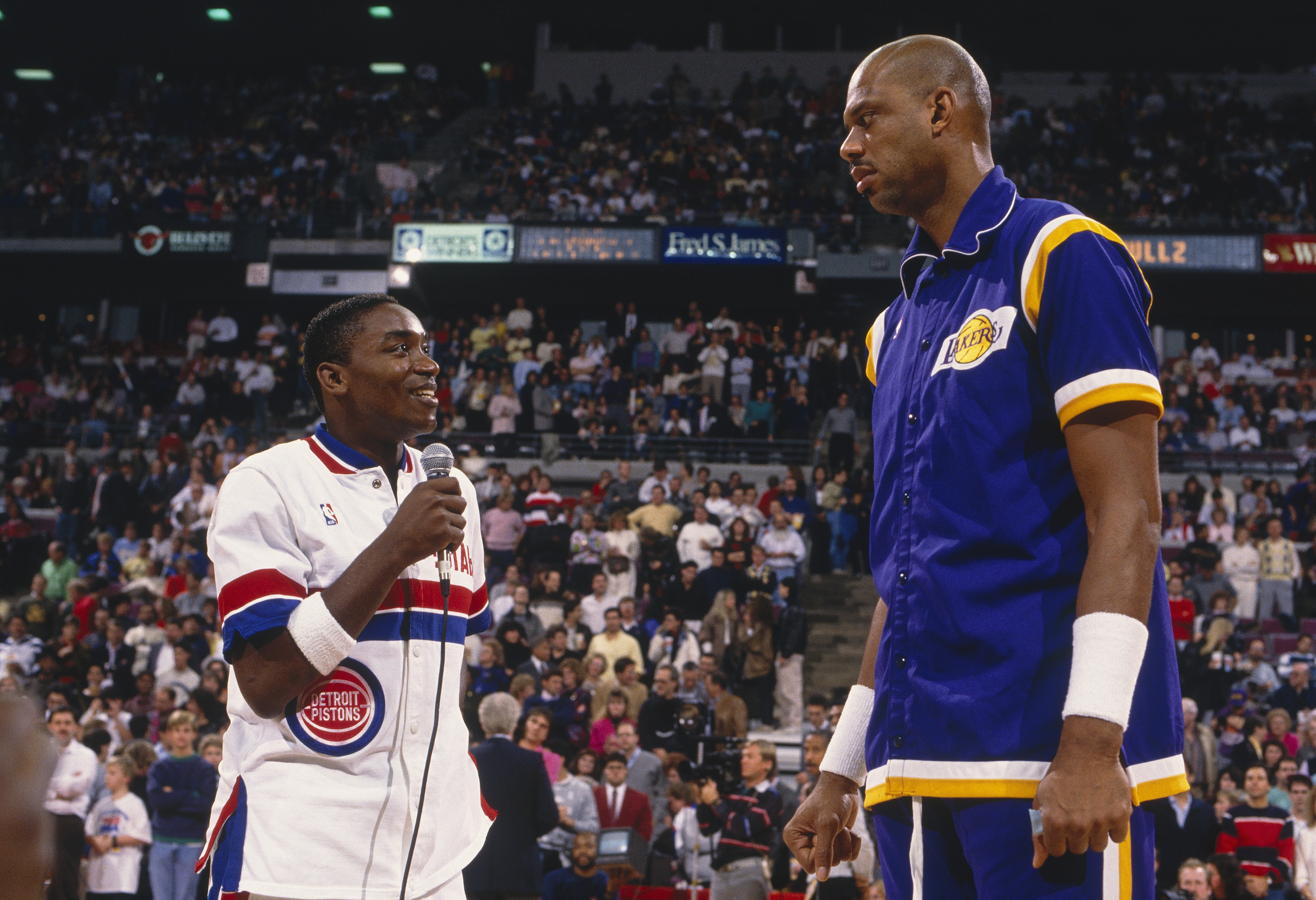 Maybe the Pistons' duels with the Chicago Bulls make Isiah Thomas' opinions on Michael Jordan a bit biased as it pertains to the NBA GOAT conversation. But Zeke feels that title belongs to Kareem Abdul-Jabbar.
Thomas said in 2020 that he feels Cap has the best basketball resume of any player in the history of the sport, also praising Kareem for his social activism. The love Thomas feels for Abdul-Jabbar is also evidenced in his hiring of the six-time NBA MVP as a scout for the New York Knicks in 2004.
It's entirely possible that Kareem could have alienated Zeke by declining to speak with the then-Pistons rookie all those years ago. Instead, Cap imparted valuable perspective and gave Thomas the motivation to become a champion.