Kareem Abdul-Jabbar and Charles Barkley Had Differing Views on Their Role-Model Status During Their Playing Days
Kareem Abdul-Jabbar and Charles Barkley had different views regarding their status as role models during their playing days.
Charles Barkley made things perfectly clear when it came to him being looked upon as a role model. He blasted those thoughts in his famous "I am not a role model" commercial for Nike in 1993. Ten years earlier, Kareem Abdul-Jabbar made his own role-model comment that was quite different than Barkley's. Abdul-Jabbar's came shortly after his autobiography Giant Steps was released.
Kareem Abdul-Jabbar and Charles Barkley helped shape the NBA in different ways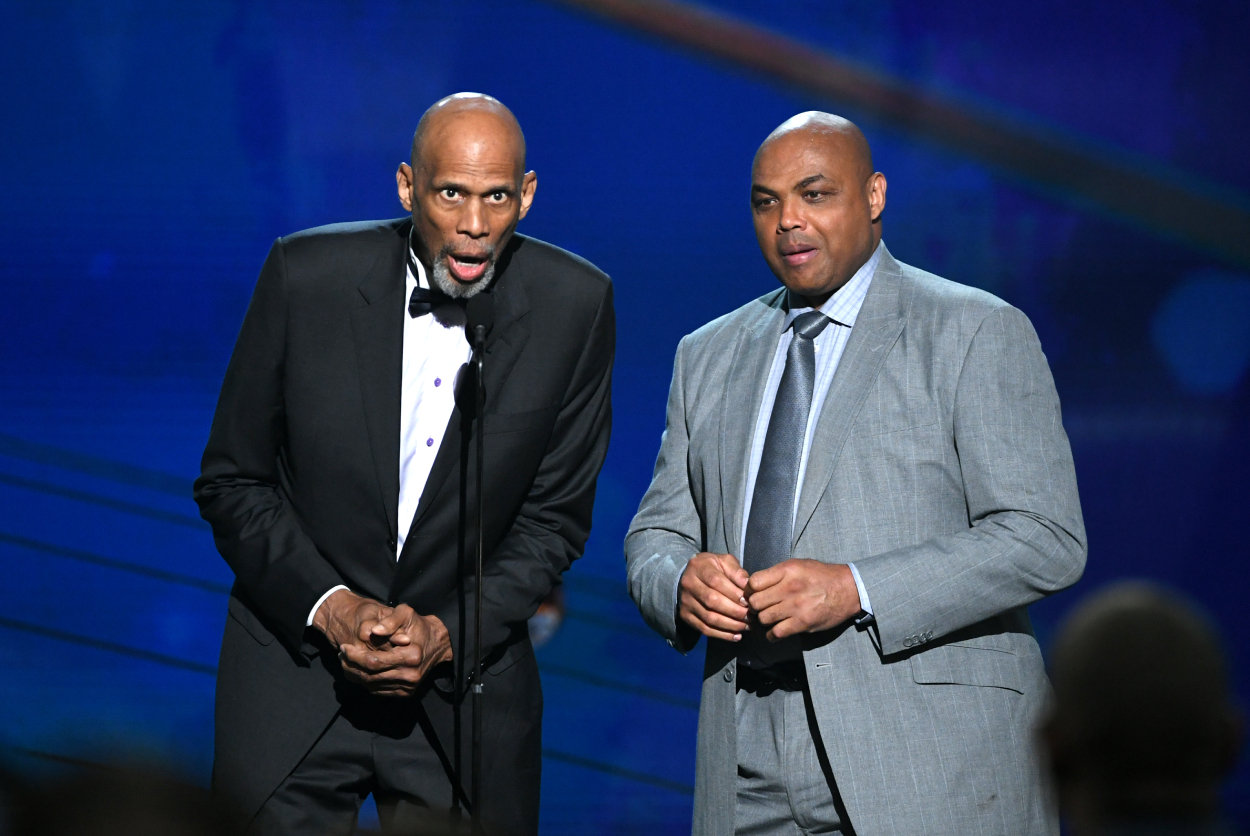 Abdul-Jabbar and Barkley took different paths but managed to earn their way into the Naismith Memorial Basketball Hall of Fame. Abdul-Jabbar, the NBA's all-time leading scorer, was all finesse, and his success was triggered by his famous skyhook. Barkley was eight inches shorter at 6-foot-6, but he played a power game that was sprinkled with finesse.
Abdul-Jabbar, the first overall pick in the 1969 NBA Draft, spent the first six years of his 20-year career with the Milwaukee Bucks. There, he won scoring titles in his second and third seasons, and he was named an All-Star all six years.
The Bucks traded him to the Los Angeles Lakers prior to the 1975-76 season. With LA, he won five championships, giving him six for his career. He was inducted into the Hall of Fame in 1995 after making a total of 19 All-Star appearances.
Barkley was seleced fifth overall by the Philadelphia 76ers in the 1984 NBA Draft. He led the league in rebounding in his third season, while also making the first of 11 straight All-Star appearances. Barkley played for three different teams in his 16 seasons.
For his career, he averaged 22.1 points and 11.7 rebounds. He was inducted into the Hall in 2006.
Charles Barkley famously told the world he was not a role model
In 1993, Barkley told everyone he was not a role model during a Nike commercial. It wasn't a script the folks at Nike wrote for him. In his 2002 memoir, I May Be Wrong but I Doubt It, Barkley claimed the line was his idea.
In the ad, Barkley gives his take on his status as a role model.
"I am not a role model," he said. "I'm not paid to be a role model. I'm paid to wreak havoc on the basketball court. Parents should be role models. Just because I dunk a basketball doesn't mean I should raise your kids."
In his memoir, Barkley said he approached Nike with the idea, not the other way around.
"Nike didn't come to me with the idea to do a commercial about role models — I went to Nike with that idea," he wrote. "I just thought we as a society needed to do better in that area. So I asked, and Nike said, cool."
Barkley took some heat for those words, but as he always does, he speaks his mind and sticks to his opinions.
Kareem Abdul-Jabbar had a different outlook on his role-model status
A decade before Barkley showed he was not in the business of being a role model, Abdul-Jabbar was questioned about a small part of his autobiography Giant Steps. In the book was a part where he discussed experimenting with drugs such as marijuana, cocaine, LSD, and heroin as a youngster. Abdul-Jabbar was not happy that the media focused on that small part during its reviews.
"It's one small part of the book and it's the only thing they decided to deal with," Abdul-Jabbar said after the book was released in 1983, according to United Press International. I didn't think that was right, but I guess they wanted to sell papers or something."
One reader wrote a letter to the editor, suggesting the Lakers' star should have left that part out of the book. He believed that could lead to a 7-year-old boy in the playground emulating Abdul-Jabbar.
That's when Abdul-Jabbar voiced his differing opinion of Barkley on the role-model topic.
"I'm going to be a role model whether I want to or not," Abdul-Jabbar said. "I just hope that 7-year-old, if he reads the book, will understand that there are dangers out there — things that people will tell him are good for him, just like they did to me. My involvement with drugs came about from peer pressure, mainly, and curiosity. In the late 1960s, that was a big deal."
Either way, people — kids or adults — will look up to professional athletes. Barkley and Abdul-Jabbar just had a different way of dealing with it.