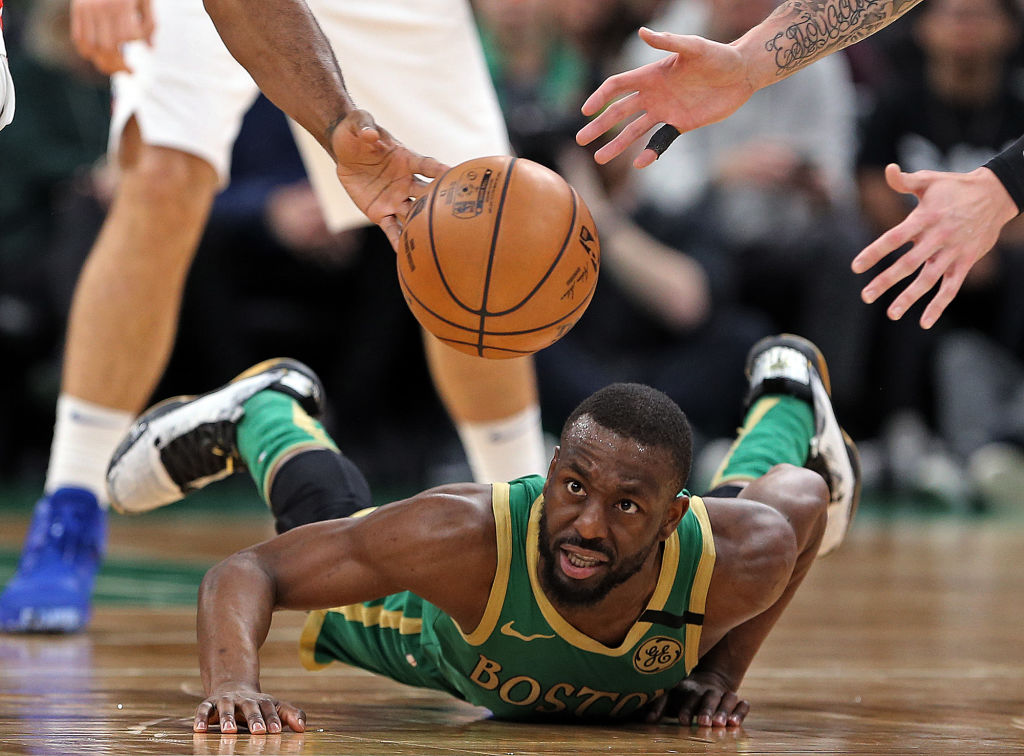 Kemba Walker and Celtics Got a Mini Victory Over Kyrie Irving
The Celtics made a deal with the Hornets to land Kemba Walker. These moves look like smart decisions for Boston, especially with Kyrie Irving out.
When Kyrie Irving teamed up with Kevin Durant to join the Brooklyn Nets last offseason, it left a hole in the Celtics backcourt. Although he didn't always get along with teammates, Irving is still one of the top point guards in the NBA.
Instead of the Celtics keeping the status quo and giving the position to Terry Rozier, they executed a sign-and-trade deal with the Hornets to land Kemba Walker. Charlotte wasn't willing to offer him the max, and the subsequent moves look like smart decisions for the Celtics. Let's look at why the Celtics are better off without Irving.
2020 All-Star voting
When the All-Star votes were released, it didn't surprise anyone that Walker landed his second straight starting spot. Irving's lack of appearances could have been a factor, as he's played in just 20 games this season. He didn't even earn a reserve spot, which will put a bit of a damper on the game without him.
Kemba Walker's first season in Boston
In his first season with the Celtics, Walker's overall numbers are slightly down compared to last year. He is averaging 22 points, five assists, and four rebounds per game. The key difference is that his usage is down from 31.5% last season to 27.9% this year, and he's on a winning team.
At the time of publication, Boston was third in the East with the third-best defensive rating in the NBA. He's also helped build up the team's younger stars, Jaylen Brown and Jayson Tatum. Both are putting up over 20 points per game (Tatum earned his first All-Star appearance this year).
Irving's injuries a factor in Brooklyn?
Irving hasn't appeared in many games this season. When he has been on the floor you can make the case he was the best point guard in the league, averaging 27-6-5 for Brooklyn.
The Nets are just 10-10 with Irving in the lineup. This could've been a factor in the Eastern Conference coach's decisions to keep him off the roster. He still has an opportunity to make it if they need an injury replacement.
Are the Celtics a better team with Walker?
 Although he went into his time in Boston with a lot of fanfare, Irving simply couldn't mesh and become the leader the Celtics needed to stay at the top of the East. Bringing in a player with the work ethic and skill set of Walker seemed to work out for Boston. 
The atmosphere around the team seems to be positive on a nightly basis, with no stories leaking about locker room disagreements between Walker and younger players.
Could things have been different if Irving stayed? The East has been drastically different this year. We think if he were healthy the young stars on the team wouldn't have opportunities to expand their games.
Sometimes players aren't a good fit on a team no matter how talented they are (see the 2004 Los Angeles Lakers). Boston's fans and front office are very happy with Kemba having another All-Star campaign.
Who would you want to lead the team?
Do you think Kemba Walker is a better fit for the Celtics? Kyrie Irving struggled at times to be the floor general they needed. By the middle of his second season, Boston was singing a different tune about his exit.
Follow more updates from Sportscasting on our Facebook page.